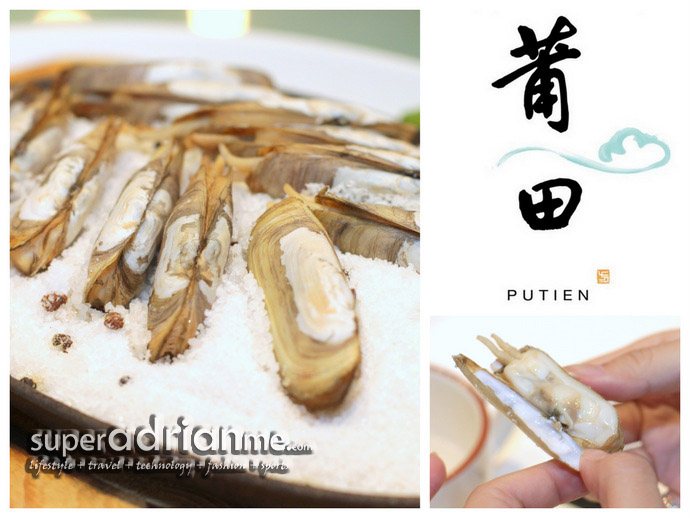 From now till 31 May 2014, the renowned PUTIEN Restaurant will be serving up fresh & juicy bamboo clams imported directly from the coastal province, Putien, in China. This will be best season of the year to enjoy these delectable bamboo clams that are harvested from the fertile soil off the province's coastline.
To make sure that everyone gets to enjoy these delicacies, the chefs from PUTIEN have come up with a diverse menu where you can have them prepared in one of seven culinary ways. From salt baked on hot plate to deep fried with salted spicy batter, steamed with wine to stirred fried with omelette, you will be spoiled with choices.
My personal favourite has to be the Stir-fried Bamboo Clam with Ginger & Spring Onion and Steamed Bamboo Clam with Wine, where the onions and the Shaoxing wine respectively bring out the natural sweetness of the clams, making you crave for more. I am salivating as I am writing this article. I want to revisit PUTIEN real soon. 
The bamboo clams dishes are priced from S$20.90.
Through this trip to PUTIEN, I also found out the secret to why their signature dish, Fried Heng Hwa Bee Hoon, is so fluffy and smooth. The Bee Hoon (rice vermicelli) is handmade by an old couple in Putien province and instead of using machine to dry them, they will manually shift the sunning position of the Bee Hoon in accordance to the sun's position through out the day. That really is a lot of work in just making the Bee Hoon. The old couple supplies their Bee Hoon exclusively to PUTIEN Restaurants. So remember to also order my favourite dish, Fried Heng Hwa Bee Hoon, when you visit PUTIEN.