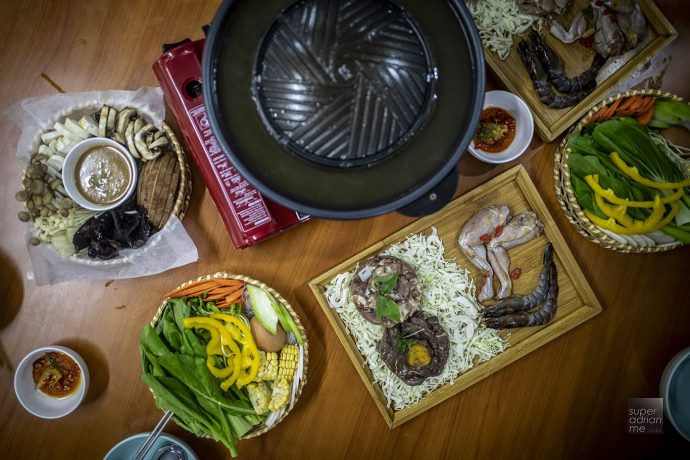 We discovered Quan Fa Mookata and visited Quan Fa Organic Farm earlier this month during a road trip with Vin's Automotive Group and BubbaMama.com. We were picked up in a seven-seater Honda Freed Hybrid which are available on long-term rentals from as low as S$50 a day.
Quan Fa Organic Farm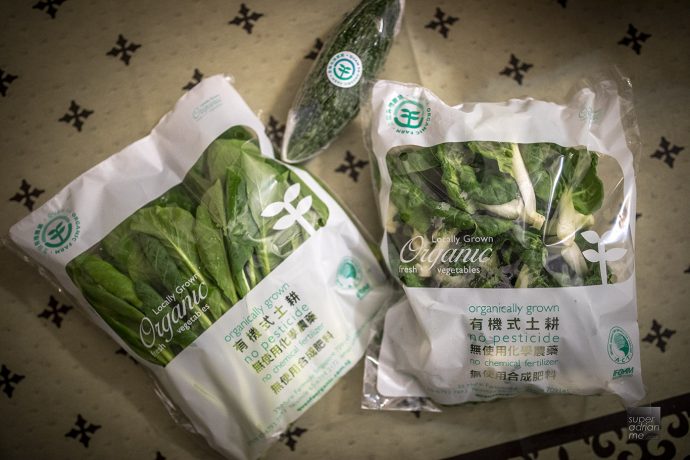 Quan Fa Organic Farm was founded in 1999. We visited the farm at 35 Murai Farmway to learn about how vegetables are grown organically. This means that the produce here are healthy and nutritious without pesticides and GMOs. They are not reliant on drugs and Quan Fa is conscious of the environment.
Farm Tours are conducted with a minimum of 20 people. Prices of tour range from S$10 to S$24. Visit the sprouts section, compost section, open area section, greenhouse and enjoy light refreshments during the tour. You can also purchase fresh produce from the marketplace at the farm. We were somewhat intrigued by how closely knit the Singapore farming community was.
We understand that Quan Fa Organic Farm's lease will end next year, and they would likely have to move to Malaysia. So if you want to visit the farm here in Singapore, you better hurry.
Mushroom Kingdom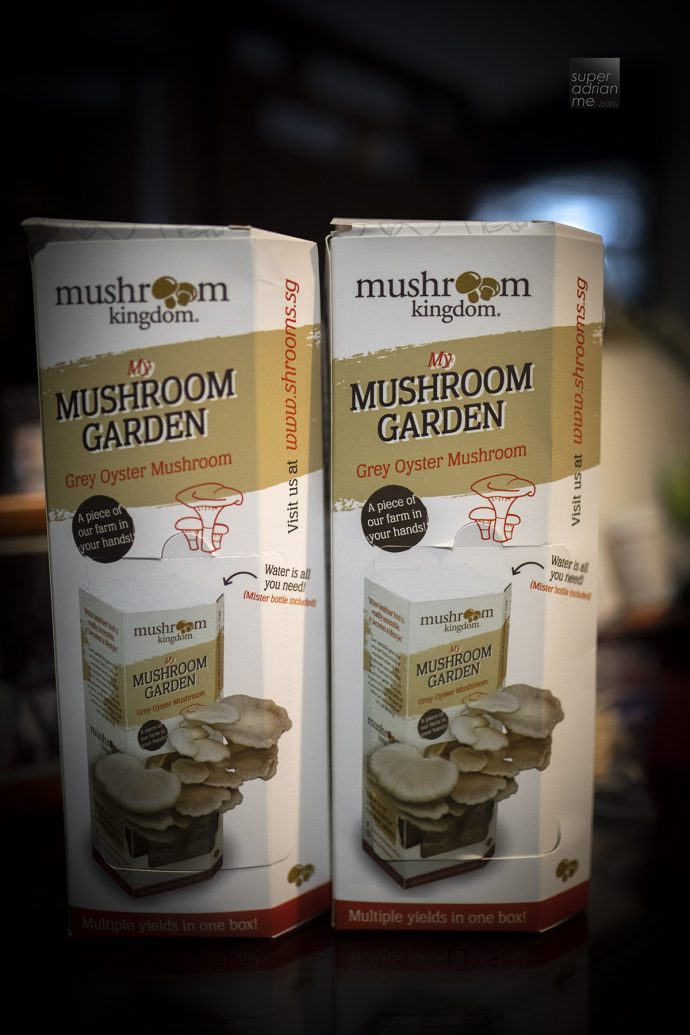 Get your own Mushroom Garden Grow Kit for S$17.90 and harvest your own Grey Oyster mushrooms at home. It is simple and fun. Add water four times daily to the mushroom growing kit and watch the mushrooms sprout within 5 to 8 days. And they are 100% guaranteed to grow.
However, if you are not into gardening, then you can order a variety of mushrooms including Black Jelly Fungus, Grey Oyster Mushrooms, King Oyster Mushrooms, Portobello, Shitake and White Button Mushrooms from Mushroom Kingdom's website.
Quan Fa Mookata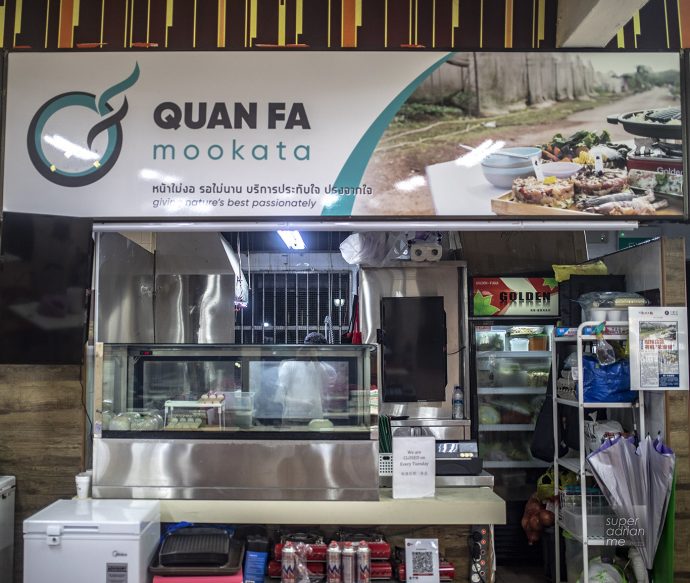 Quan Fa Mookata is located within PDSS 318 cafeteria (coffeeshop) at Block 318, Jurong East Street 31. It is open every day from 6 to 10.30 pm except for Tuesdays. They have been in operation since September 2018.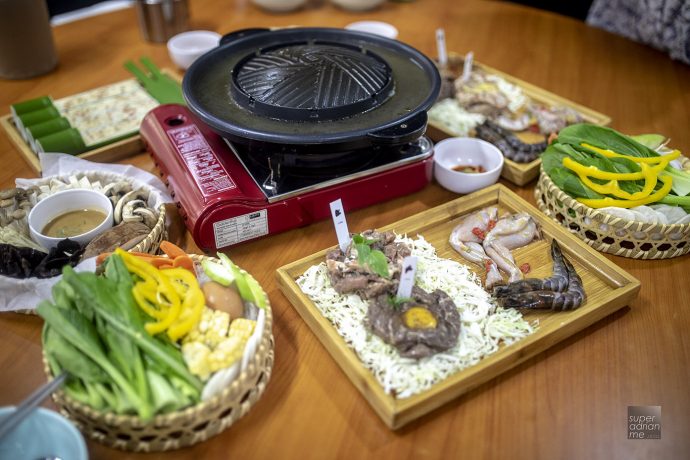 Quan Fa Mookata uses fresh vegetables from their own farm as well as mushrooms from Mushroom Kingdom. It also supports the other local farming community and companies including Uncle William's Lian Wah Hang Quail & Poultry Farm for fresh eggs, Toh Thye San Farm for chilled meats, Ha Li Fa (Bobo Fishball) for fresh fish paste and Jurong Frog Farm for frog legs.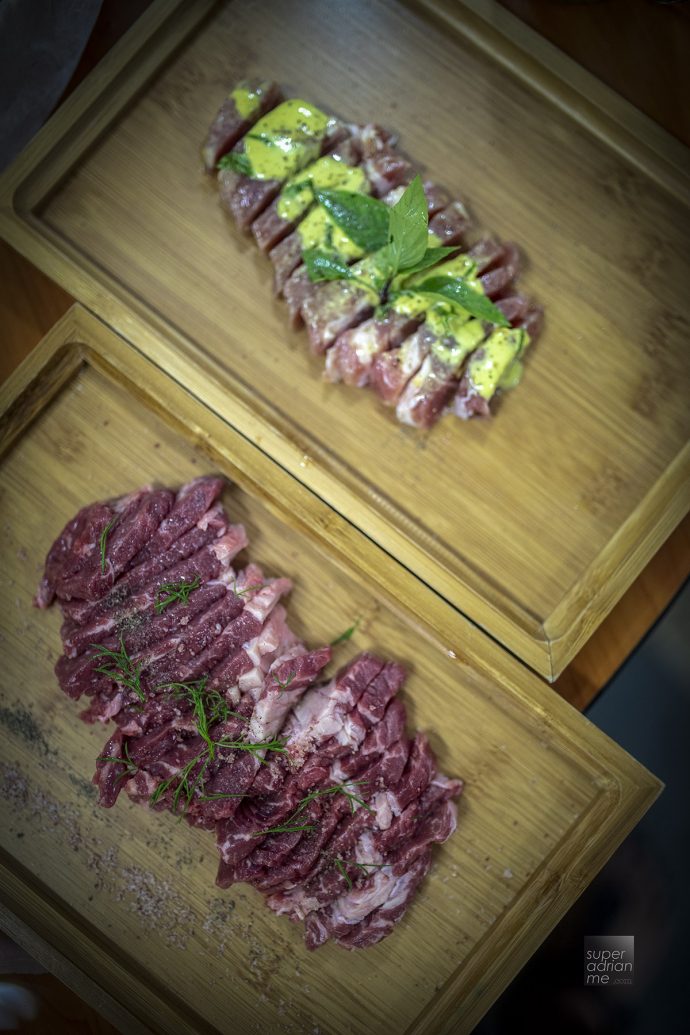 The chef at Quan Fa Mookata does not spare any detail on its food presentation despite the coffee shop environment. Lard is not used here. Instead, the hot plate is greased with A2 milk Desi ghee. A meal here would not be as cloying and greasy as you would experience at other mookatas.
The soup is boiled with fresh vegetables and chilled chicken. The meats here are freshly chilled.
The base order for Quan Fa Mookata is the set for two at S$38. This set includes a choice of two meats, two prawns and a seasonal organic vegetable basket. The meat choices include around 130 g of beef striploin, lamb leg, pork collar + belly and chicken thigh.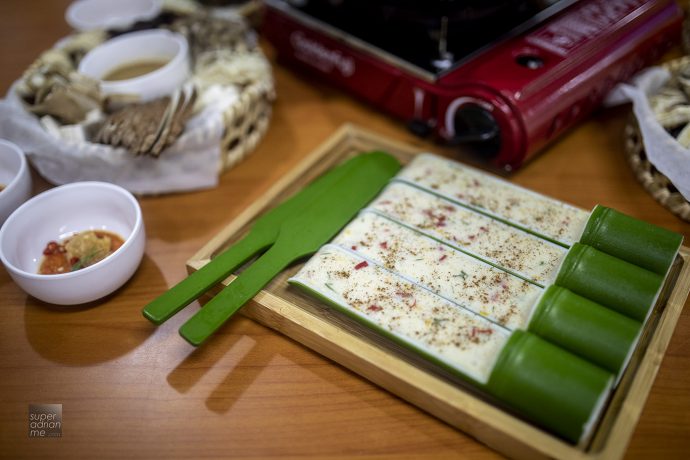 For à la carte, there is the Angus beef ribeye, cumin and olive oil lamb steak, pineapple and basil pork ribeye, mushroom basket, rice and organic coconut. The meats range weigh from 200g and are priced at S$23.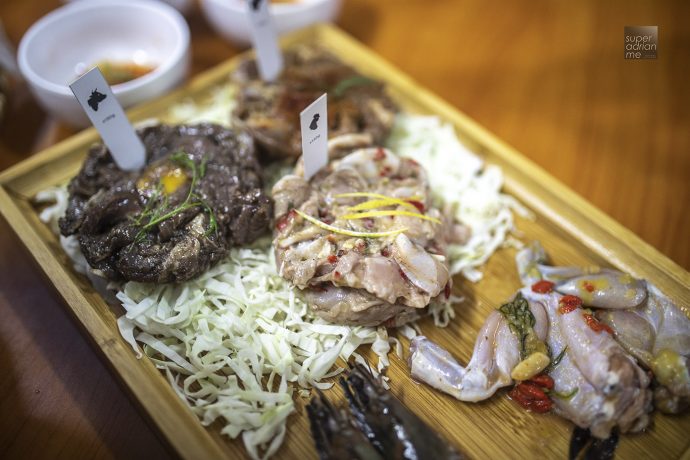 The frog legs are marinated with dry sherry and wolfberry. Four legs will cost you S$14, and eight for S$28. The fish paste is absolutely delicious. It is marinated with dill and orange zest and priced at S$6 per bamboo. Prawns can be added at S$10 for five pieces or S$20 for 10.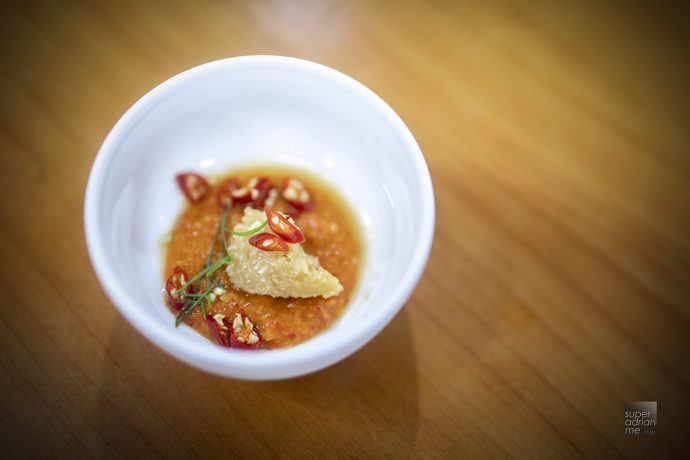 The homemade dipping sauce of fresh organic birdseye chilli, garlic, Thai miso paste and apple cider is spicy but brings out the flavours of the meat. 
By the way, there's a vegetarian set available as well.