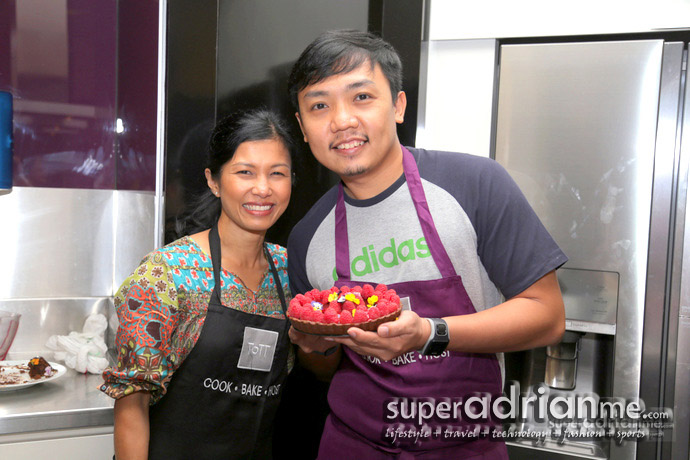 The lovely Chef Audra Morrice is back in Singapore to hold more sessions of baking classes at the well equipped cooking studio in ToTT Store. We missed the first time she was last in Singapore. Chef Audra taught us how to bake her signature Dark Chocolate Raspberry Tart With Port Jelly, a delectable & rich chocolate dessert with a fruity & refreshing touch to complete your sweet indulgence.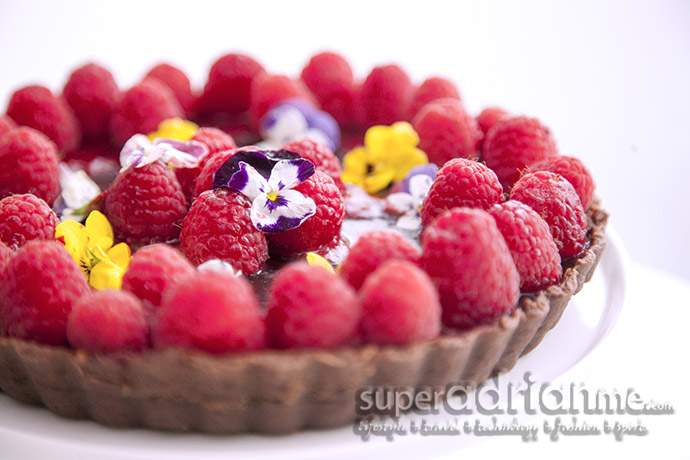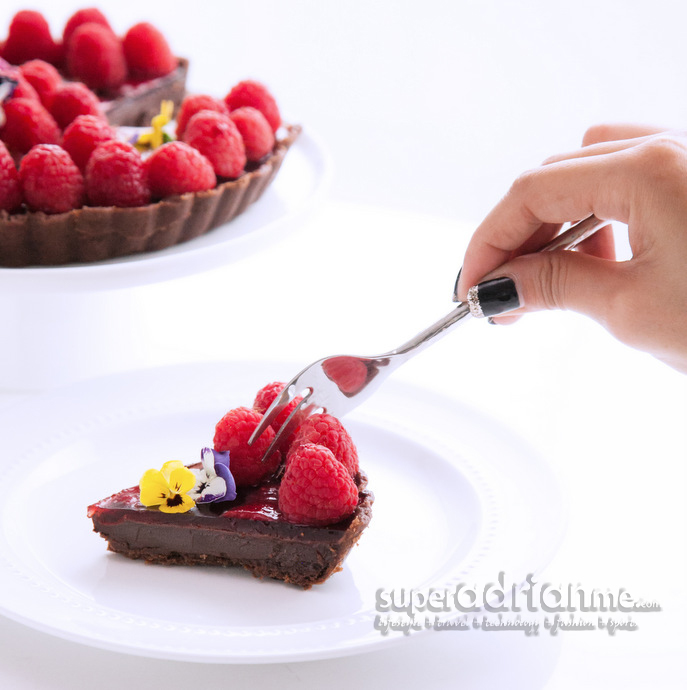 I totally enjoyed Chef Audra's class as she is a patient & an extremely humble teacher who is willing to exchange cooking tips and knowledge with her students, while conducting an engaging class that is fruitful for her students. She understands and speaks our Singaporean lingo as she grew up here in Singapore. 
Now based in Australia, Chef Audra won third place on MasterChef Australia Season 4 in 2012 after taking a break from her 19 year career in the telecommunications industry. She now runs a catering business in Australia and travels the world to conduct cooking workshops. You can follow Chef Audra Morrice on her website at audramorrice.com.au for more recipes and her cooking class schedules.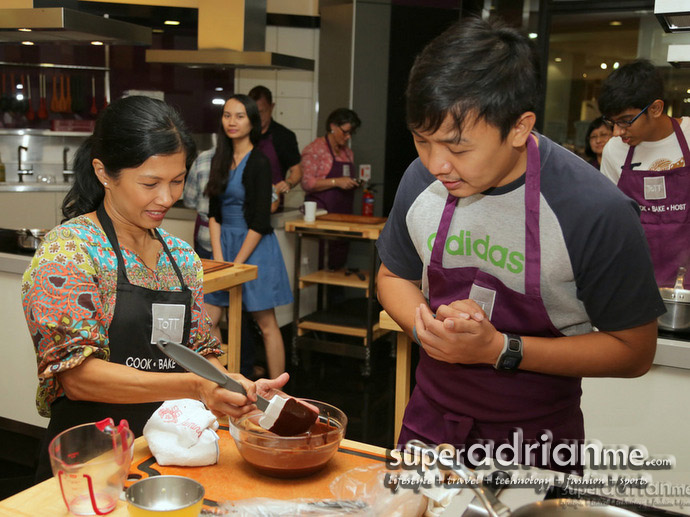 Recipe for Dark Chocolate Raspberry Tart With Port Jelly (Serves: 10-12):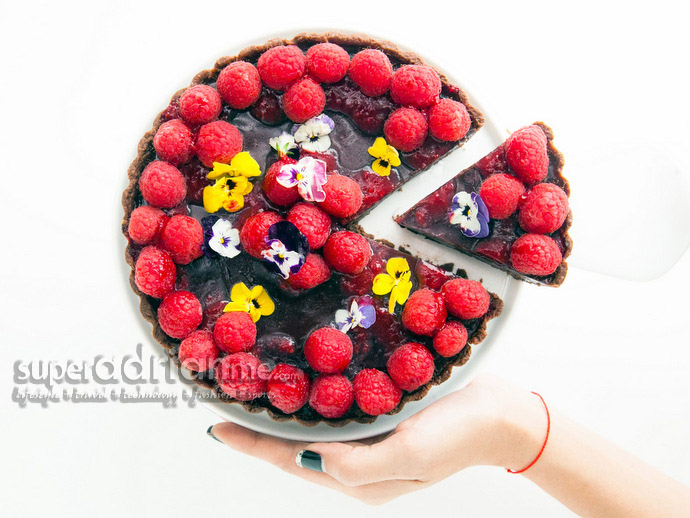 Ingredients
Pastry

225g plain flour
Pinch salt
2 tablespoons icing sugar
2 tablespoons cocoa powder
140g unsalted cold butter, chopped
2 tablespoons iced water
Ganache filling

500g dark chocolate, 70% cocoa or 58% cocoa (if you prefer sweeter taste)
200g unsalted butter, chopped
Cherry port Jelly

375ml cherry port
2 tablespoons caster sugar
5 leaves gelatine (gold strength)
Raspberry puree

125g raspberries (squished or frozen is fine)
1 tablespoons icing sugar
1 teaspoon corn syrup or glucose
Toppings & Decoration

250g-375g raspberries, to decorate
Purple borage flowers, to decorate
Cream (Optional, the tart already tastes great without the cream)

300ml thickened cream
2 tablespoons icing sugar
1 vanilla bean, seeds scraped
Preparation
Pre-heat oven to 200°C.
Making the Tart Pastry: Place flour, salt, sugar and cocoa in a food processor and process for 15 seconds until combined. Add butter and process until butter is finely chopped. Add water slowly until it forms a dough that just comes together when pressed. Wrap in cling wrap and refrigerate for 20 minutes.
Making the Chocolate Ganache: Chop chocolate in a food processor until finely chopped (or just use chocolate chips). Place butter in a large bowl over a saucepan with 3cm of just-simmering water, tip chocolate onto butter.  Turn off heat and stir occasionally until chocolate and butter have melted. Keep bowl on saucepan until ready to use.
Baking the Tart: Roll pastry out between two sheets of baking paper to 3mm thick. Remove one sheet of baking paper and lay pastry over a greased 23cm round fluted tart tin with a removable base. Press into tin especially into sides. Remove baking paper and trim pastry. Refrigerate for 20 minutes. Blind bake for 13-15 minutes until sides are crisp. Remove baking paper and pastry beads and bake for a further 10 minutes until base is dry. Cool in fridge for 10 minutes.
Making the Port Jelly: Pour port and sugar into a saucepan over medium heat, stir until sugar has dissolved. Boil for 5 minutes, remove from heat. Soften gelatine in cold water, squeeze out excess water and add gelatine to warm port mixture, stir until dissolved, strain and keep warm until ready to use.
Pour warm ganache into the center of the cooled tart tin, shake gently to level. Allow half a centimetre for the jelly layer. Refrigerate for 10 minutes to set the ganache. Pour warm jelly into a jug, bring over to fridge and pour a layer of jelly on top of the tart. Allow to set in the fridge for 10 minutes or until ready to serve.
For raspberry puree, place raspberries, sugar and glucose into a small saucepan and heat until liquid. Sieve out seeds.
Decorate tart with raspberries, drizzle with raspberry puree and place a few flowers on top. Serve cream on the side.
Whip cream with icing sugar and vanilla bean seeds to soft peaks.
More photos on our Flickr page.