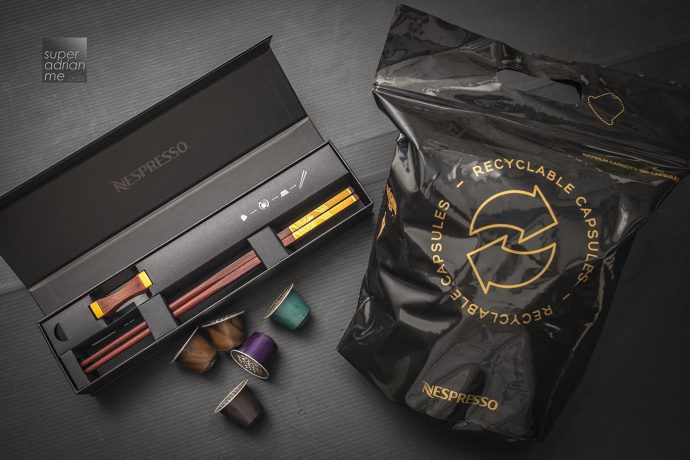 Nespresso Club Members are invited to recycle their used Nespresso capsules. Starting from 29 August 2019 until 31 March 2020, a total of 2,800 pairs of Limited Edition chopsticks will be given away in Nespresso's "Recycle to Win" lucky draw. Each month 400 pairs of chopsticks will be up for grabs.
If you didn't already know, Nespresso capsules are recycled when you drop them off in the recycle bags provided by Nespresso. The coffee grounds are turned into compost at Sky Greens farm and the recycled aluminium can be used to create bicycle frames, pens or in this case Limited Edition Chopsticks.
The gold details of these chopsticks are made with 30 Nespresso capsules. The colour is inspired by the Volluto capsules. The beautiful box that stores this chopsticks and chopsticks holder can be reused as a Nespresso capsule dispenser for up to 12 capsules.
So start sending in your used Nespresso capsules to any Nespresso recycling points at Nespresso boutiques and Nespresso pop-up at Tampines Mall and remember to inform the staff so it is recorded. Club members can also recycle their used capsules through the Nespresso [email protected] initiative. Just pass the recycling bag to the delivery person and be automatically registered in the lucky draw.