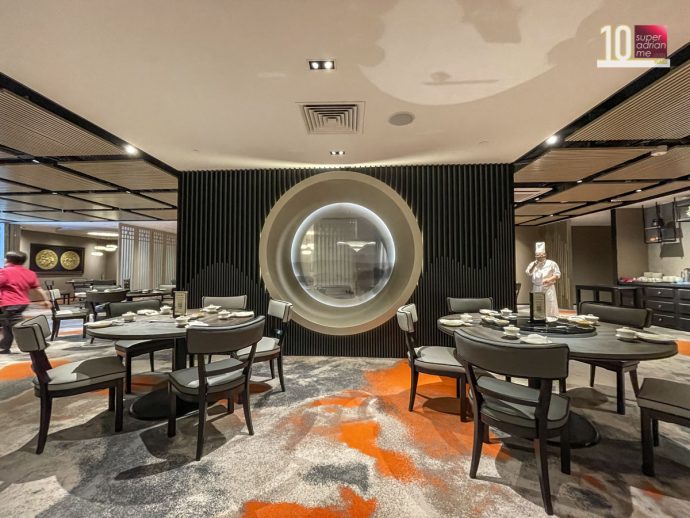 Si Chuan Dou Hua at PARKROYAL on Kitchener Road has reopened from its two-month renovation on 24 November 2020. The outlet was opened in 2011 and has a welcoming entrance. It brings guests attention to the traditional Chinese 'Shan Shui' painting within a full mon that depicts mountains, a flock of birds and a passing boat.
The cosy interior is complemented by dark wood furniture with splashes of bold colour on the walls, and vermillon 'brushstrokes' on the carpet.
With safe distancing measures, this outlet seats78 guests. There are also three private rooms which can seat up to 15 people.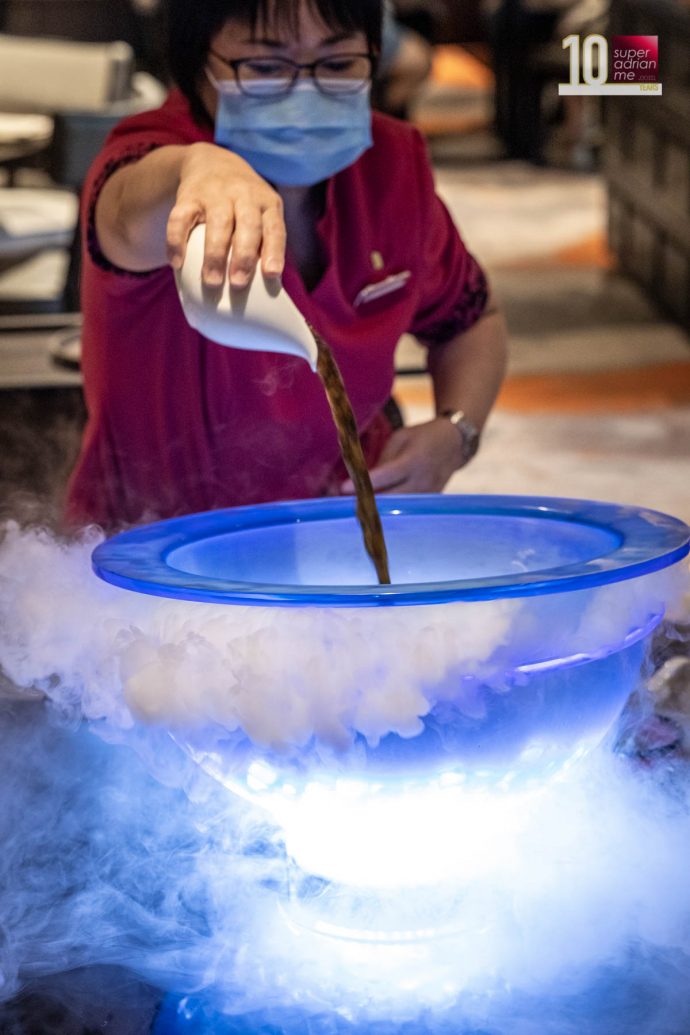 Executive Cantonese Master Chef Leung Wing Chung has introduced a selection of new a la carte dishes. The Exotic Garden with Black Truffle in Osmathus Sauce (S$98++ for 2 to 6 or S$148++ for 7 to 12) was a popular lo hei dish. It is now on the menu all-year round. The salad of fresh white radish, carrot, cucumber, beetroot, mango, beansprouts and salad greens are accompanied with truffle oil, black truffle sauce, and homemade crispy soybean crumbs made from the by-product of the restaurant's famed homemade beancurd.
Served in a rather dramatic way great for Instastories, guests can toss the salad with long chopsticks in a spinning ice bowl and flowing mist from dry ice.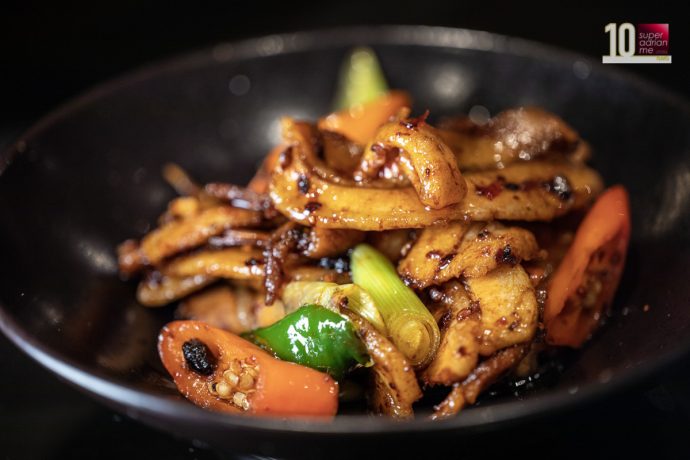 The Steamed Eel with Pumpkin in Homemade Soya Bean Crumb with Dried Scallop, Sakura Shrimps and Prawn Roe sauce (S$22++ for 1) is a very beautiful dish, visually and taste. Chef steams the eel and tops it with a mix of homemade crispy soybean crumbs, conpoy, sakura ebi and ebiko. This sits on a perfectly steamed pumpkin and finished with superior soy sauce.
A Cantonese classic dish is the Duet of Traditional Crispy Chicken stuffed with Glutinous Rice, Goose Liver and Waxed Meat (S$88++ whole for 6 to 8). Deboned chicken is flatten to leave only the skin and a wafer-thin layer of meat. Glutinous rice, brown rice, pearl white rice, peanut and sweet corn, chicken, chicken liver and goose liver are layered before rolling, steaming and then air-drying for at least an hour. Another neat parcel of glutinous rice, brown rice, pearl white rice, peanut and sweet corn and waxed meat is served side by side tasting almost like claypot rice. Eat this with the homemade pineapple puree and sweet-spicy sauce for more umami.
The Cantonese restaurant's signature dishes include a Stir-Fried Sliced Pork with Leek in Spicy Sauce (from S$22++). This Sichuan dish is twice cooked. Pork belly is simmered before it is sliced and stir-fried with hot bean and broad bean pastes, garlic and leek.
The Signature Bean Curd Medley (from S$26++) stood out the most for me. It is available exclusively at this Si Chuan Dou Hua outlet. Fried Homemade beancurd and deep-fried purple rice tofu are stacked and topped with homemade minced meat sauce. These sit on steamed original and purple rice soybean curd. Don't forget to indulge in the popular "Chong Qing" Diced Chicken with Dried Chilli (from S$22++) and enjoy the kick from the dried chilli and peppercorns.
Crispy rice in broth is the in thing these days. And the Crispy Brown Rice with Two-head Abalone in Superior Stock (S$78++ for 2 to 3 people) is Chef Leung's luxe version. A mix of brown, pearl and white rice puffs are cooked in hot superior stock with scallops, prawns, sakura ebi, conpoy, preserved vegetables, cooked white rice, coriander, and spring onion. Slices of braised 2-hear abalone are added when served.
Nostalgic Dim Sum Feast with up to 40 dim sum items is available here for Lunch from Tuesdays to Sundays and public holidays. It is priced at S$46 per adult from Tuesdays to Thursdays and S$52++ per adult or a bundle offer of S$188++ for four adults from Fridays to Sundays and Public Holidays. There is a minimum to dine and this pricing is available till 31 January 2021.