Revamp Cocktail Bar at Tanjong Pagar has collaborated with the popular China Whampoa Home Made Noodle. Now you can pair Revamp's cocktails with local favourites such as ban mian, abalone mee and wu xiang in the CBD. Prices do not differ much from the original hawker stores at Whampoa and Geylang. Prices of noodles start from S$6.80.
We visited the outlet with our friends at Spirited Singapore and City Nomads to try out the food. The jumbo prawns can be peeled for you leaving only the prawn heads intact so you can suck out all the goodness within without dirtying your fingers. How thoughtful.
The Tom Yum Home Made Ban Mian (S$18.80) is a superb soupy dish of seafood and homemade ban mian. You can a choice of noodles so remember to let your wait staff know what you like.
The Fire Breathing Dragon (S$29.90) is a brand new dish as a result of the collaboration. Fresh lobsters and scallops and home-made meatballs, crispy ikan billis, fried shallots and sliced mushrooms have been added to traditional hand-made ban mian. Flaming Brandy is poured onto the dish just in time for you to dig in. This dish is available exclusively at Revamp Cocktail Bar.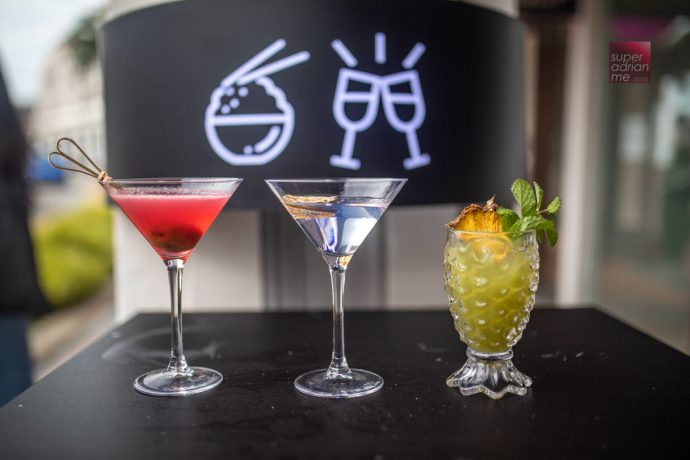 Enjoy a selection of cocktails from Diageo World Class 2016 Singapore Winner Boo Jing Heng who is co-owner and Head Bartender at Revamp Cocktail Bar.
Enjoy S$10 drinks during the happy hour from 5 pm to 7 pm daily or from 10 pm to close every Friday, Saturday and eve of Public Holidays for selected cocktails, shots and snacks.
Classic cocktails such as the God Father or Daiquiri are priced at S$18 while Signatures such as the G&T Martini or Blue, Vine Old-Fashioned are priced at S$20.
The selection of Wu Xiang pairs excellently with alcohol and makes a great bar snack too. The menu lets you select from a pretty decide variety of items ranging from Bean Curd Prawn Roll and Crispy Prawn Crackers in the Seafood category, Bean Sprout Cake & Century Egg or QQ Pork Sausage and Signature Ngoh Hiang Roll amongst many other items.
Other bar snack items include Spicy Abalone Clam Salad, Spam or Truffle fries, Beancurd Skin Chicken Wrap and the other usual suspects.