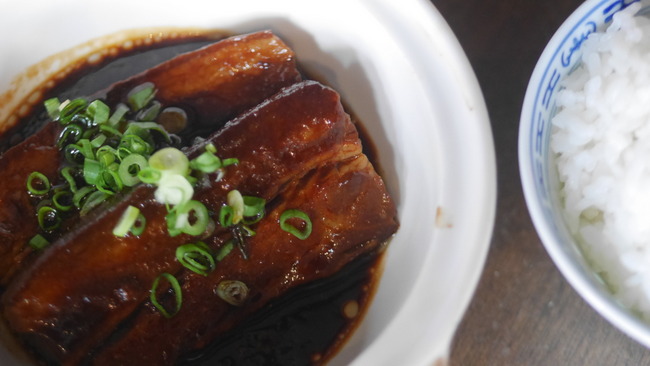 A holiday to Taiwan was all it took. The Kishore brothers has joined forces with Chef Shawn Koh (previously of Salted & Hung) to bring us a charming pop-up filled with all the easy-going Taiwanese street food, draft beers and hi-balls at just S$5 or S$10. Charming barista, Tim Chew, has also brought his meticulously perfected Straight Up Cold Brew, served black, white or as a refreshing lemonade (oh yes, just wait for this), to the establishment. Sounds weird with a bowl of lu rou fan, but, luckily, you're about to be proven wrong at FIVE TEN.
The Food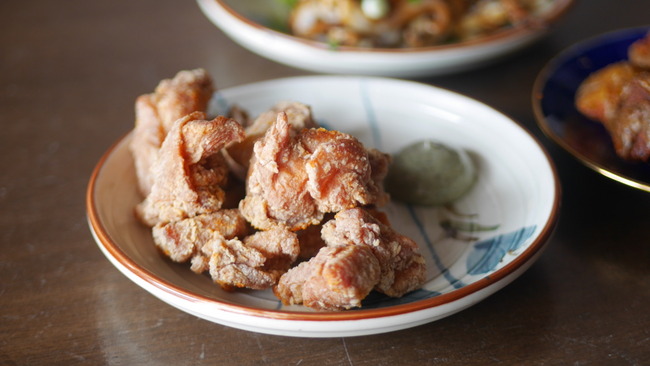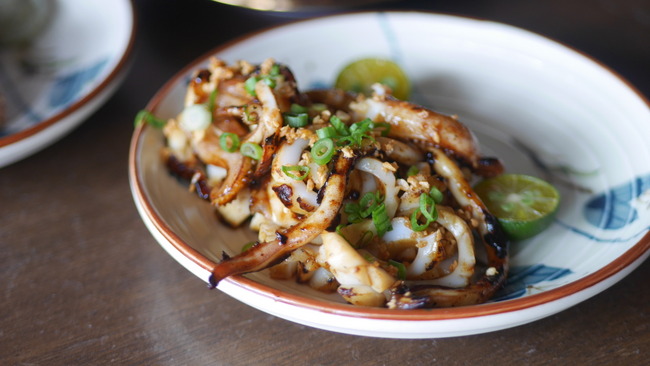 There are no smoke and mirrors here. The vibe is casual in the afternoon, with a added boost of excitement as the sun comes down. Pints are pushed out along plates of fried chicken (S$5/S$10 for rice bowl) and grilled squid (S$10) as reward for the daily grind, while rice bowls packed with Lu Rou (S$10) or braised intestines (S$10) are flying out the kitchen window to satisfy the ever hungry crowd.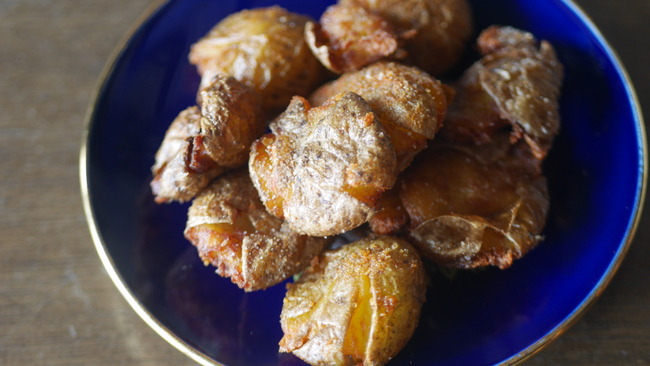 The kitchen is kept busy. Their insistence on these small plates creates a collection reminiscent of a night market. Different dishes, different packets all gathered after my hungry pals scoured the entire market for what's good (or which had the longest queue).
Except now, I am in the comfort of air-conditioning and a cold pint.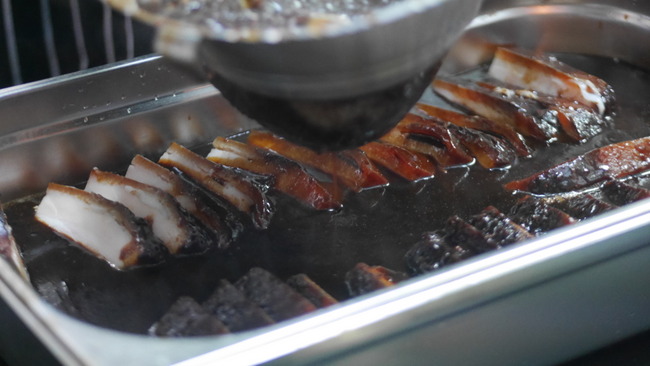 Still, it would be unfair to simply say FIVE TEN is just another Taiwanese restaurant. The idea, the influence all stems from that beautiful country where food is savoured with a passion, but, Chef Shawn does more than simply recreating them. He brings into each dish a touch of home.
Namely, mummy dearest.
Generically dubbed the "house special sauce", this luscious gravy I can't help but pour over any bowl of rice within my reach, was a combination of trial and error of Chef Shawn's mum's own recipe. It took a total of seven trials, and a lot of pork bellies.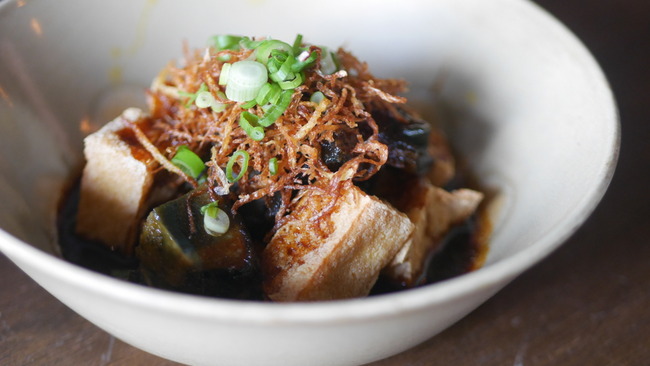 A hint of herbal, from the famous five spice, it is also sweet and savoury. Braised lovingly with the slices of pork belly and its layers of fat, it becomes the perfect accompaniment to any meal. The same sauce is used in a smelly tofu-inspired dish as well. In the Tau Kwa and Century Egg (S$5), it gels the two contrasting ingredients together.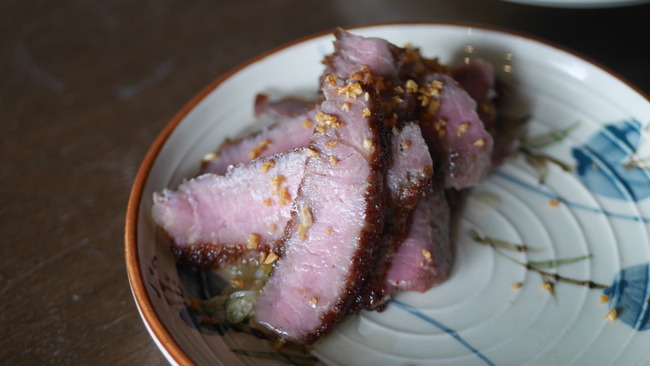 The pickled cabbage which paired beautifully with the steak with crispy garlic oil (S$10) is also from Mrs. Koh. Rather than being tart, it imparts a sweet yet mild pickled flavour to keep you going back for more. It has you wishing Chef Shawn would serve it on its own, to be eaten between the many dishes as a palate cleanser.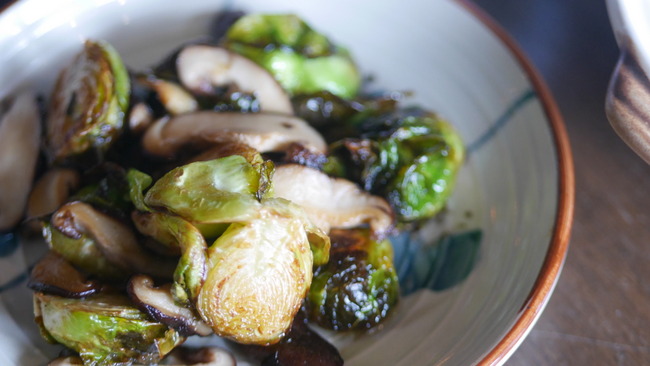 I have to make a special mention to an easily forgotten dish, the brussel sprouts with shiitake (S$5). Infamous for its bitter and limp texture, kids hate it, adults hate it. Here, though, Chef Shawn does a simple stir fry with, presenting these delicious buds, best consumed with the rice bowls or the lu rou. There's a slight char the envelops each bite, with the outer leaves carrying an addictive caramelised flavour. If you know anyone who turns their noses at brussel sprouts, you know where to bring them.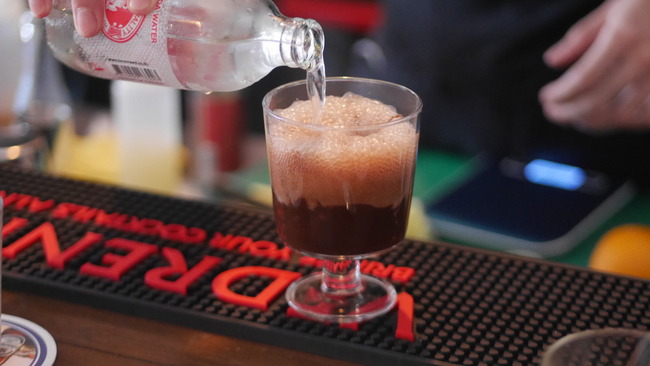 There is a also a lovely treat waiting after all the savory dishes. Take it as a preview to the amazing coffees they have at FIVE TEN. Their creamy white cold brew (the latte version, essentially) is made into an ice cream, where it is mixed with homemade chocolate sauce and soda water for a Cold Brew Float (S$5).
The Drinks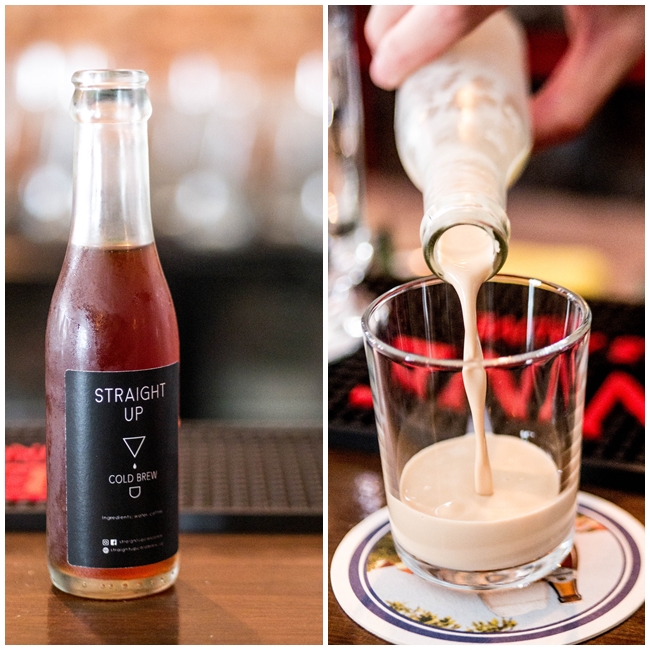 The usual suspects of beer and spirits aside, there is a lot to love about the coffee at FIVE TEN. Barista Tim Chew only serves cold brew here, but for good reason.
Give him three days and a bag of Ethiopian and Columbian coffee beans, and he will reward you with a surprisingly refreshing cup of joe. While I am a known caffeine chaser, I know very little about the delicate notes and flavours. Still, I could taste hints of chocolate and nuts in his Black Cold Brew (S$5). There is no sugar, cream or (my dreaded) acidity, making it an incredibly easy pick-me-up. And, by pick-me-up, I mean three espresso shots worth.
This barista ain't playing around.
Those who love their lattes will fall in love with the White Cold Brew (S$5). Rather than adding milk in, milk from Australia was used to cold brew the beans. The same three days, the same blend. But, what you get is a silky, light coffee-flavoured milk. Likewise, there is no additional sugar. It all comes from the milk alone. Basically, "bye, Meiji".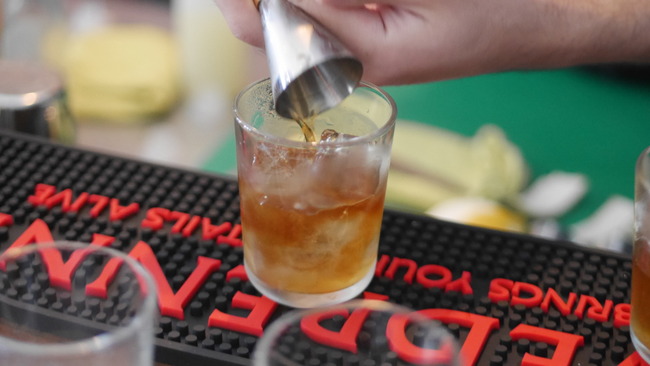 It was hard to pick a favourite out of the three. That is until the fourth contender showed up. The Cold Brew Lemonade (S$5) is a product of Tim's love for coffee and bartending. Black cold brew, honey, lemon and soda water all come together for a fizzy soda. The sweet and sour honey lemonade at first, then a slow reveal into those chocolate notes from earlier. This is the coffee I'd like to have all day, every day, especially when lu rou is involved.
Whether you're looking for a casual lunch, a mid-day boost or a place to unwind after work, FIVE TEN ticks all the boxes. Fantastic food and even more amazing coffee at just S$5 and S$10? There's nothing else to say. Just head on down right now.
FIVE TEN is located at 237 South Bridge Road Singapore 058786.
Tel: +65 6924 7352