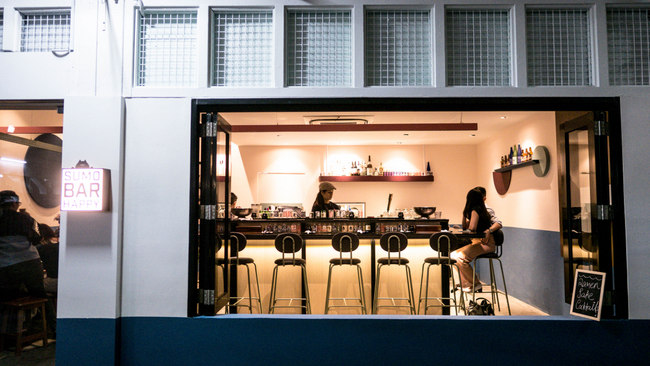 Invites were sent, and I was to ready to go. What awaited me was a Thursday night like no other. My girlfriends and I were raring to check out Waterloo Centre's unlikely addition, Sumo Bar Happy. From the folks who brought you hearty Japanese grub at Standing Sushi Bar, Tanuki Raw and my CBD staple, Salmon Samurai, this modern standing (tachinomi) bar has been winning crowds with their adorable one-cup sakes, savory taiyakis and ramen bowls made for champions.
Start Off: Sake Cups, Sake Cups and More Sake Cups with their Sides
Everyone started off strong, ordering a cup sake each. I barely paid attention to these in Japan, thanks to my prejudiced idea of them being lower in quality. Carrying sakes of various grades, from nigori to junmai, these little cans of happiness are a gate way to the world of nihonshu.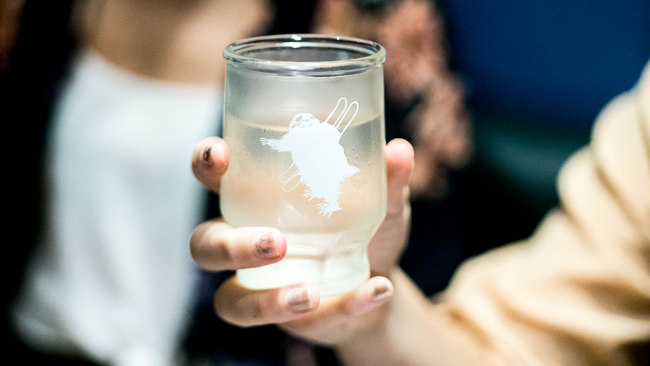 It's popularity, however, is mostly credited to the illustrations adorning the glass jars. Prefectures will have their mascots featured, or have specially commissioned cups designed, all alongside more traditional paper labels. Many have gotten into the habit of collecting these cups, like an achievement of sorts.
Then again, it's not easy saying no to the fluffy snowball trying to skii on the Yukiotoko Junmai (S$27).
And, yes. Sumo Bar Happy is more than happy to give your cups a quick wash and pack it for the happy ride home with you.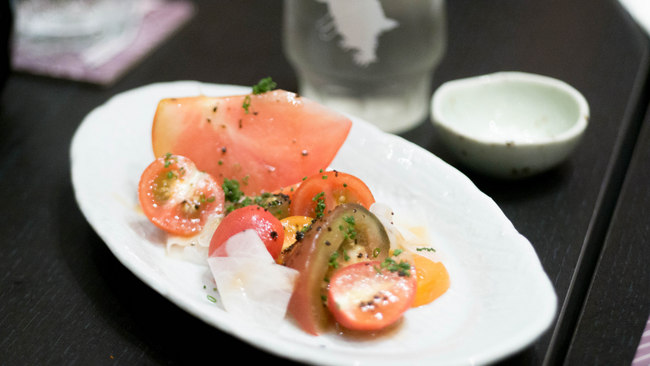 More than just aesthetics, the Yukiotoko Junami is a dry yet gentle sake with notes of cream and rice. It went beautifully with the medley of Chilled Heirloom Tomatoes (S$1), served with a refreshing dressing of white balsamic and ginger vinaigrette.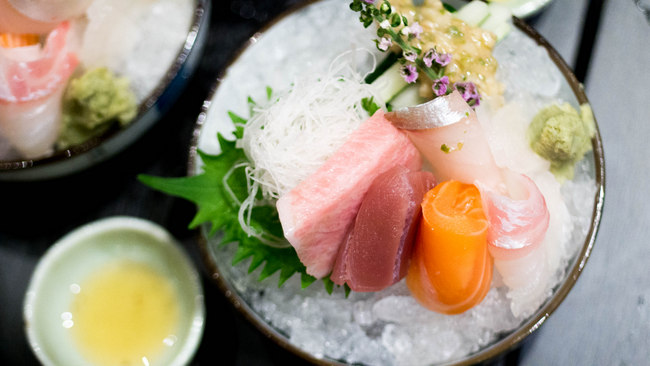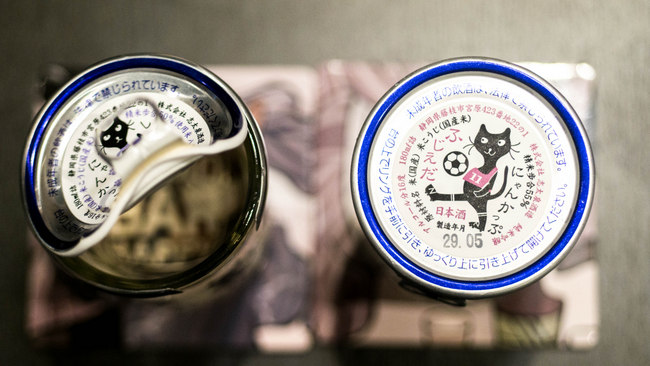 The cat-themed junmai ginjos from Shida Izumi, Shizuoka, on the other hand, are my first picks for the Sashimi (S$17). Both the Nyan Cup Junmai Ginjo (S$28) and Fujieda Junmai Ginjo (S$29) are light, crisp accompaniments to seafood and fish dishes. The zesty finish of the Fujieda is great with the shima aji (striped horse mackerel), especially when dipped in their white ponzu.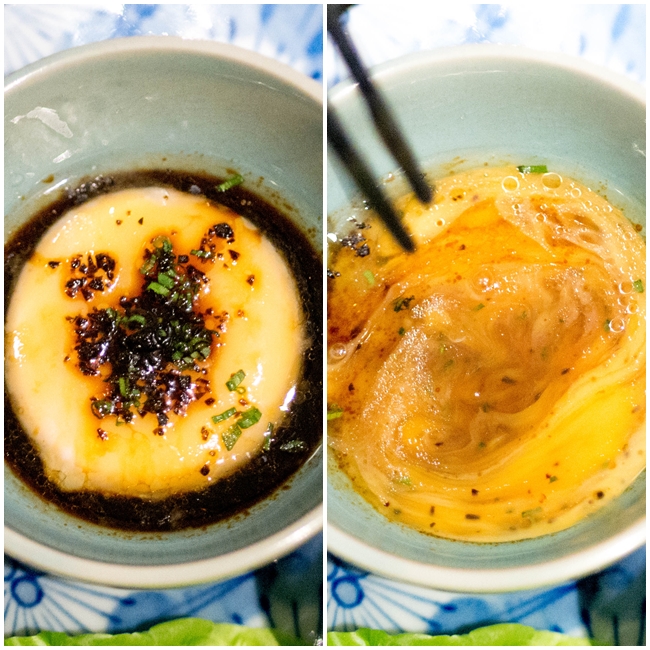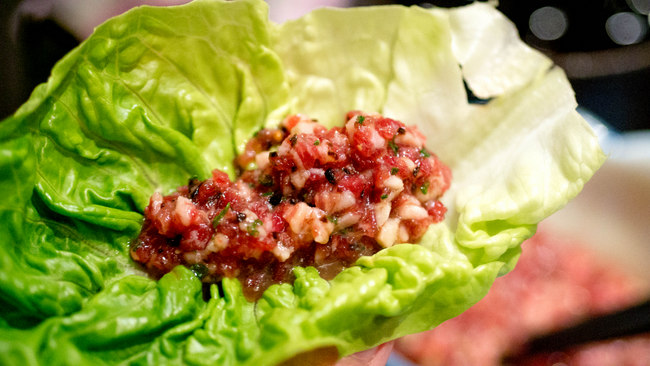 Everyone fell head over heels in love with the US Prime Beef Tartare (S$13). What made the dish was the perfect balance of meat and fat, joined together by the robust egg confit and truffle nikiri sauce. The heaviness of dish is evened out when wrapped with the seaweed and baby romaine leaves, and perfect with the robust Junmai Ginjo (S$29) from Ishizuchi, Ehime.
How many cups are we at now? I don't remember.
Each cup was so was so easygoing. They all went so fast.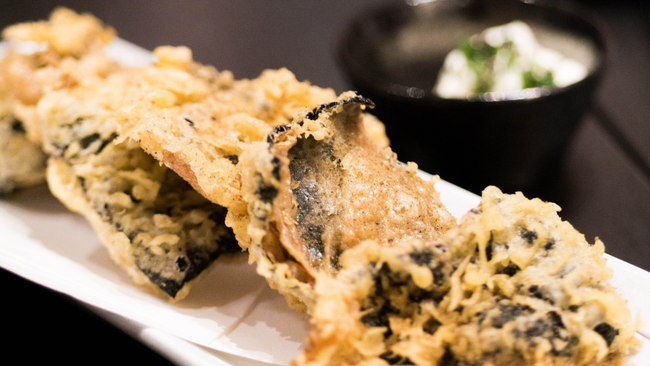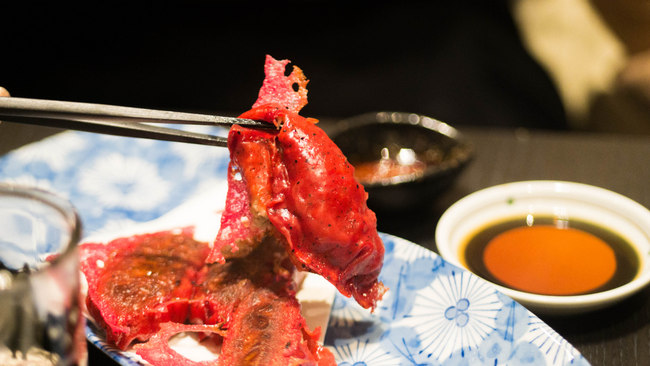 The awaited Yuzu Pepper Chicken Skin Chips (S$10) arrived at long last. Great on its own, but even better when dipped into the shio konbu sour cream. Almost like a light cream cheese. The plate cleared out faster than it took to reach our table. Thank goodness, the US prime short rib came back in the form of a quartet of bright red Beef Gyozas (S$11). Just like the tartare, the balance of meat and fat on this cut is perfect. All the seasoning melted into the fat. You get these little pockets of "soup, making you pop another one into your mouth before you know it. That Junmai Ginjo (S$29) from Ishizuchi, Ehime would do well again, here.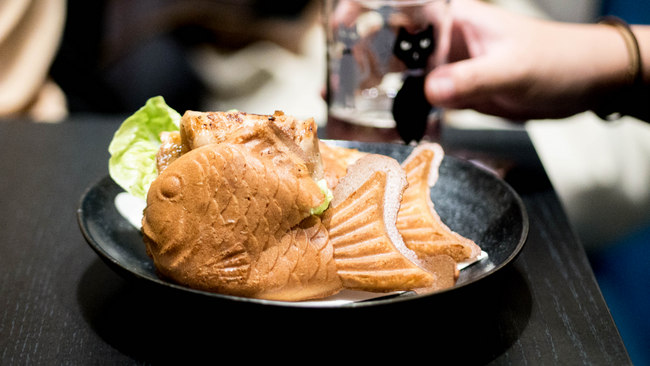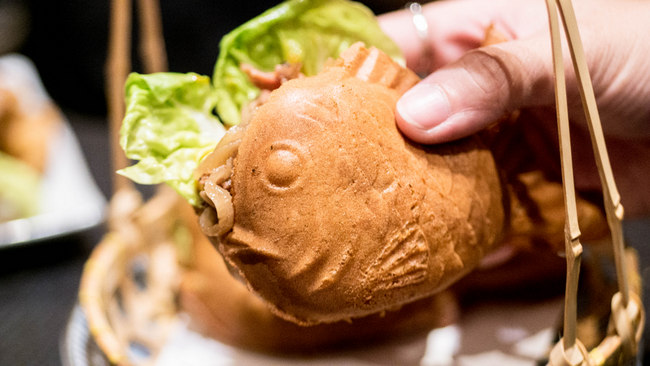 If I had to choose a favourite out of all the snacks, it would be the Char Siew Taiyaki Sliders (S$14) and the Beef Taiyaki Sliders (S$15). The thick Nagano-styled char view slices are flamed right before being sandwiched into a crispy yet fluffy roasted soy and brown butter taiyaki buns. That added earthy smokiness is just amazing. Their thin-sliced US prime beef just explodes in its juices, soaking every inch of the bun for a fantastic bite. I've never had a savory taiyaki, and I have been converted. A taiyaki in one hand, and a Junmai Muroka (S$26) from Ishizuchi, Ehime in the other.
Unknown number of sake cups in, but still going strong.
Fill Up On: Hearty Donburis and Huge Ramen Bowls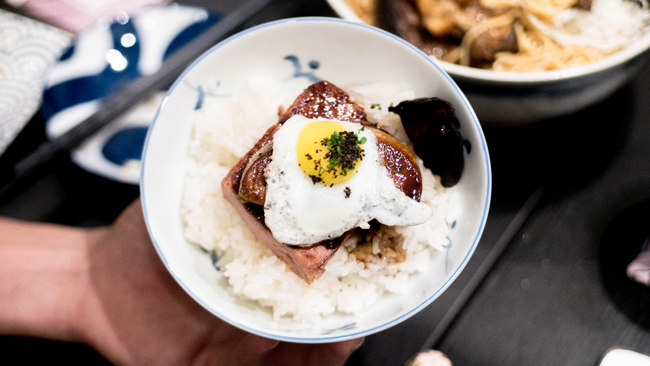 Looking through the location tag on Sumo Bar Happy, we have been bracing ourselves for the huge ramen bowls. We, however, were not ready for how delicious their overshadowed Mini Loco Moco Don (S$18) was going to be. Presented with Koshihikari rice from Niigata prefecture, these soft grains soak up the delectable house-made foie gras sauce. Mix the house-made luncheon slab made from Nagano pork, pan-seared foie gras and quail's egg, and you've got a table full of satisfied faces.
And, then it happened. The glorious, manly bowl of Bone-In Short Rib Ramen (S$42) arrived. The 600g short rib sticks out of the bowl, challenging us. It just slides off the bone, soft and tender with little bits of gelatinous fat drenched in that smoky tonkotsu broth. I loved that the noodles are on the harder side, coating each strand with that same wholesome broth. If I had not downed an unknown number of sakes and taiyaki sliders, I may have stolen the bowl and ran off to have it all by myself. Still, something as beautiful as these deserves to be shared with fellow hungry souls.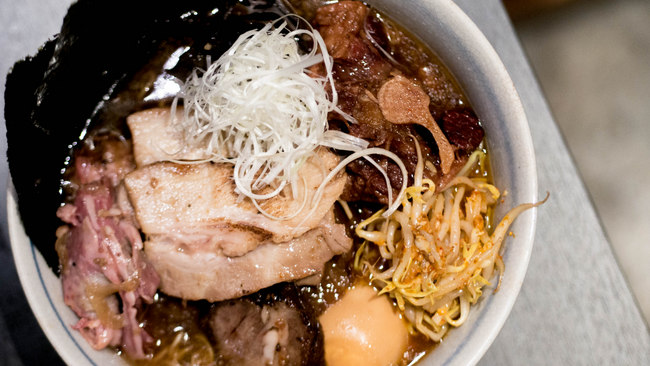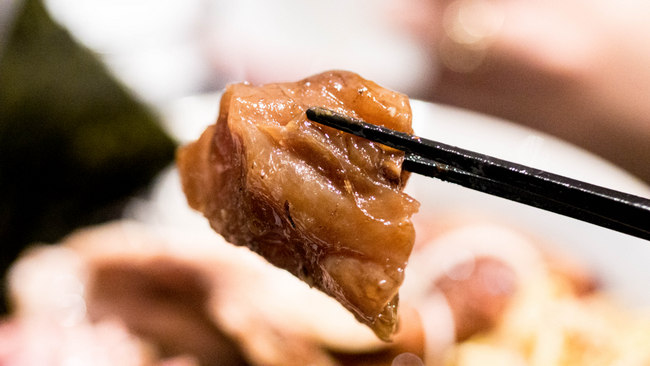 We were obviously setting ourselves up for a long, long food coma. Still, we could not resist the Sumo Ramen (S$23) which came soon after. A mini buffet, in the form of a ramen. It has everything a meat lover will go crazy for. The thick Nagano char siew returns along with 8-hour slow roasted red wine boneless short rib, sauteed house cured US beef and – the coveted – braised beef tendons. So much going on, but that wonderful broth just gels them all together. Also, if things get too heavy, there's an endless flow of ajitama eggs to "cleanse" your palette. I jest. Have it with the broth. Thank me later.
End The Night: A Traditional Ozeki Amasake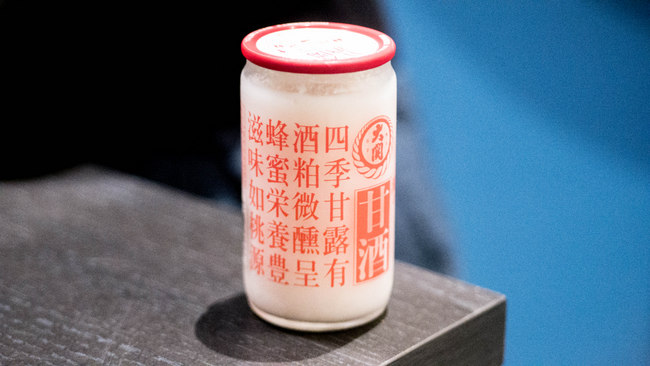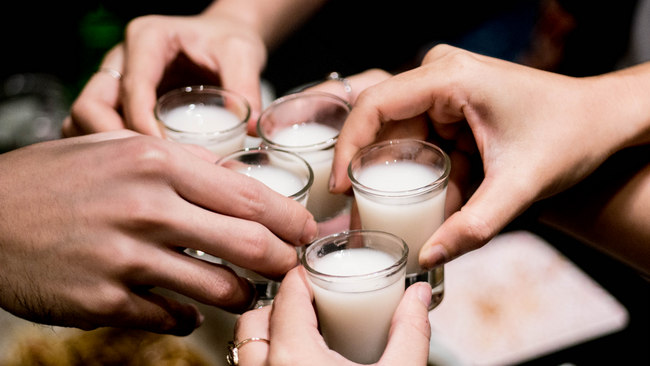 What better way to end the night with a refreshing cup of Ozeki Amasake (S$14). This traditional drink is made from sake lees (sake kasu), ginger and honey. Those who have been to temples in Japan would have had the fortune to have a warm version of this drink. A particular favourite among locals and tourist during the colder months, the version here is served cold and a little fizzy. Sweet on the first mouthful, but the warming ginger comes in at the end to soothe the barrage of meat-heavy dishes from earlier.
The ramen may have distracted us from collecting all the sake cups, but we found the final cup to end the night.
Back For More, Always
It was a surprise that the six of us were still far from ticking off the entire menu. Though, in all honesty, it was what we told ourselves as we planned our next trip down. There was still the unresolved battle between the sumo and bone-in short rib ramen. I prefer the former, but the majority would not think twice about ordering the latter again. I'm all about saving space for the chicken skins and taiyaki sliders, after all. Even before I finished penning this, I've already made a second trip down. My lack of self control aside, it is, without question, my new favourite spot.
Sumo Bar Happy is located at #01-24, Waterloo Centre, 261 Waterloo St, Singapore 180261.