November 2022 was a special month for me. It was a month of many firsts just in one trip. It was my first time visiting Cambodia and also my first time staying in a Rosewood Hotels & Resorts property. And there was a special guest shift at Sora Sky Bar, the Rosewood Phnom Penh's beautiful bar with a view. That was my first trying four cocktails prepared by Giacomo Giannotti from the World's 50 Best Bars 2022 number one bar Paradiso Barcelona. I still have not been to Barcelona. Save that for another trip.
Other World's 50 Best Bars guest shifts last year included Australia's Hayden Lambert of Above Board; Greek veteran Nikos Bakoulis of The Clumsies Benjamin Cavagna of Milanese lounge 1930; and industry legend Benjamin Padrón of Licorería Limantour.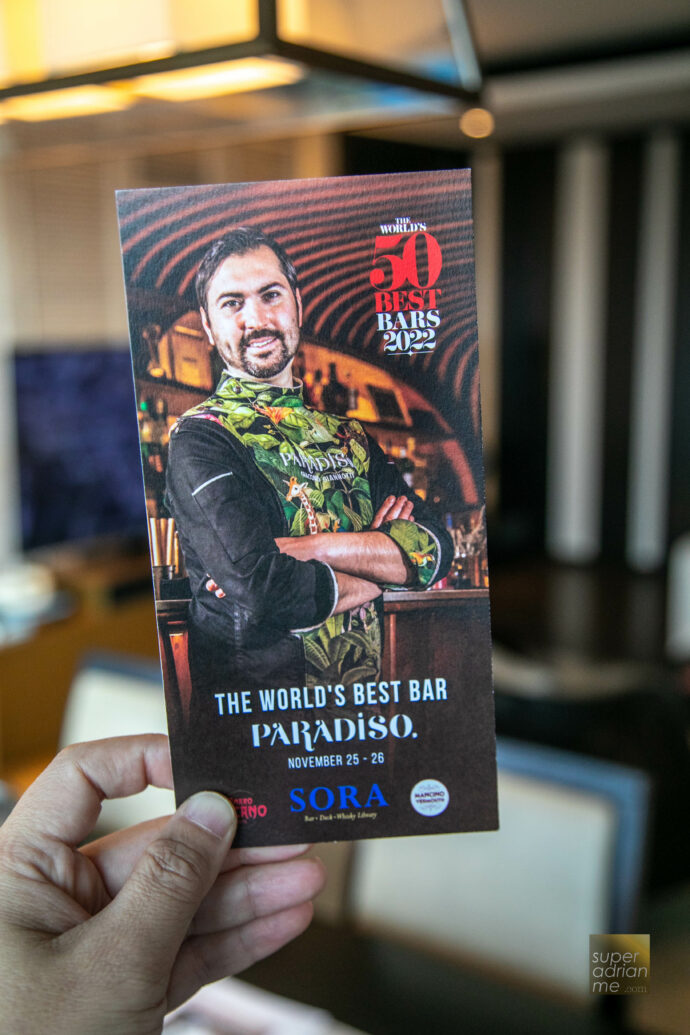 Rosewood Phnom Penh hosted Paradiso, World's 50 Best Bars #1 bar this year, in the Rosewood Bar Series guest shift from 24 to 26 November 2022 at Sora Sky Bar.
Giacomo Giannotti opened Paradiso, his own speakeasy cocktail bar at the end of 2015 and in 2020, he opened Galileo, his second Cocktail Bar in Barcelona.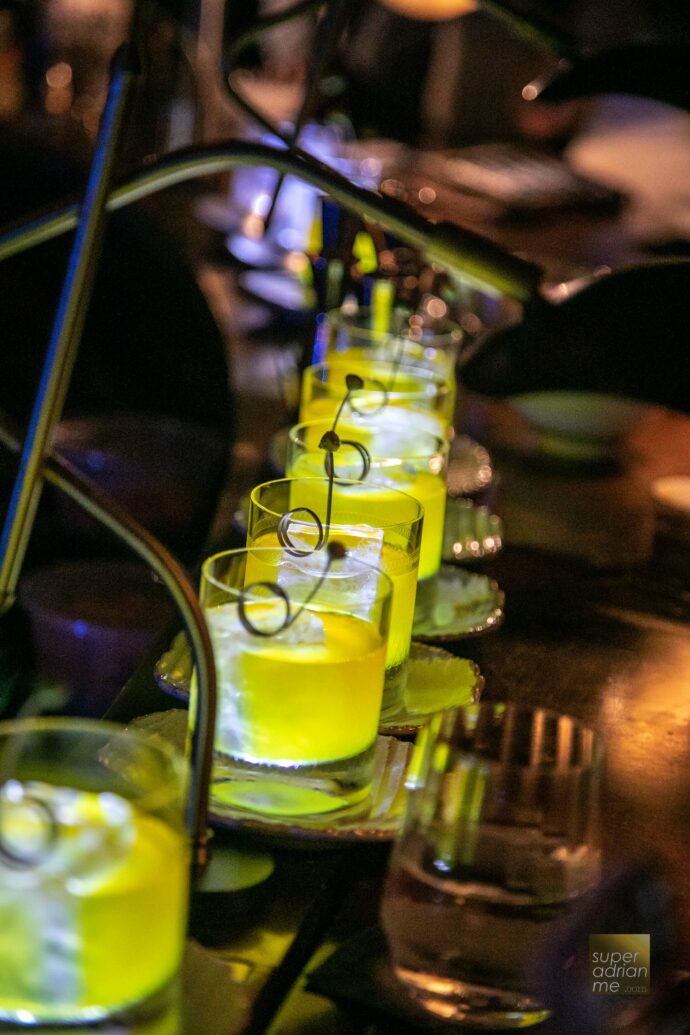 Four very approachable cocktails priced at US$15 each were presented during the guest shift. The electric bittersweet gin-based Kriptonita was made up of Roku Gin, Mancino secco, grapefruit cordial and chocolate bitters. The Evolution Negroni was also a fun cocktail with mango-vanilla-infused bourbon, Campari, coconut, Mancino Rosso, Frangelico and chai tea. The Immersion was the least sweet cocktail of the four. Dark rum, Samai gold rum, mancino rosso, yuzu liquor, agave, citrus, and pineapple marmalade gave it a more of a sour sort of cocktail which I enjoyed.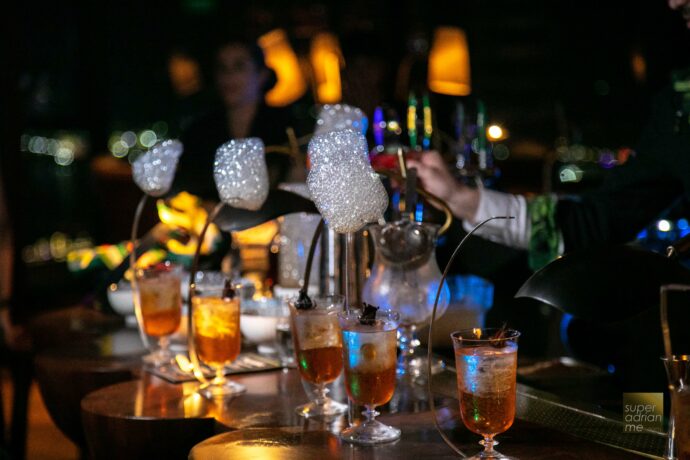 The Cloud was a show and tell drink containing mezcal alipus, amaro lucano, amaro mntenegro, mancino secco, Spanish piparras and soda. The cocktail was topped with a cloud before it was served to guests.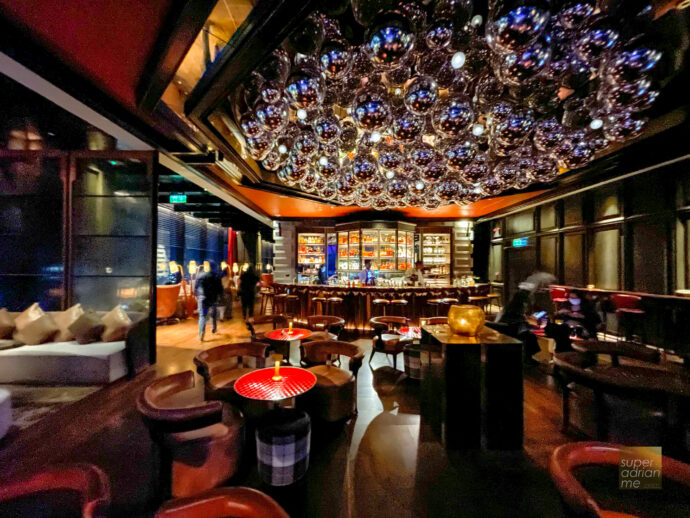 Sora Sky Bar offers a gorgeous view of the city while guests enjoy curated cocktails. The bar counter offers guests interaction with the bartender as they hone their craft. The dimly lit ambience is coupled with busy crowds in the later part of the night as patrons head over after dinner. I would recommend a pre dinner tipple here as you enjoy the sunset. You can also hang out at the outdoor deck.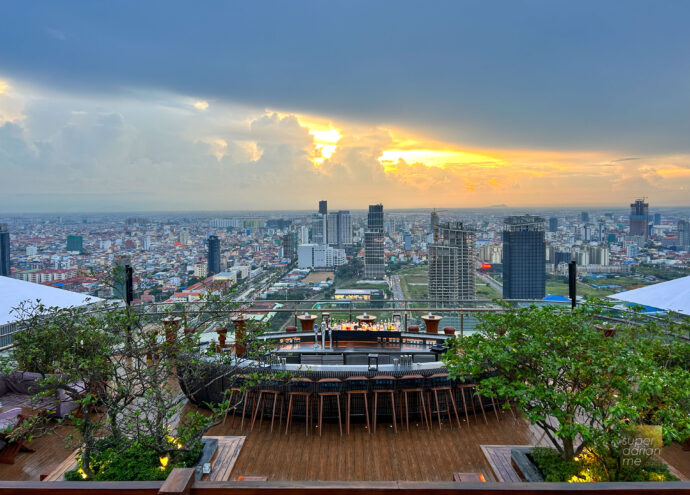 The Whisky Library offers a wide selection of single malt whiskies and an extensive cigar collection of up to 24 varieties. Go on an American Whiskey Tour with cocktails such as the Sazerac, Michter's Sour Mash Alleghe, Westward Gold Rush, Eagle Rare Manhattan or the Buffalo Sour amongst others. Each is priced at US$12.
World's 50 Best Bars Return to Sora Sky Bar in 2023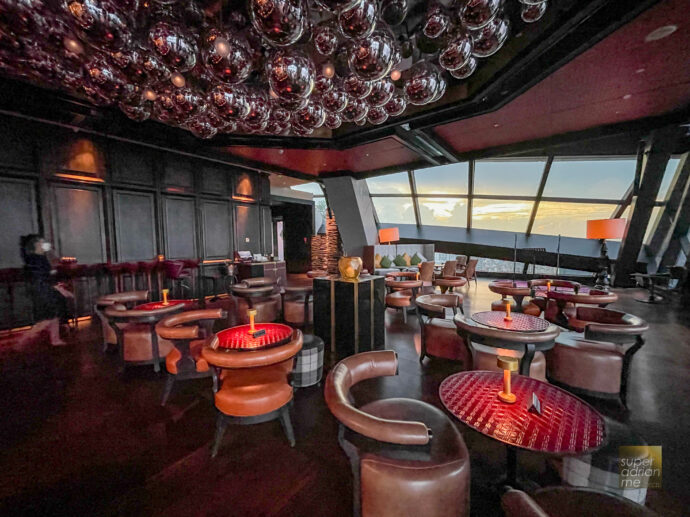 2023 sees Rusty Cerven from Singapore's Manhattan Bar (No. 33) kickstart the World's 50 Best Bars guest shift series at Sora Sky Bar from 27 to 28 January 2023. From 9 to 11 February, Andrew Yap from Ernest Hemingway-inspired speakeasy Papa Doble in Singapore (No. 61) will impress discerning tipplers with his penchant for experimental flavours. Yangdup Lama of New Delhi's Sidecar (No.26) will guest shift from 17 to 19 March.
Then there's Patrick Pistolesi from Rome's Japanese-inspired futuristic Drink Kong (No. 16) from 23 to 25 March; and Japan's Hiroyasu Kayama of Bar Benfiddich (No. 48) from 25 to 27 May.
Sora Sky Bar will also unveil a new menu in March.