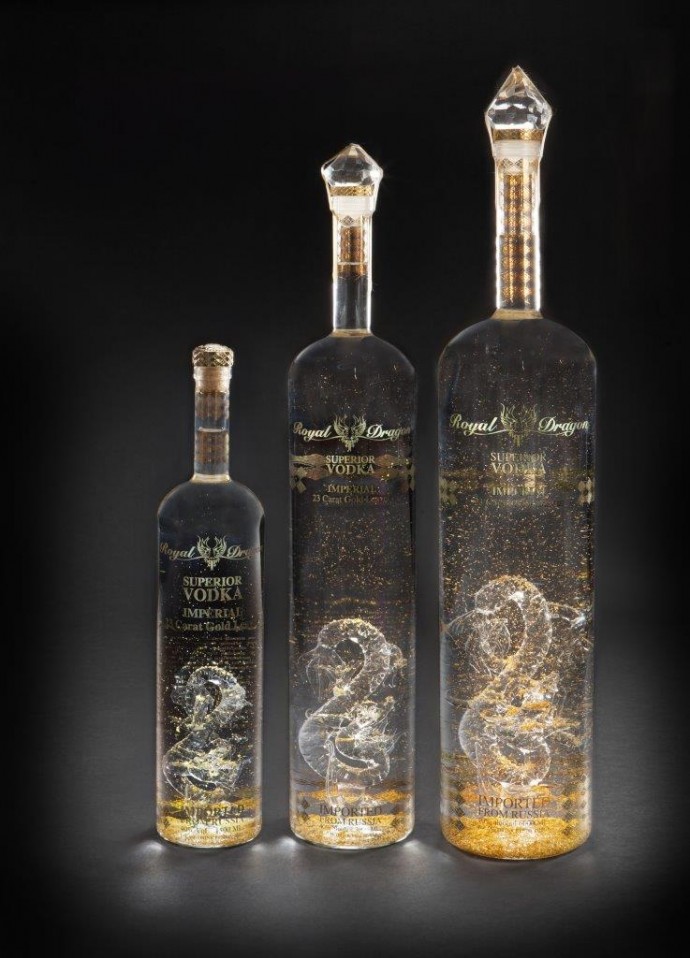 Crowned 'The Tsar of Vodkas', Royal Dragon is the epitome of artisanal mastery; this luxurious white spirit combines both prestigious design elements and superior craftsmanship.
Royal Dragon's lavishness is reflected in the 23-carat edible Swiss gold leaves, distinctive hand-blown bottles by Italian master craftsmen, and the alluring hand sculpted Asian dragon sitting in the centre of the bottle. Royal Dragon's limited edition "The Emperor" is also crowned with perfectly-shaped certified diamonds from Belgium.
Vodkas produced from rye are considered the most superior of grain vodkas. Royal Dragon is crafted from the finest organic winter harvest rye in Russia. The rye is organically grown by trusted farmers around the distillery.
To enhance the vodka's high-definition purity and clarity of taste, the distillation process involves five rounds of being filtered through charcoal using a century-old copper pot producing silky, smooth vodka, outstanding in taste.
This fine quality vodka was recently awarded 'The Most Innovative Spirit Brand 2012-2013' by the prestigious China Spirits Awards.  This has indeed sealed Royal Dragon's status as a highly-coveted masterpiece.
In addition to Hong Kong and Singapore, Royal Dragon is available in UK, Australia, Malaysia, China, Thailand and Europe and on its way to take out the super-premium vodka category in the US.