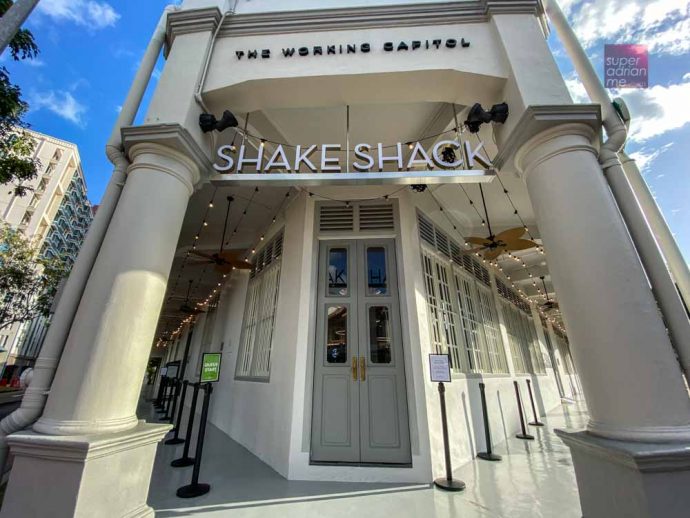 Shake Shack opened its second outlet at 89 Neil Road on 7 February 2020 at 7.30 pm, almost one year after the debut of the burger joint in Jewel Changi Airport.
The last time I ate at Shake Shack was during the media preview of the Jewel Changi Airport and we were excited to return to this new outlet for my second bite. The Chick' n Shack also made its debut in Singapore at the opening of this outlet and today both outlets in Singapore serve this chicken burger.
A crispy 100% all-natural and antibiotic-free chicken breast is slow-cooked in a creamy buttermilk marinade and crisp-fried. Shredded lettuce, pickles and a tangy buttermilk herb mayo is added and served on a pillowy potato roll. The Chick'n Shack is available at S$9.20. Because fresh chicken is used instead of frozen meats, the chicken breast patty is tender and juicy.
Besides the Chick'n Shack, other burgers available here include the ShackBurger (Cheeseburger with lettuce, tomato and ShackSauce), SmokeShack (Cheeseburger with all-natural applewood smoked bacon, chopped cherry pepper and ShackSauce), 'Shroom Burger' (crisp-fried portobello mushroom filled with melted muenster and cheddar cheese, topped with lettuce, tomato and ShackSauce), Shack Stack (cheeseburger and a 'Shroom Burger with lettuce, tomato and ShackSauce) or the Hamburger with the option to add applewood smoked bacon.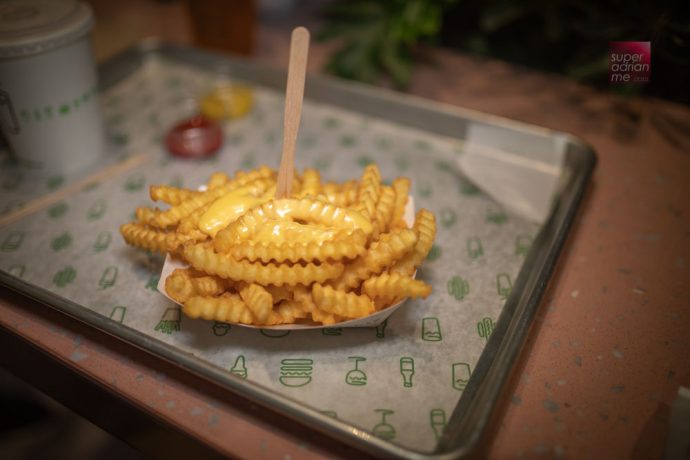 The Crinkle-Cut fries (S$4.50) or Cheese Fries (S$5.90) are perfect with a beer or the burgers
There are two new exclusives at the Neil Road outlet. That's two desserts priced at S$7.50. for single and S$9.50 for double. The Eye of the Tiger is a vanilla custard with lychee, raspberry and shortbread, topped with lime zest.
The Open Sesame is a vanilla custard blended with black sesame paste and plain vanilla brownies, topped with black sesame seeds and gold-dusted chocolate. I preferred Open Sesame because Eye of the Tiger was too sour for me.
And if you order the Shack Attack, a chocolate custard with Plain Vanilla brownie, Shack fudge sauce, Lemuel chocolate chunks and chocolate sprinkles, 5% of sales will support Very Special Arts Singapore, a non-profit offering opportunities for the disabled through arts.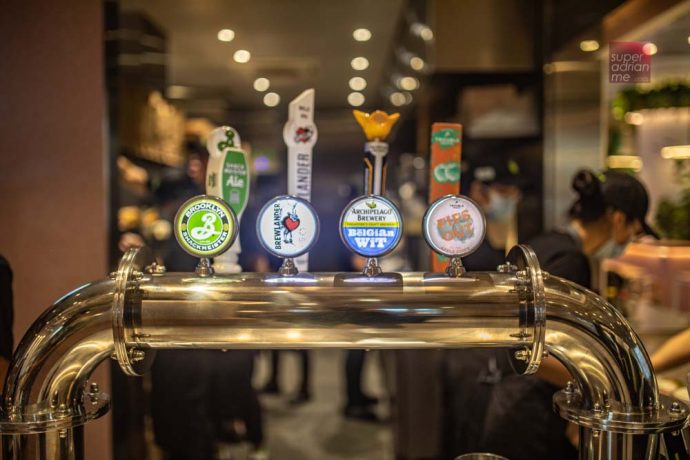 There are four beers on tap and Shack Red and White wines. Available as 12 oz or 16 oz for S$9.50 and S$13.50 respectively, the tap beers include ShackMeister Ale brewed exclusively for Shack Shack by Brookly Brewery, Belgian Witbier by Archipelago Brewery, Love Wild IPA by Brewlander and Pips Out Apple Cider by Trouble Brewing.
Shake Shack Neil Road opens at 11 am daily and clo ses 10 pm from Sundays to Thursdays and 12 midnight on Friday and Saturday.