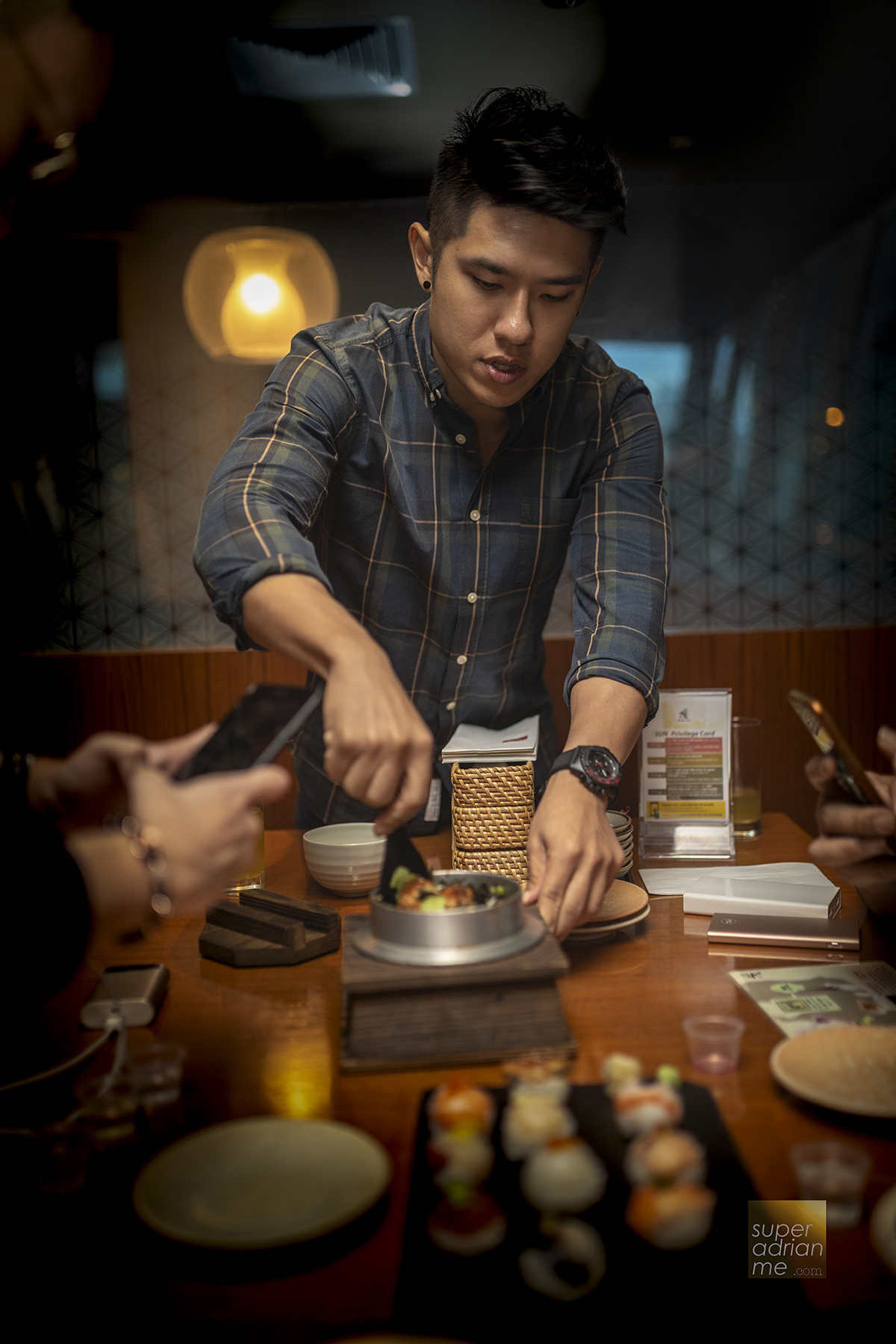 Sun with Moon Japanese Dining & Café has refreshed its dinner menu with a few new dishes. It has been serving up traditional and modern Japanese cuisine including Kamameshi, Teppanyaki, Sushi and Sashimi. It has a regional specialty menu which gets changed every three months.
Head down for dinner with your friends and share some of these new dishes.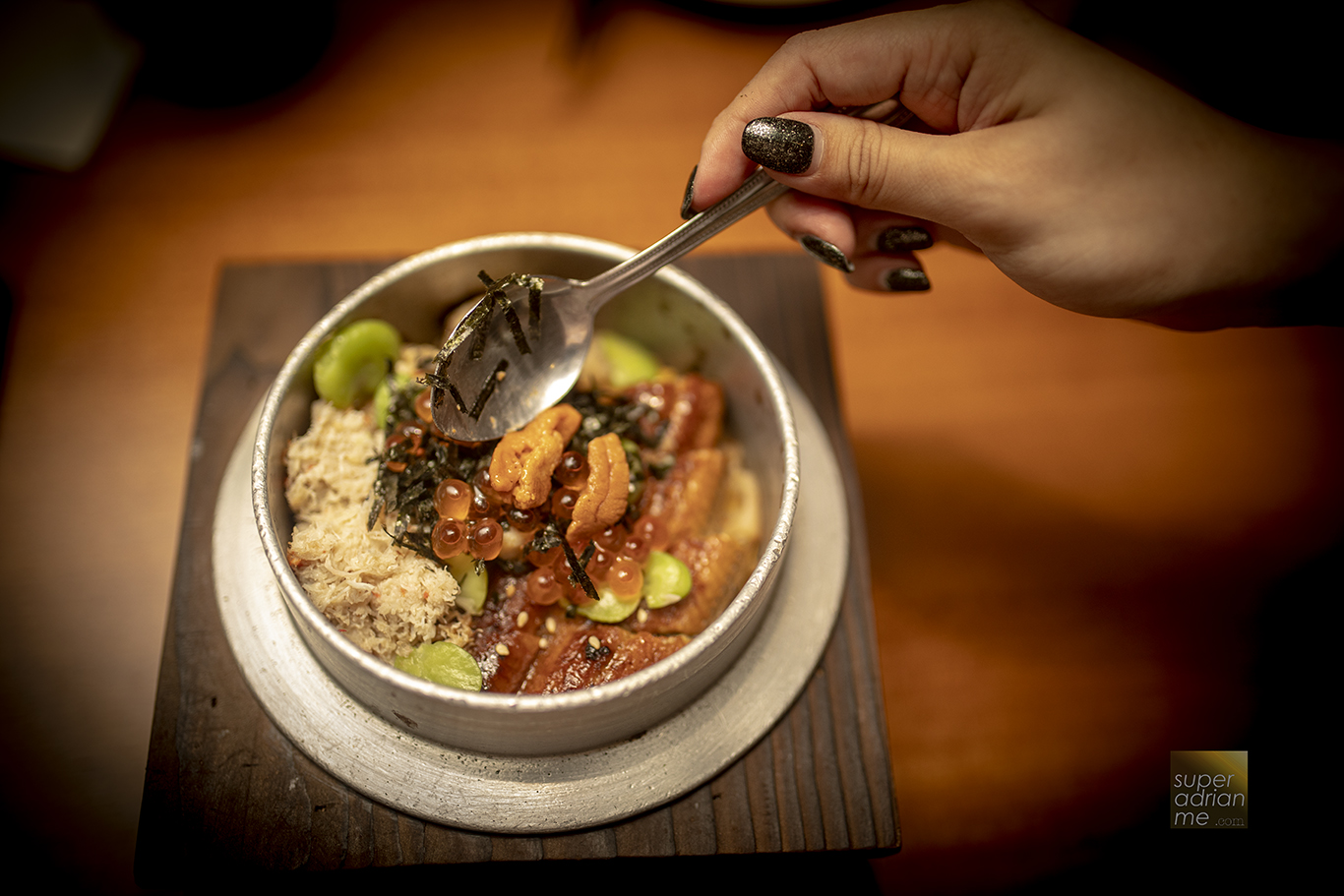 The Premium Seafood Kamameshi has the full works of flame-seared grilled eel, oysters, urchin, scallop and crab meat served in an iron pot with flavoured steamed rice.  All that rich flavours from the seafood mixed into the flavoured rice. If you have not had Kamemeshi, here's how you do it. Let the Kamemeshi steam for a minute and then gently mix the ingredients and rice to evenly spread out the taste of the ingredients. Serve rice into bowl and put wooden cover back to prevent ingredients and rice from drying up. After that you can pour the special soup into the reminaing rice and savour the kamameshi like the traditional Japanese chazuke.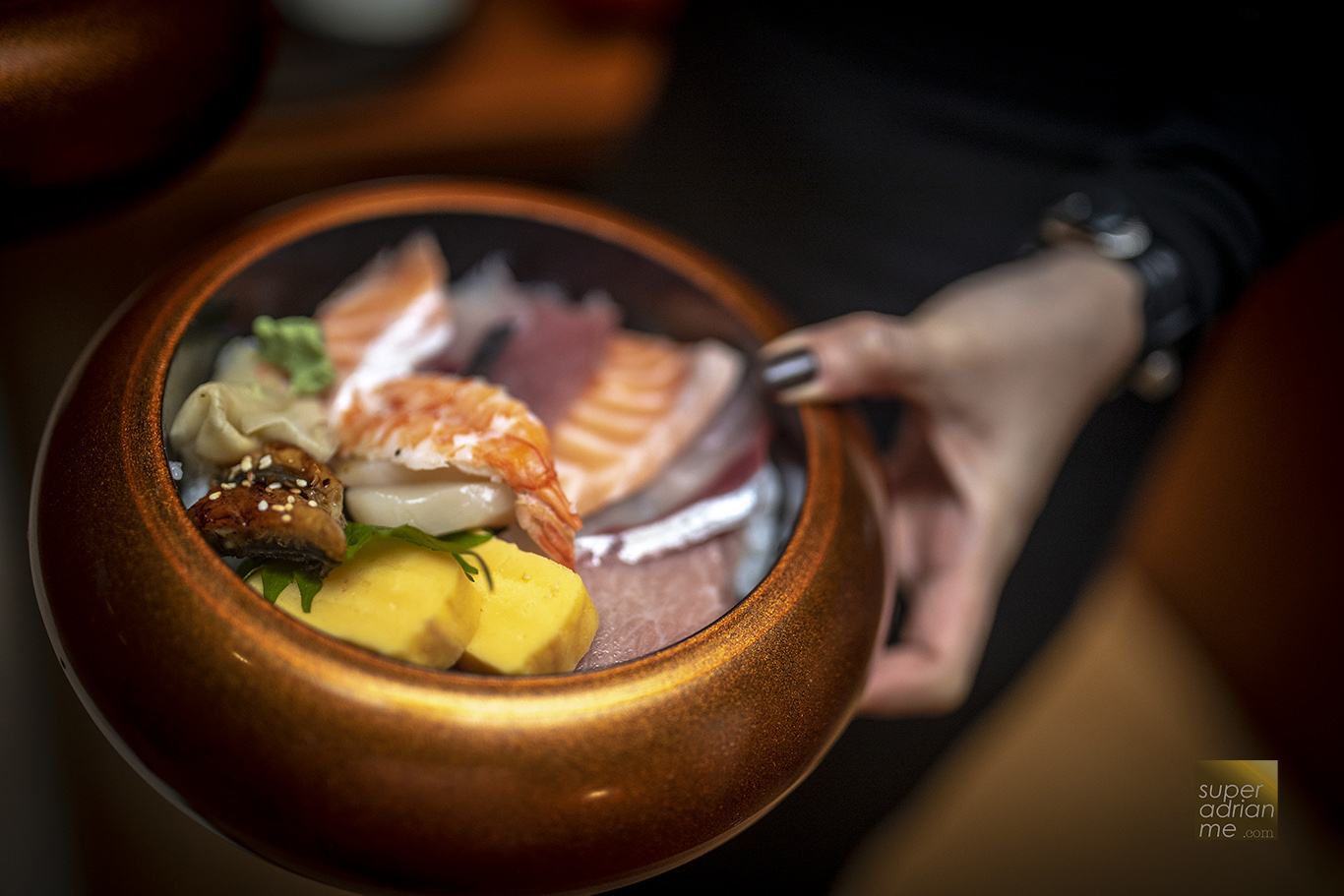 The Sun Chirashi Don set may not be new on the menu. But for S$35.80, you get a generous portion of sliced medium fatty tuna, tuna, salmon, scallop, yellowtail, grilled eel, salmon belly, horse mackerel, boiled prawn and sweet omelette. And it is served with a side dish, mini chawanmushi and miso soup.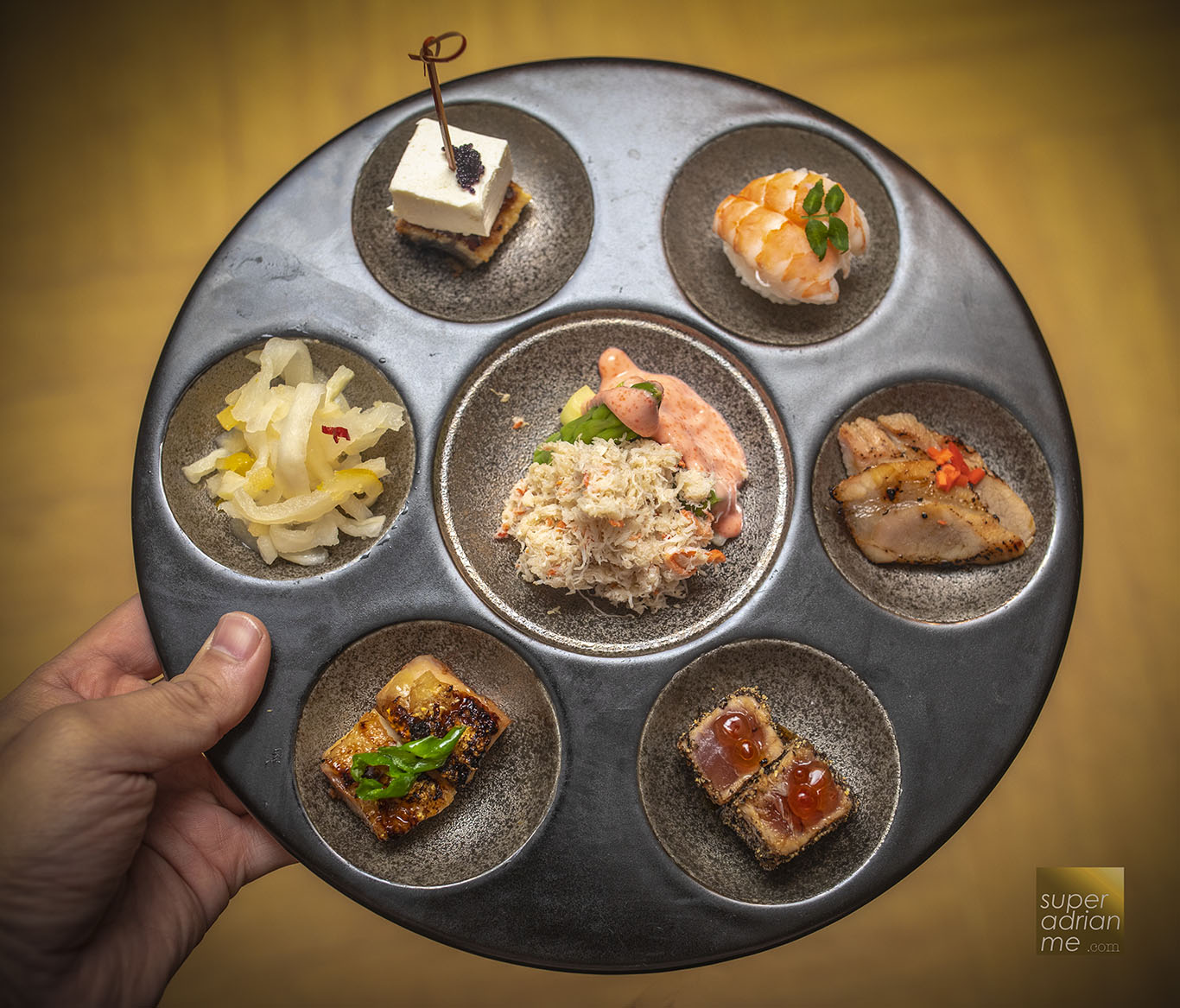 New on the menu is the Zensai Mori, a platter of seven appetisers priced at S$16.80. The platter features grilled unagi with cream cheese, seared mini tuna steak with black pepper, grilled pork belly, grilled chicken thigh, mini prawn sushi, crabmeat and asparagus with mentai sauce as well as a refreshing pickled radish with yuzu and herring roe. This small platter is best eaten without sharing, but if you really must, share it with one other person.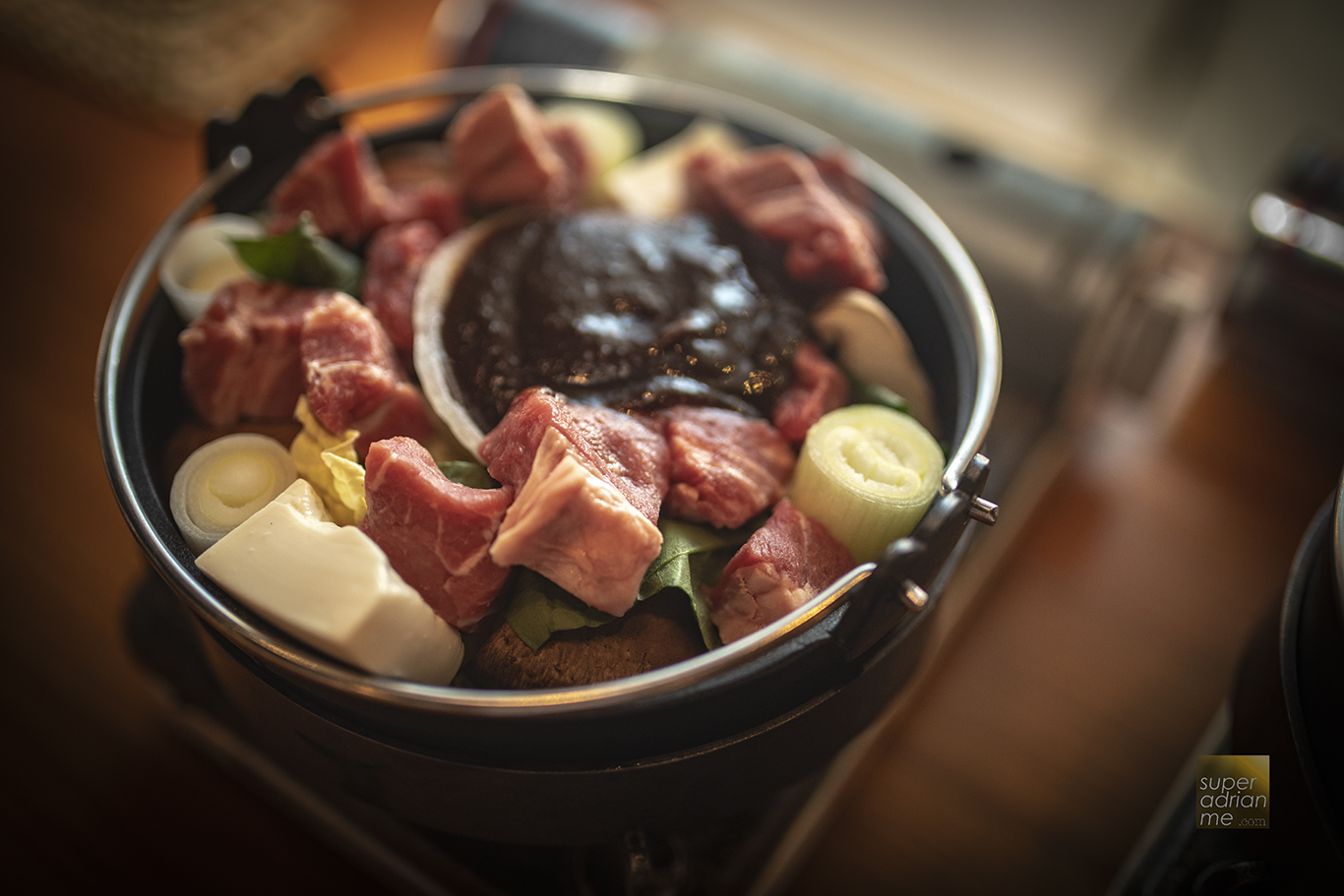 The Beef Miso Dare Sukiyaki is made with Executive Chef Sawai's original miso dare blend with hatcho (soybean) miso from Okazaki in Aichi Prefecture. Diced US Ribeye beef cubes are used instead of sliced beef so that the flavours of the beef can be retained without soaking up all the saltiness from the broth. This dish and a bowl of rice would be most perfect.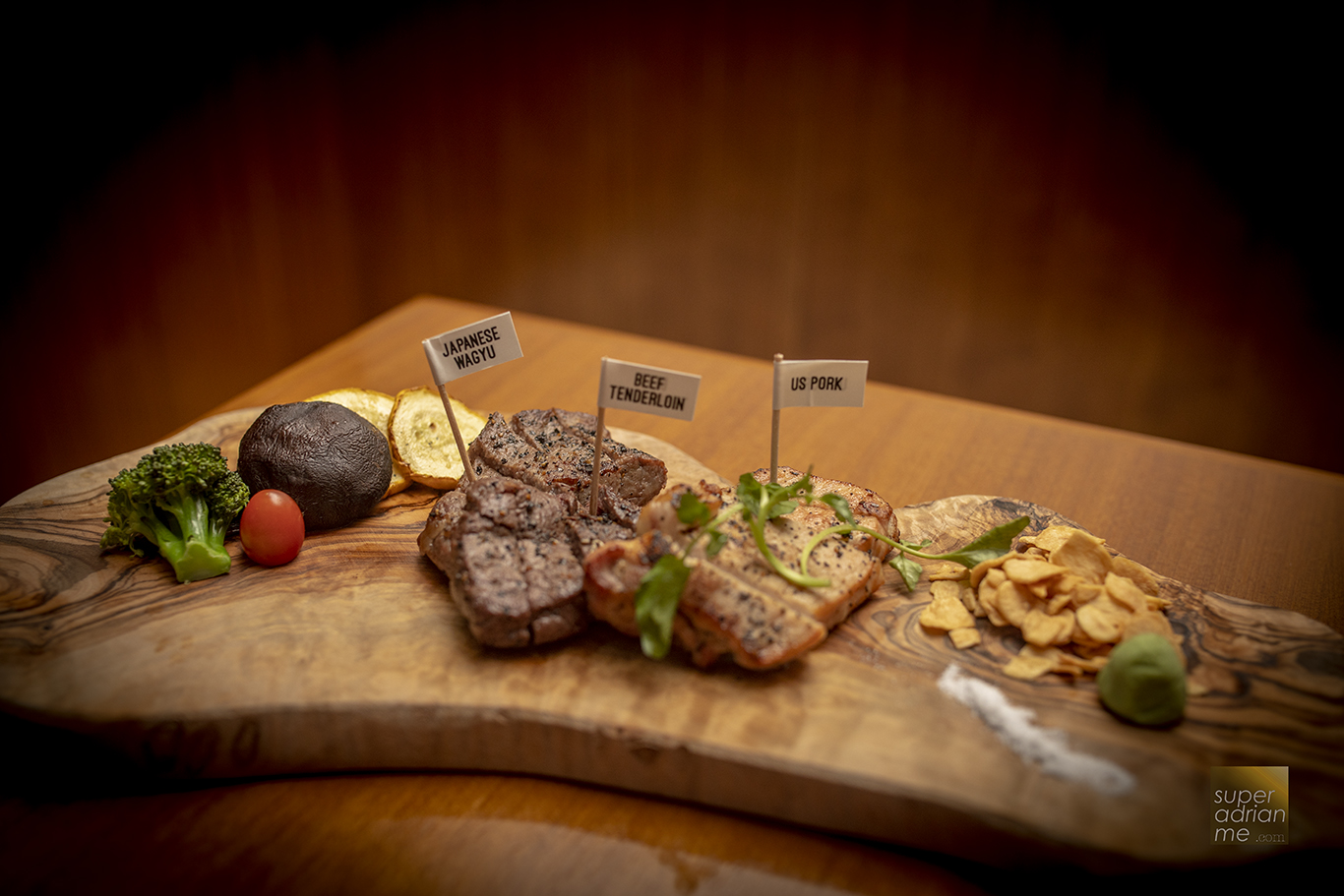 The Steal Moriawase (S$45.80) has three types of meats served as a platter. Each weighing 300 grammes, you can expect Japanese Wagyu, Beef Tenderloin and US Pork steak. There are four types of sauces to choose from. Three are Sun with Moon original sauce blends – black pepper, red wine and goma mustard sauce.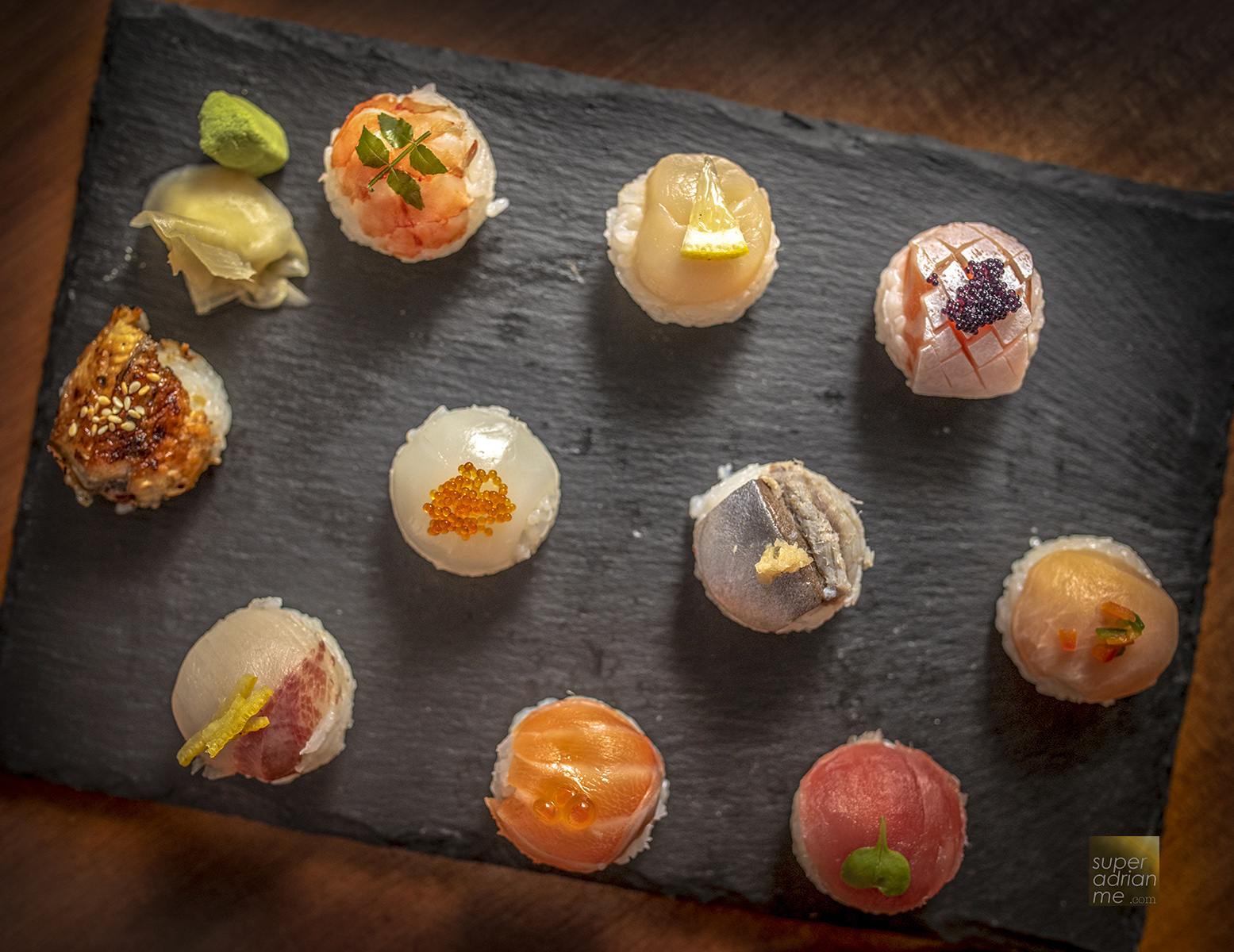 We have seen chicken rice balls, but bite-sized mini sushi balls? For S$23.80 you get 10 rice balls topped with fresh tuna, salmon, scallop, grilled eel, yellowtail, mackerel, swordfish, cuttlefish, salmon belly and boiled prawn.
A selection of sakes, wines and spirits selected by in-house sommelier Mr. Daisuke Shibuya are available at Sun with Moon. Order the Umeshu Sampler and try out various umeshu from different regions in Japan.
Sun with Moon opens daily at 12 pm and closes at 10 pm from Sunday to Thursday & Public Holiday or 10.30 pm on Friday, Saturday and eve of public holiday.