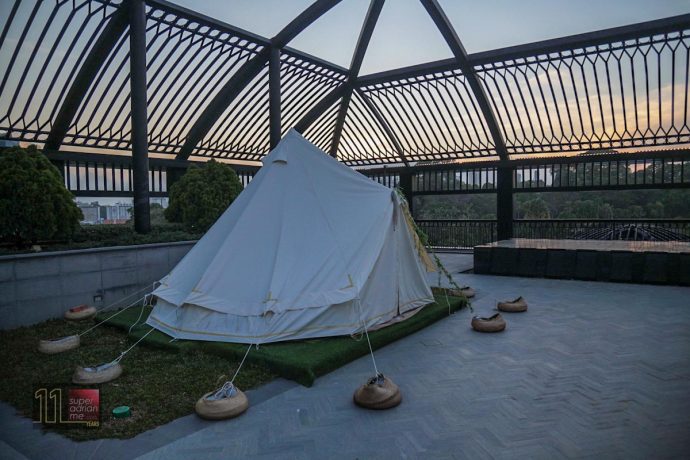 Tablescape at Grand Park City Hall has launched rooftop glamping. Many of us are hungry for new experiences since we are stuck in Singapore. So we thought we share this experience that you can enjoy with up to 4 other people comfortably. There are two tents and a gazebo available for this experience. One of the tents feature seating space within while the other has a mattress so you can lie in it. And for those who are not as nimble or cannot cross the legs for long, you can opt for the gazebo with a table and chairs.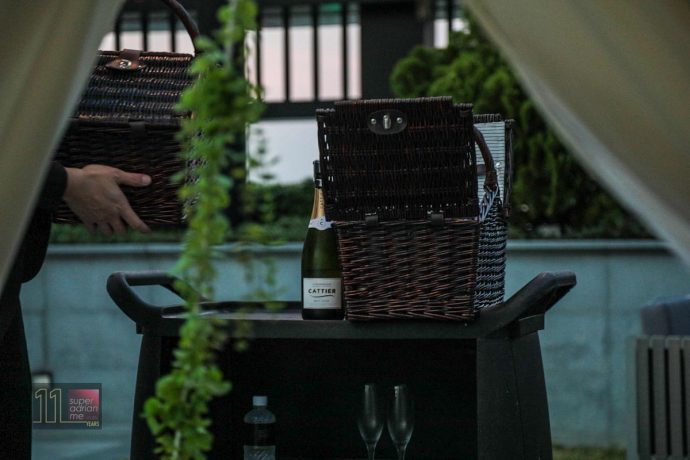 For S$88 per person, you get 8 different items served with a choice of either free flow soft drinks or 2 glasses of spirits (red or white wine or Prosecco). The picnic basket would include Tablescape-style mini beef burgers, Chilli crab mousse, Lobster , Foie Gras Terrine with Pan Brioche, Cheese & Crackers with grapes and mixed dried fruits and nuts, Plant-based Tacos, and Artisanal bread served with a selection of Homemade Butter.
Refreshed Menu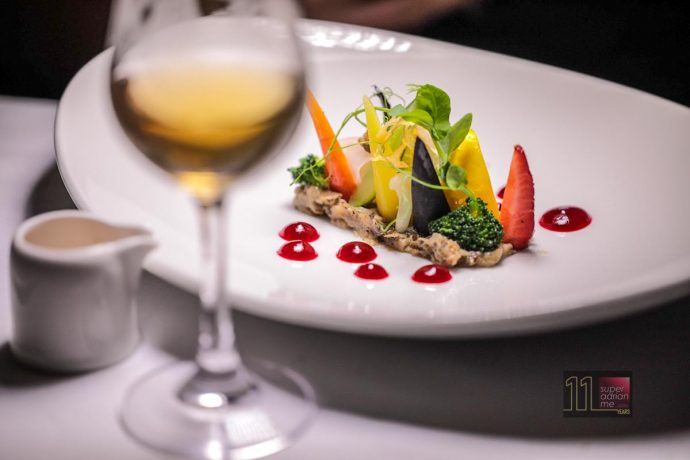 Chef has made it an art piece with his Botanic Gardens (S$26) with Lapsang Suchong Tea with Salt dish. The inspiration for this dish comes from the UNESCO World Heritage Site in Singapore.
Steamed seasonal vegetables are served with a secret dressing made with olive oil, white onion, pommels mustard and raspberry vinegrette. The base of this garden is a charcoal-grilled egg plant and beetroot. The skin is removed, then blended with olive oil and moulded into a small block.
The glass of lapsang souchong, a very smokey tea, helps enhance the smokiness of the flavours.
Another dish I fondly enjoyed was the Zucchini (S$24). Many aspects of the zucchini is showcased here with three layers to the soup. Zucchini cream is made with simmered zucchini and basil then blended with olive oil. The zucchini flower is stuffed with ricotta cheese with salt and pepper, then steamed. Sautéed zucchini cubes are added at the base of the soup. The zucchini retains its delicate form because it is steamed instead of fried.
We also got to taste the Gnocchi (S$28) & Wagyu Beef (S$68++) mains during a media tasting in March.
The Potato Dumpling Gnocchi with mussels, broccoli, and wasabi is filled with umami from the mussels, anchovies and fish stock. This delicate carb dish is covered in broccoli cream made with boiled broccoli blended with anchovies.
Chef seasons Australian wagyu with a marbling score of 4 to 5 with salt and grills in the Josper for his Wagyu Beef dish. The meat and fats almost melts in your mouth. Absolutely divine.
We also had the Valrhona Chocolate Caramel Cake with Cardamom Sauce and Walnuts (S$14). Decadent. But the one I enjoyed better was Champagne (S$14). Champagne, Kirsch liquor gelatin is paired with fresh assorted berries and finished with mascarpone cheese and garnish with candied orange peel.