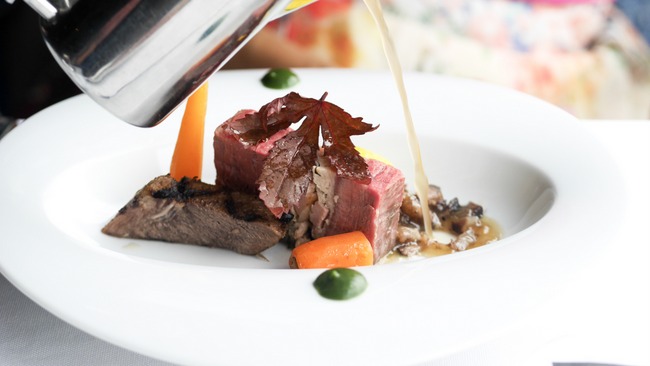 Put together by three esteemed chefs, this was a dinner to remember. Chef Christopher Millar of Stellar at 1-Altitude, Chef Florian Ridder of The Summerhouse and, finally, Peruvian Chef Alejandro Saravia of Melbourne's Pastuso brings to Singapore a culinary masterpiece featuring the former's very own Tajima wagyu cattle. Two dishes from each chef, meticulously conceptualised and presented. Everything from prized cuts to the robust fat were used, introducing diners to a whole new world in experiencing this beefy yet marbled beauty.
Expect more than just plates after plates of steak. The trio brings to the dining table, as well, a touch of Western Australia where Tiana Park cattle farm is located. First and foremost, the horizontal tasting of caviars gives diners a glimpse of the delicate Yarra Valley caviar and sturia caviar. Served on a soft boat of truffled Japanese egg and Iberico crackers, it was an enlightening way to savour one of the world's coveted ingredients.
With a stunning meat-to-fat ratio, the tajima wagyu made for a good beef tartar. No questions asked. Chef Florian, however, takes it further. He dresses them in bite-size beetroot raviolis, where the debated added a nice sour yet sweet profile to the beef. What really draws the diner in for another bite is the yuzu kosho, an acidic and spicy condiment made of chili peppers and yuzu peels. An addictive aromatic flavour, perfect with any meat dish.
Where Chef Alejandro of Pastuso really shine is his beautiful interpretation of the succulent Western Australia marron. Poached in Tajima beef fat, every bite of the crayfish combined both its sweetness and the velvet-like intensity of a hearty steak. Together, it opens up the palette for the next dish.
A hearty Tajima "Le Pot-Au-Feu Grande Fete", with a side of bone marrow. Translating loosely to beef broth for a special occasion, it truly evokes memories of childhood. Granted, the beef broths in my Cantonese household was vastly different, but, the lovely dance of sweet and savory in the broth was addictive. Yet, it was light enough to compliment the heart-stomping poached stuffed flank, pickled tongue and crumbed oxtail. While one could pair the dish with a smear of bone marrow on toast, I'd rather immerse it into the broth for an extra oomph.
The mains come to an end with a bang. Chef Alejandro continues to shine with the Tajima's Paddock. An elegant presentation of a 30-day dry aged chuck tender Tajima wagyu on fermented barley and chestnut juice. In fact, it was the latter that stole the show. With a chewy texture and nutty profile, the grains complimented the strong flavours of the dry aged wagyu. Another delightful surprise is the celeriac puree topped with a dark chocolate and vegetable soil.
Not one to back down, Chef Florian of The Summerhouse brings a little local flavour back into the mix with the dessert, Chocolate. A rich Balinese chocolate ice cream and vanilla custard rests atop a fresh-out-the-oven smoked gula melaka cookie. A classic combination, taken up a notch.
As the waves of euphoria from the meal subside, I only had one thought in mind. When is the next six-hands event? No news yet, but, surely, the overwhelming response from this debut event is sure to move things along faster.
Stellar at 1-Altitude is located at Level 62, 1 Raffles Place, Singapore 048616.