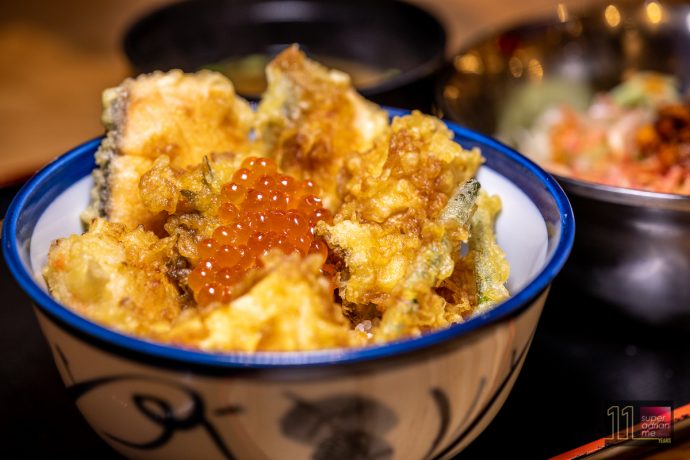 Tempura Tendon Tenya, also known as Tenya, is Japan's number one Tendon chain restaurant. Having opened its first outlet at Orchard Central on 15 October last year, Singapore will get a second outlet on 7 July 2021 in the Food Hall at the basement of ION Orchard. The restaurant seats up to 50 people where diners get a full view of the kitchen.
A takeaway counter is conveniently located at the entrance of the restaurant for easy grab-and-go. Pickup orders may be made at www.tenya.com.sg/order for takeaway, or via GrabFood for delivery.
New dishes have been added to the menu. These will be available exclusively at the ION Orchard outlet for the first week before it is added in the Orchard Central menu.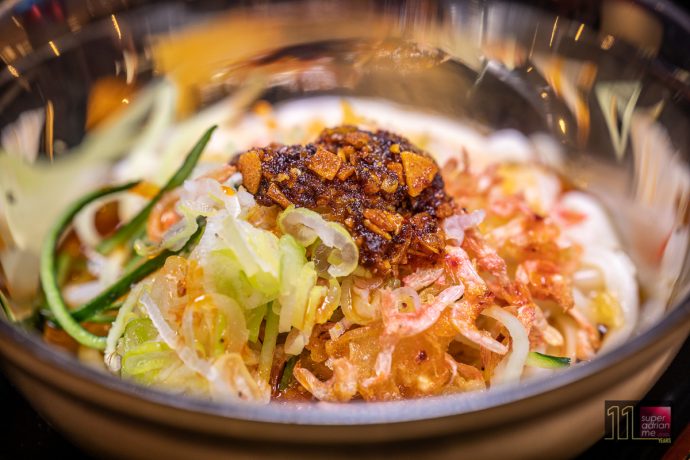 An addition to the Tendon selection is the Salmon Tendon (S$14.90). Masshigura rice is topped with tempura salmon fillet, Hiroshima oyster, Camembert Cheese, mashed potato, ohba (shiso), and ikura. Tenya's tare glazing sauce is drizzled for added flavour.
The Spicy Cold Udon has been added to the choice of hot or cold soba or udon for the set meal. While the hot or cold soba or udon are priced at S$4, the Spicy Cold Udon is slightly higher at S$6. More ingredients have been added to the chilled Inaniwa udon. There are Sakura Ebi, cucumber, Japanese leek, tanuki (crispy fried tempura batter) and Taberu Layu (red pepper and garlic-seasoned oil). For the set meal, choose a Tendon with a choice of how much rice and noodles you can eat. I am now a fan of this Spicy Cold Udon because of its rich flavours and bite. Cold udon is also extremely refreshing and a great complement to Tendon.
Eight other appetisers and side dishes will also be included. The Caesar Salad with Tempura Egg (S$5.80) replaces the existing three salads on the menu. A tempura onset egg is tossed in Caesar dressing with romaine lettuce, topped with grated parmesan cheese and croutons. Three new tempura dishes include Chicken Wings (S$4.80), Gyoza (S$4.20), and Hiroshima Oyster (S$7.80). The Kawa Ebi (S$7.50) makes a lovely snack. Japanese river shrimps are coated in Tenya's tempura flour batter and deep-fried and served with a wedge of lime. A S$3.90 Mentai Fries replaces the truffle fries while the Truffle Chawanmushi (S$4) replaces the regular chawanmushi. The Salmon Carpaccio (S$7.20) is served with a Japanese Carpaccio sauce and garnished with freshly sliced onions and leeks.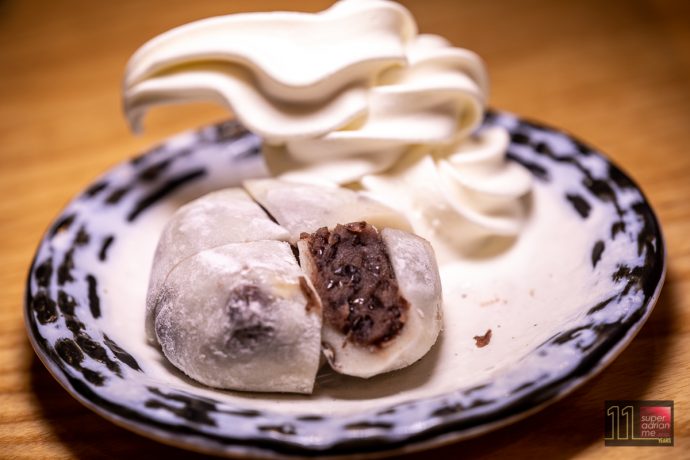 Three new desserts have been added replacing the Brownie and Matcha Azuki Cake. The S$5.80 Anmitsu is a traditional Japanese dessert. You get smooth agar jelly, azuki (red beans), peach and Mandarin orange slices, a red Maraschino cherry, Shiratama (mochi), Hokkaido Soft Serve, and Kuromitsu (cane sugar) in a bowl. The S$3.40 Daifuku is a Japanese mochi filled with a sweet azuki paste filling. You can also top up your dessert with the Hokkaido Soft Serve for S$1. Another new dessert is the Hokkaido Milk Crepe Cake (S$5.80), a crepe cake layered with a light Hokkaido milk frosting.
Tenya ION Orchard is located at B4-56 ION Orchard, 2 Orchard Turn, Singapore 238801. It is open from 11 am to 10 pm with the last order at 9.30 pm. Walk-ins only. Tenya Singapore does not take reservations.