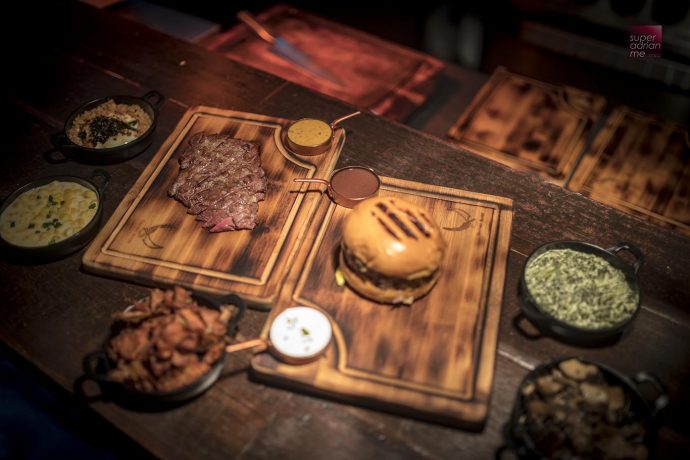 You will get a similar experience right of an uncluttered menu that is synonymous with London's Flat Iron right here in Singapore at The Feather Blade. The Feather Blade has made what used to be Zui Hong Lo at 90 Club Street its permanent home since 24 April 2019 after its initial pop up stint.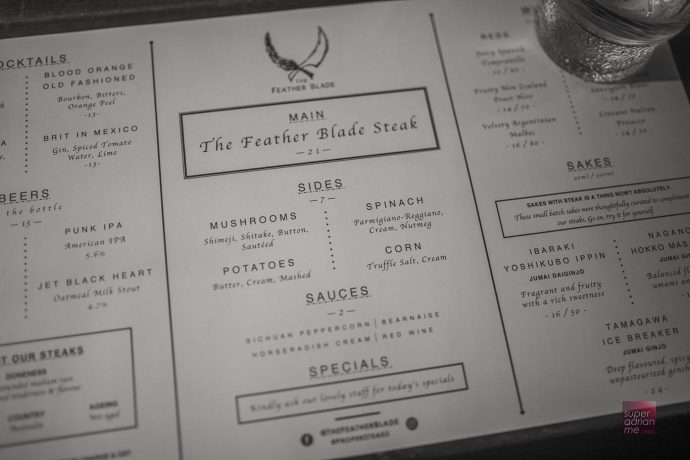 Sheen Jet Leong, the founder of The Feather Blade had learned the ropes at Flat Iron in London. The only main on the menu is the feather blade cut from wet aged Australian beef.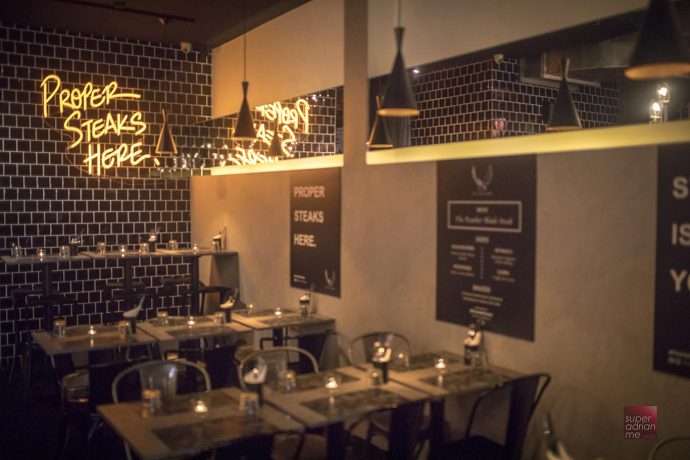 The Feather Blade can sit approximately 40 people indoors and there is a small outdoor area. Diners can also sit at the bar area and watch the chefs grill your steak and dish out the sides or the bartenders prepare your cocktails.
Burger at The Feather Blade

The Feather Blade Steak served Medium Rare
The Burger or the 200 gm Steak are priced at S$21. The steak is served medium rare with a choice of sauces priced at S$2 per sauce including an Asian influenced Sichuan Peppercorn sauce that contains peppercorn and sriracha sauce that isn't too overpowering. Other sauces include a Bearnaise, Horseradish Cream and Red Wine.
The sides are priced at S$7 and are pretty good. I like the corn with truffle sauce and cream as well as the Spinach in Parmigiano-Reggiano cream and nutmeg. The other two sides are the Sauteed Shimeji, Shitake and Button mushrooms and hand smashed potatoes with butter and cream.

Every week, there will also be specials featuring alternative cuts of beef such as Picanha, Bavette and Chuck Eye that is not in the current menu.
Kyoho Sangria

Sakes

Brit in Mexico – Gin with Spiced Tomato, Water and Lime (S$13)
Instead, the beverage menu is more complicated than the mains, offering more choices of libation.
A selection of alcoholic and non-alcoholic beverages are available for you to pair with your steak. That Kyoho Sangria was pretty good as an aperitif. There is a small selection of four craft beers (S$13 per bottle), cocktails, wines and sakes.
Diners end off with a complimentary chendol-ice cream from Udders. The Feather Blade is open Tuesdays to Sundays for dinner from 5.30pm.