The oldest ever release of The Glen Grant Single Malt Scotch Whisky distillery in its 180 years is this 70-year-old single malt whisky. The Glen Grant Devotion is presented as a handcrafted sculptural masterpiece, inspired by the reign of the late Her Majesty Queen Elizabeth II. It is a tribute to seventy years of resolute service and a lifelong devotion to nature.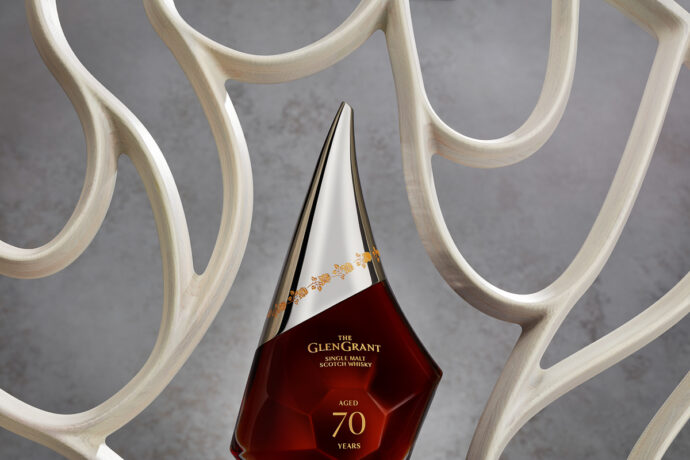 Derived from a single French oak cask that had been seasoned with oloroso sherry and filled in the year 1953 at The Glen Grant distillery, "Devotion" was meticulously chosen for its remarkable depth of character cultivated through a meticulous aging process. The remarkable deep chestnut colours harmonise with a distinct floral bouquet, marked by concentrated notes of barley sugar and ripe peach that gracefully yield to a sweet honey essence. The palate is enraptured by opulent dried fruits, raisins, sultanas, and a subtle touch of dry spice, all accentuated by a faint oak undertone. This whisky, bottled at a potent 55.5% alcohol by volume, serves as a testament to the excellence and unmatched aging potential inherent in The Glen Grant's whisky offerings.
The deep chestnut with bright golden hues of the whisky offers an aroma of floral, intense barley sugar and ripe peach giving way to honey sweetness. There are notes of dried fruits, raisins, sultana, dry spice and hint of oak on the taste and a lingering, rich and complex, soft fruits, spice and hint of smoke finish.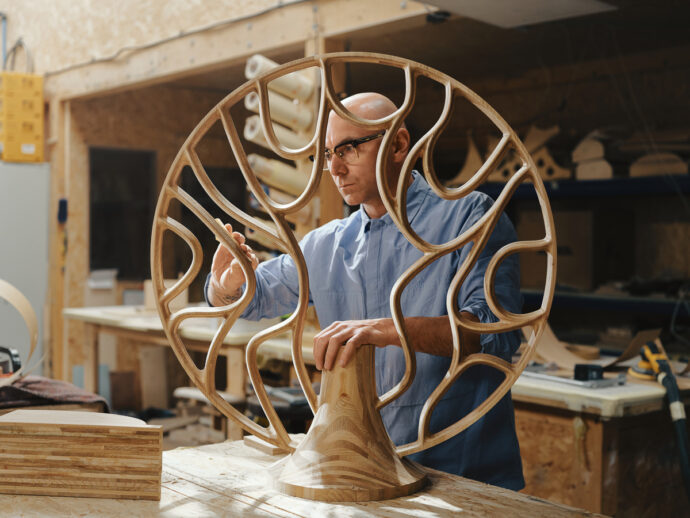 Master Distiller Dennis Malcolm OBE, award-winning craftsman John Galvin and hot glass master Brodie Nairn of GLASSTORM honed their craft to bottle this.
The seven hand-blown decanters created are one-of a-kind and each presented as a gem-shaped object d'art, with seven facets celebrating each decade of Her Majesty Queen Elizabeth II's reign. Each facet showcases a silver capsule, embellished with its own unique and meaningful floral engraving, serving as a tribute to her remarkable life journey. The decanter is presented with a wooden sculpture handcrafted from a fallen elm tree. The engraving on the silver circumference of the sculpture pays homage to Her Majesty's favorite flowers, the Lily of the Valley, and proudly features the emblematic Thistle of Scotland.
Deacanter Number One will be auctioned by Sotherby's in an online sale from 11 to 22 September 2023 with 100% of proceeds donated to the Royal Scottish Forestry Society, of which Her Majesty Queen Elizabeth II was the patron. This exclusive decanter features THe Queen Elizabeth Rose, named for Her Majesty and engraved in gold and with distinctive embellishments.
After the auction, the remaining six decanters will be made available for private clientele networks only. Each of the seven decanters will be available to the following markets – Singapore – Orchid, Hong Kong – Daffodil, US – Daisy & Clematis, Taiwan – Begonia, Japan – Stephanotis, UK – Rose