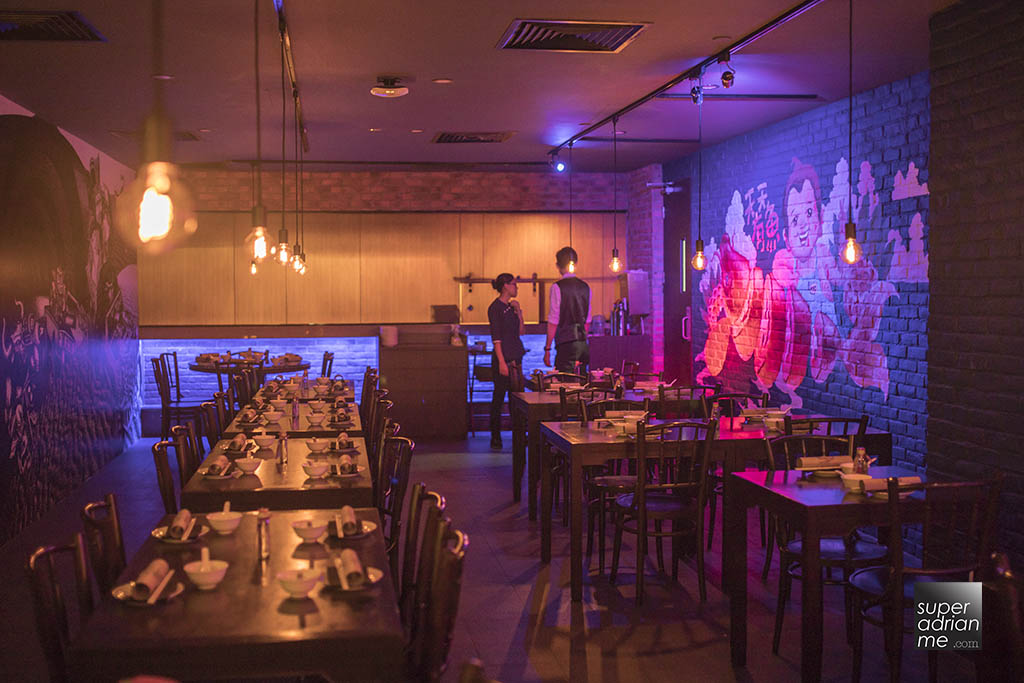 Tung Lok Group has taken two weeks to turn around a new 'underground' speakeasy dining concept within its Lokkee outlet at level three of Plaza Singapura.  Not for the faint hearted or those with night blindness, The Dragon Chamber offers a menu of non-conventional parts such as pig's tails or crocodile's paw.  Lokkee has already made a name for its cheeky dining concept offering western Chinese cuisine similar to those offered in Chinatowns around the world since opening in 2015. Who can forget the wet towel packaging that resembles a pack of condoms.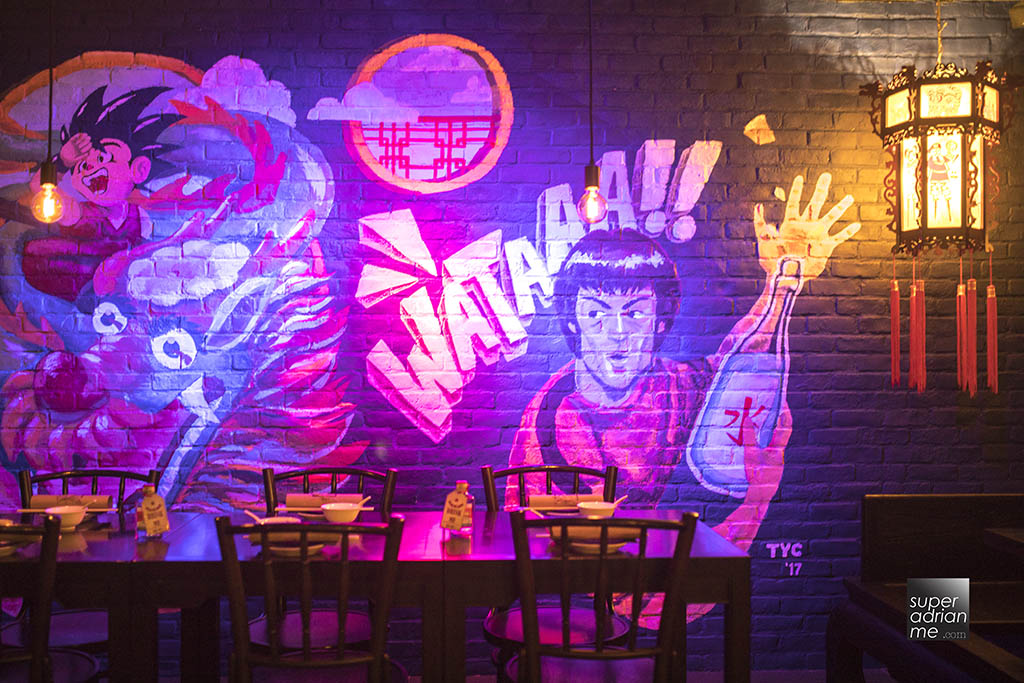 With a sitting capacity of around 48, The Dragon Chamber offers a casual dining experience. Get into The Dragon Chamber through Lokkee and a red door resembling a closet, and a path of mirrors, and your eyes will need to adjust to a much dimmer room. Two walls are illuminated with eye catching wall art by Tell Your Children. A third non-illuminated wall is filled with black and white art of Hell characters featuring an ox, rabbit and other characters. Book a sit by the illuminated wall if you want to get better photos. Do note that you have to be 16 and above to be let into this special chamber.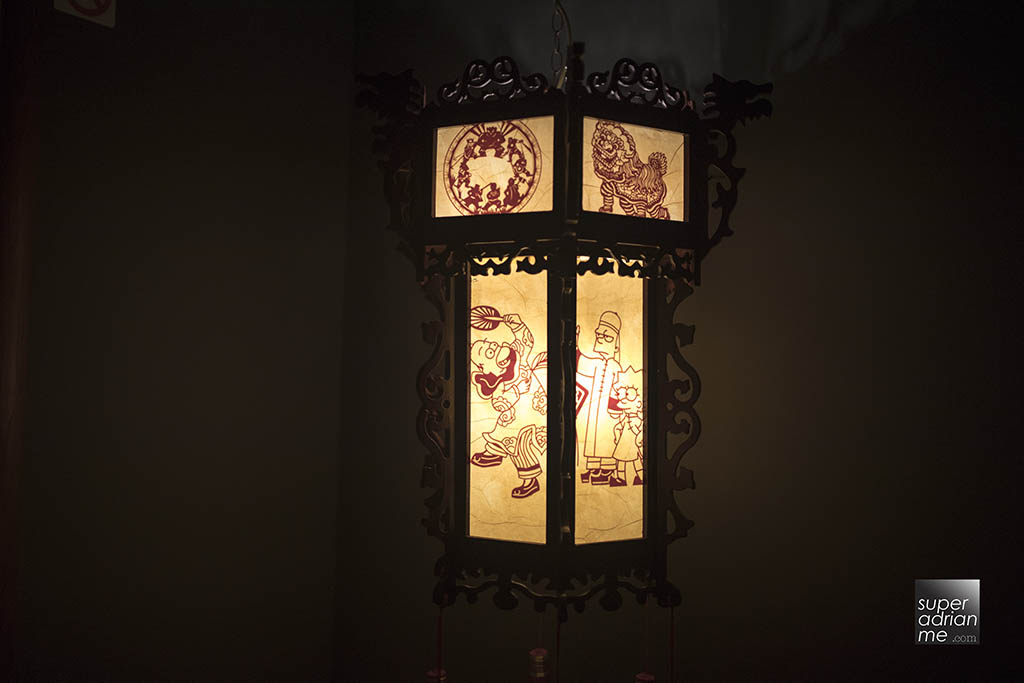 Take a look at the other finer details at The Dragon Chamber. Look out for The Simpsons or other Disney or Marvel characters on the two lanterns.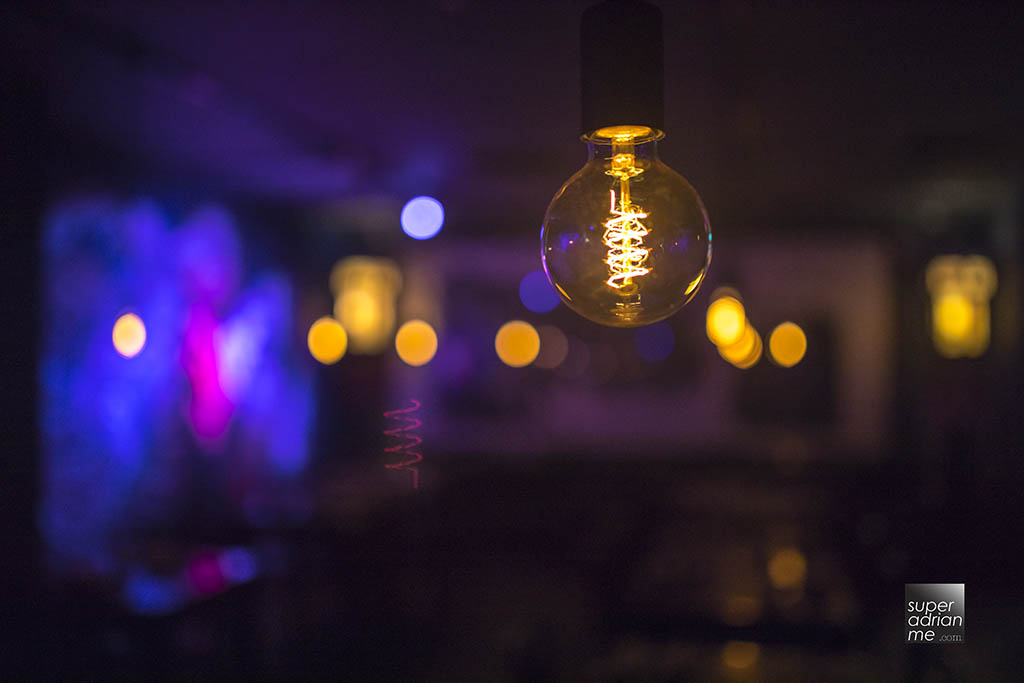 We counted the number of clear filament light bulbs that brighten up the room. There were 14 of them hanging from the ceiling. Still not bright enough for photos unless you're using a f/1.4 lens and a dslr camera. It all adds up to the ambience and dining experience nevertheless.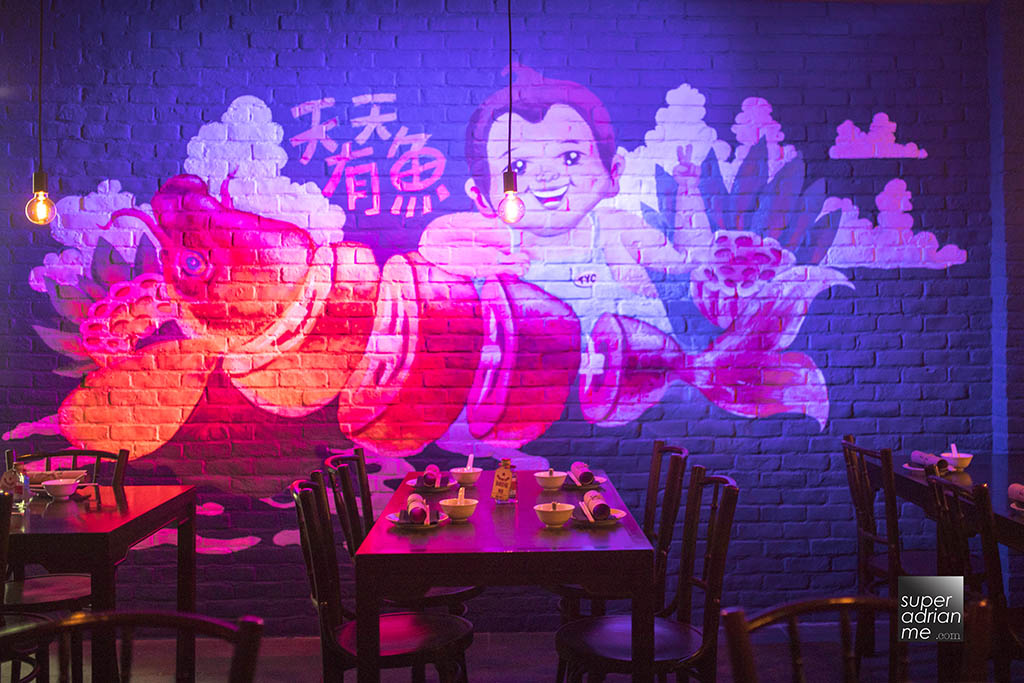 The Food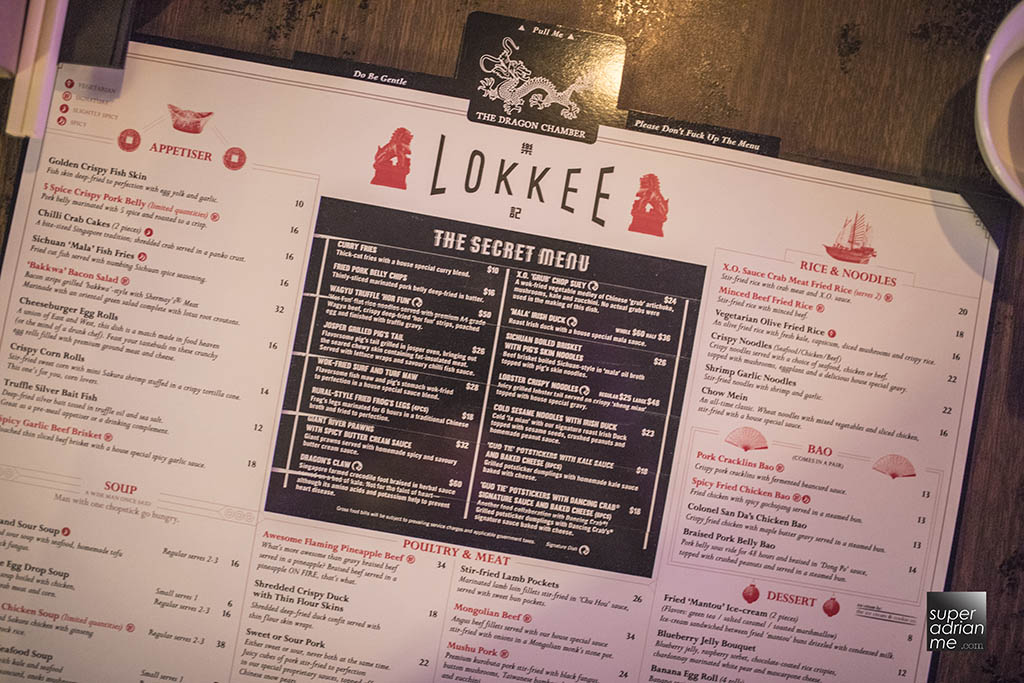 You can order dishes from Lokkee's menu at The Dragon Chamber. A secret menu is available exclusive to diners at The Dragon Chamber but not for diners of Lokkee. Pull up the handle at the top of the menu to reveal this secret menu of 15 dishes. We hear that the menu will be reviewed every six months.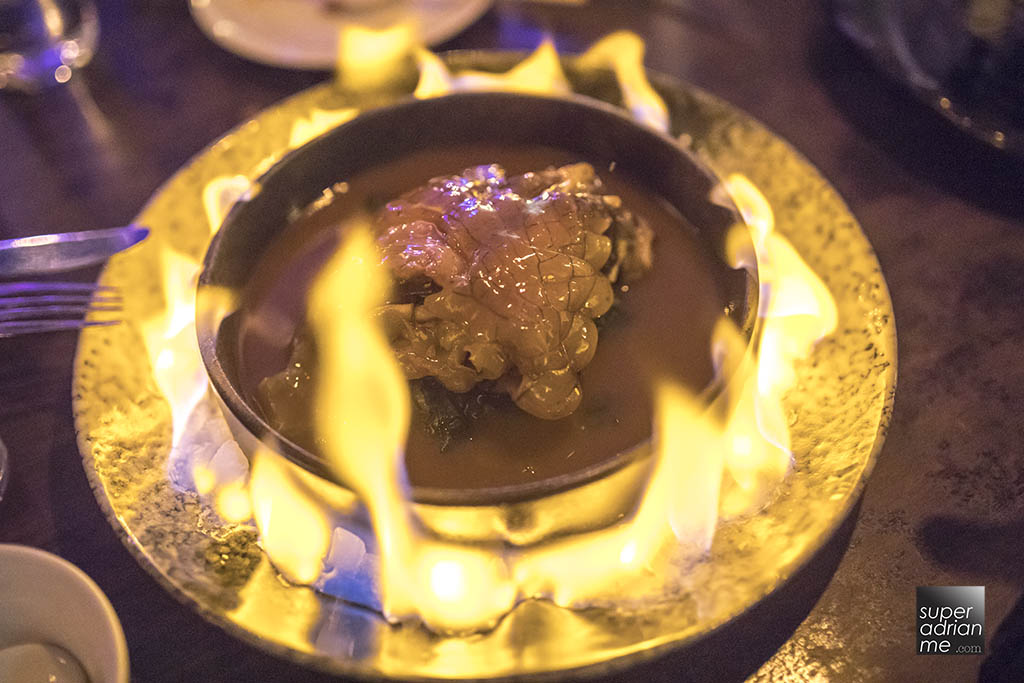 The main highlight for me is the Dragon's Claw. A Singapore farmed crocodile foot is braised in herbal sauce and served on a bed of kale. It is served flaming and is ready for consumption when the flames die out. I have had crocodile meat before but not the paw. And this was surprisingly pleasant. The meat tasted like tender chicken meat while the skin tasted somewhat like pork belly. The herbal sauce was not too overpowering. We highly recommend trying this dish.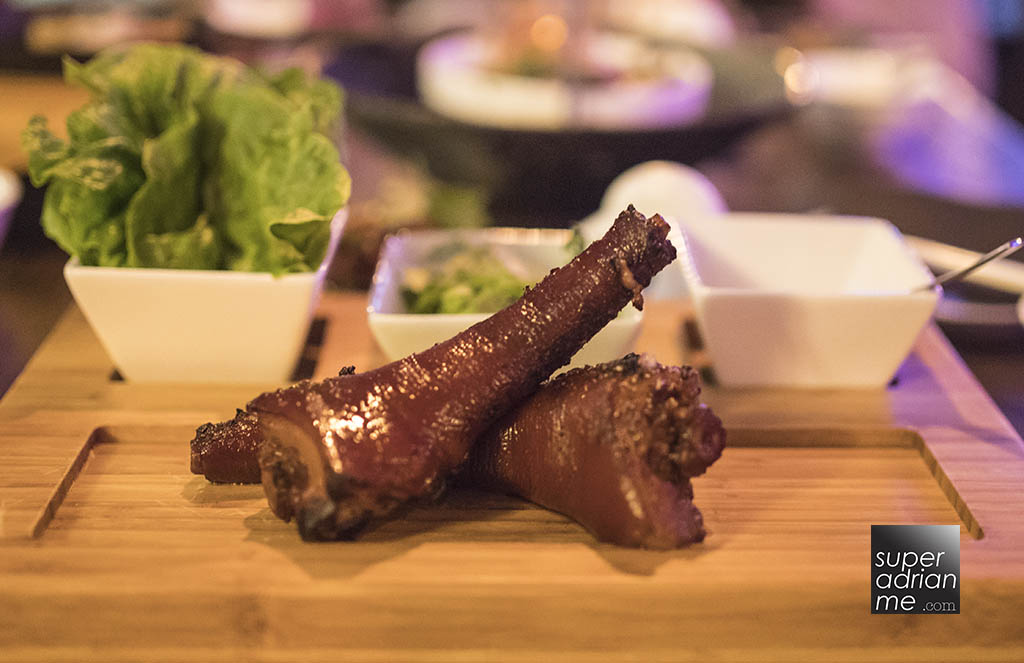 Never thought I'll be eating pig's tail, but we did. Josper Grilled Pig's Tail is grilled in josper oven featuring chewy skin containing fat-insulated meat. It is pulled and served with lettuce wraps and savoury chilli fish sauce. The Pig tail did go well with the condiments and lettuce. Got to get over the thought of eating pig's tail initially but heh, life is short. Be adventurous.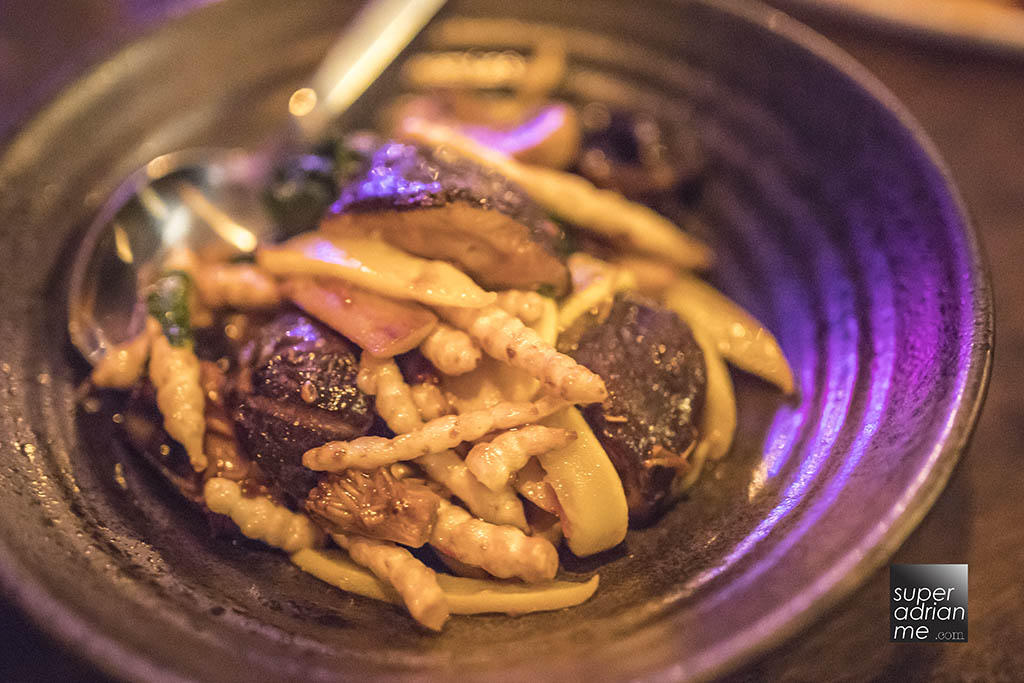 The X.O. "Grub" Chop Suey is a wok-fried dish of Chinese 'grub' artichoke, mushrooms, kale and zucchini. No actual grubs were used for this dish so it isn't as scary as it sounds. Looks like worms, but they are not worms. Love the crunchy texture of this dish.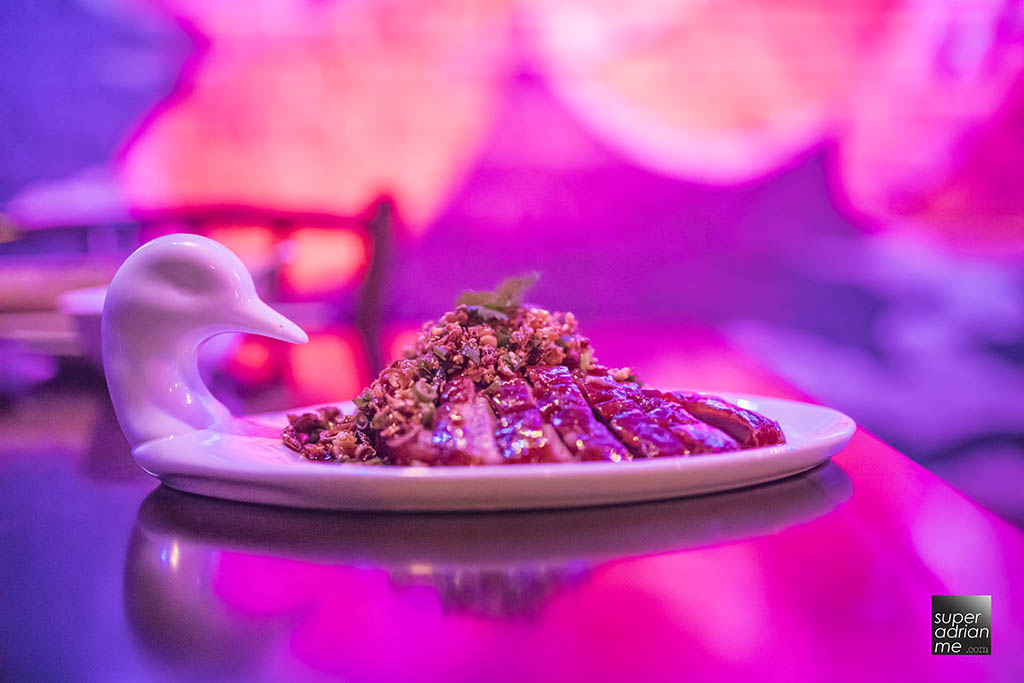 The 'Mala' Irish Duck looks really pretty especially in photos. It is available in a half or full duck serving. The duck is slightly peppery and spicy.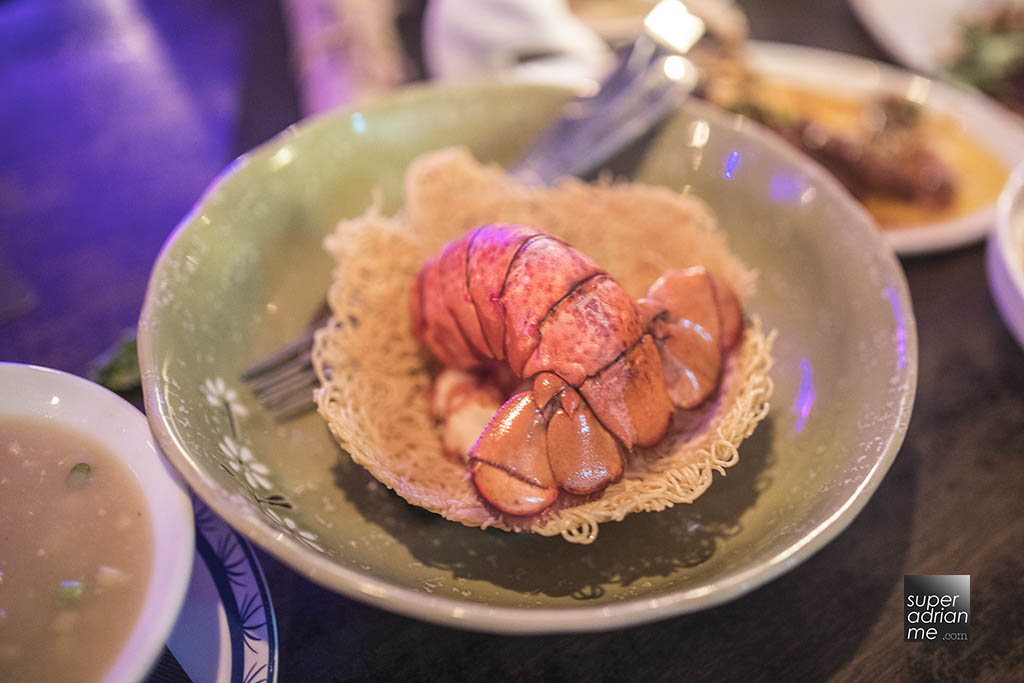 The Lobster Crispy Noodles is pretty to just look at. Wait till you pour in the house special gravy and let the crispy 'sheng mian' soak in all the flavours. Have a piece of juicy grilled lobster with the noodles and slowly savour the dish.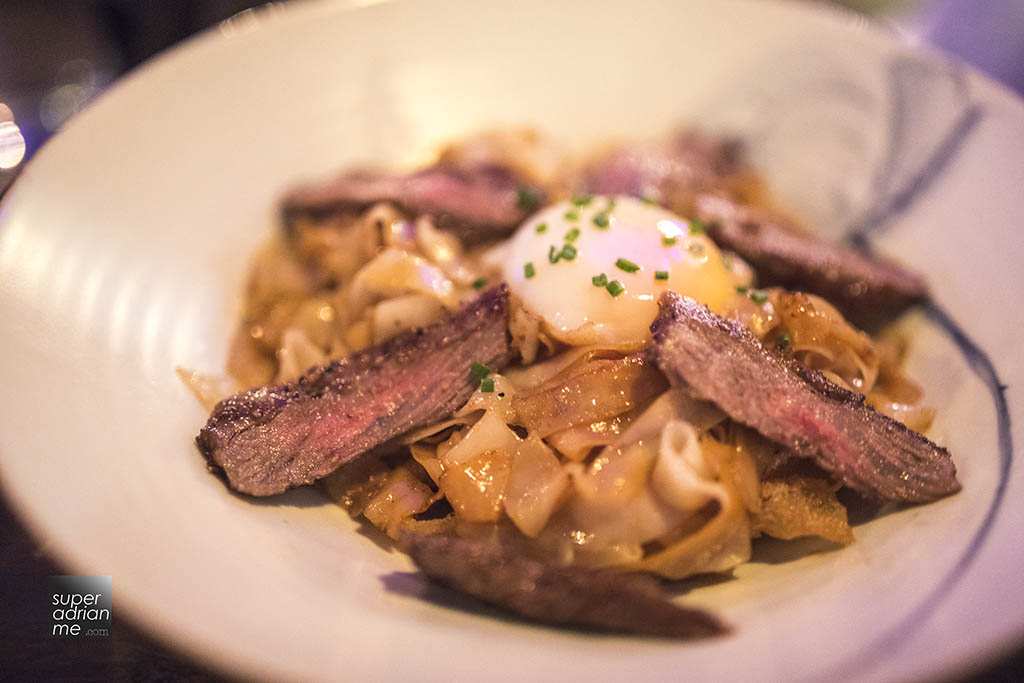 You get A4 grade Wagyu beef cooked with flat rice noodles and crispy deep-fried hor fun strips topped with a poached egg and finished with truffle gravy.  All these goodness is priced at S$50. This is the second most expensive dish in the secret menu after the Dragon's Claw.
Order from Lokee's Menu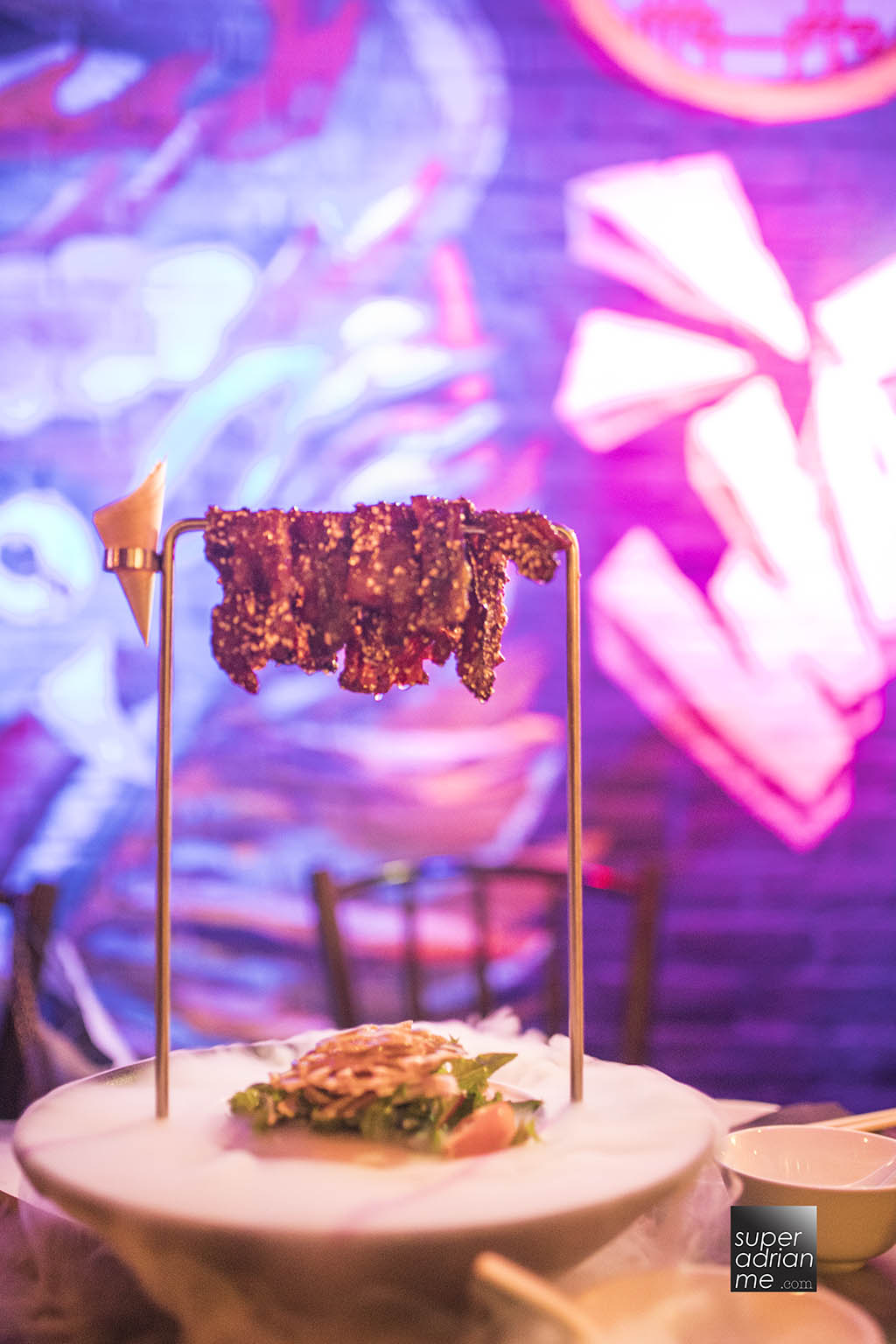 You can also enjoy Lokkee's other signatures while dining here. They include the "Bakkwa" Bacon Salad. Bacon strips are grilled 'bakkwa' style with Serhmay's meat marinade. It is served with an oriental green salad complete with lotus root croutons and. Can't get that awesome taste of the bacon out of my mind.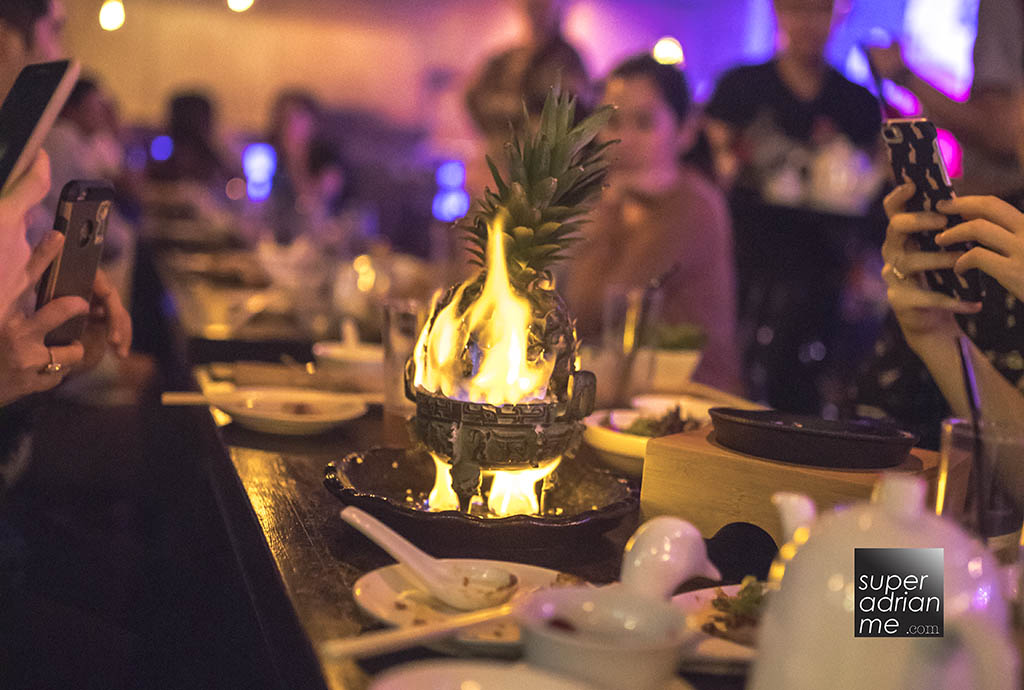 If you're looking for that Instagramable dish, you can also order the Awesome Flaming Pineapple Beef. Get your phones ready. The effect of the flames are even more dramatic in this dimly lit room.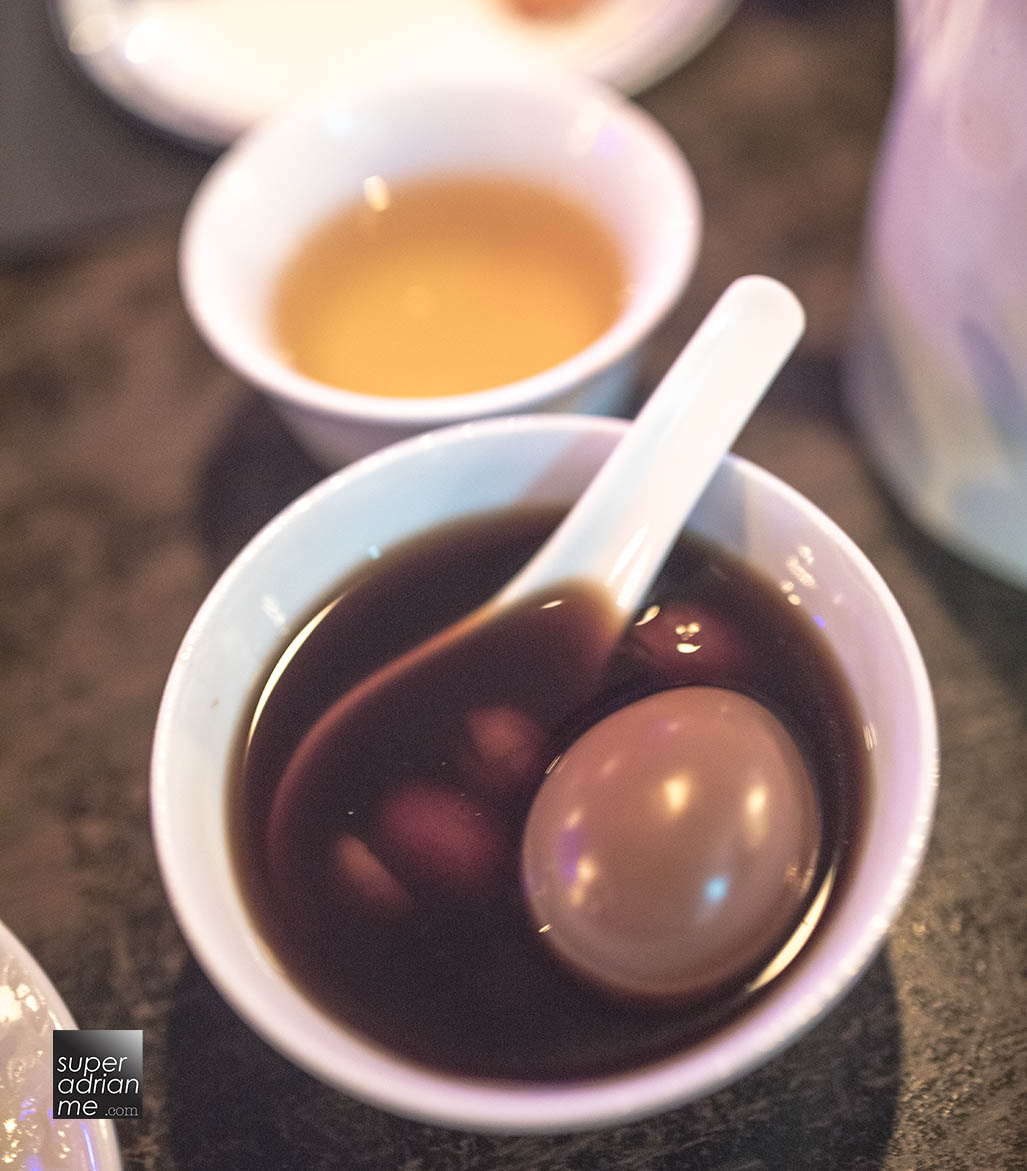 I can come back for more of this Sweet Mulberry Egg Tea also known as 'Sang Ji Sheng'. This ancient Chinese dessert is brewed with egg, mulberry tea, dates and cane sugar. It has many health benefits such as lowering blood pressure and improving blood circulation. Also a great way to clear down an oily meal.
The Dragon Chamber is located at Lokkee, 68 Orchard Road, #03-01, Plaza Singapura, Singapore 238839