Two Hana at Century Square opened when the mall reopened on 6 June 2018. Owned by the people who operate Seoul Garden for 35 years, Two Hana café brings Korean and Western dining experiences to diners. Hana means one in Korean and hence Two Hana means 1+1 where the whole is greater than the sum of its parts.
The menu here features a range of dishes with well-balanced flavours. Enjoy a hearty meal here with family and friends. Many of the dishes here are perfect for sharing.
One of my favourites from the tasting in June included the Braised Gochujang Lamb Shank priced at S$24. The fork-tendered lamb shank is sous-vide at 68 degrees celsius for 36 hours. After that it is braised with herbs and tomato sauce – gochujang, tomatoes, thyme, water, onions and carrots. Canned tomatoes are added. Pre-sauteed zucchini and blanched carrots are added into the pot just before serving to the guest. This dish is served with kimchi mashed potatoes and soft rolls that are made-in house with chopped kimchi folded in. 
If you are dining alone, you may want to have the Striploin Bap priced at S$13. Fragrant kimgarou rice is topped with medium rare striploin slices, kimchi, spinach and beansprout name, caramelised onions and a 63 degree poached egg.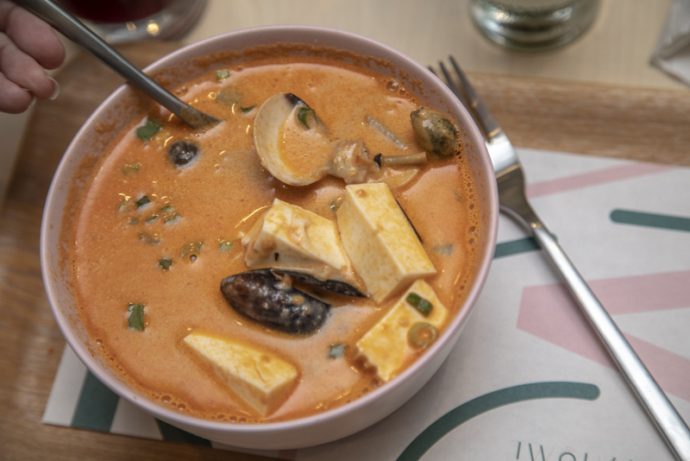 Another great meal if you are dining solo is Two Hana's Korean Seafood Ciopinno (S$13). This bowl of fresh seafood stew contains mussels, clams and prawns stewed in tomato cream base. It is served with a whole tube of tofu or soft rolls filled with Kimchi and cheese. If you must know, the soup is base is made with roasted prawn heads and cooked with water. Mushrooms, carrots and zucchini, tofu stew paste made of chilli oil, miso, sugar and salt are sautéed and deglazed with prawn stock with tomato puree.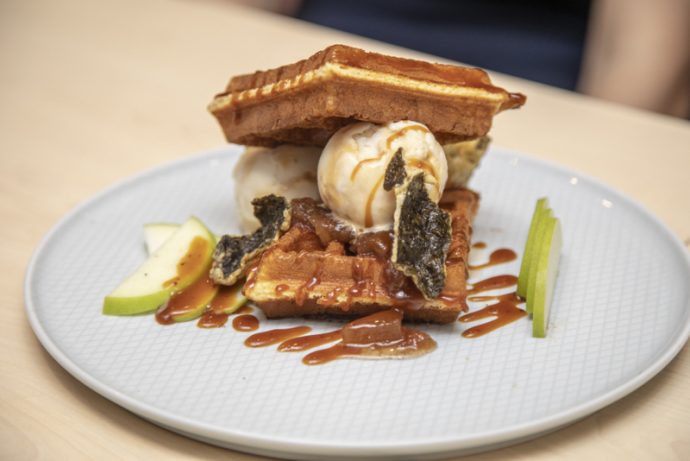 You can also visit Two Hana just for its desserts. The Apple Caramel Waffles with Doenjang Caramel Ice Cream (S$9) is spectacular.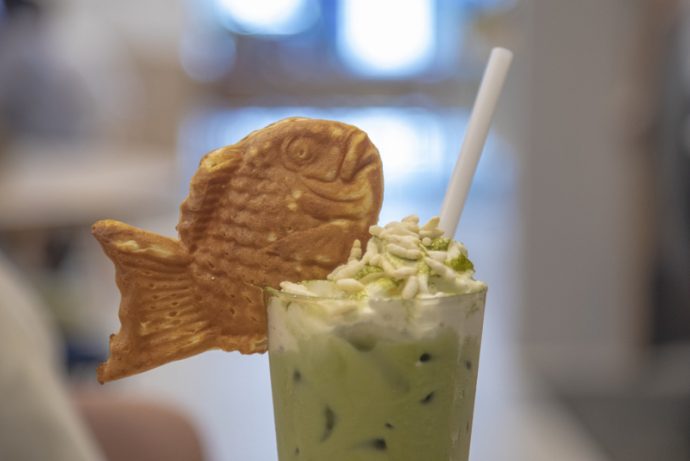 The Iced Matcha Latte (S$6) is sinfully rich with meiji full cream milk and whipped ream & rice crisps. A fish bungee-pang is added onto the cup, making this a rather filling refreshment. An Iced Hojicha Latte (S$6) is also available if you don't really fancy Matcha. 
Two Hana is located at #01-21 Century Square and is open daily from 9am to 10.30pm.