Appleton Estate has in June 2023 launched the limited-edition 17-Year-Old Legend, an exclusive and faithful recreation of the legendary 17-Year-Old rum crafted by J. Wray & Nephew on the Estate in the 1940s. It was best known internationally as the original base that inspired the Mai Tai cocktail.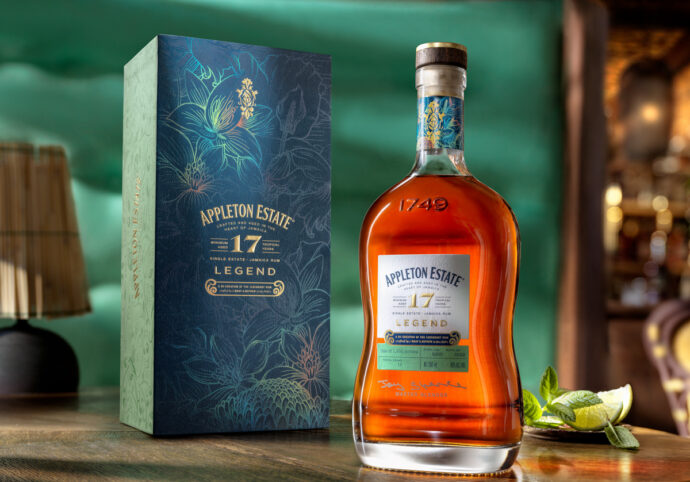 Master Blender Joy Spence references original manuscripts and formulas to recreate this one-time release using four very rare distillates set aside to rest on the Estate. Only 1,500 bottles are available globally, and never to be produced again. Only 96 bottles are now available in Singapore at a recommended retail price of US$500.
As a first from Appleton Estate, 36 NFTs redeemable for bottles of Appleton Estate 17-Year-Old Legend will be available on BlockBar.com. Appleton Estate has collaborated with Jamaican Visual Artist, Oneika Russell to develop the artwork for each NFT exclusive to BlockBar.
Crafted with Jamaican limestone-filtered water, with no added flavours, 17YearOldLegenddisplays rich, caramelized pear and banana notes, mingling with warm, nutty, oak, and floral-herbal notes. The full body crescendo culminates in a lingering, silky-smooth finish.
The J. Wray & Nephew 17-Year-Old was one of the most sought-after rums in the world and set the gold standard, prized for its gilded colour and sensual, smoky, orange top notes. Appleton Estate rums age nearly three times more quickly than spirits aged in cooler climates, allowing for richer, fuller flavours to develop in a shorter period. The minimum age of 17 years in the tropical climate of Jamaica is equivalent to over 50 years of ageing in a cooler climate.
Make your own Appleton Estate 17-Year-Old Legend Mai Tai.
2 oz. Appleton Estate 17-Year-Old Legend
.5 oz Fresh Lime Juice
.5 oz. Orange Cura ao
.5 oz Orgeat (Almond) Syrup
Combine in a shaker filled with ice (crushed and cubed)
Shake well and chill. Pour into a double old fashioned glass.
Garnish with one lime shell and fresh mint sprig.