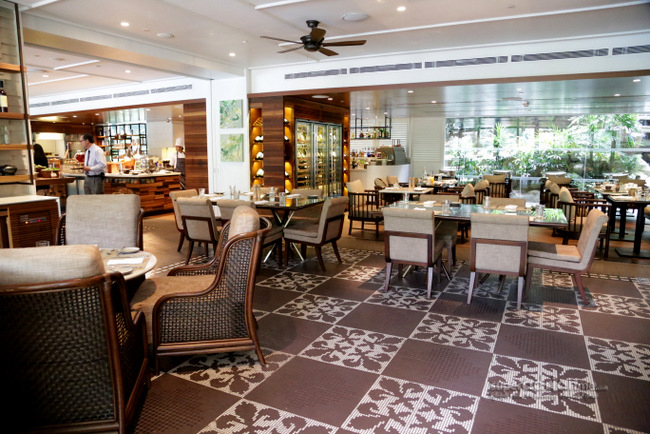 Waterfall Ristorante Italiano at Shangri-La Hotel, Singapore is the five star hotel's latest Southern Italian cuisine food and beverage outlet. Waterfall Restaurant used to serve Mediterranean food before it's revamp and now you get delightful Italian food.
Shangri-La Hotel, Singapore's relaxing environment, away from what seems to be the bustling heart of Singapore's shopping district just minutes away, makes it always a delight to dine here.
Come enjoy a Southern Italian dinner at this 92-seat restaurant.
The Chef Behind The Food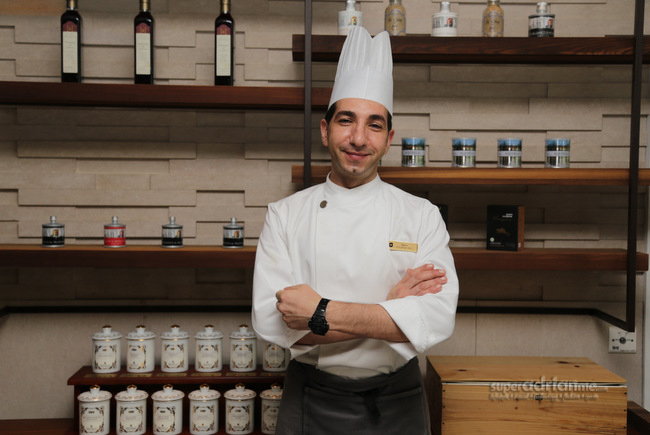 Located within the garden oasis next to a very inviting pool, Waterfall Ristorante Italiano serves up delectable dishes by Chef De Cuisine Marco De Vincentis.
The effable Chef Marco was born in Naples, the home of pizza, and spent his childhood immersed in rich culinary heritage. He grew up with his grandfather who is a chef, and was exposed to various culinary influences. With his formative training and education at the Culinary and Pastry Arts School, Chef Marco also gained kitchen experience in prestigious restaurants such as Vincent's Restaurant in California, La Locanda della Tamerice in Italy and Le Doyen in Belgium.
After graduating, he moved to Milan and trained under Chef Sergio Mei who took the helm of Milan's only Michelin-starred restaurant. After four years, he moved to Monte Carlo where was in charge of the banquet kitchen. After which, he took his master's degree in food and beverage management from Sciaky Europe Business School.
He has crafted menus for luxury events as the executive chef of MSC Cruises and Saporbio. Just three years back Chef Marco ventured into Asia and joined La Cucina at Al Faisaliah Hotel in Saudi Arabia.
Today he is at Waterfall Ristorante Italiano as its new chef de cuisine. Here he will be responsible for menu conceptualisation, sourcing as well as to manage the restaurant's culinary operations team.
By the way, Chef Marco has a very infectious smile.
The Food
You can never go wrong with Italian cuisine. But finding one that stands out with sweet memories amongst the myriad of Italian restaurants out there in Singapore are only a handful. Waterfall Ristorante Italiano is one of my new favourites.
At a recent tasting, I got to try seven dishes including Chef Marco's signatures – Stufato di Pesce (traditional Italian seafood stew) and Linguine Allo Scoglio (classic seafood pasta).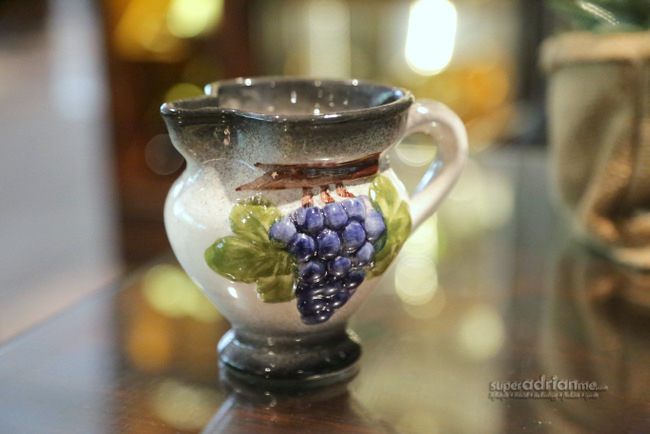 Start off your meal with a cup of Waterfall Ristorante Italiano's house wine, Nero D'Avola. Originating from Sicily, Nero D'Avola is one of Italy's most important indigenous red wine varieties.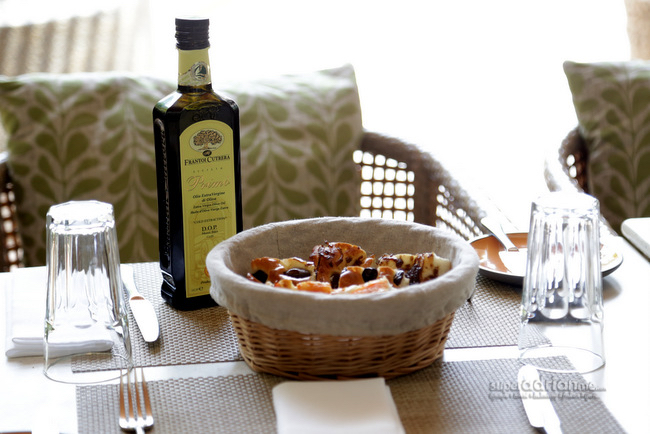 And ooh, I almost forgot about the warm bread and olive oil. Control yourself, lest you may spoil your appetite.
Starters – Antipasti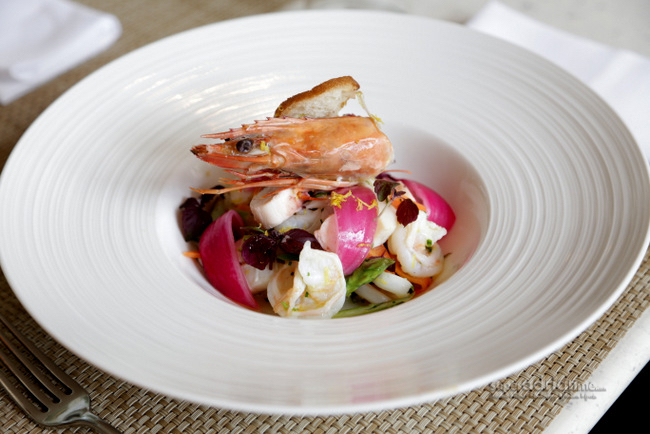 The Insalata Di Mare All'Amalfitana is a refreshingly light salad of fresh seafood with a healthy portion of greens. Mixed with lemon, this salad offers a slight sour palate that goes perfectly well. Originally a dish from the coast of Amalfi, just a little south of Naples, Insalata Di Mare All'Amalfitana is available at S$23.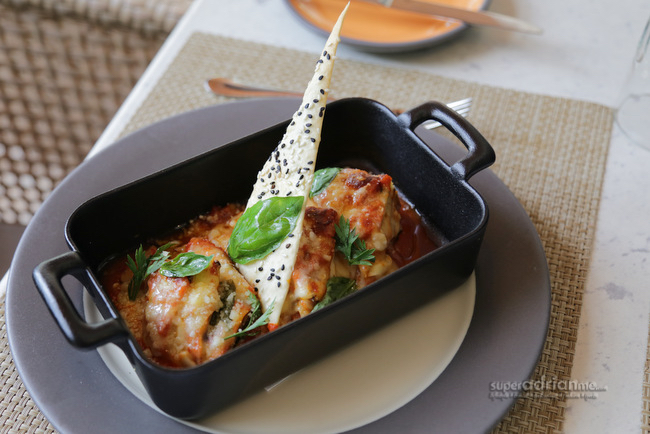 If you love eggplant and cheese, then Parmigiana Di Melanzane is the dish to order. Round Italian Eggplants are cooked with basil leaf, parmesan cheese, buffalo mozzarella and tomatoes. Available at S$20.
The Mains – Pasta Della Casa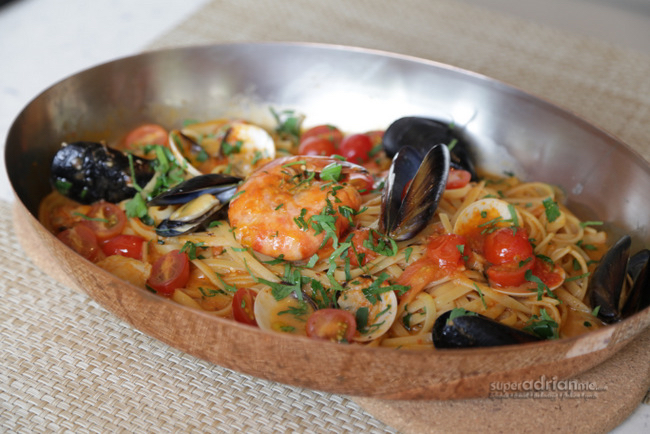 The Linguine Allo Scoglio is a Southern Italian pasta pan of prawn, scallop, mussel, clam and cherry tomatoes. This signature dish is filling as a main or perfect for sharing and also how good linguine should be. Hearty and al dente, while soaking up the rich fresh seafood flavours. Available at S$26.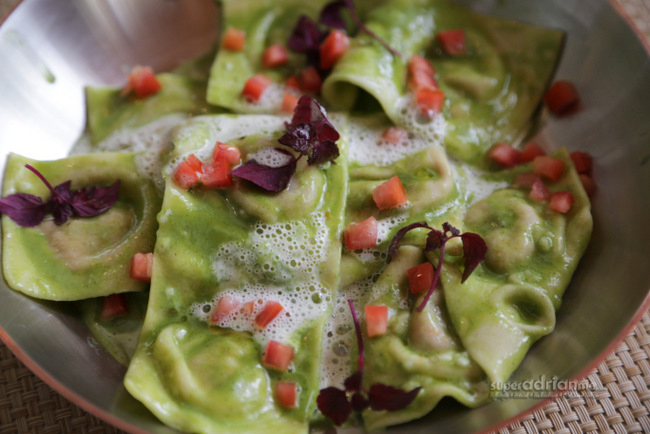 This dish is unique. For lack of a better description, I would call it a two-in-one ravioli. Doppio Ravioli Alla Parmigiana is paired up with different ingredients in each ravioli. Eggplant, sun-dried tomato, mozzarella cheese, parmesan cheese and basil butter sauce topped with Scamorza cheese for a smoky flavour. Another great dish to share. Available at S$26.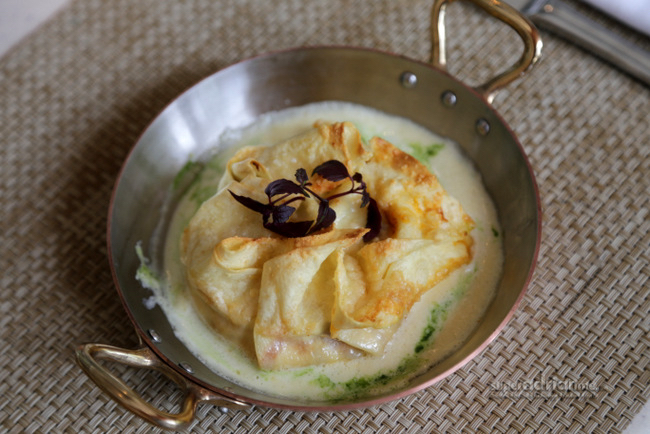 Chef Marco has put in thoughtful touches to his dishes. Who would have guessed this dish is a Lasagna? Presented like a huge shiok cheese wonton, Lasagna Croccante Ragu' Bianco E Porcini was recreated as Chef Marco remembers how much he used to crave for the crispy edges of his mother's lasagna when he was a little kid. Presenting lasagna this way allows everyone to enjoy in the crispy edges of his lasagna. This dish is too good to share with anyone. I would have it all to myself. Available at S$24.
Mains For Sharing- Secondi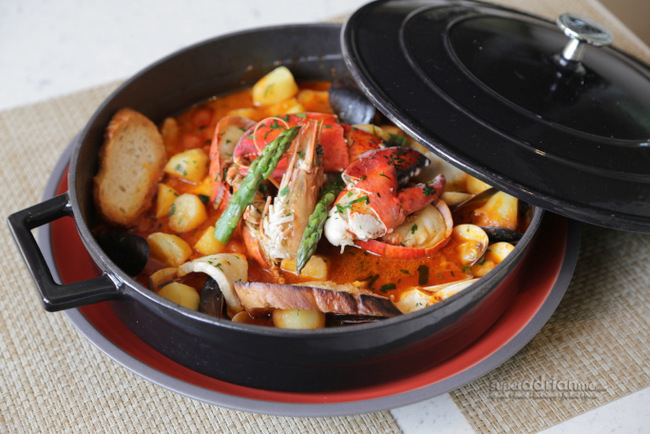 Perfect for two to share, the Stufato Di Pesce is a traditional seafood stew inspired by Chef Marco's grandma's recipe that kept his family warm at the dinner table on mild winter evenings along the coast of Naples. Served in a hot pot, the tomato based stew is filled with potatoes, fresh lobster, prawns and other seafood. This dish is priced at S$68.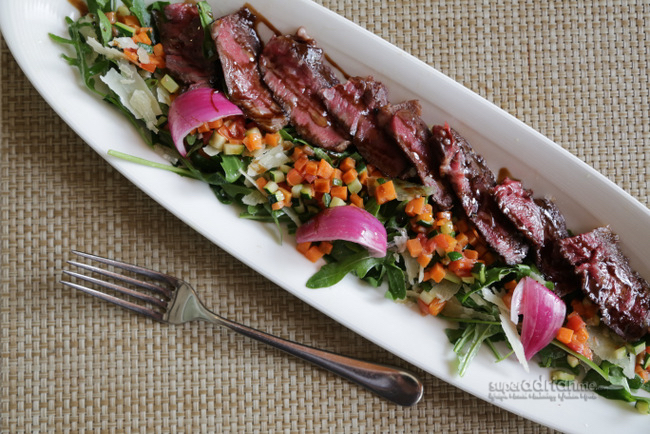 The Tagliata Di Manzo Rucola E Grana is a popular beef dish in Italy. Marinated with capsicum and served with rocket leaves and parmesan cheese, soak up the aromatic herbs, extra virgin oil and capsicum with a choice of beef cuts – Striploin Black Angus 120 days grain fed (S$38), Tenderloin Hunter Valley grain fed (S$41) or Wagyu Rib Eye 5+ (S$56).
For some, this makes a great appertiser and goes well with more of that Nero D'Avola.
In this photo, capsicums have been removed. Chef Marco has been very mindful of my unfortunate allergies to capsicums despite how much I love them.
Dessert – Dolci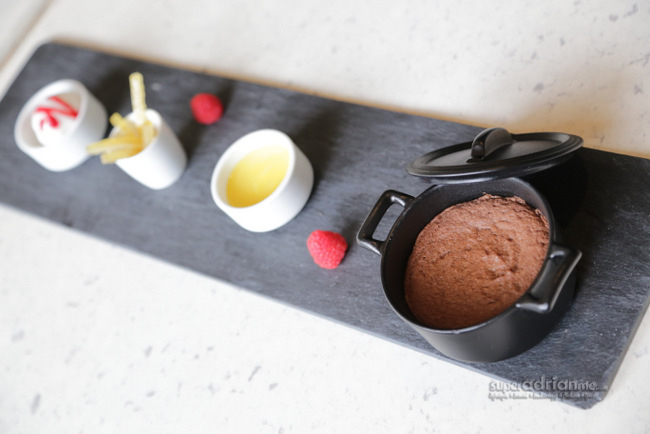 The Torta Caprese is a flour and gluten free signature dessert. It originates from Capri and is available at S$16. Goes well with a cup of hot coffee. Go for it if you have any appetite left or reserved that different section of your stomach just for sweets.
Waterfall Ristorante Italiano is located in Shangri-La Hotel, Singapore at Orange Grove Road. Reservations can be made by calling +6562134138 or emailing [email protected] or going online at http://goo.gl/II3Te3.