Golden Peony at Conrad Centennial Singapore offers weekend dim sum lunch at S$59++ per person. You get to choose four items per table from a selection of ten dim sum dishes, one serving of soup per person, four choices of specialty dishes from a menu of 11 items per table and a serving of dessert per person. Hidden in the third floor of Conrad Centennial Singapore, Golden Peony continues to serve up excellent Cantonese dishes under the helm of Executive Chinese Chef Ku Keung who has been with Conrad Centennial Singapore since 2005. The Weekend Dim Sum Experience is a great way to invite you to come try the dishes here and catch up with friends and family over a fabulous meal.
Golden Peony Dim Sum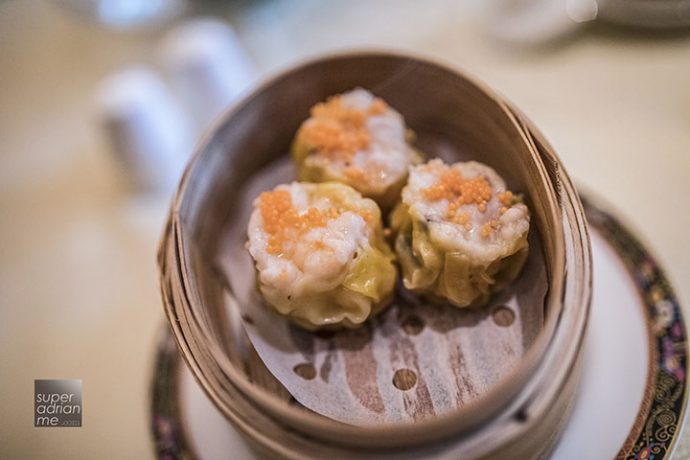 The Dim Sum selection here includes the mainstays of Dim Sum such as steamed chicken siew mais and steamed prawn dumplings. Enjoy the juicy chicken mean and fish roe as you bite into the delicious steamed chicken siew mai.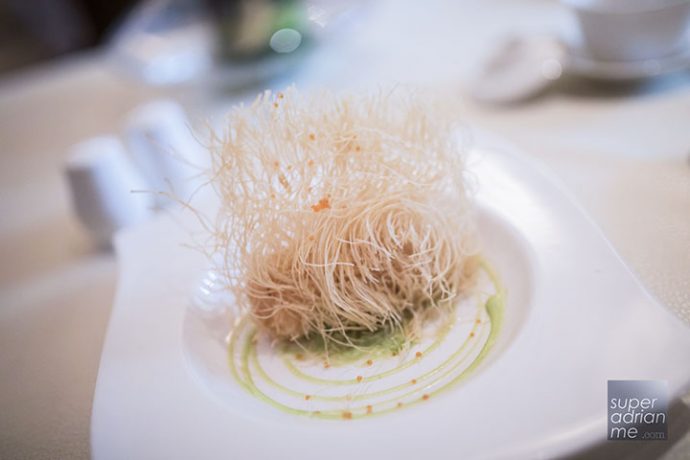 The dim sums are apportioned based on the number of people so you don't have to fight over the dim sums. Everyone gets one. You get to order four items from the Dim Sum Selection during the Weekend Dim Sum Experience.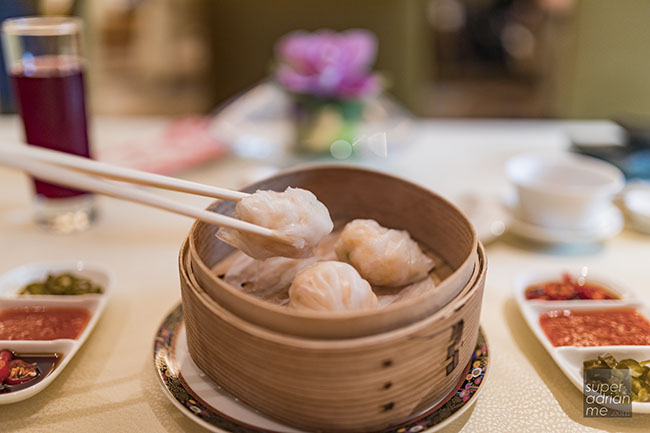 Other items on the menu include the Golden-fried Prawn Rolled in Crispy Filo, Baked 'Bo Luo Bao' with Char Siew, Pork Wan Ton with Spicy Sauce, Crispy Sea perch and Avocado Roll topped with Mild Spicy Lime Sauce, Steamed Vegetarian Dumpling, Golden-fried Beancurd Skin Roll with Prawn and Seaweed, Steamed Barbecued Pork Bun and Steamed Chicken Feet with Zhu Hou Sauce.
Soup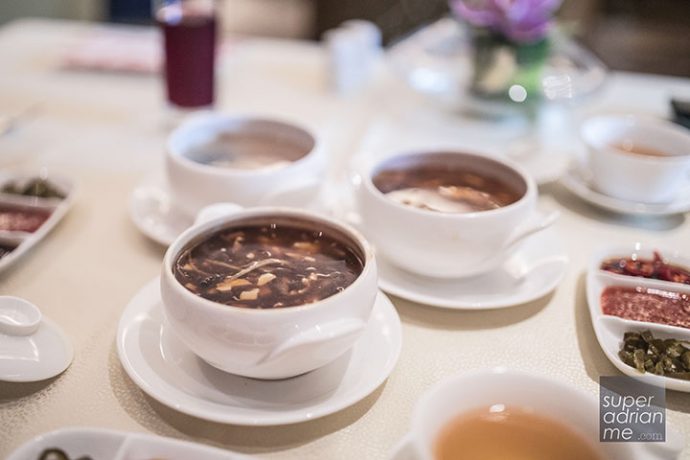 There are three types of soups available and you get to choose one per person. The Double-boiled Chicken Soup with Cordyceps Flower, Bamboo Pith and Conpoy is my personal favourite. There is also a Double-boiled Striped Snakehead with Watercress and an Imperial Hot and Sour Soup with Seafood.
Specialty Dishes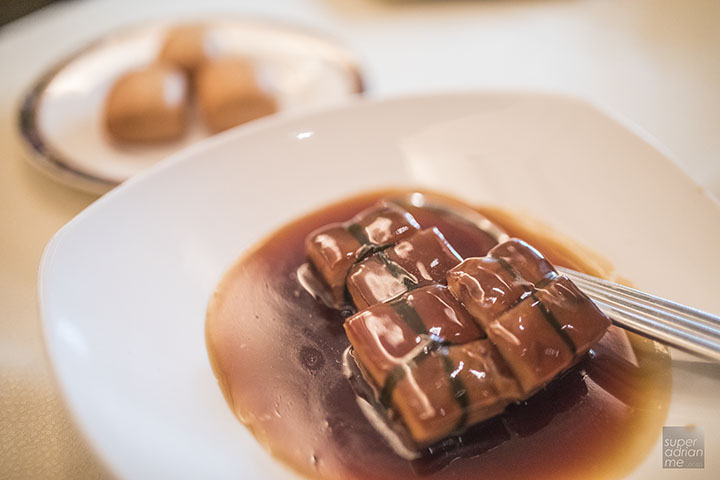 I suspect this is where you will have a hard time deciding which four dishes to order. If you like pork belly, then you better not miss out on the Braised 'Dong Po' Pork Belly, served with Crispy Man Tou. It literally melts in your mouth and all that flavours that oozes out with each bite. Dip the Crispy Mantou into the sauce and savour the taste of this excellent dish.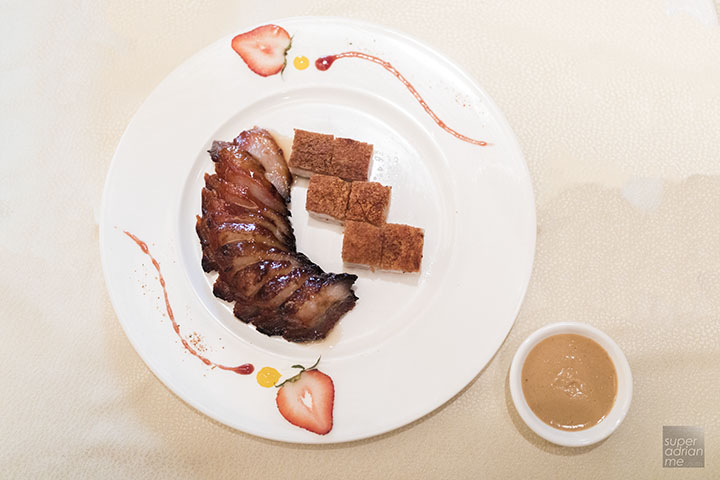 The Roast Pork Belly and Roast Char Siew is perfect for a dim sum lunch. The Pork Belly and char siew helps to also fill up your tummy. Other meat dishes in the menu include the Sautéed Pork Rib with Mocha Sauce and Sautéed Beef Cubes with Black Pepper Sauce.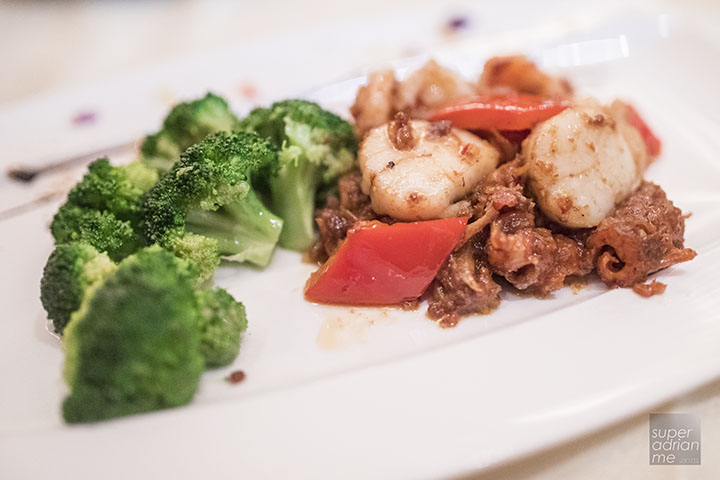 I don't come across Coral Clam very often. So when I tasted the sautéed scallop and coral clam with X.O. Chilli served with broccoli dish, I couldn't stop helping myself to more coral clam. I like the texture of the clam together with the rich X.O. Chilli flavours. Another seafood dish in the menu is the Baked Canadian Sea Perch with Teriyaki Sauce.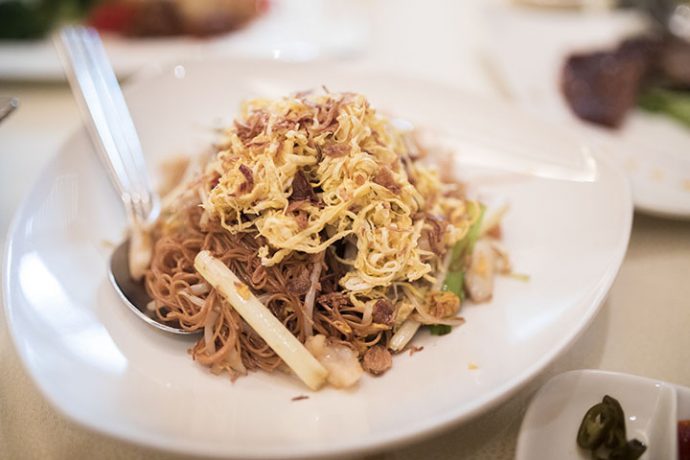 There are four carbohydrate dishes in the selection. Take your pick from the Yang Zhou Fragrant Fried Rice with Shrimp and Char Siew, Wok-fried Mian Xian Noodle with Seafood, Fragrant Fried Rice with Chicken and Salted Fish or the Chicken Congee.
Desserts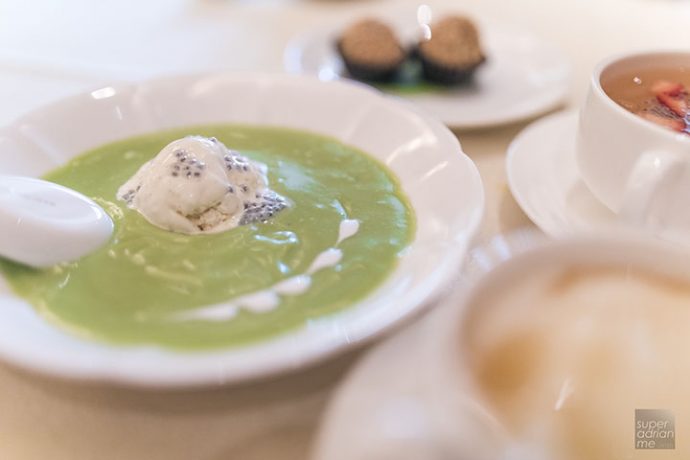 I sure didn't have much space left for dessert with my small appetite. Choose one from a selection of four different desserts including the chilled lemongrass jelly with lychee and aloe vera, chilled cream of avocado with vanilla ice cream, crispy glutinous rice ball with sesame paste or the homemade soya beancurd.
Golden Peony
Level 3, Conrad Centennial Singapore
Tel: +65 64327482/88
Email: [email protected]
The Weekend Dim Sum Experience is available for lunch on Saturday and Sunday.
Lunch starts at 11.30am on Saturday and 10.30am on Sunday.