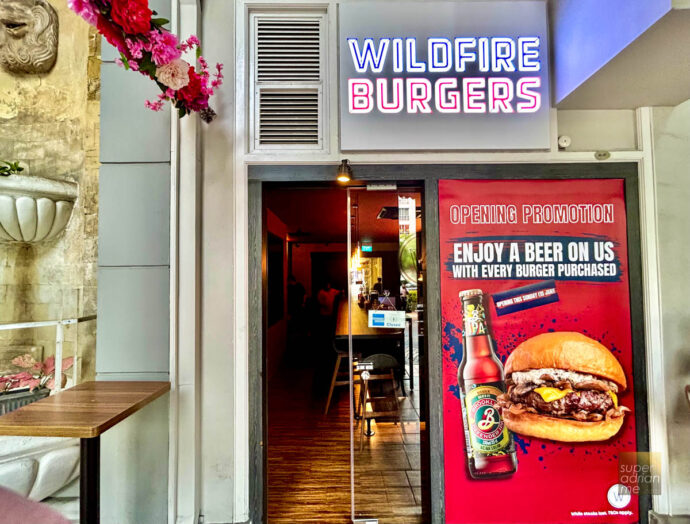 Wildfire Burgers will open their third outlet on 15 January 2023 in the same space that used to be Lil' Tiger in Robertson Walk. The same folks behind Wildfire Burgers who used to operate Lil' Tiger but has decided to retain this space with minimal layout changes to introduce their popular and new burgers to the neighbourhood.
Differentiating this outlet from its other two at NAFA and 1557 Keppel, spirit forward cocktails by the glass or shots are available for dinners to enjoy with the burgers.
The Burgers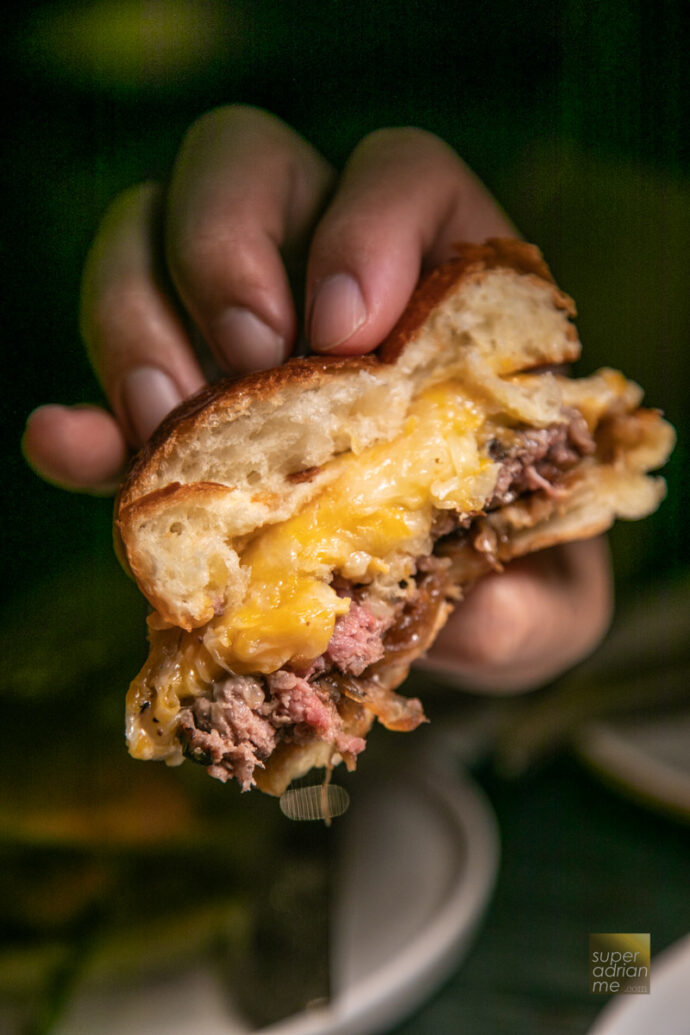 The patty for the beef burgers here are grain-fed Black Angus. Guests have the choice to add S$3 per patty for Full Blood Wagyu patties.
Four new burgers and a Minute Steak make the debut at this new outlet before they are introduced at the other two Wildfire Burger outlets later this month.
The Four Cheese Burger (S$15 for single patty and S$21 for double) is made with grain-fed Black Angus, cheddar, mozzarella, Colby Jack, Monterey Jack cheese, caramelised onions, master sauce all packed in between brioche buns.
Non beef guests can bite into the Ebi Burger (S$18). The golden ebi patty is made with minced prawn meat and chopped whole prawn meat that gives every mouthful a very satifsfying bite cooked prawns offer. Other ingredients include olive & roasted tomato relish, shredded romaine lettuce, homemade oriental spicy mayo and Japanese mayo. Very limited quantities of the Ebi Burger are available because of the amount of work required for each prawn patty.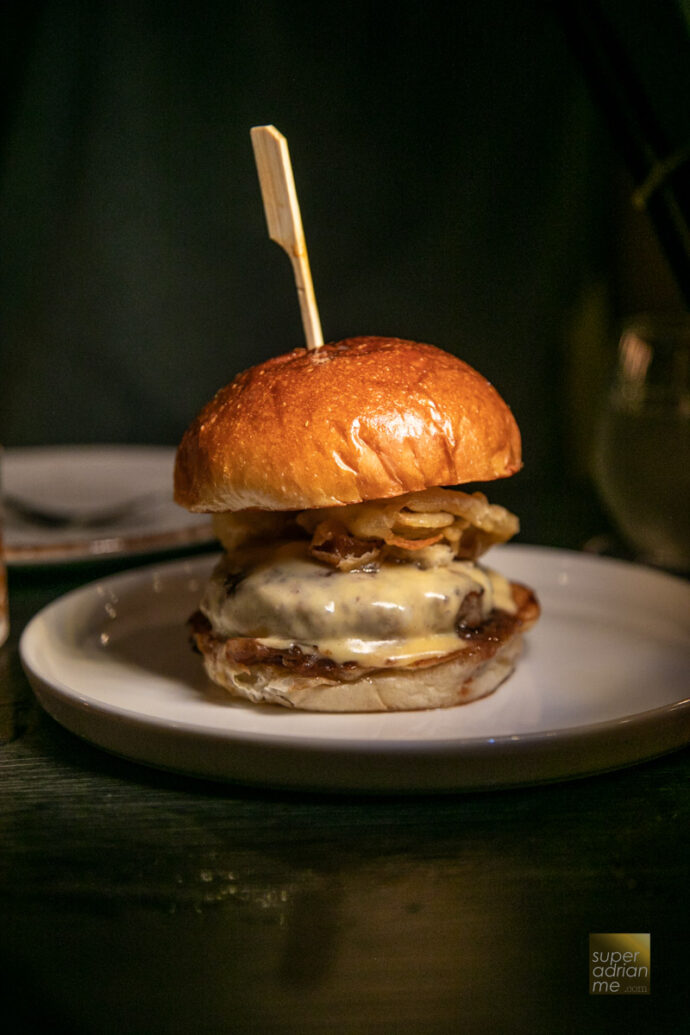 We also tried the French Onion Burger (S$16 for single patty and S$21 for double) which we highly recommend. The deepfried crispy onion and caramelised onion with gouda cheese, master sauce gave every bite into the juicy burger texture and flavour.
The fourth new burger is the Triple Bacon Burger (S$17 for single patty and S$22 for double). We'll be back to try this with a full blood wagyu patty. For now we can only imagine the crispy bacon, cheddar cheese, bacon jam and baconnaise flavours with the juicy grain-fed Black Angus.
Other burgers from the existing other two store's menus available here include the Classic 001 Cheeseburger, Shabu Burger, Portobello & Friends and The Eggstarter (another one we always recommend others to try).

Other Bites
The Chopped Cesar Salad (S$10) is highly recommended. Contains baby romaine lettuce, streaky bacon, hard-boiled egg, anchovies, parmesan caesar dressing and croutons. Sides such as Shoestring Fries, Truffled Parmesan Fries, Cajun Fries, Chicken Fries and Tater Tots are also available. Fried Chicken is one of Wildfire Burgers' specialities. Grain fed and cage-free chicken is delivered fresh daily so they are never frozen. You can order 1, 3 or 10 pieces.
A small selection of desserts including the Burnt Cheesecake and Good Ol' Apple pie are available too!
A Cocktail Programme Worth Your While
What I thought was brilliant was Wildfire Burgers serving spirit forward classic cocktails as shots at S$9 each for guests who would still like to enjoy a tipple or two without getting too inebriated. Also perfect for guests who cannot decide which to drink. They can get a flight of six different cocktails at S$49. But shots do not contain ice so there is no dilution.
If you still prefer a full-size glass, they are available at S$18. Cocktails available include Martini, Vesper, White Negroni, Boulevardier, Old Pal, Empire, Vieux Carre, Manhattan, Revolver, God Father, Oaxaca Old Fashioned, and Mezcal Negroni.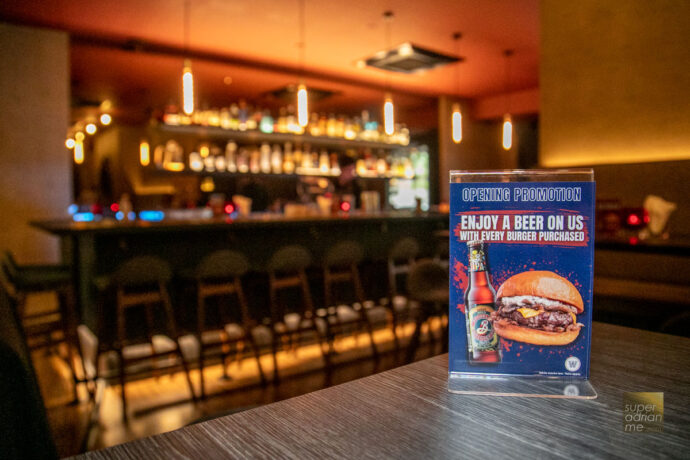 A selection of American wines and beers are also available. For the opening, Wildfire Burger is offering complimentary beer with every burger purchased.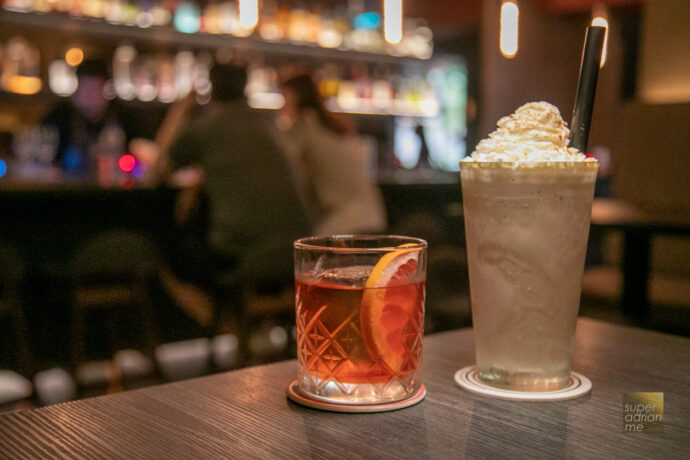 There is also a selection of milkshakes. You can have the Original milkshakes in Vanilla, Chocolate or Strawberry flavours (from S$10). Alcoholic versions include the Bailey's Oreo Milkshake (S$18) and Nutty Espresso Milkshake (S$18)