The Glenlivet Cocktail Capsules Masterclass at Set of Six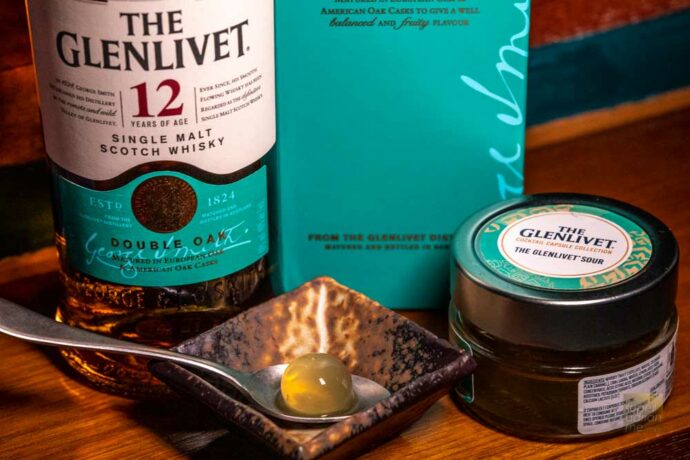 The Glenlivet has launched the second edition of its Cocktail Capsule Collection in Singapore after first releasing the original Capsule Collection in London in October 2019. The second edition has been created in partnership with edible mixology experts, Molecular Experience. They now feature a spherical capsule shape to create an even smoother tasting experience. The capsules will feature a variety of recipes including The Last King, Old Fashioned, Whisky Sour, and Paloma.
Four Masterclasses will be held at Set of Six on 18 and 19 February 2022. These masterclasses will be hosted by The Glenlivet Brand Ambassador, Anna Mitchell. At the masterclass, you will get two samples of The Glenlivet Single Malt, 2 Cocktail Capsules, and some food.
Date: 18 and 19 February 2022
Venue: Set of Six, 20 Craig Road, #01-01 Craig's Place, Singapore, 089692
Price: S$50
Reservations: Book directly with Set of Six www.setofsix.sg.
IPPUDO Umeshu Festival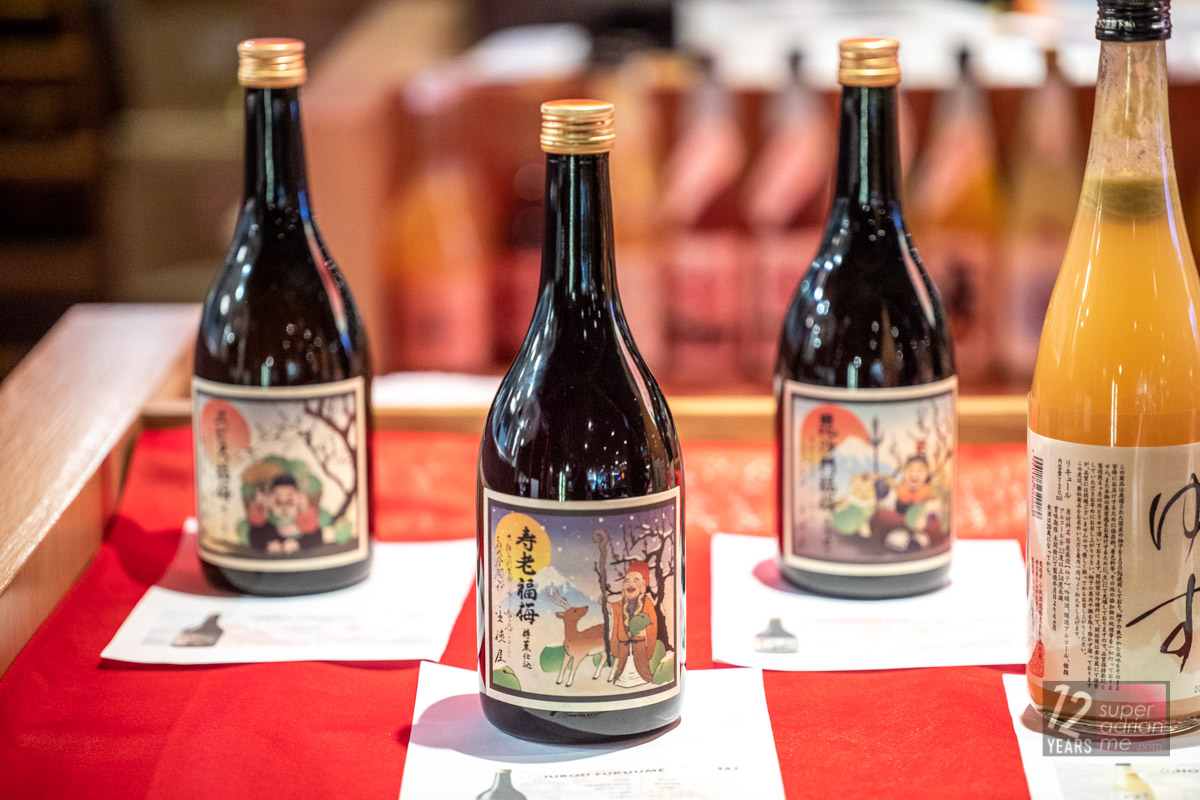 The second edition of the Ippudo Umeshu Festival is back. Global Ramen chain IPPUDO and spirit retailer Umeshuya have handpicked 30 types of umeshu for a unique and refreshing pairing with Petitoma, sweet mini tomatoes specially cultivated in Japan and imported in Singapore by Oisix. For S$19.80++ per set, enjoy three types of umeshu from light to heavy, sweet to sour, or a carefully balanced variety of all four profiles, and delicately paired with the incredibly sweet and juicy mini tomatoes served three ways: fresh, pickled with vinegar, and in an Italian style with bacon and garlic. Additional glasses are available at S$8 each.
Date: 21 to 25 February 2022
Price: S$19.80++ per set
Venue: IPPUDO Raffles City Outlet, #B1-61/62, 252 North Bridge Road, Singapore 189768
The Macallan Private Dining Experience with Justin Foo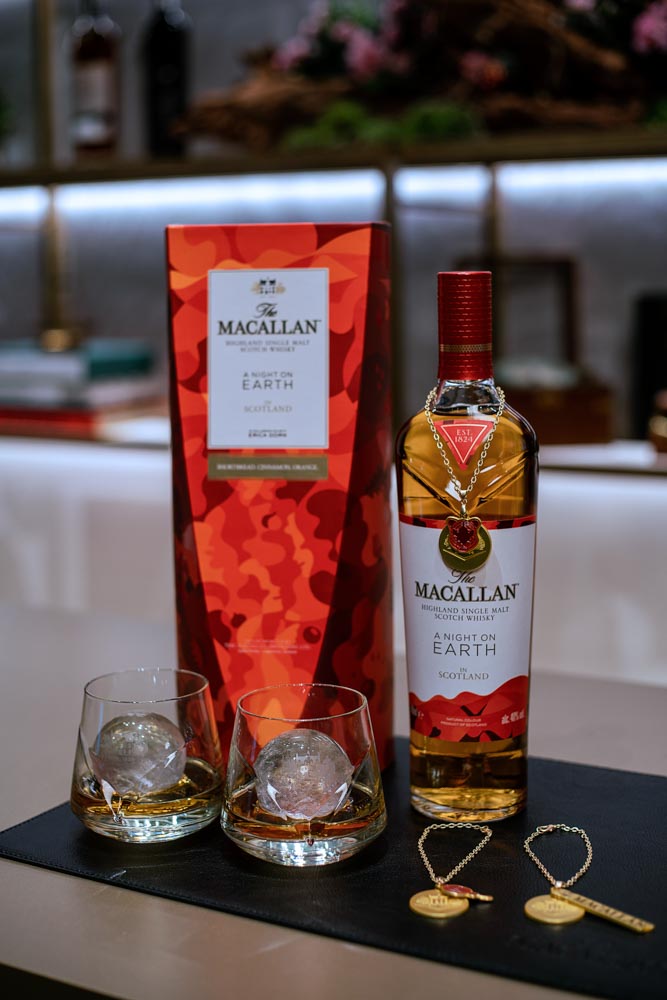 The Macallan Private Dining Experience with acclaimed chef, personality and content producer Justin Foo will be held at The Macallan at Raffles Hotel from 21 to 28 February 2022. The menu shines a spotlight on A Night on Earth, a limited-edition single malt that captures the joy of toasting to the new year ahead with family and friends. The vanilla sweetness of the whisky, with notes of dried orange and spice, blends harmoniously with Lunar New Year delicacies presented in the menu.
The menu starts with Tea & Biscuits, stuffed egg roll crackers with Pork Floss, Salted Egg and Rose Petal Cream, paired with the Classic Cut 2021 served via a pipette dropper. The Salmon & Mandarins is next, featuring orange and beetroot cured salmon, sweetened Ikura, ginger and Szechuan pepper pickles, also paired with the Classic Cut 2021. Indulge in Chef Justin's Grandma's Recipe – a comforting crab and scallop egg drop soup paired with the Double Cask 12 Years Old. The star of the night is 'Bakwa', comprised of semi-cured spiced beef hanger steak smoked in Oolong tea, black garlic puree, paired with the Rare Cask. There are two desserts. First is the Almond Lapis, a classic childhood favourite made of Almond Joconde and Amaretto Buttercream pineapple jam and toasted coconut. A Night On Earth completes the nostalgic gastronomy experience with its buttery and mouth-coating flavour.
Date: 21 and 28 February 2022, 7pm to 10pm
Venue: The Macallan at Raffles Hotel Singapore, 328 North Bridge Road, #01-07 to 10, Singapore 188719
Price: S$272+ per person
Reservations: Make reservations at The Macallan website.
50Fifty Cocktail Pairing for February with Bannie Kang and Tryson Quek from Sidedoor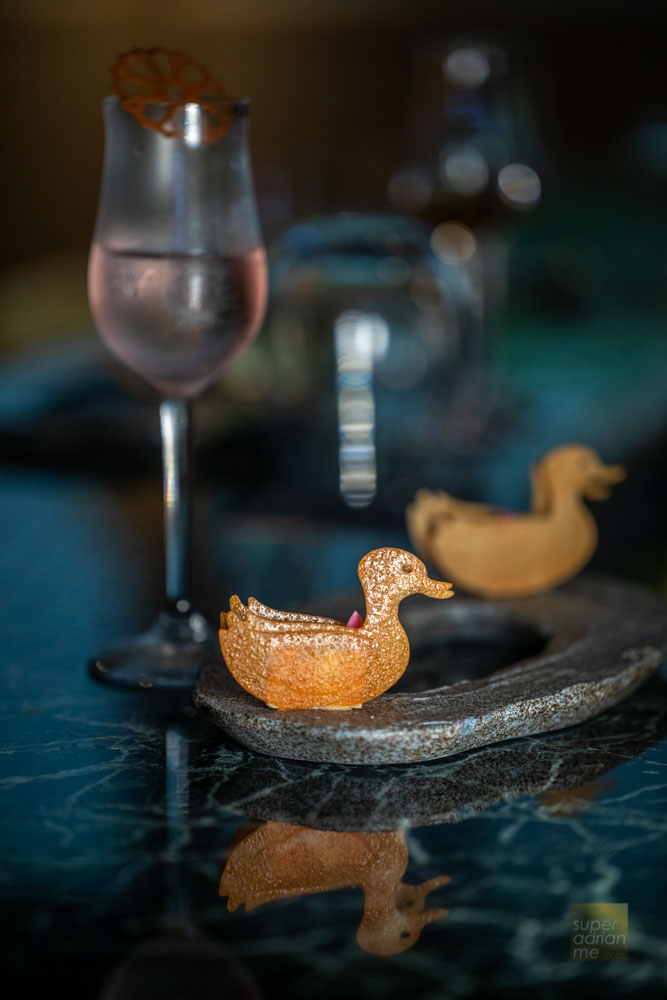 For the month of February 2022, Janice Wong of 2am:dessertbar has paired with Tryson Quek and prestigious bartender Bannie Kang of Sidedoor to offer a S$138++ six hands dinner menu alongside curated cocktail pairings at the intimate pocket bar 50Fifty. Limited sessions are available. Guests go on a culinary journey with six courses paired with four spectacular dessert cocktails.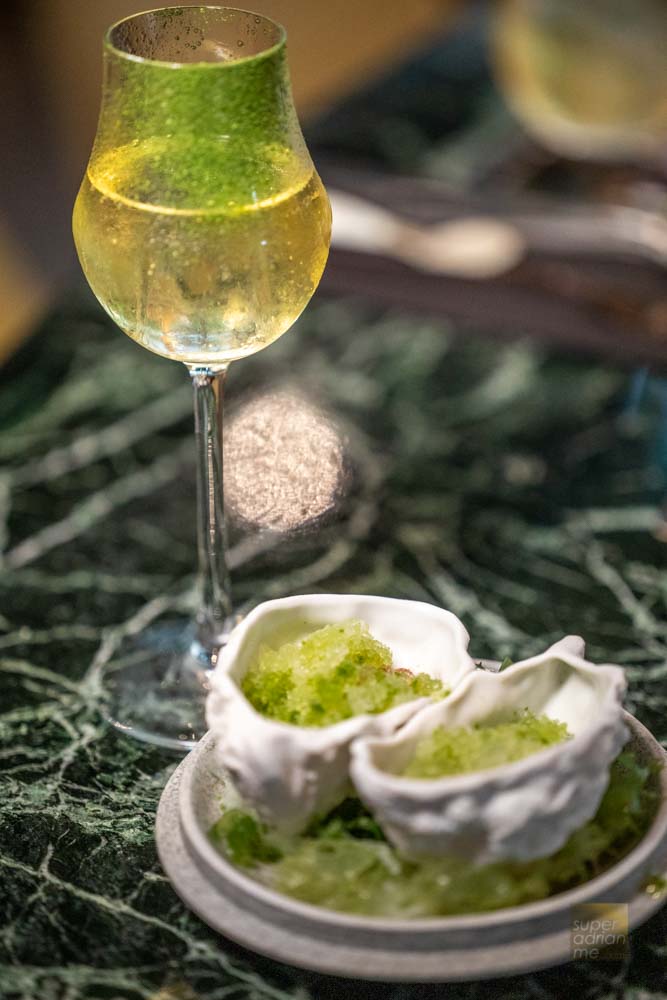 Start the dinner with Algae, a No.3 Iris Oyster served with a side of Cucumber, Kombu, and Frost paired with Clean Water, a light blend of The Macallan Sherry Oak 12Y, Guava, Osmanthus, Sencha, and Verbena.
The meal unfolds with a delectable entrée featuring Ugly Duckling, a Confit Duck Rillette served with Duck Liver and delicately dressed in Maple paired with White Meat, a creamy concoction of Brugal Especial, Pineapple, Coconut, and Cream Clarified.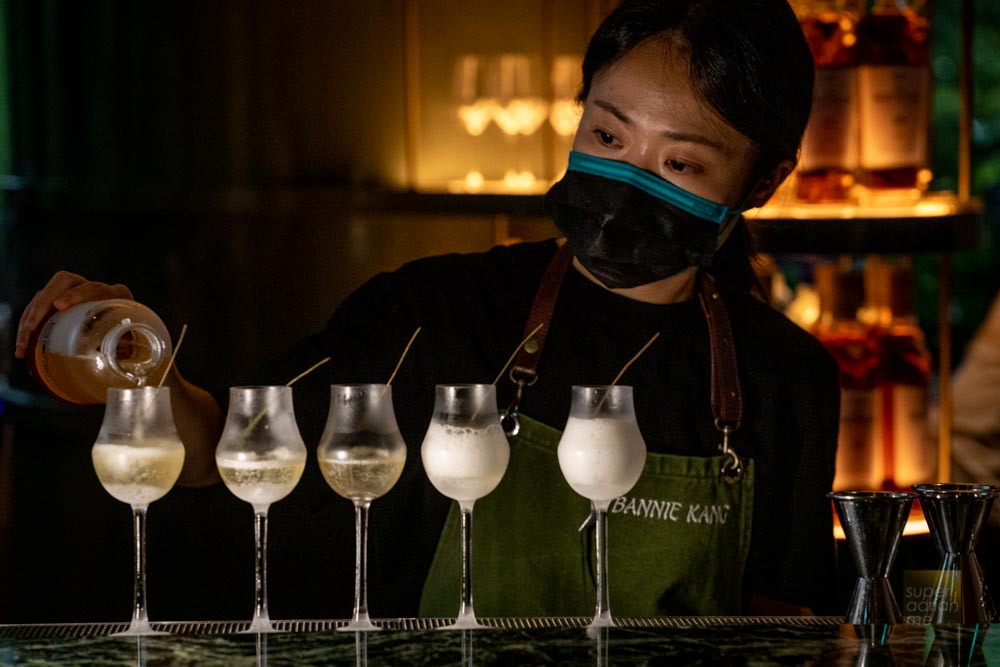 Following this is Cow OnField, a Steak Tartar served with Kale, topped with Leafy Dust, Yuzu, and Grain paired with GreenLand, an aromatic tipple made with Naked Malt, Fernet Hunter, Curry Leaf, Watermelon, and spicy Maqow pepper.
The dinner continues with a hearty and earthy Chicken Broth with Cepe, Duo Zucchini, and Butter and Fatty Fish, a texture of salmon cooked in Caramel Butter and Fermented Tea, served with a side of Potatoes.
End the meal on a sweet note with Drunken Island, a boozy indulgent dessert made of Whisky Crème Anglaise, Ginger, Sea Salt Caramel, Chocolate and refreshing Bergamot that is paired with Double Red, a spirit-forward concoction made of The Macallan Double Cask 12Y, Strawberries, Campari, Amaro, Amontillado Sherry and a dash of Bitters.
Date: February 2022
Venue: 50Fifty, 1 Nanson Road, #02-07B, InterContinental Singapore Robertson Quay, Singapore 238909
Price: S$138++
Reservations can be made at 50Fifty online.
The Balvenie x Cure: Handcrafted by Chef Andrew Walsh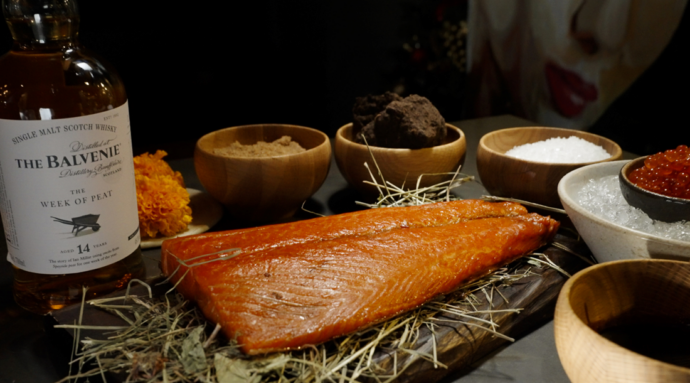 The Handcrafted By platform by Balvenie and MICHELIN Guide returns with a collaboration with Chef -owner Andrew Walsh of Cure. He has crafted two dishes and a whisky-based cocktail that are all paired with The Balvenie's roster of storied whiskies. For the main course, salmon is cured, brushed with The Balvenie 14 Year Old The Week of Peat, cold-smoked, and then hot-smoked. His second dish is a dessert presented inside a box and is inspired by his childhood winter memories with his father. Charcoal dough is cut into small logs to resemble peat and then deep-fried and filled with a peat-smoked milk ice cream. They are served with The Balvenie DoubleWood 12 Year Old to enhance the smoky aroma. The whisky's vanilla and cinnamon notes lift the dessert. Lastly, to celebrate its recent MICHELIN Star accolade, Chef Walsh and his team have crafted a cocktail called Star in Orbit, a playful take on a whisky sour.
Price: S$396++ for the three dishes available as part of a full menu with alcohol pairing of a dram of The Balvenie 12-Year-Old DoubleWood, one dram of The Balvenie 14-Year-Old Caribbean Cask, one Star in Orbit cocktail, and other complementary pairings.
Date: 21 February 2022 to 21 April 2022
Venue: Cure, 21 Keong Saik Rd., Singapore 089128.
Reservations: Reserve a table here or call the restaurant at 6221 2189.