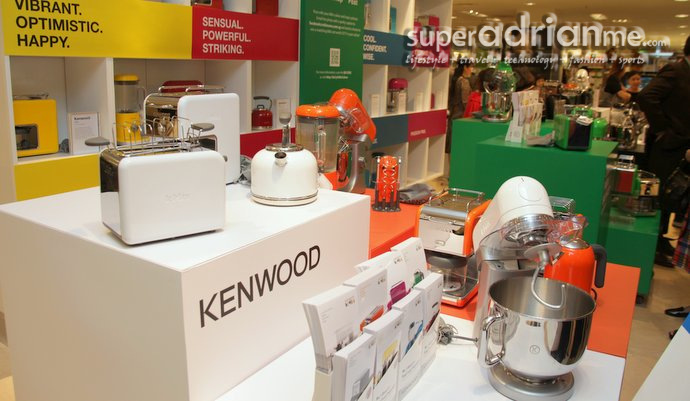 KENWOOD's latest kMix collection of  kitchen appliances add a whole range of bright lively colours to your kitchen.   Launched last week at Robinsons Department Store for the month of April, the KENWOOD kMix Glam Green is available exclusively at Robinsons Centrepoint Level 3.  There are eight cheerful colours include Passion Pink, Coconut White, Sun Kissed Yellow, Outrageous Orange, Raspberry Red, Peppercorn Black and Bold Blue.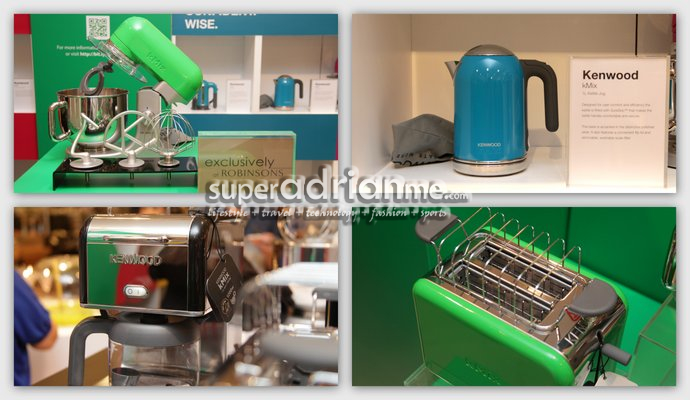 The kMix collection consists of the following products:
Kitchen Machine –  Great for baking, the Kitchen machines comes with a full pastry kit and a five litre bowl.    The bowl revolves using a 2.5 turn revolution mixing action great for incorporating ingredients without losing air.  At 500W, it is perfect for making dough loads of up to 1.35kg.  Other features include electronic speed control, automatic safety stop when the head is lifted, ergonomically designed controls for easy front access.  Retails at a recommended retail price of S$799.
Toaster TTM020 Series – This toaster has a Peek and View function that is linked with the variable browning control so you can avoid burnt toast.  There is a defrost function and variable browning control with an integrated cancel button.  There is also a stainless  steel bun or pastry warmer and toast rack so that it warms them up easily.  Retails at a recommended retail price of S$129.
Kettle SJM020 Series – The Jug Kettle comes with a SureGrip handle that is comfortable and secure.  It has a one litre capacity and comes with a flip top lid, illuminated on/off switch and water window at the rear with a removable and washable scale filter. Retails at a recommended retail price of S$149.
Traditional Kettle SKM030 Series – The traditional kettle comes with a 1.25 litre capacity with a water window at the rear and removable and washable scale filter, illuminated on/off switch and an ergonomic body with Sure Grip handle. Retails at a recommended retail price of S$149.
Coffee Maker CM020 Series – This coffee maker comes with a one touch control and ThermoGen heating technology for the perfect brewing temperature.  OptiTemp maintains the perfect brewed coffee temperature and Sure Grip offers a finished carafe designed for user comfort and improved grip.  The coffee maker also has an anti drip mechanism.  The coffee maker can make up to six cups of coffee and retails at a recommended retail price of S$199.
Blender – This pre-programmed blender combines a glass goblet with a metal body and features a powerful 800W motor with dedicated pre-programmed electronic functions plus pulse for ice crushing, soups, drinks and dips.  It is easy to clean and dishwasher safe. The calibrated fluted glass goblet has a 1.6 litre capacity.  The metal lid comes with an integral rubber seal to provide a secure seal to eliminate spillage.   Retails at a recommended retail price of S$299.
Hand Mixer – Compact, clean and designed for practical use.  400W powerful motor for effortless mixing, Sure Grip aluminium, ergonomic body with soft grip handle, stainless steel beaters and kneaders included and total user control with five different speeds and a pulse function.  Retails at a recommended retail price of S$189.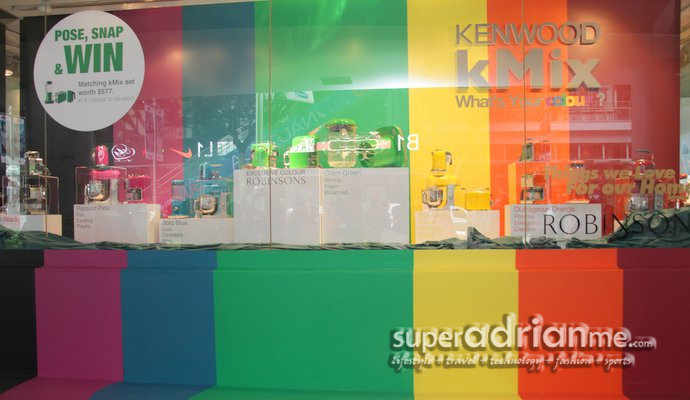 Win a kMix set worth S$577 when you send in your photograph of you posing with your favourite kMix range of products. Email your photograph with an interesting caption to [email protected] to participate.
Check out the live cake decorating demonstration on 20 April by a pastry chef at the Robinsons Centrepoint store window.  The chef will create a tilted "mad hatter" cake that looks like it is going to topple off the table.
Spend S$150 or more at Robinsons before 5 May 2013 and be entered into the Robinsons Lukcy Draw and stand a chance to win S$3,000 worth of Robinsons' products.
Related articles