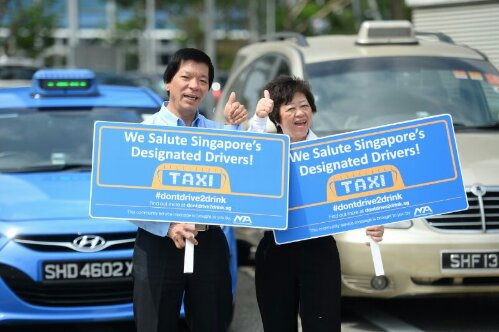 Asia Pacific Breweries Singapore rewards some 3,000 taxi drivers during Chinese New Year with a pack comprising snacks, coffee, Polar sugar curry puff from Cheers and FairPrice Xpress.
There are 28,000 taxis on the road. This collaboration with the National Taxi Association is a first for APB Singapore. This campaign was launched after results from APB Singapore's #dontdrive2drink campaign showed that taxi drivers are integral to people who drink. The viral activation has garnered over 14,000 page views with over 3,000 hash tags. Check out Dontdrive2drink.sg.
This campaign is not just for the taxi drivers but for you as well. The first five people to spot the "We Salute Singapore's Designated Driver" car decal and upload a photo of it via #dontdrive2drink on Facebook, Instagram or Twitter will stand to win taxi vouchers worth S$100 each. And if your submission has the most likes and shares, two Sony PlayStation 4 are up for grabs.
APB Singapore has spent S$90,000 on both these campaigns and continues to support Traffic Police in its annual campaigns. A budget is set aside for Traffic Police to plan their own advertising and promotion for the nationwide Don't Drink and Drive initiative.
The National Taxi Association is also rewarding 1,000 taxi drivers by visiting them at Changi Airport on 31 January and offering goodie bags with vouchers and other items for the festive season.