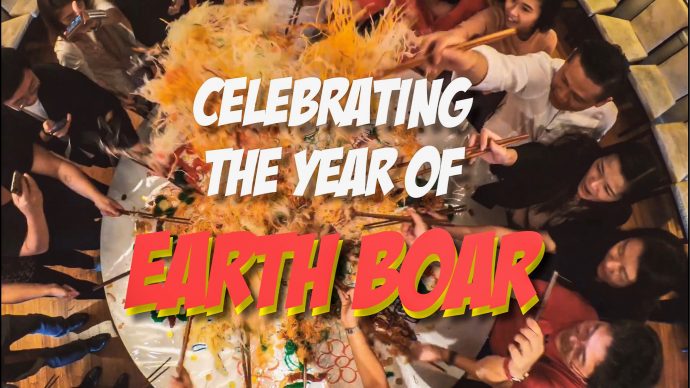 This year we attended a number of media tastings for the upcoming Chinese New Year to herald the year of the Earth Boar. We picked some of the must order dishes when you visit these restaurants.
Don't forget to check out our other post about entertaining at home during the Chinese New Year.

Cherry Garden
Cherry Garden at Mandarin Oriental Singapore has my favourite Braised Pig's Trotter with braised six-head abalone and black moss. While, I don't get to eat this dish pretty often besides during Chinese New Year media tastings, I would recommend this very hearty dish.
To pamper, order the luxurious pen cai that features four-head abalone, lobster, scallop, prawn, sea cucumber, dried oyster roll, convoy, dace fillet, black moss, Tientsin cabbage, yam, roasted pork belly, roasted duck, chicken and wolf berries. And because this pot has so many ingredients, you are served by layers. Goes perfectly with a bowl of hot rice and some chilli padi & soy sauce.
Cherry Garden's set menus are priced from S$158 per person with a minimum of six people. Sets for a minimum of two people are also available from S$128, S$148, S$158, S$178, S$198 and S$288.

Din Tai Fung
Bring the family or friends to Din Tai Fung for the classic favourites or some dumplings. Enjoy the Prosperity Smoked Salmon Yu Sheng at S$32.80 for 3 or S$48.80 for six without going broke. Twirls of white radish, carrots and crispy yam strips are added to fresh pomelo pulp, smoked salmon and drizzled with Din Tai Fung's house-made sweet and tangy plum sauce. You can even top up Fried Salmon Skin at S$4.80, Pine Nuts at S$2.80, Smoked Unagi at S$9.80, sliced smoked salmon at S$9.80 or more Crispy Yam Strips at S$3.80. A vegetarian version is available at S$26.80 for two to three people or S$39.80 for four to six people.

Folklore
DIY Popiah Set

Peranakan Prawn Salad

Sayur Beremi

Bakwan Kepiting

Garang Assam with You Tiao

Mee Siam

Traditional Peranakan Kuehs
Have a heritage Peranakan Lunar New Year celebration at Folklore. Executive Chef Damian D'Silva showcases age-old recipes for the lunar new year from his Peranakan grandmother who worked in the kitchen, months ahead to prepare a celebratory feast for visiting friends and relatives. Enjoy dishes such as Bakwan Kepiting, Peranakan Prawn Salad (Spicy), Mee Siam, Garang Assam with You Tiao, Sayur Beremi, Sayur Kailo with Pork Ribs and more.

My favourite dish is the DIY Popiah Set priced at S$60++ for 10 servings. The popiah skins are handmade with flour, egg, water and oil giving it a fragrant and yellow skin. The Intee features slowly braised pork belly that is thinly sliced and added with deshelled prawns. The stock from the pork belly is reserved and prawn shells are fried till fragrant then boiled in water till flavours are extracted. Thinly sliced bamboo shoots and jicama are then added to garlic and preserved soybean paste that are sautéed till brown. Bamboo shoots and pork slices are added till the liquid is fully reduced. The Pork and prawn stock is slowly added, allowing the flavours of the ingredients to develop fully. Steamed blue swimmer crabmeat is added as a condiment for the popiah. The Popiah Set is available for takeaway at S$321 nett for minimum of 20 persons order.
Folklore's Chinese New Year menu will be available for lunch and dinner from 4 to 19 February 2019. Takeaways are available with advance bookings of five working days from 30 January to 19 February 2019.

Golden Peony
Golden Peony at Conrad Centennial Singapore has a new Roast Suckling Pig. This year it is stuffed with fragrant coconut rice. Think Nasi Lemak with a chilli paste that gives the suckling pig more oomph. My favourite savoury this year has to be the Eight Treasure Congee which is a pot of ingredients and black truffle. That's a whole pot of sweet goodness.
And for dessert, I would have another bowl of Osmanthus Broth Rainbow Crystal 'Tang Yuan' anytime. This is the most beautiful Tang Yuan I have ever encountered. Another pretty dessert is the 'Koi' Soy Pudding with Hasma, Peach Resin and Red Date Broth.
The Chinese New Year menus at Golden Peony start from S$118++ per person or S$1,398++ or a table of 10 persons.

Jade at Fullerton Hotel Singapore
Jade at the Fullerton Hotel Singapore introduces an eight-course Grand Fullerton Golden Feast priced at S$2,388 for 10 people. Highlights this year include the Gold Rush Yu Sheng with lobster, Australian abalone and Norwegian Salmon; Triple Bliss Braised and Roasted Pork Belly with Steamantou and Crispy Suckling Pig Skin topped with Caviar; Prosperity Stir-fried Red Grouper served with Head and Tail Intact or the Full of Luck Deep-fried Chilean Seabass with Hawthorne Sauce; Poached Preserved Vegetable and Mushroom Pork Dumplings. The traditional peppery pork tripe soup is served with a dash of Hennessy XO Cognac.
My favourite is the Fragrant Wok-fried Glutinous Rice with Chinese Sausages prepared with five different grains of brown ricec, buckwheat, oat, barley and mushroom crispy rice.
Jade's Chinese New Year menus start from S$118 for Family Style Set menu for six, and S$88 per person for the Individual Set Menu and Vegetarian Set Menu.

Jiang Nan Chun at Four Seasons Hotel
Have a traditional Lunar New Year meal at Jiang Nan Chun in Four Seasons Hotel Singapore which is currently helmed by renowned Cantonese Chef Tim Lam. Have a joyous celebration with all-time favourites such as the Braised Sea Cucumber with Three Head Abalone, Crab Meat E-Fu Noodles and Barbecued Suckling Pig.
Then toss to prosperity and abundance with that Instagram-worthy Fresh Australian Lobster and Abalone Yu Sheng. The festive menus here spotlight fresh, seasonal produce. They are available at S$148, S$178 and S$228 per person for 6 courses, and range from S$1088 per table of 8 people to S$5,688 per table of 10 persons for 8 courses.

Min Jiang
Min Jiang at Goodwood Park Hotel Singaporeand Min Jiang at One North has a selection of celebratory dishes for dining and take away for the lunar new year. The Fruitful Abundance Yu Sheng with Whole Abalone in Raspberry and Sour Plum Sauce is the dish that stood out for me. It is available for dine in at Min-Jiang at One-North at S$118 or S$168. This fruit salad contains julienned peaches and dragon fruit and thinly sliced honeydew, mangoes and kiwi as well as nuggets of ingot-shaped yuzu jelly with strawberries, baby abalones topped with red tobiko and romaine lettuces, rocket leaves, carrots, green radishes, white radishes, yellow frisee, snow pears, pine nuts, peanuts, sesame seeds and crispy yam stripes with raspberry and sour plum sauce.
And if you are going order something home for reunion dinner, the Fortune Delight Crispy 'Heung Song' Duck with Glutinous Rice from Min Jiang at One-North is available at S$179.75 nett for six to eight people. The duck is marinated with soy sauce, cooking wine, ginger, spring onions and star anise, deep-fried to fragrant crsip, then finely shredded to resemble 'floss'.

Mitzo
Executive Chef Nicky Ng from Mitzo Restaurant and Bar presents a modern take on traditional delights till 19 February 2019.
My favourite dish here is Mitzo's yu sheng. It is a refreshing take of the traditional prosperity dish. You could not get any more hands on for this dish. The Salmon Yu Sheng is served on a beautiful platter of bright colours featuring greens, radish, carrot, red cabbage and topped with a unique blend of citron tea jam, home-made bean sauce and corn oil and Salmon, of course. Guests get to shake the citron tea jam and sour plum sauce just like how you would shake a cocktail. This is passed around so that every guest gets a chance to shake and add on to the fun before it is poured over the yu sheng.
A Divinity Cocktail has been specially concocted for the festive season by head bartender Azlam Kadir. Priced at S$18++ per glass, the cocktail is made with ginseng-infused vodka, maraschino liquor, plum bitters, goji berry syrup, lime juice, topped up with ginger beer.

Peach Blossoms
Peach Blossomsat Marina Mandarin celebrates the year of the pig with festive à la carte dishes and specially curated set menus that start from S$158++ per person. The prosperity salmon yu shengfeatures crispy white bait and Nashi Pear. It is priced at S$78++ for 5 or S$118++ for 10 for take away. Other Yu Sheng available for take away include the Marina Mandarin Yu Sheng featuring Salmon, Rock Melon, Pear, Jackfruit, Pomelo and Strawberry. It is priced at S$88++ for 5 or S$128++ for 10. A Vegetarian Abalone Yu Sheng is also available at S$68++ for 5 or S$98 for 10.
The Traditional Golden Pig-shaped Nian Gao with purple sweet potato nian gao and mochi is to cute too eat. You can take one home at S$38.80 per box.

Shisen Hanten by Chen Kentaro
Dine at Shisen Hanten by Chen Kentaro, Singapore's highest Michelin-rated Chinese restaurant Singapore. There are seven set menus for the Chinese New Year starting from S$538++ for four to the Splendour menu that features Braised Four-head Australian Abalone at S$2,588++ for 10.
Savour some of these absolutely delightful dishes including the Foie Gras Chawanmushi with Crab Roe Soup, Deep-fried Prawn Ball with Yuzu Sauce, Braised Baby Abalone and Black Moss with Beancurd, Stir-fried ibérico pork with spicy sweet and sour sauce or Rice Vermicelli simmered with crabmeat and Hokkaido Scallop.
My favourite dish was the wok-fried east-spotted grouper with shishito pepper. The grouper is fried with pickled vegetables which add additional flavours. The broth is then prepared with superior stock with sake, vinegar, sugar, fish and clams. Next shishito and green pepper are stir-fried and then the dish is plated and served.

Si Chuan Dou Hua
Si Chuan Dou Hua's Chinese New Year dishes are inspired by jewellery, playing on the pronunciation of the Chinese Character 'Pig'. Set menus here start from S$888 for 10 people and are available till 19 February 2019.
The Prosperity Silver Bait and Homemade Bak Kwa with fresh Greens Yusheng is available only at TOP of UOB Plaza outlet from S$198. The puffer fish slices are arranged in the shape of an adorable pig's face and the home made bak kwa makes an excellent condiment for the yu sheng.
My favourite dish is the Double-boiled Whole Pig Tripe Soup (S$138 for 4 to 6 people) which resembles a treasure-filled pouch, containing premium ingredients such as fish maw, dried scallop, sea whelk and kampong chicken. The hearty soup also contains barley, ginkos, bean curd skin and requires at least four hours of slow-cooking. Available from Si Chuan Dou Hua at PARKROYAL on Kitchener Road.

Summer Palace at The Regent Singapore
One Michelin-starred Summer Palace's Executive Chinese chef Liu Ching Hai has included white chocolate piglets in a special themed you sheng accompanied by a traditional plum sauce that is less sweet. You have an option to top the you sheng with smoked salmon or other toppings such as baby abalone with fish lip; bird's nest and pear; Marinated Hokkigai Clam with Jellyfish or a vegetarian Purple Cauliflower with Lily Bulb.
11 lunch and dinner set menus will be available till 19 February 2019 starting from S$88 per person.
Summer Palace is located at level three in Regent Singapore.

Szechuan Court
Szechuan Court at Fairmont Singapore offers six different set menus and an à la carte menu of festive dishes this Chinese New Year till 19 February 2019. Tossing Yu Sheng comes with four options. Salmon for S$58++, Snow Crab for S$88++, Abalone for S$98++ and Sliced Coconut Meat, Vegetarian Abalone for S$58++. These yu sheng are topped with a home sauce of sweet plum and tangy kumquat.
My favourite dish was the Sautéed Coral Clam and Jumbo Asparagus in X.O. Chilli Sauce (S$68++ per portion). The succulent clams and jumbo asparagus are deep-fried till crunchy before tossing in Szechuan Court's signature X.O. Chilli Sauce.

Wah Lok
You can always expect good traditional Cantonese dishes at Wah Lok Cantonese Restaurant in Carlton Hotel Singapore. New on the Chinese New Year Menu here is the Auspicious Golden Pot. This pot of rich broth with deer sinew, goose web from Brazil, morel, pork ribs from Spain, braised fish curd, fish maw, tianjin cabbage, chestnut and black moss.
You can always expect good traditional Cantonese dishes at Wah Lok Cantonese Restaurant in Carlton Hotel Singapore.
New on the Chinese New Year Menu here is the Auspicious Golden Pot. This pot of rich broth is filled with deer sinew, goose web from Brazil, morel, pork ribs from Spain, braised fish curd, fish maw, Tianjin cabbage, chestnut and black moss. This unique dish is my favourite and different from the usual poon choi which is usually filled with seafood. The Auspicious Golden Pot is priced at S$208++ for 4 people and S$308++ for 6.
The Longevity Poon Choi has three layers of premium ingredients in a pot. There's baby abalone, scallops, sea cucumber, dried oysters, roast duck, pan-fried live prawns, pork shank, fish balls, mushrooms, black moss, Tianjin cabbage, radish and yam. The Longevity Poon Choi is priced at S$408++ for 6 and S$688++ for 10.

Wan Hao at Marriott Tang Plaza Hotel
If you feel that regular Yu Sheng is too sweet for your liking, then you have to go to Wan Haoat Singapore Marriott Tang Plaza for their array of Yu Sheng. This festive prosperity salad dish comes paired with its specialty Kumquat sauce that is both zesty and refreshing.

The Prosperity Set Menus are available till 19 February 2019 and are priced from S$108.80++ per person (4 to 8 persons) to S$2,088++ for 10 people.
My personal favourite is the Braised U.S. Short Ribs with 60 years Mandarin Orange Peel. Although this dish is S$42++ per portion, the tender beef oozes with saucy goodness and will make you crave for more. It's totally worth it.

Xin Cuisine
Xin Cuisineat Holiday Inn Singapore Atrium offers nine set menus this Chinese New Year. A five-course set menu for two starts from S$188++. The banquet menu is priced at S$588++ for six, S$788++ for 8 and S$898++ for 10.
Xin's Gold Leaf Salmon Yu Shenand Xin's Abalone Treasure Pots are must try dishes. The Salmon and Tuna Yu Sheng is served with Fish Skin and Kumquat Sauce. Share the Xin's Barbecue Meat Platter featuring glazed barbecued pork loin, roast duck, crispy roast pork, marinated jellyfish, soy sauce chicken and marinated cuttlefish.
The Double Boiled Matsutake with Hashima in Clear Soupis my favourite.
The desserts here are fanciful. The Mango Pomelo Sago with Dragon Fruit is not only a great way to end the meal, it is also a very pretty dish with dry ice smoke effect.