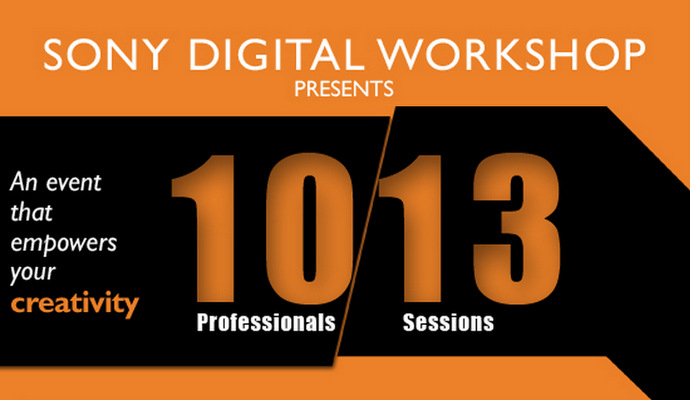 Sony will be organising  its biggest Sony Digital Workshop ever for photography & filmography beginners, enthusiasts and professionals in Singapore. Sony has invited 10 established lensmen like National Geographic photographer Michael Yamashita,  professional photographer Manny Librodo and many more to share more about their craft and discuss topics such as portrait photography, photojournalism and flash photography.
This will be the first year Sony Digital Workshop to include sessions on film making and videography, with workhops conducted by renowned local filmmaker Jack Neo and multi-award winning young director Pepe Diokno.
The workshops will be held on 30 March, 31 March, 6 April and 20 April at The Chamber, Old Parliament House and on 27 April at the Sony Store at Isetan Orchard. For more information & register your interest at www.sony.com.sg/sdw1013.
Date
Time
Venue
Topic
Speaker
30 March 2013 (Saturday)
1100 – 1300hr
Old Parliament House
Conceptual Portrait Photography
Manny Librodo
1500 – 1700hr
Old Parliament House
Conceptual Portrait Photography
Manny Librodo
1900 – 2100hr
Old Parliament House
Travel Photography – Batanes, Philippines
Ferz Decena & Oggie Ramos
31 March 2013 (Sunday)
1500 – 1700hr
Old Parliament House
Travel Photography – Batanes, Philippines
Ferz Decena & Oggie Ramos
1800 – 1900hr
Old Parliament House
Photojournalism
Mike Yamashita
2000 – 2100hr
Old Parliament House
Photojournalism
Mike Yamashita
6 April 2013 (Saturday)
1100 – 1300hr
Old Parliament House
Astrophotography
Benson Guek
1500 – 1700hr
Old Parliament House
Fashion Photography
Gladys Ng
1900 – 2100hr
Old Parliament House
Fashion Photography
Gladys Ng
20 April 2013 (Saturday)
1100 – 1300hr
Old Parliament House
Film Making
Jack Neo
1500 – 1700hr
Old Parliament House
Film Making
Pepe Diokno
1900 – 2100hr
Old Parliament House
DSLR Photography
Alex Obana
27 April 2013 (Saturday)
1600 – 1800hr
Sony Store, Isetan Orchard
Flash Photography
Ding Yan
Related articles