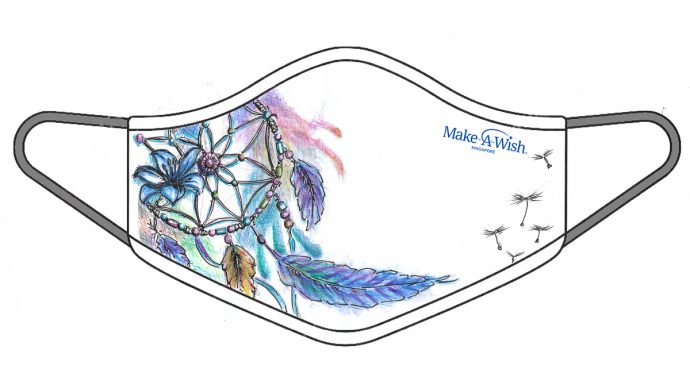 Make-A-Wish Singapore releases three limited-edition custom face masks that were previously available for pre-order on World Wish Day on 29 April 2021. These masks in adults or children sizes are now available for sale online at S$18 each to the public. Designed by Make-A-Wish Singapore's wish children, all proceeds from the sale of the masks go towards the non-profit organisation's wish-granting efforts for children with critical illnesses.
16 year old Joanna's design was inspired by her wish journey to live a meaningful and positive life. The dandelions represent her hope for everyone not to be afraid to start afresh while the dreamcatcher illustrates her wish for us to only dream good teams and new beginnings every day.
The dark blue mask is designed by six-year old Yasmine, the sister of eight-year old Arshad. Arshad is a non-communicative child and his sister has designed this mask with a wish that Arshad can enjoy the taste of her favourite sweets and snacks. This design reminds us to pause and enjoy the simple pleasures of life.
19 year-old Amelia's mask is inspired by her love for travel and exploration, and her wish to travel to Japan. She is eager to experience the post-pandemic future where everyone is able to remove their masks and breathe in fresh air.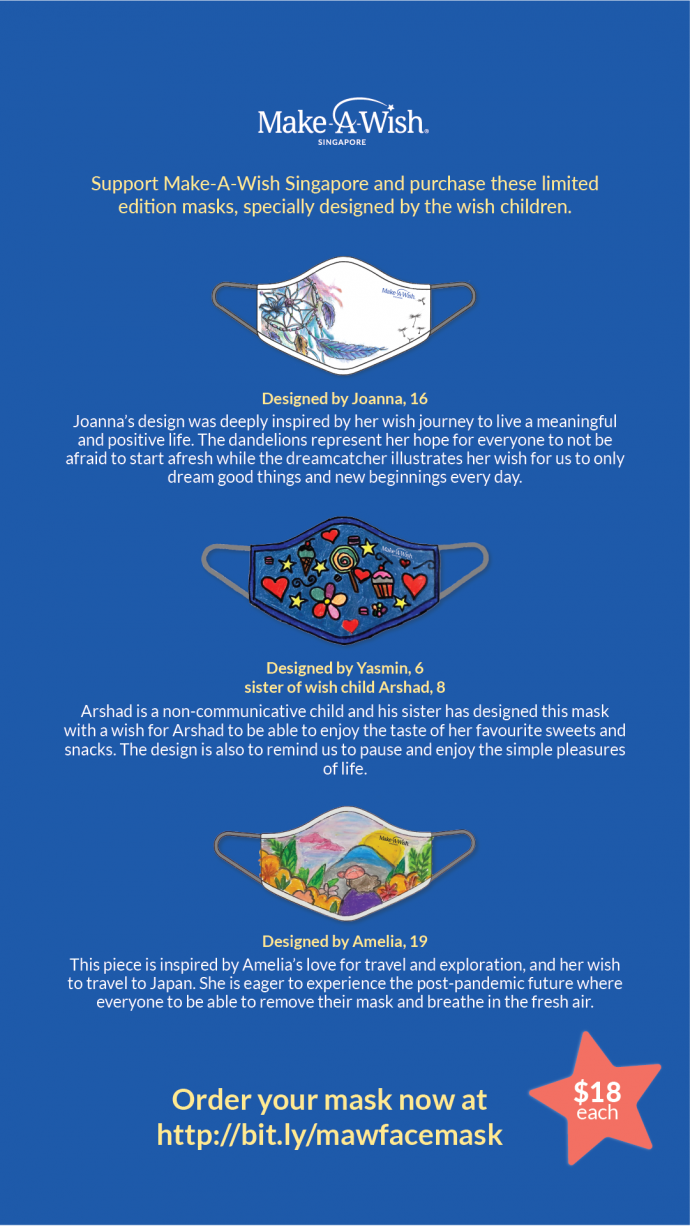 The organisation has granted over 1,632 wishes to date. The dedicated team and pool of volunteers have seen the importance of a wish as a catalyst for a child's renewed hope and strength, as well as its wide-reaching effects on the well-being of a child's family and the wider community. The team relies on wish referrals from caring individuals to help reach more eligible children and fulfil their wishes. Anyone can make a referral to help spread The Wish Effect. For interested individuals and organisations who would like to support Make-A-Wish Singapore, click here.