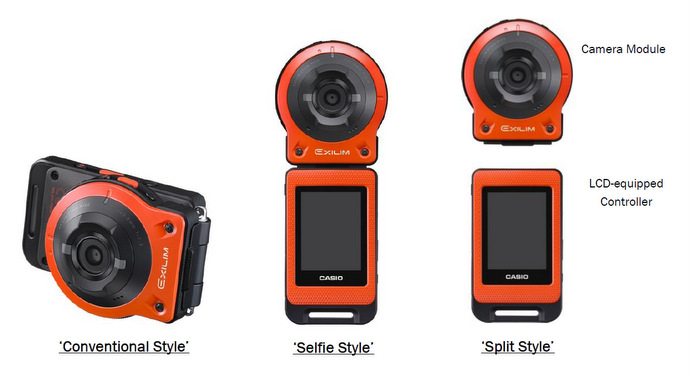 The innovative two-part modular design of the new CASIO EXILIM-FR10 tranformer camera enables you to explore a myriad of perspectives and camera angles currently not possible with conventional cameras in the market.
EX-FR10 provides flexibility and also unlimited photo opportunities all in one system with three different shooting styles –
Conventional Point & Shoot Mode
,
Selfie Mode
and also
Split Control Mode
for remote shooting by using the LCD module as a controller. Even better, the EX-FR10 is also dust-proof, splash-proof and resistant to drops of up to two metres without the need of additional housing. Weighing only 175 grams, the adventure ready EX-FR10 has a 14 megapixel 1/2.3-inch CMOS (back-illuminated type) sensor that is capable of taking stills in JPEG as well as recording movie in Full HD. It uses a 21mm wide angle lens with F2.8 for ease of capturing a selfie or wefie in arms length and under dim lighting conditions.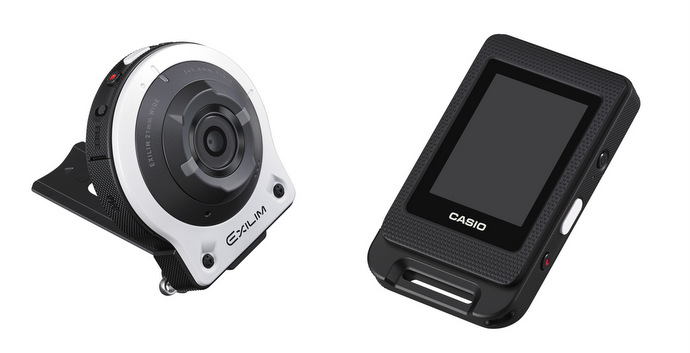 No adventure is complete without sharing the memories instantly with friends and family on social media. You can send images to any smartphone via the camera's built-in Wi-Fi capabilities. Multi-angle Belt Set and Multi-angle Grip takes the experience one step further. You can also use the Highlight Photo or Highlight Movie function to design your own photo slide show or short movie. A Highlight Photo function automatically selects still images and produces a single collage of the day's best photos with ten different collage options to play with, while the Highlight Movie function takes video recordings and turns them into short movies, complete with pre-installed background music.
Accessories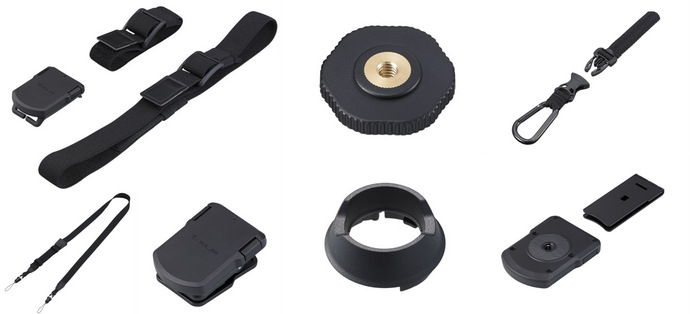 The EX-FR10 comes bundled with various functional accessories to get you ready for most shooting conditions during your holidays. Use the Multi-angle Grip to attach the camera module to a backpack or switch to the Multiangle Belt Set to strap it on the wrist or forehead to take pictures on the go or record videos with 360 degree views. The EX-FR10 also hangs comfortably around the neck with a lanyard or conveniently clips on to belts or hooks using a carabiner for a truly hand-free experience. It also comes with its own Tripod Adaptor to attach the camera module or controller to a standard adaptor that accepts a tripod screw. Complete with an attachable lens hood for extra protection and minimizing the glare from sun.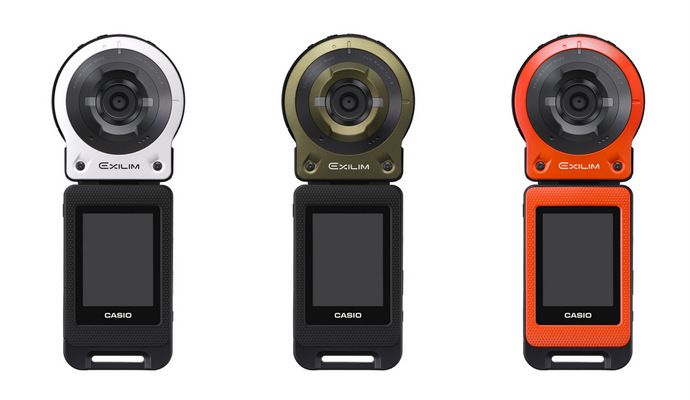 This modular-designed EXILIM EX-FR10 camera is available in three colours (Orange, Green and White) at a recommended retail price of S$699 at all Casio authorised retailers in Singapore from the end of September or early October 2014.
Be The First To Try CASIO EXILIM EX-FR10 In Singapore
At COMEX 2014, you can sign up for an exclusive, outdoor photography trip organized by Casio Singapore to try have a hands-on session with the EXILIM EX-FR10. Limited to the first 40 customers only, no purchase required.
You may sign-up for pre-order (Suggested Retail Price S$699), and will receive 200-points (worth S$200) to redeem camera accessories at the Casio EXILIM booth (8117). Limited to the first 50 customers, only at COMEX 2014.
CASIO EXILIM EX-FR10 Specifications
Number of Effective Pixels
Approx. 14.0 megapixels (/million)
Image Sensor
1/2.3-inch CMOS (back-illuminated type)
Total Pixels
16.76 megapixels (/million)
File Format
Still Images
JPEG (Exif Ver. 2.3 / DCF2.0)
Movies
MOV format, H.264/AVC, IMA-ADPCM(monaural)
Built-in Flash Memory (Image Area)
65.9MB
Recording Media
microSD memory card, microSDHC memory card, microSDXC memory card compatible
Number of Recorded Pixels
Still Images
14M (4320×3240), 16:9 (4320×2432), 5M (2560×1920)
Movies
FHD (1920×1080 30fps)
RecordingCapacity(Maximum Image Size Setting)
Stillmages(JPEG)
microSD Memory Card 16GB
Approx.3199 shots
Movies
Recording Capacity
Maximum recording time per file: 29minutes
microSD Memory Card 16GB
Approx. 2 hours, 1 minutes
Lens
F2.8 / f=3.8mm(Approx. 21mm equivalent to 35mm film)
Focusing
Focus Type
Contrast Detection Auto Focus
Focus Modes
Auto Focus
AF Area
Intelligent, Multi
Focus Range (From Lens Surface)
Approx. 10 cm to infinity
Recording Functions
Snapshot
Premium Auto mode, Interval Shot, ART SHOT, Self-Timer 5 seconds,*5Touch Shutter, Wi-Fi*6 Remote Capture, Face Detection, Makeup, 4x digital zoom
Movie (Full HD)
Premium Auto mode, Interval Shot, Wi-Fi Remote Capture
Snapshot & Movie (Full HD)
White Balance (Auto/Indoors/Outdoors),Exposure Compensation(-2EV to +2EV (in 1/3EV steps))
Playback Functions
Highlight Movie, Highlight Photo, Highlight Score, Multi-image Screen, Playback Zoom, Rotate
Wi-Fi function
View on phone (tablet) / Send to phone (tablet), Change SSID and password
Other Functions
Camera
Auto Rotate (Shooting),USB Battery Charge, USB Power Supply
Controller
Auto Rotate (Viewing), Mirror Display, Flick Start, Vibrator,USB Battery Charge, USB Power Supply
Durability
Camera
Drop Durability:2.0m, Splash-Proof:IPX6/ IPX7, Dust-Proof:IP6X equivalency
Controller
Drop Durability:2.0m, Splash-Proof:IPX6/ IPX7, Dust-Proof:IP6X equivalency
Wireless Data Transfer
Camera
Bluetooth® ver2.1+EDR (Class 2), Wi-Fi IEEE 802.11b/g/n
Controller
Bluetooth® ver2.1+EDR (Class 2)
Monitor Screen
Controller
2.0-inch TFT color LCD, 230,400 dots, Capacitance touch panel
ExternalConnectionTerminal
Camera
Micro USB port (Hi-Speed USB compliance, USB Battery Charge, USB Power Supply)
Controller
Micro USB port (USB Battery Charge, USB Power Supply)
Microphone
Camera
Monaural
Speaker
Camera
Monaural
Power Source
Camera
Rechargeable lithium ion battery (internal)
Controller
Rechargeable lithium ion battery (internal)
Battery Life
Number of Shots
Approx. 255 shots
Continuous Playback(Still Images)
Approx. 4 hours, 5 minutes
Actual Movie Recording Time (FHD Movie)
Approx. 1 hours, 5 minutes
Continuous MovieRecording Time (FHD movie)
Approx. 1 hours 15 minutes
Dimensions
Camera
60.9 (DIA) mm x 28.8 (D) mm (excluding hinge unit)
Controller
49.7 (W) x 84.2 (H) x 18.9 (D) mm
Total
60.9 (W) x 153.1 (H) x 34.2 (D) mm
Weight
Camera
Approximately 63 g (excluding hinge unit, including memory card)
Controller
Approximately 80g
Total
Approximately 175g
Bundled Accessories
Controller (EX-FR10CT), hinge unit, lens hood, tripod nut, neck strap, carabiner strap,Tripod Mounter, Multi Angle Clip, Multi Angle Belt Set.USB-AC adaptor (AD-C53U), AC power cord,micro USB cable, basic reference