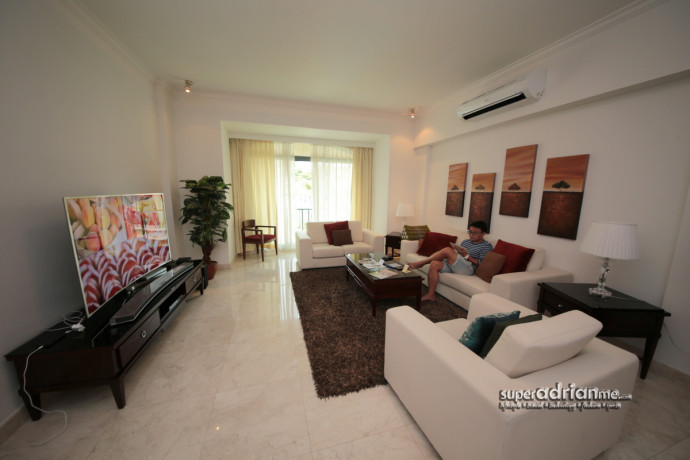 We spent two nights in the Samsung Smarter Living Apartment, a penthouse apartment at Shangri-La Residences in Singapore in July this year.
It was an excellent way to familiarise anyone with electrical appliances and entertainment gadgets. Samsung Singapore offered us this three-bedroom penthouse on level four of the residences located directly opposite the luxurious Shangri-La Hotel Singapore.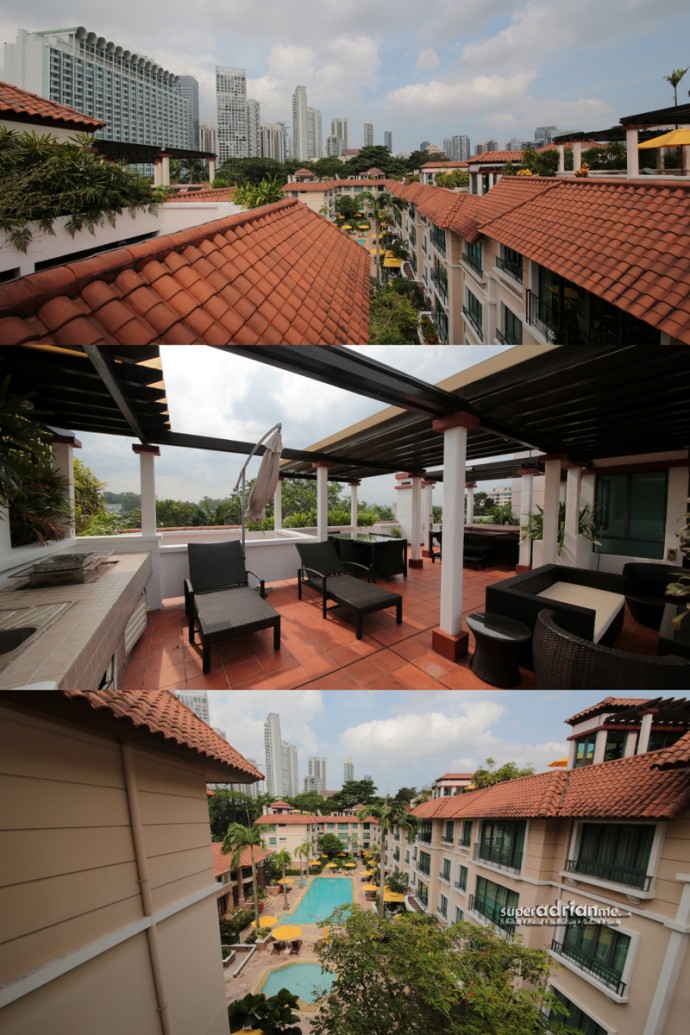 Besides the amazing view from the apartment and the leisure amenities including our own private outdoor jacuzzi and lounge area, it was almost like walking into a Home Economics classroom. We had to bake, cook, wash and dry clothes and clean the apartment.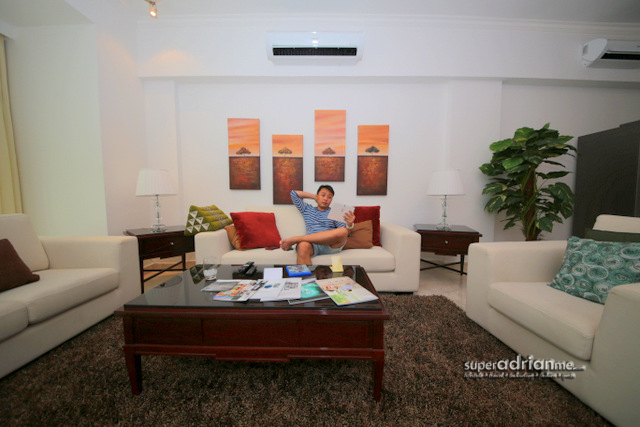 Step into the apartment and we were awed by how big the two-level apartment was. If only, it were our own home! A living room large enough to accommodate perhaps some 20 guests and a 65″ SUHD TV and Curved Soundbar as well as a GALAXY Tab S. We watched Exodus on the Samsung Blu-ray Player and had a refresher of the Bible's old testament.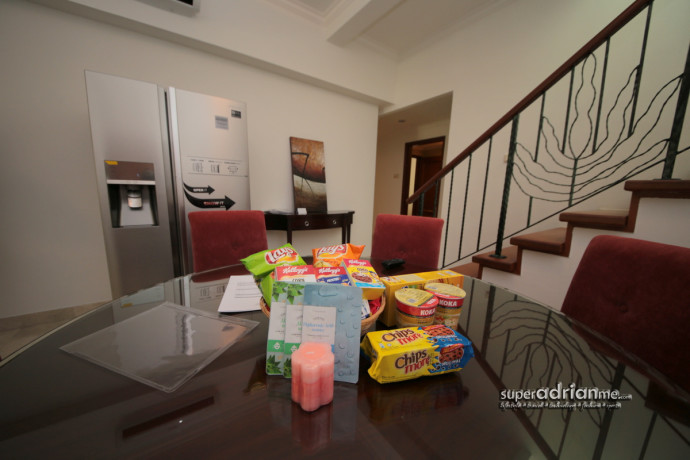 In the dining area sits the Food Showcase Refrigerator that dispenses cold water as well as crushed and cubed ice. It was here that we had friends come over on both nights to join us for dinner and also to enjoy the facilities and gadgets in the apartment.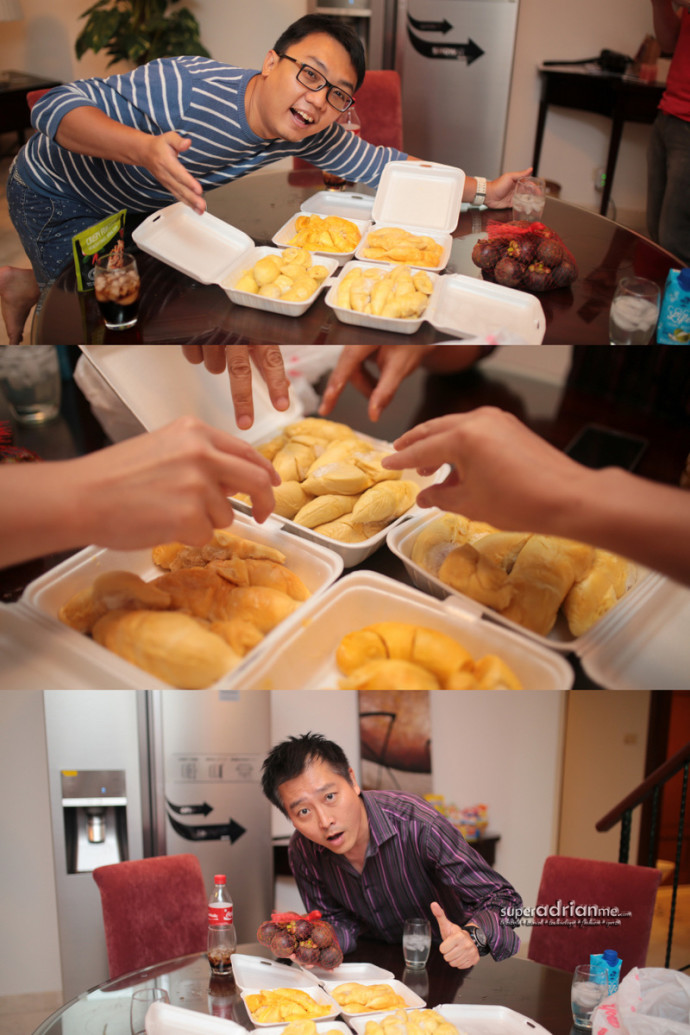 First night we threw a pungent birthday party for a close friend where we tested out the Samsung Air Conditioning's ability to remove strong smells. We has a Peranakan dinner and had premium durian meat for dessert. We were actually quite surprised that the smell of the durian was no longer lingering by the time we left the apartment a day later.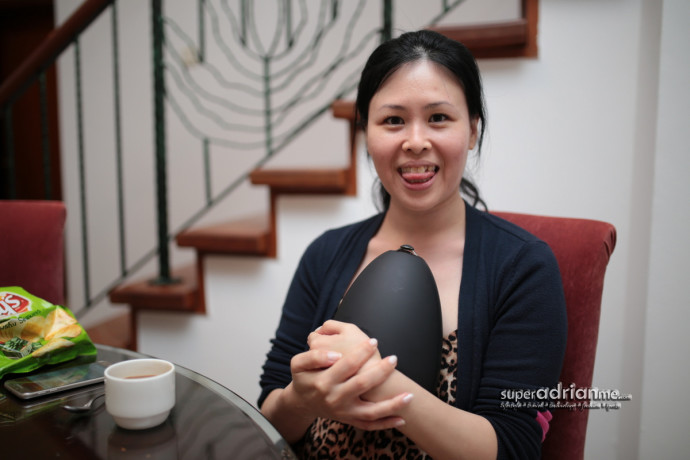 We got to amplify our Spotify music through Samsung's WAM6500 Speakers which are actually nice to pose with for a photo. Music could be loud enough to get management of Shangri-La Residences come knocking on our doors but thankfully we didn't test that out.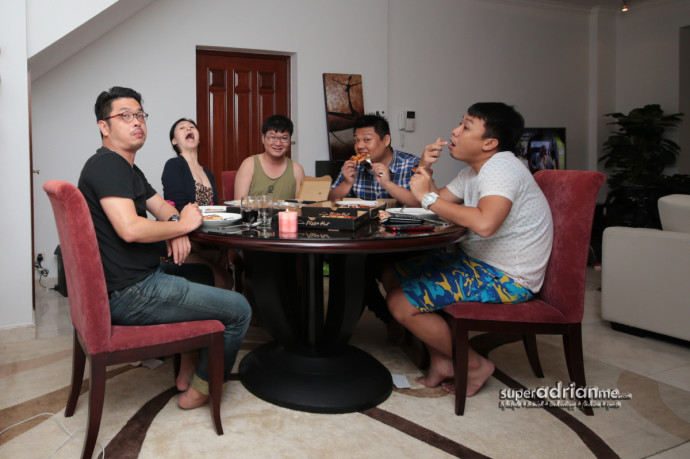 The second night was pizza night and we ordered in Pizza Hut. The heavy downpour didn't dampen our spirits but kept us indoors. We know our friends who joined us have since gotten married and recently decked their home with Samsung electrical appliances after getting inspired at the Samsung Smarter Living Apartment. Good on you Mr and Mrs Sia.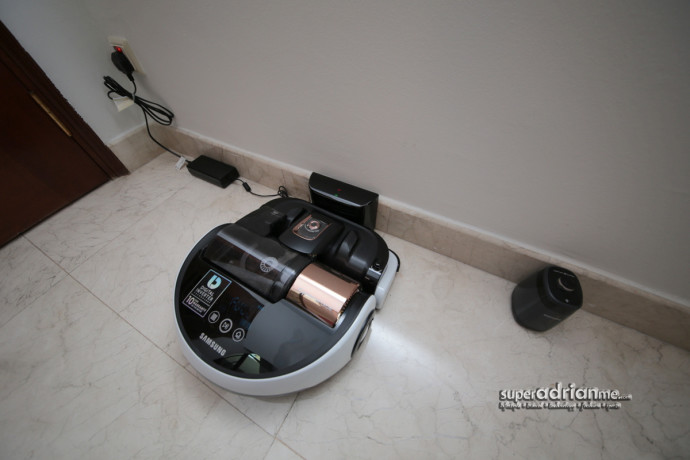 A POWERbot VR900 vacuum cleaner was provided just in case we messed up the place. I thought it was actually quite a fun device. A pet dog or cat to fool around with it would have been more exciting. It knew when to stop and not run over toes or other objects when it is left to roam on its own.
A nifty device I always wanted.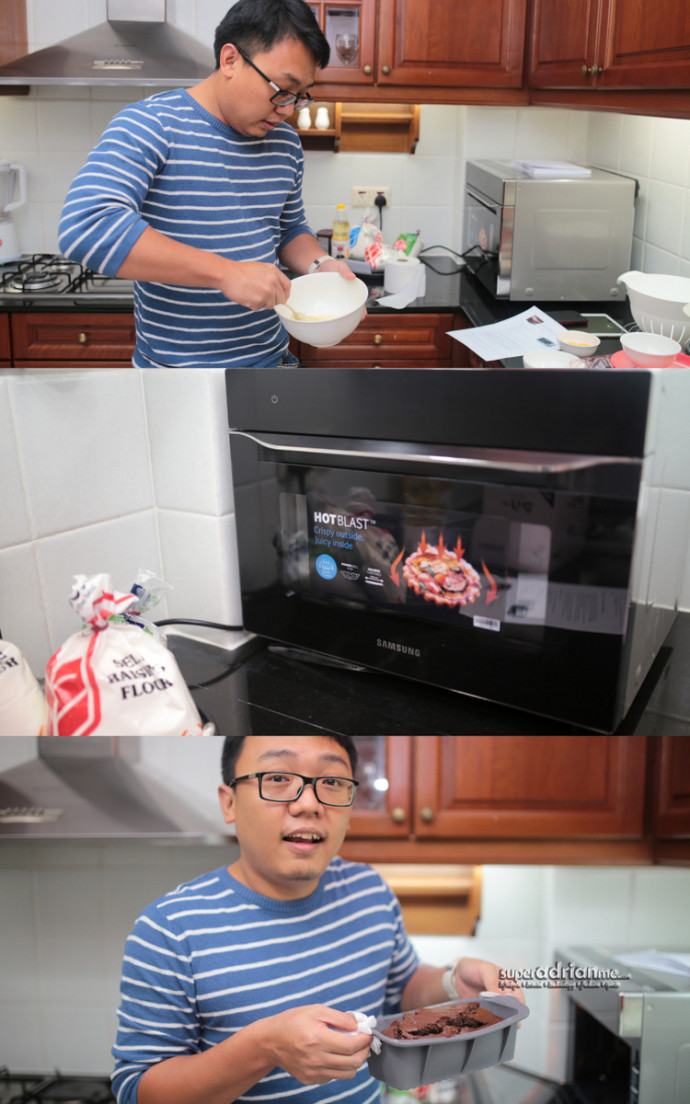 Step into the kitchen and we were provided with ingredients to bake using the MW8000J (MC35J8088LT/SP) microwave and convection oven which is retailing at S$899. You can reduce cooking time by up to 50% by using the industry-first HotBlast, the downstream heat from the oven. The PowerGrill Duo function provides a powerful grilling effect with a 380mm grande turntable.
Dennis tried his hand at baking a Chocolate cake using the recipe provided. Well, not really what we expected but it was fun baking. No one was poisoned in the process.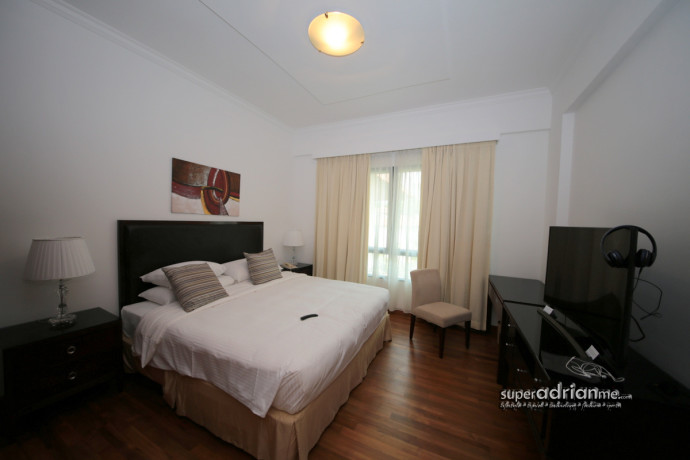 Samsung had equipped all bedrooms with entertainment systems, be it gaming systems or television sets with wireless headphones.
The master bedroom came with a bath tub and separate showers. There was a 48 inch Curved UHD Smart TV but hardly had time to watch anything in the room. The bedroom was reserved just for sleeping.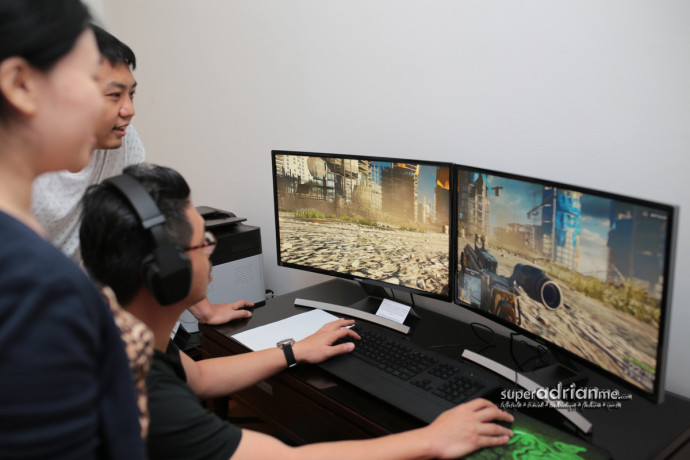 The other room was the work and play room. It came with two monitors for gaming and an NFC Colour Printer that lets you connect your smartphone to the printer and print with much ease.
Our guests tried their hands on the gaming console.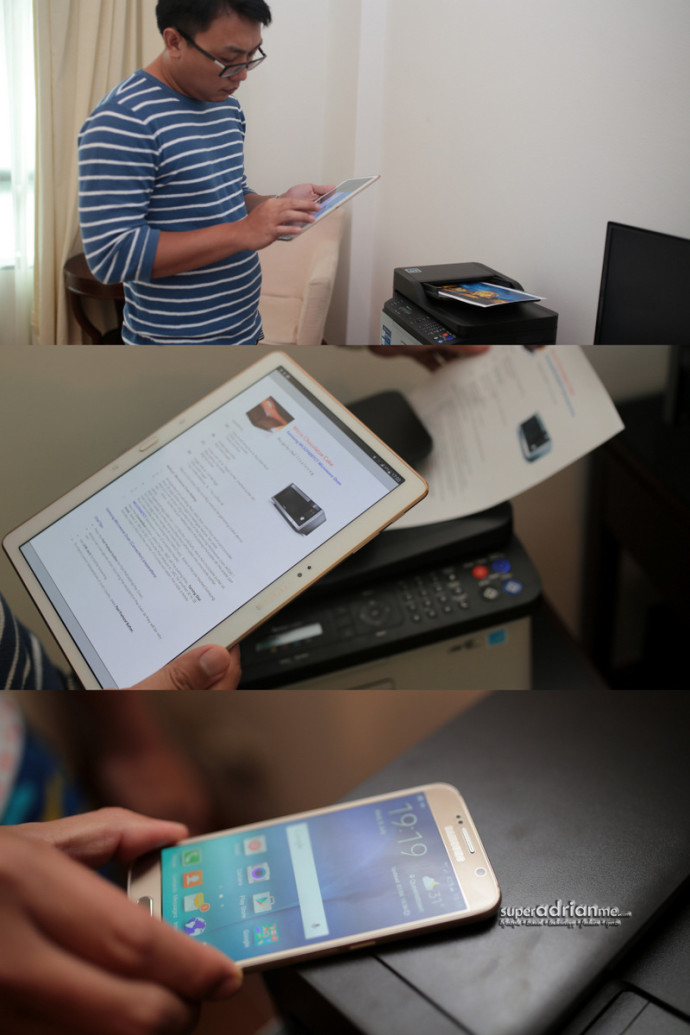 We tried printing from the Galaxy Tab S and a smartphone. Easy peasy. Not complicated. The way printing should be. So our friends who visited us each got a printout of the group photo we took.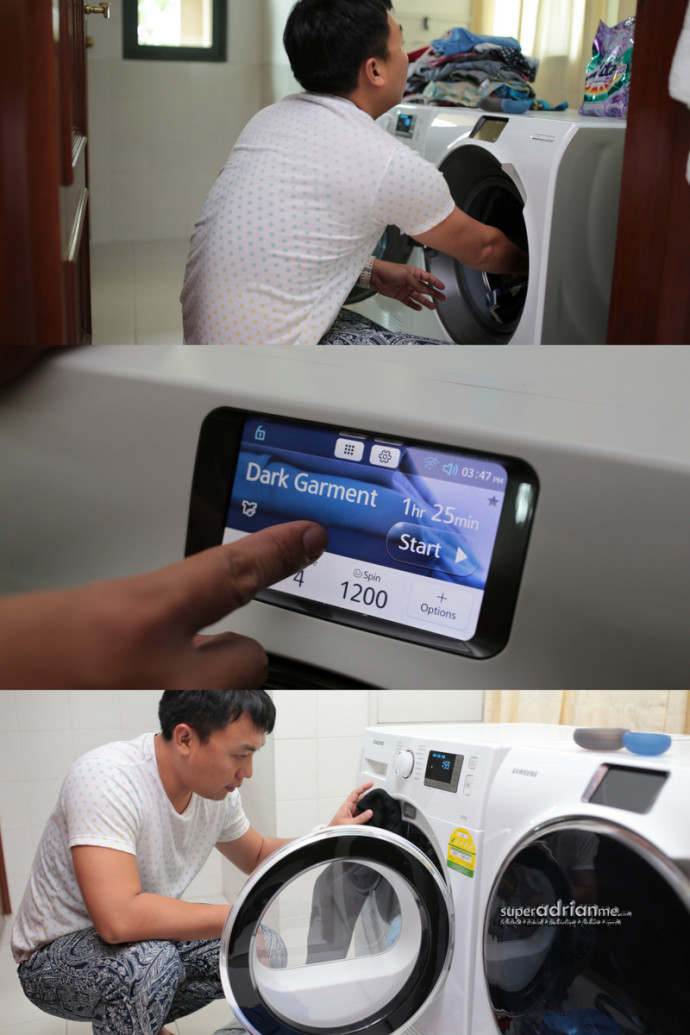 Dennis did laundry during the stay.  What I like about the Crystal blue front load washer and front load dryer is how easy they are to operate. They are created for non electrical appliance geeks like us. Menu driven and idiot proof, and designed without knobs to twist and turn that used to come with the older washing machines, Samsung's washer and dryer are easy to manoeuvre .
Overall, staying here has made me realise that electrical appliances these days are getting smarter and easier to use. They have become more intuitive.