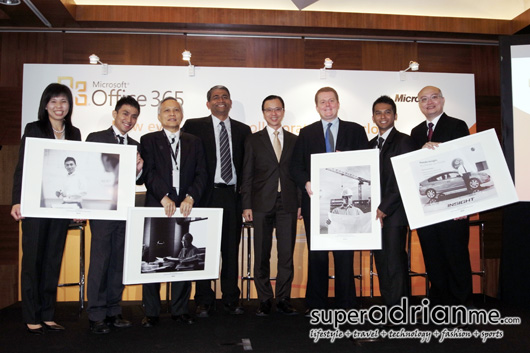 30 June 2011, Singapore – Microsoft Office 365 is now available in Singapore, giving local businesses access to the company's next-generation cloud productivity service from as low as US$6 per user per month. It allows employees of small and medium enterprises (SME) to access Office Web Apps, Microsoft Exchange Online, Microsoft SharePoint Online, Microsoft Lync Online anywhere they are with an internet browser.  With this cloud based solution, employees no longer need access their emails and documents from their office desk and companies no longer need to host their own office servers. Office 365 allows for reliability, security and IT controls in the cloud, even without a dedicated IT staff.
Office 365 for enterprises has an array of choices, from simple email to comprehensive suites to meet the needs of businesses of all sizes. Each of these plans come with the advanced I.T. controls, security, 24×7 IT support and reliability. You can view the service plans from this link. Businesses can also try it for free for 30 days by signing up at www.office365.com.sg or from their local Microsoft partner.
httpv://www.youtube.com/watch?v=5YtJic42wCg
According to Jessica Tan, Managing Director, Microsoft Singapore, Office 365 is ideally suited to the Singapore market, which is made up of predominantly SMEs. "With Office 365, businesses of all sizes, big and small, can now access enterprise-ready business solutions for the price of a movie ticket, effectively removing the need for significant upfront investments in IT infrastructure and maintenance. Office 365 will be a driving force that enables improved business productivity and collaboration, helping to reduce capital expenditure while simultaneously boosting output. Today's launch will level the playing field for local SMEs by giving them access to the powerful IT capabilities that have long since given big business a competitive edge."
In addition to its existing partners, Microsoft has appointed StarHub as its syndication partner for the SME market. StarHub bundles Microsoft 365 with their fibre optic broadband plans for businesses. Click this link to find out more on StarHub's Cloud Computing solutions with Microsoft 365.

httpv://www.youtube.com/watch?v=T7KMASHD5gk
Related articles