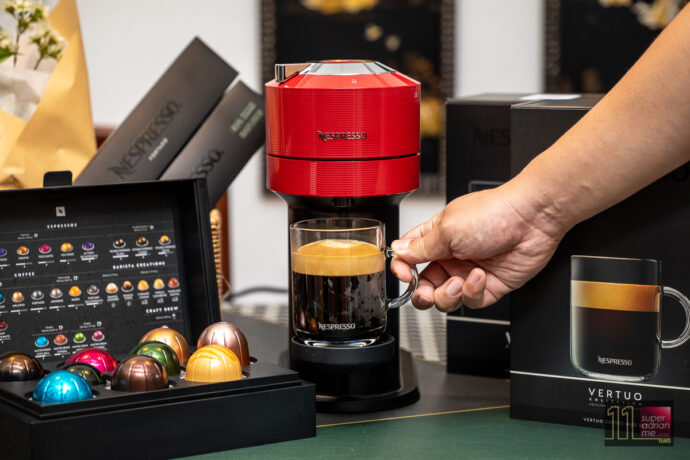 Nespresso has launched its latest Vertuo Next machine in Singapore. Priced at S$328, this coffee machine is available in three colours of Cherry Red, Dark Grey and Rich Brown. With this launch, Nespresso is also introducing eight additional Vertuo coffee capsules.
Vertuo Next is made with more than 50% recycled plastics, with recyclable packaging made out of 99.5% recycled material. The machine also auto shuts off after two minutes with a 30-second heat-up time.
Just like its predecessor the Nespresso Vertuo, the Vertuo system uses an innovative Centrifusion technology and a new range of coffee capsules. You can check out our review of that in the video we did previously below.
Temperature, quantity of water and rotation speed are recalibrated and automated. The machine reads the barcode imprinted on the capsules and adjusts brewing parameters for a specific capsule.
What I like about this machine is the ability to connect it to the Nespresso mobile app. It monitors water levels as well as water hardness, and whether it is time to descale your machine. We'll need more time to explore this new feature. A series of videos are available as well on the app for new machine owners.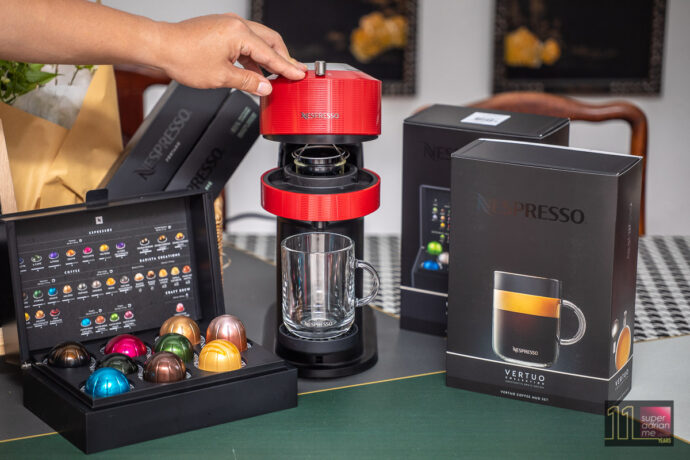 Nespresso's eight new Vertuo coffee blends include the Ill Caffe, Orafio, Toccanto, Alttisio Decaffeinato, Inizio, Fortado Decaffeinato, Melozio Decaffeinato, and the Carafe pour-Over Style Intense.
The expanded Vertuo coffee menu offers 30 blends to suit every taste and elevate any occasion: from intense espressos (40ml) and double espressos (80ml) to longer coffees (150-230ml),single-origin, iced-coffee and flavoured options. There's even something to share with Carafe Pour-Over Style (535ml).