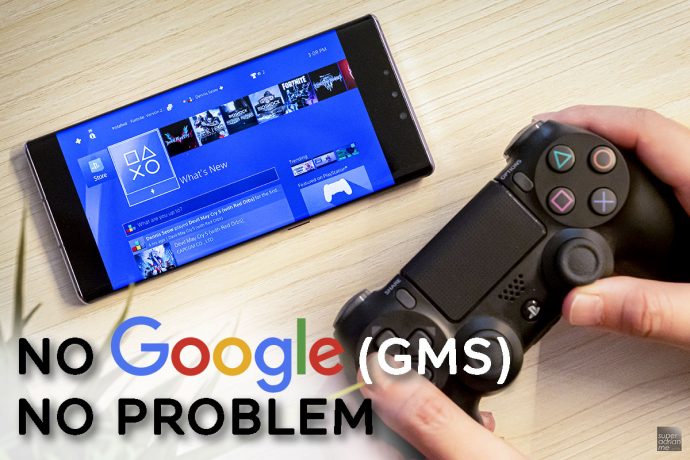 You may be wondering what it is like to be using the HUAWEI Mate 30 Pro without any Google Mobile Services (GMS) installed? Will it hinder your usage as a day-to-day primary smartphone? How are you going to get by without Gmail, YouTube and Google Maps installed on the phone?

Known as one of the best smartphones to date, HUAWEI Mate 30 Pro's superior camera system, top tier performance and long-lasting battery life, it is worth the effort to go that extra mile. We have tried and figured out the best way to do so, based on the device that runs on Open Source Android operating system without any sideloading of GMS.
We have created a list of tips and hacks that you can apply to the HUAWEI Mate 30 Pro. It's not 100% foolproof yet, but it works for 90% of the tasks we need to accomplish with our smartphone.
The Great Wall of China was not built overnight. But once the Great Wall was built, you can spot it even from outer space. Let's hope the same goes to Huawei Mobile Services (HMS). With that billion-dollar budget to fund developers to make apps for HMS, our hopes are high.

Step 1: CLONE YOUR APPS OVER

For existing Android smartphone users, your initial data and app migration will be swift and easy. All you need is to download the "Phone Clone" app by Huawei in the Google Play Store to your old smartphone. Follow the instructions and scan the QR Code with your new device. All your apps and data will be transferred to the new device without any Wi-Fi or mobile data stream. It's just direct transfer from your old to the new smartphone. So keep the two phones near at all times during the transfer.
After the clone, most apps like Facebook, Whatsapp and Instagram cloned over will work like it used to.

With a transfer speed of up to 1GB/min, your phone will be cloned in no time. You will not need to spend precious time to backup to cloud or struggling to find apps in the AppGallery. All will be duplicated from the old to the new.
For iOS users, you can also do the same with "Phone Clone" app by Huawei in the App Store. Apps will not be migrated over. Only Contacts, Photos, Videos and Calendar data will be ported over.

Step 2: HUAWEI APPGALLERY IS GROWING FAST

For all apps that you need to download or replace, we would recommend you to check what is available on the Huawei AppGallery first. The AppGallery is the equivalent of Google Play Store for HMS. So apps in this store are certified safe.
For this, Huawei has allocated one billion dollars to fund developers worldwide to develop and port their apps to App Gallery. In a short span of five months, Huawei had managed to get 60% of essential local apps like FairPrice, CNA News, AXS, Chope, EZ-Link and more for Singaporeans into their store. And more apps will be added in the next six months.

Step 3: FIND MORE APPS AT APK SITES

For what you cannot find in the AppGallery, we recommend sourcing them from trusted APK sites for the time being. APKPure.com is one of such APK site, which they made sure that the app APKs are safe, original and unmodified before publishing it on the site. They will check the cryptographic signatures to validate the legitimacy of the APKs. If it is unable to do so, APKPure.com will not publish it. 

Step 4: WHAT WORKS & WHAT DON'T

Because some apps require GMS APIs to work with it, even after obtaining the apps from either AppGallery or APKs from APKPure.com for our non-GMS Mate 30 Pro, they might not work or with partial features disabled. So here is the list of apps we tried and their results.
SOCIAL MEDIA: Facebook, Instagram, Twitter, Reddit and the latest TikTok all work fine.
MESSENGER: Whatsapp, Telegram, WeChat and Facebook Messenger all work flawlessly, except for LINE which seems to have a problem opening the app.
NAVIGATION & TRANSPORT: Yup, Google Maps still doesn't work here, but we have a hack for you in Step 5 below to make Google Maps work without GMS. For now, drivers please use Waze and public commuters can use Singapore Map by streetdirectory.com to get bus timing and public transport directions around Singapore. You can also top up and check your EZ-Link balance with the EZ-Link app from AppGallery.
GRAB, TAXI & CARSHARING: Grab can still be used as per normal with GrabCar, GrabFood, Rewards and other services available. The only thing missing is the MAP. So you still can order a car, but you will not be able to track the car on a map in the app. That's not a deal-breaker for me. As for other carsharing apps like GoJek and ComfortDelgro, we have yet to find the correct app in the store and a working one respectively.
WORK-RELATED: Microsoft Office and the native Email app work like a charm. There is no problem editing documents and sending out emails even if our email server is Gmail. The only issues we have is we cannot seem to get any Calendar app to sync with Gmail. But we also have a hack for that, check it out on Step 5 for Hacks.
BANKING: For banking apps, it is tricky. We can easily find the APKs on APKPure.com, but how much bank information would you divulge to third party sources is really up to you. But Alternatively, you can always use the native web browser to do all the necessary transactions. You may need to bring along your physical bank token to authenticate your transactions while some banks would send you an OTP via your mobile phone to sign in.
VIDEO STREAMING: For Korean Drama fans, VIU works fine as it is officially available in Huawei's AppGallery. As for Netflix, without GMS, you won't be able to play the videos either on the app or even web browser. But having a whole APK site of apps at your disposal, you might be able to find some alternatives for your streaming pleasure.
GAMING: While popular games like Fortnite, Battle Breakers, Mobile Legend and PUBG work fine, quite a handful of gaming apps don't work as well. Some games earn revenue via Google Payment gateways, so these gaming apps may not work for non-GMS devices yet. But not to worry, gamers. There is still a huge library of games and alternatives in AppGallery that works and are free for download.
PLAYSTATION REMOTE PLAY: For console gamers, PS Remote Play lets you have access and play your PS4 at home via real-time streaming. With Android 10 on the Mate 30 Pro, you can even connect the DUALSHOCK 4 controller via Bluetooth for the best gameplay on-the-go. All you need is a fast network connection to play your favourite PS4 games in Full HD on the Mate 30 Pro.
ONLINE SHOPPING: For all who love to shop, Lazada, Qoo10, Shopee, TaoBao, FairPrice, ShopBack and fave are all readily available on AppGallery for your retail therapy. Amazon and Prime Now can be found on APKPure and it works fine too. 
That's quite a lot of apps that work for Huawei Mate 30 Pro. Considering that it's only less than six months since Huawei launched their first smart device without GMS. With Huawei's efficiency at developing HMS and AppGallery, some apps that we had mentioned that's "not working", may work now.

Step 5: TRICKS TO WORKAROUND
Here are some life hacks that we have come up with to work around on some of the apps that are currently not working on the Huawei Mate 30 Pro. These hacks are safe and legal.
BROWSER ICON IT: For GMS related apps like Calendar, Google Maps and YouTube, you may not be able to use it as an application on the device. But Google is not stopping you from using it on your web browser. YES!!! Even for GPS on Google Maps. You can get real-time navigation and step by step directions via car, public transport or walking all right from the web browser. The difference is you will not get voice directions and you won't be able to save offline maps on the phone when you travel without mobile data. You can easily bookmark these web pages as an icon on your home screen, making it feel just like an "app" for quick access to the page. You can do the same for internet banking pages as well.
EZ-LINK TAP & GO: With SimplyGo still not available yet, just go back to the old school tap & go with a physical card. But if you like to do it on your phone, just get an adhesive cardholder sleeve from MUJI at S$1.90 (for a pack of two) to stick it to the back of your case and insert your EZ-Link card. These days EZ-Link also sells different cute charms that you can use as a smart wearable for your transit.
All we can say is… Life always gives you lemons. It's just how you see things differently and make those sour lemons into tasty lemonade. That's the key to happiness. That's how we learn and grow in life.
So hopefully, with the blazing-fast development of HMS, we might finally have a third operating system what can shake up the stability of the number one and two. Consumers have been longing for a third choice when it comes to buying a smartphone.

This piece was produced in partnership with Huawei.