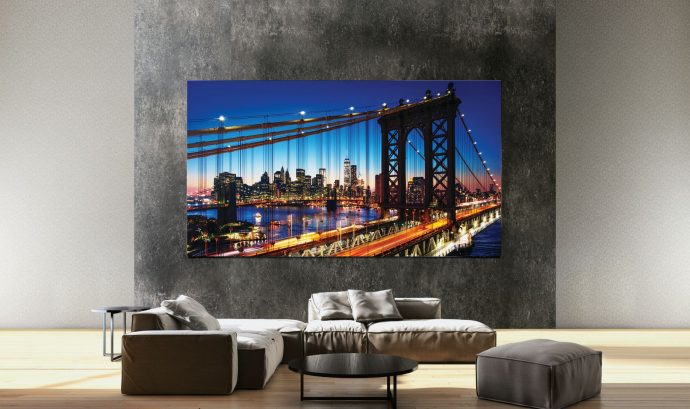 First showcased at CES 2020 in Las Vegas, the Samsung Q950 8K QLED TV not just stunned the TV industry with the 99% screen-to-body ratio Infinity Screen. It features speakers on every side of the display, as well as sub-woofers in the back for immersive audio experience without the need of additional speakers. It is also Smart TV that's powered by Artificial Intelligence (AI) technologies to give the best experience on a TV. But the wow factor will be all these technology are all hidden in a minimalist and timeless designed chassis that looks great 360 degrees and yet its only 15mm thin.
The good news is, Singapore will soon have this next-generation QLED 8K TV series in stores. Price have yet to be announced, but you might wanna start saving up, as wonderful technology like these usually comes with a hefty price tag.

A Screen That SCREAMS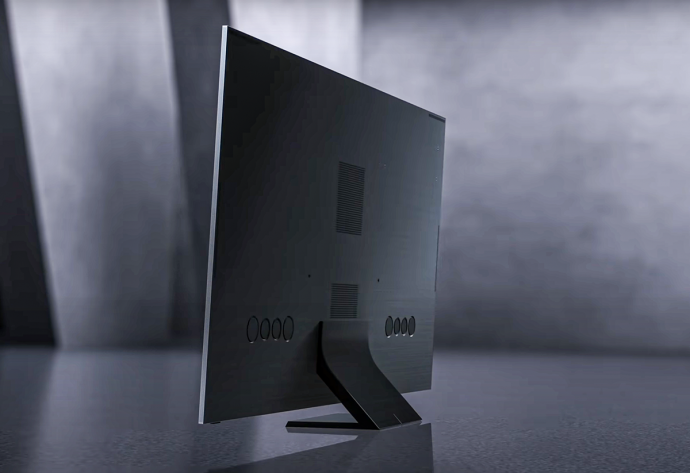 Having such a thin bezel on the new Infinity Screen, just stand 10 to 15 feet away from the screen you will truly see the bezel "disappear" in front of you. Together with the 15mm thin flat back panel design, it can be laid flush against the wall and blend into the interior seamlessly.
Not enough 8K content? The Q950's next-generation Quantum Processor 8K features improved AI upscaling capabilities that use machine learning to analyze and identify the characteristics of individual pixels. It then restores different elements of the image to create a pristine 8K picture, regardless of the content source. So now your old content can match up with your 8K QLED TV.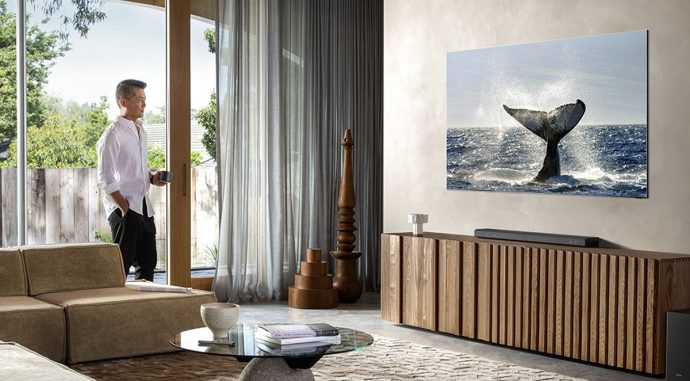 Whether view this Smart TV during the day or at night, the Adaptive Picture feature which uses AI to adjust screen brightness and contrast based on the ambient light to maintain clear picture experience outwith distractions.

Sounds Like A BOOOOMMM
No matter how pretty your TV can look, most often than not the audio just not great with the TV alone and you need to get a soundbar to enjoy some decent audio. And there goes the minimal Marie Kondo look you want for your living room. But things will be different with Samsung Q950.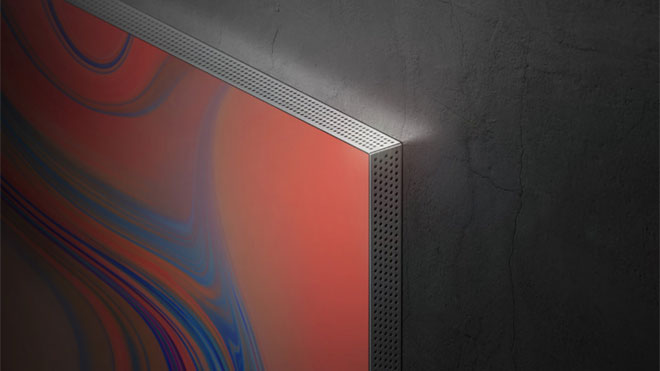 Featuring 4.2.2CH speakers on the sides of the 15mm thin chassis, and a sub woofer in the back, you will get true to motion sound experience with Object Tracking Sound+. It is an AI-based software to match the movement of audio sound with the movement of objects on the screen, the Q950 can deliver crisp and clear surround-sound. All these audio goodness without the need of additional set up, juts one minimalist rectangular "besel-less" screen design.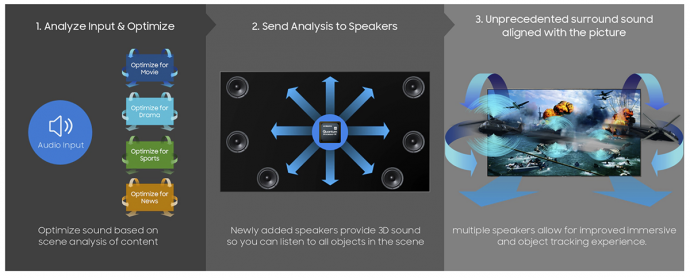 The Q950 can also adjust the volume of dialogue in response to common sounds like a blender or vacuum cleaner. Active Voice Amplifier (AVA) helps by detecting the these noises and automatically enhancing voice clarity, so you will not missed that important dialogue through these distractions.

Smart & Get Connected
Integrated with Amazon Alexa, Google Assistant and Samsung Bixby, choose your favorite AI Assistant to change the mood in your room or search your favourite shows with voice comments.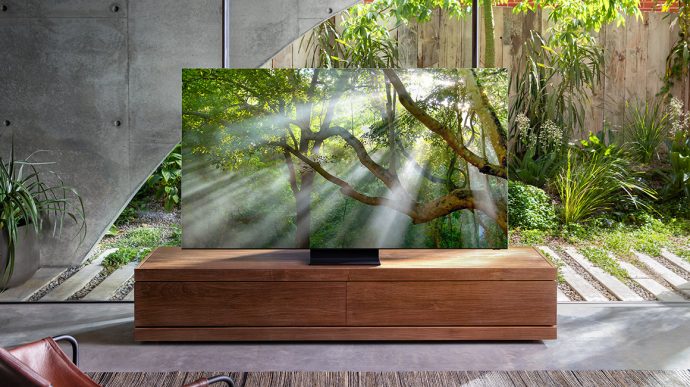 To create an even more streamlined experience, the Q950 also offers novel ways of mirroring your mobile device and controlling your home devices. Tap View empowers you to mirror your phone screens to the TV just by touching the two devices together. And with Digital Butler, you can control more devices than ever before by using infrared technology to detect and control non-IoT devices within your home.