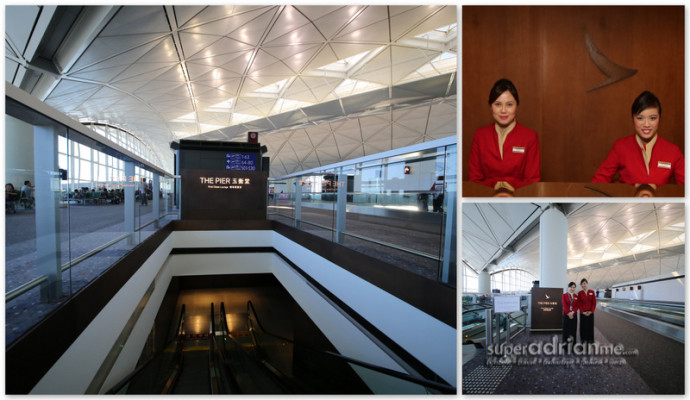 Cathay Pacific Airways First Class lounge at The Pier in Hong Kong International Airport reopened on 19 June with a new look after extensive renovations simulating a contemporary apartment. 2015 has been a year of newly renovated lounges for the airline with new lounges opening in Manila on 9 May and most recently in Bangkok on 9 June.
Spanning 2,061 square metres, The Pier is located at Gate 63 in the North West concourse of Hong Kong International Airport and operates from 5.30 am till the last departure. The Studiolise-designed lounge can accommodate a maximum seating capacity of 231 people. The new First Class lounge at The Pier joins Cathay Pacific's other lounges at Hong Kong International Airport including The Wing, The Bridge, The Cabin, Dragonair's G16 Lounge, and The Arrival. Entry into this lounge is exclusive to First Class passengers, Marco Polo Club Diamond members, and oneworld Emerald members.
Honed green onyx, walnut, limestone, bronze, and brass as well as leather and mohair upholstery as well as many plants create a homely environment for guests here. Enter the lounge and you get a whiff of the airline's new bespoke subtle fragrance of lavender bamboo, green tea, and jasmine for the first time in its lounges.  The airline hopes that this signature scent will allow guests to instantly recognise it in the future and relax in a familiar feeling of a comfortable home.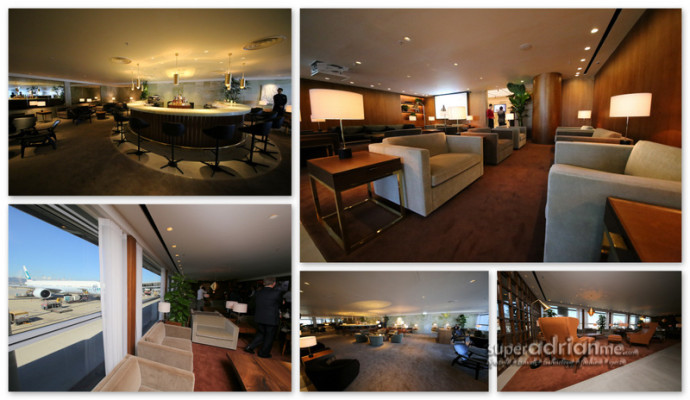 At the Bar area, Sofa or leather seats with footrests give guests a choice of how they want to sit back. The signature Solus Chairs are not available in this lounge but are still available at The Wing First and Business Class lounge, The Bridge and The Cabin.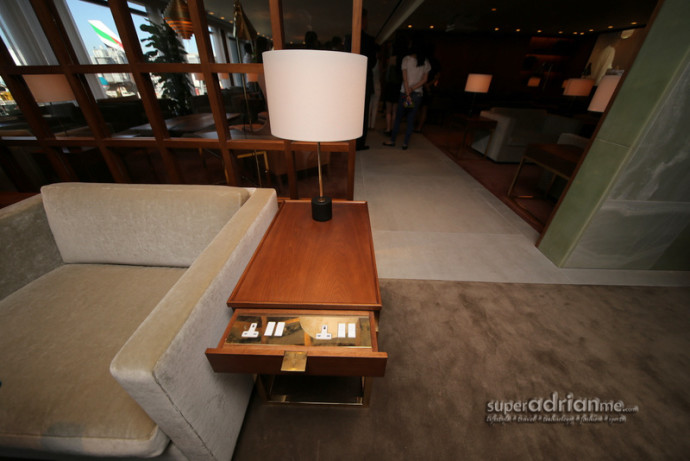 Just in case you are wondering how you can charge your electronic devices, the side tables open up to reveal electrical sockets.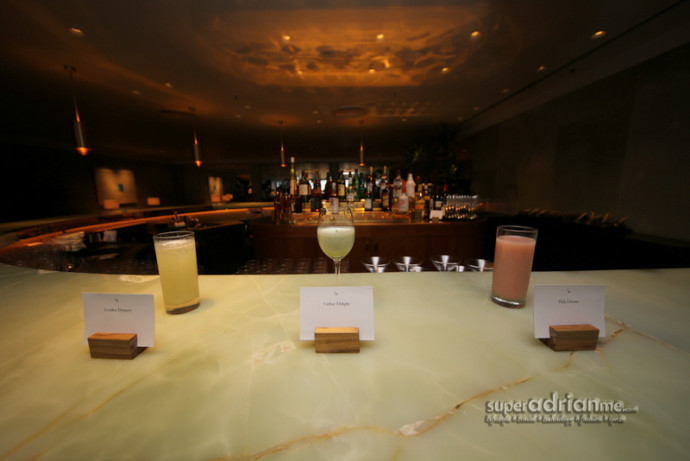 Indulge in Cathay Pacific's signature cocktails – Cathay Delight, Golden Dynasty or Pink Dream or ask for any of your favourite tipples.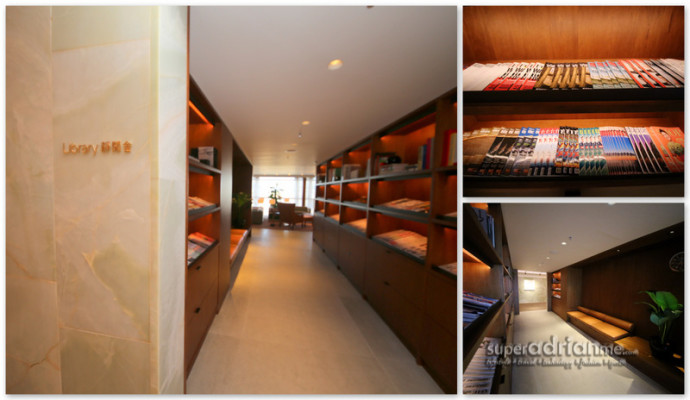 Visit The Library and pick up something to read here. A wide selection of newspapers, as well as magazines, are available in English and Mandarin/Cantonese.
The Retreat Area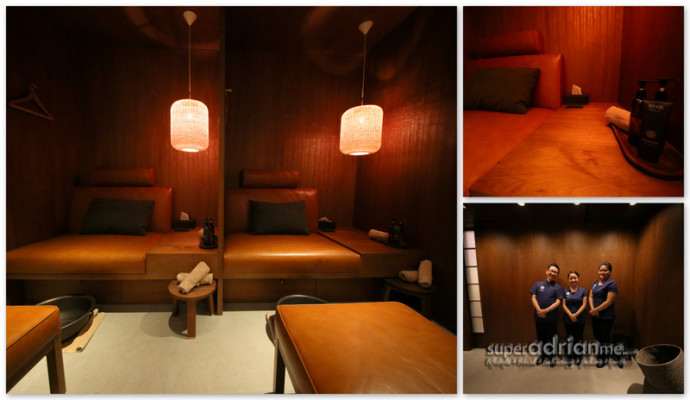 The Retreat Area, located on the right side of the lounge, just after the library and before the Dining Room, offers guests the luxury of getting a foot, neck and shoulder massage, relaxation at the Day Suites, or a refreshing shower.
The Spa area offers a quiet and relaxing environment to unwind amidst dim lighting so that you can rejuvenate after a massage.
The Spa Menu offers a ten-minute Cleansing Foot Soak accompanied by a choice of reinvigorating neck, should and scalp massage or refreshing hand treatment. For the men, there is a 20-minute Signature Gentleman's Tonic foot massage.
Other alternative treatments are available for up to a maximum of 30 minutes. You just need to check with the massage therapist. There are only three massage chairs available on a first-come-first-serve basis so you probably want to book your slot when you first enter the lounge.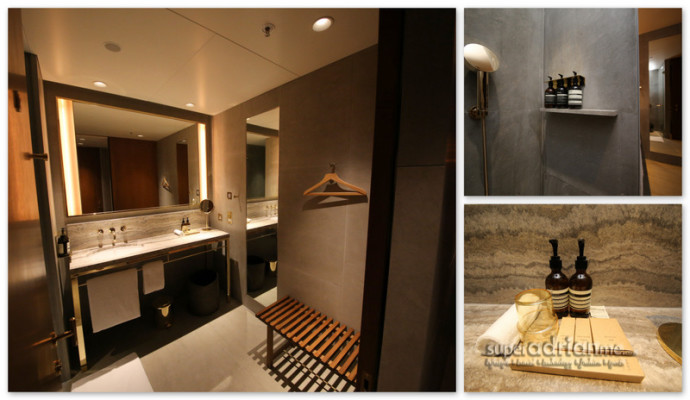 Spacious shower rooms are available at The Pier. Aesop products are provided as Cathay Pacific Airways' First Class amenities in the lounges, onboard its flights and in its First Class amenity kits.
Personal amenities are also available on request so you don't have to carry them with you in your cabin bag. Let the attendant know if you need aftershave, comb, clothes brush, deodorant, disposable razor, hairbrush, hair spray, shaving foam, shaving cream, shoe horn, shoe mitt or slippers. That pretty much covers everything you would need when you take a shower.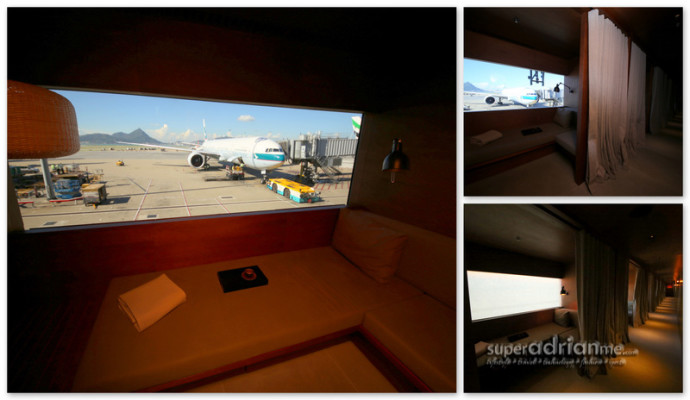 I was impressed by the eight Day Suites. Here you can relax and enjoy the view of the planes parked outside if you are an aviation geek like me. Or if you prefer, you can draw the blinds and just relax without any view. Close the curtains and you have the privacy of taking a snooze while waiting for your flight.
The Dining Room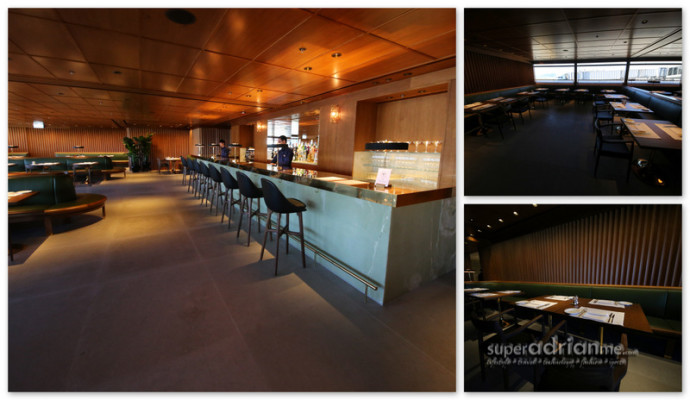 Take your pick from the à la carte breakfast, lunch and dinner menu here. You have a choice of five starters including spiced beef shank, prawns salad, smoked duck breast, tomato salad, crabmeat and conpoy soup with bamboo mushrooms and a daily soup.
There are eight Main dishes featuring Barramundi Wok-fried Beef tenderloin, Seared salmon, Glazed pork neck, Chargrilled chicken, Fried rice noodles, Angus beef burger and Stir-fried tofu.
End the meal with a Chilled rock sugar poached pear dessert, Mango sticky rice, Vanilla panna cotta, Seasonal berries and fruits, Cheeses, Ice ream or a seasonal fruit plate.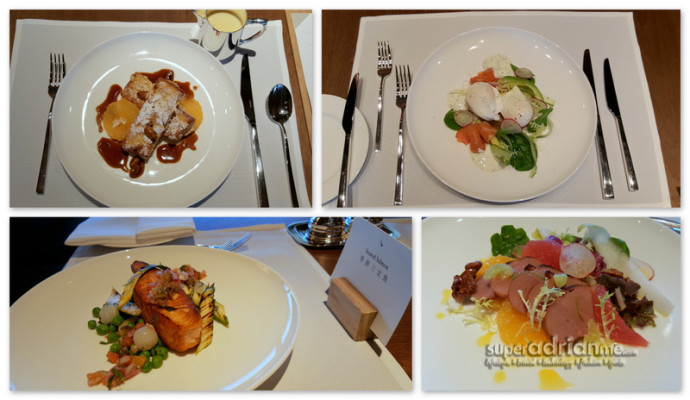 Indulge in a glass of champagne from Moet & Chandon Rose, Veuve Clicquot or The Peninsula Brut. If you prefer wines, there is the Louis Michel & Fils, Chablis, Burgundy 2012; Montes, Sauvignon Blanc, Chile 2014; Chaeau La Bourguette, Bordeaux 2008 or Canonico Negroamaro Salento, Italy 2013.
Beers, Coffee, Tea, Fruit Juices and Mineral water are also available on request.
The Pantry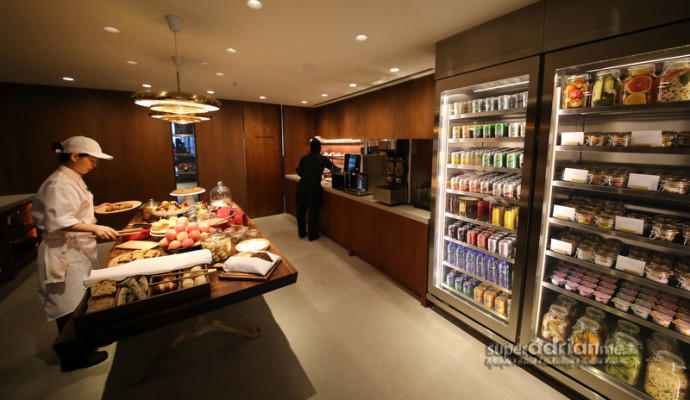 If you prefer small bites, visit The Pantry. A selection of pastries and fruits are available as well as salads. Pick your juices, soft drinks or a cup of hot beverage at your own time. The pantry is located on the left side when you enter the lounge just before the bar.
The Bureau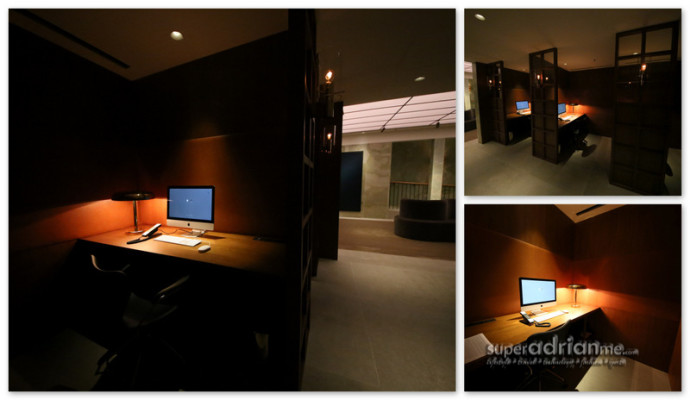 If you need to get some work done or wish to surf the internet, there are six individual workstations with iMacs and printers available. The Bureau is located on the right side when you enter the lounge just before the restrooms. Otherwise, you can connect your devices to the internet wirelessly throughout the lounge.

Check out more photos below.