The idea of a cruise seems laughable. Why inhibit yourself to a controlled space for days, or, worse, weeks? It seems that the people behind Royal Caribbean heard my stubborn cries of foul. They invited me up onto their mammoth Quantum Class ship, Ovation Of The Seas to have a quick peek at what goes on within. And, why thousands are still religiously packing their bags for a weekend getaway out on open waters.
Experience Skydiving at RipCord by iFly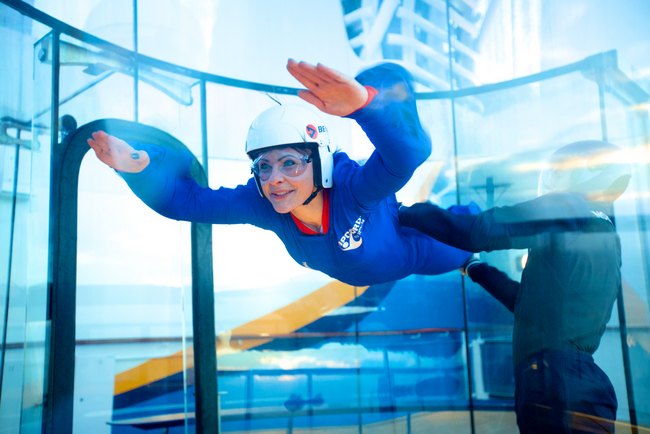 Make you dreams of flight a reality atop the open seas. It's fun, thrilling yet still so, so safe! You get to experience the feeling of free fall with no parachute or scary jumps out of a plane. All you have to do is make a booking with one of the handy kiosks found all over the ship, go for a quick flight training and gear up. Everyone, from young and old (in reasonable health) can give it a try. For someone with a fear of heights like me, this is the closest I'll ever be to actually skydiving. More than just a feeling, you do get a stunning 360-degree view of the ocean!
Family Fun At Seaplex With Bumper Cars
We know this. We grew up with bumper cars. The Ovation of the Seas takes it up a notch with their neon-fueled arena. Great for the kids and bringing out the kid in us.  All of the 30 bumper cars here are bigger and (not to mention) cleaner than your pasar malam varieties. Race, bump and all crazy shenanigans you could think of. It is located at the Seaplex level, filled with other fun activities such as fully equipped Xbox consoles for some competitive racing or 1-vs-1.
Race To The Top At The Rock Climbing Wall
You may have climbed up high on land, but on board the Ovation of the Seas, you'll get a stunning view of the ocean. With instructors on deck ready to guide and gear you up, it is a fun (and safe) way for kids and adults to get moving. It is located on the upper decks. This means, getting to the top will gift a view unparalleled to anyone else on board.
Dine In Wonderland
More than just another dinner on board. Dining at Wonderland is akin to jumping down the rabbit hole into a magical world of imaginative cuisine. The entire restaurant is dressed up like the White Queen's dinner party, with menus readable only with a paintbrush, and dishes meant to surprise. Expect all works of "vanishing" noodles, liquid olives and more. A simpler menu is available for those who want to simply soak in the ambience.
A Taste Of The Future At Bionic Bar
Martini, shaken not stirred. These bionic arms can get your chosen drink, from the menu of customised, made without a human in sight. Watching "them" prepare each drink is a show itself. Those who hang around might even get a treat – watching them dance!
And so much more…
The next time I am onboard, I will be making a beeline for the NorthStar. This jewel-shaped capsule gently ascents 300 ft. above sea level, letting you take in the breathtaking view of the sea and the ship's destination. After all the excitement, there are tonnes of pools and spas to truly relax as well. When that's all done and dusted, I would grab a drink and head on over to the deck for some live music to end the night.
Sure sounds like a plan, doesn't it!
Royal Caribbean
cruises departs from Marina Bay Cruise Centre while in Singapore. It is located at
61 Marina Coastal Drive Singapore 018947
 (nearest to Marina South Pier MRT).