Last October, we were invited to a 4-day non-revenue inaugural cruise from Galveston in Texas, US, on the new Norwegian Prima, the first of Norwegian Cruise Line's six Prima class cruise ships that was launched in August 2022. It was also our first time on a Norwegian Cruise Line ship. So as a caveat, we've not experienced any other NCL ships and won't be able to compare the newest ship with the other NCL ships.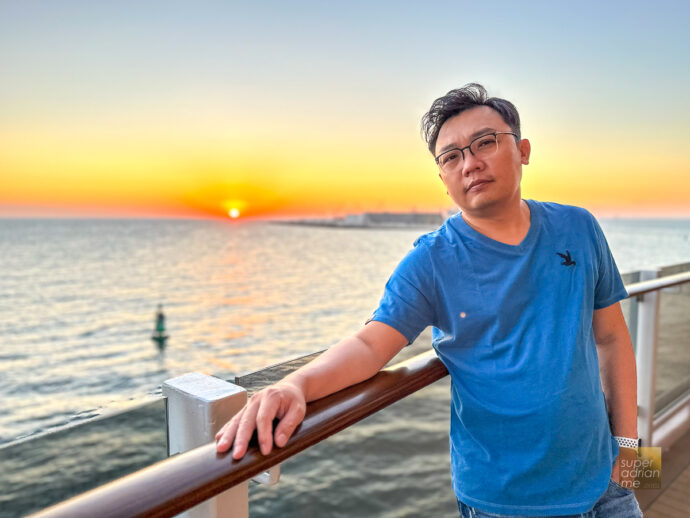 The Norwegian Prima is a beautiful ship. We were looking forward to experiencing what NCL promises more space, elevated service, thoughtful design and showstopping experiences. And we were not disappointed.
Before our voyage, we wanted to research about what we could experience. The ship was still so new, the information was all over the place, and there wasn't one site that we could visit to get all the first-hand information we needed. We had to watch multiple Youtube reviews by media and guests who had gone on earlier voyages. Hence our approach for this article is to give you as much information about the cruise through what we experienced. Four days was not enough to experience everything on the ship.
The ship sails to destinations such as the Bermuda, the Caribbean, Greek Isles, the Mediterranean, Northern Europe and Translatlantic.
NCL has no plans to bring the Norwegian Prima to Asia for now. NCL recently announced that the Norwegian Spirit, Norwegian Sun and Norwegian Sky will cruise Asia for the first time while Norwegian Spirit returns to Australia and New Zealand for the 2024-25 summer cruise season.
The Norwegian Prima's Contemporary Penrose Atrium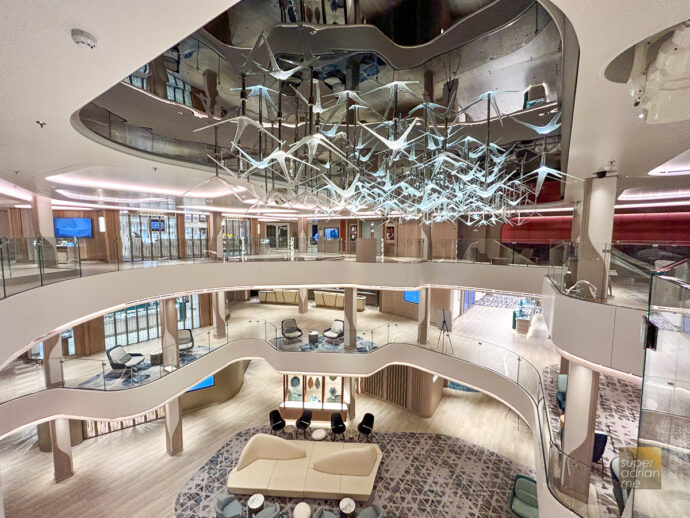 The Penrose atrium on the Norwegian Prima is located in the ship's heart. It is where everyone gathers during any voyage. Studio Dado has over sixty years of cumulative experience transforming hospitality spaces. In designing the Penrose Atrium, Studio Dado created a space with a calming feeling through neutral tones and a sense of expansion when guests enter the ship. Look up the ceiling from the main deck at deck six and an impressive chandelier by renowned Czech lighting design firm Lasvit offers various points of light visible in a star formation.
And if you wish to get a photo taken without anyone, do it in the wee hours of the morning when everyone else is still asleep. Otherwise, it is never empty. Across the three levels, guests come here for coffee at Starbucks, to book shore excursions or get any questions answered at the concierge, retail therapy, or enjoy some tipples at the Whiskey Bar.
Norwegian Prima Cabins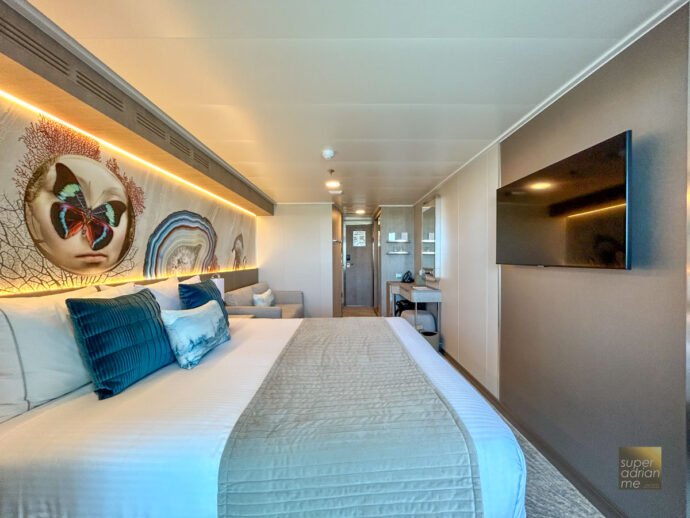 The Norwegian Prima is a big cruise liner. It is 294 m long and can accommodate 3,100 guests in double occupancy. It also accommodates 1,506 crew members. It has 1,646 passenger staterooms in 35 categories, including 18 Suite categories.
The cabins of the Norwegian Prima are designed to be spacious, comfortable, and stylish. And they are more spacious than the cabins of other cruises that we have been on previously. The ship offers various accommodation options, including studios that measure 8 square metres, standard cabins from 14 square metres, balcony cabins, and suites. There are many types of cabins to choose from on the Norwegian Prima to suit different budgets and preferences.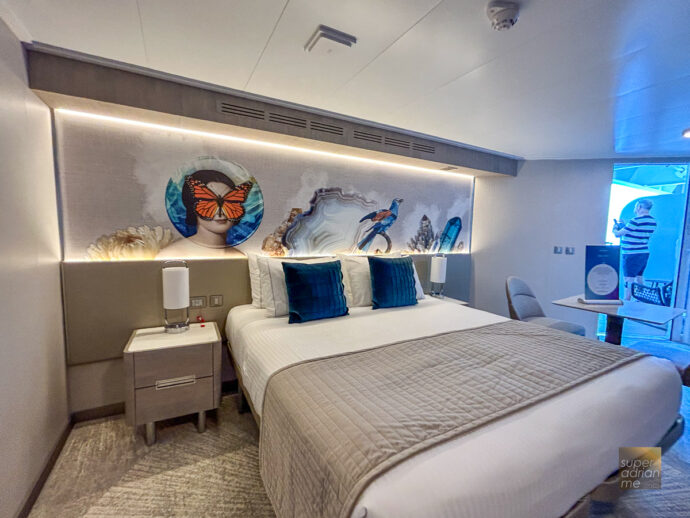 The standard cabins on the Norwegian Prima range from 12 to 13 square metres and will feature modern amenities such as flat-screen TVs, mini-fridges, and USB ports. The balcony cabins will offer more space, ranging from 19 to 23 square metres, and will feature private balconies with stunning ocean views.
The suites on the Norwegian Prima will be some of the most luxurious accommodations on the ship. These cabins will range from 22 to 195 square metres and feature separate living areas, spacious balconies, and upgraded amenities such as whirlpool tubs, large flat-screen TVs, and personal butler service.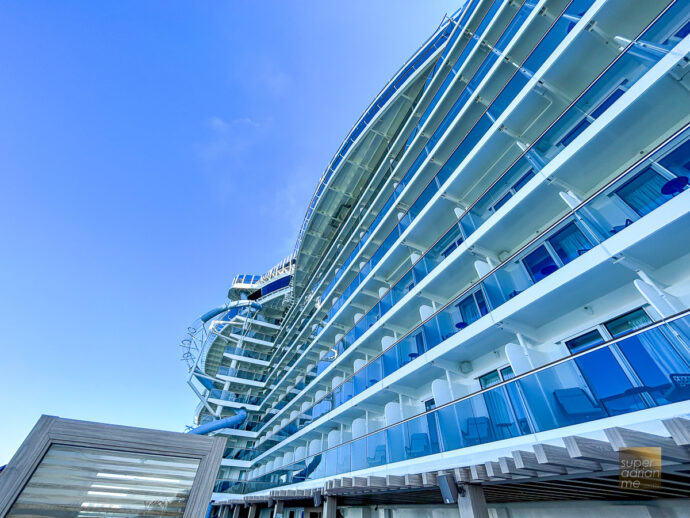 I always prefer a cabin with a balcony, even though it will cost you more. The same for hotel rooms. You will appreciate the fresh air and a view of the expansive sea or shore when sailing. It is your private space away from the crowd though you may still be able to hear your neighbours around you when they are also in their balconies.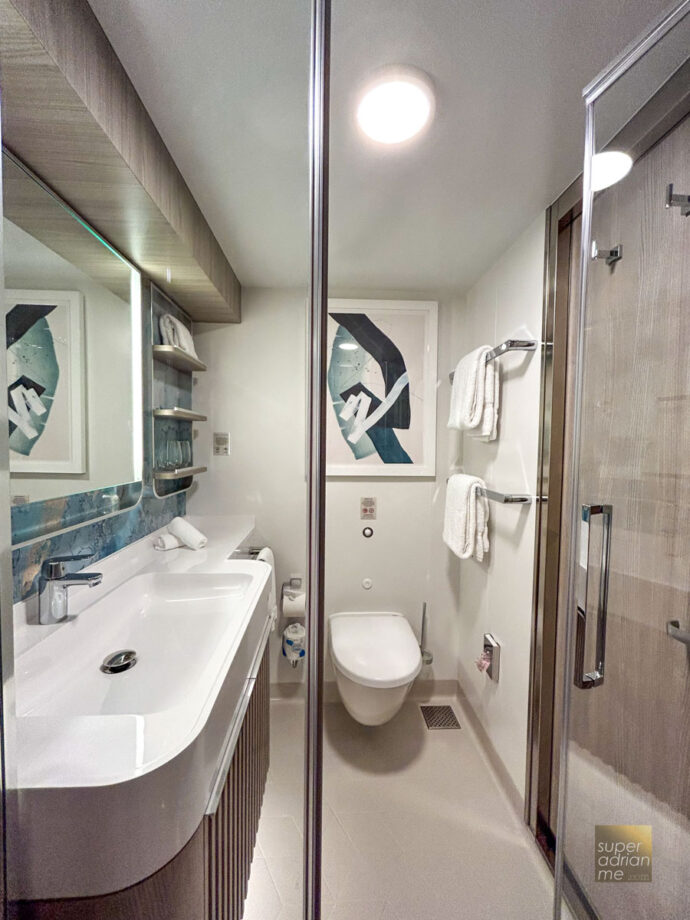 The cabin we were assigned was Stateroom 16106, a Balcony B9 Stateroom located on Deck 16 mid, close to Mandara Spa. The Balcony with Access to Thermal Spa cabin came with complimentary access to the Spa Thermal Suite. L'occitane toiletries instead of the standard non-branded ones in the other cabins (pictured below) are also offered in this category of rooms.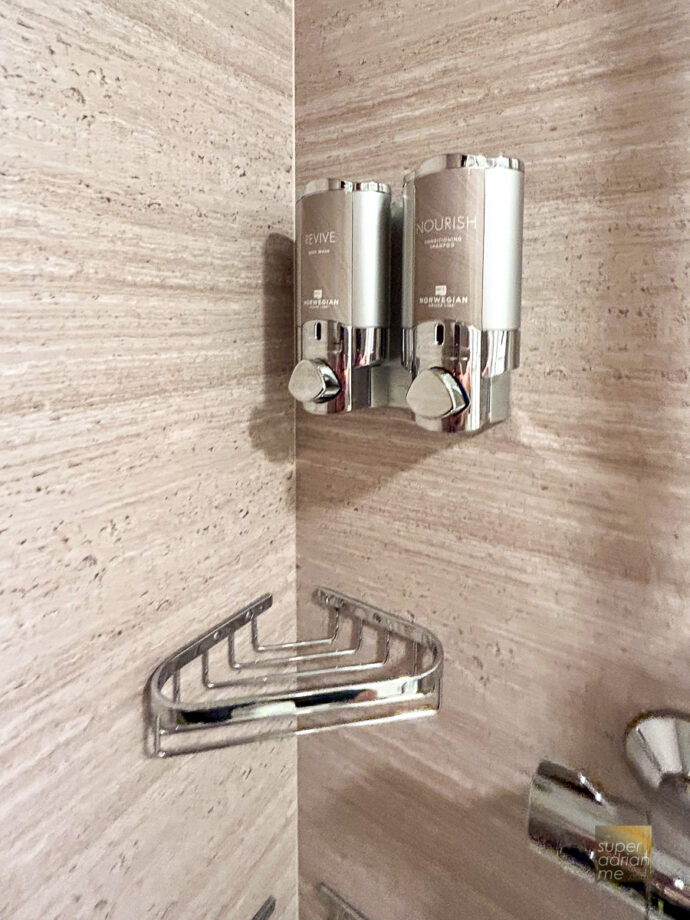 The bathrooms are spacious and well-designed. Bathrooms are usually small on cruise ships, and this is not the norm. The sink is big enough not to overflow, and there are also lots of space for you to store your toiletries. Bring your toothbrush, toothpaste and other necessary toiletries. Also your moisturiser because it is not provided in most cabins. One would have thought it would be.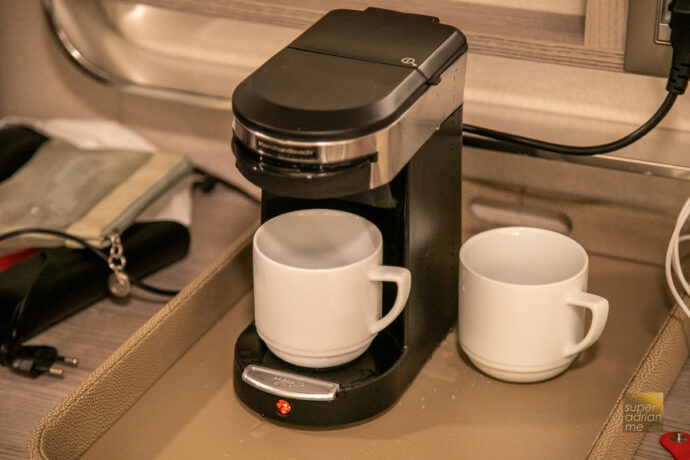 Should you need hot water in your room to make coffee or tea, you can request a hot water dispenser from your housekeeper.
The Haven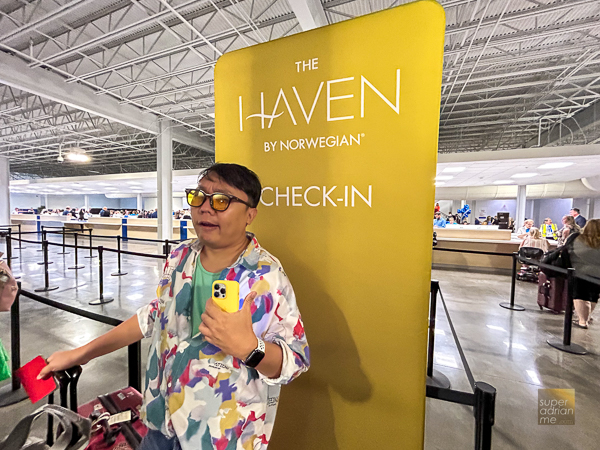 Guests seeking an elevated level of luxury and privacy can book a suite in The Haven. The Haven complex is a private area that is reserved for suite guests and features exclusive amenities such as a private pool, sundeck, a private bar, its own restaurant, and lounge.
Private Spaces for The Haven Guests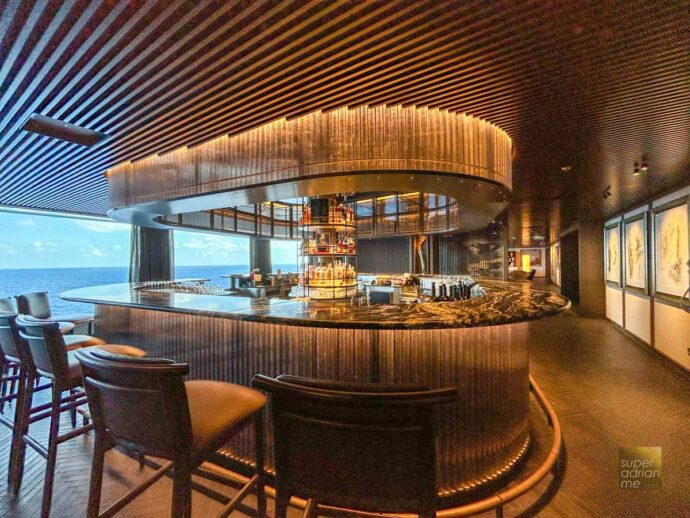 In addition to the exclusive amenities, guests staying in The Haven suites also enjoy a range of personalised services, including butler and concierge service, priority embarkation and disembarkation, and priority access to onboard entertainment and dining venues.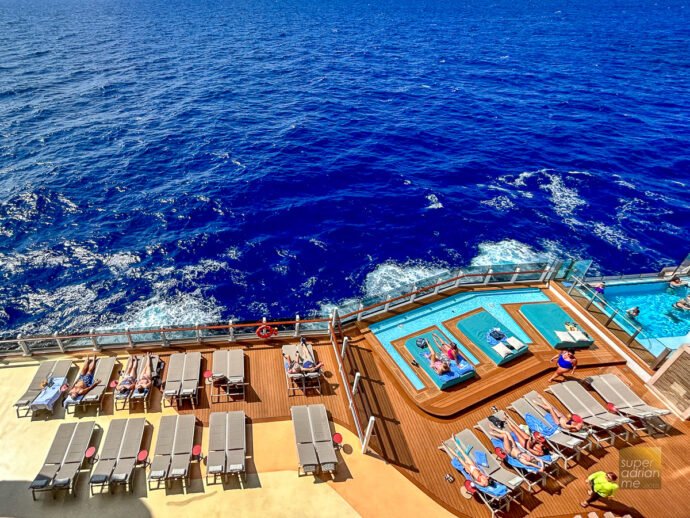 Fewer guests at The Haven means the private pool deck will be less crowded and more exclusive.
The Haven Suites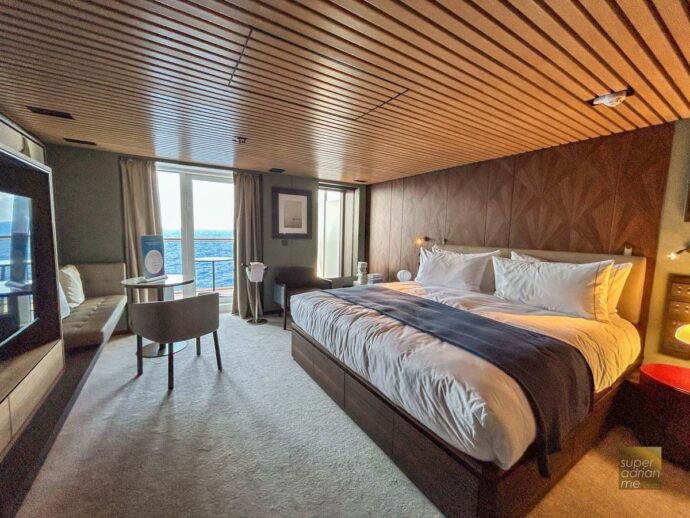 The Haven suites are some of the most luxurious accommodations onboard the Norwegian Prima, ranging in size from 34 square metres to 195 square metres. The rooms have more wood trimmings and additional furniture.
There are eight different categories of suites available and they feature balconies, separate living and dining areas, spacious balconies, and upgraded amenities such as whirlpool tubs, large flat-screen TVs, and premium bedding and linens. Penthouse suites are 34 to 38 square metres, while the Premier Owner's suite is 195 square metres. The Premier Owner's suite can accommodate up to 8 people and offers the largest balcony of 76 square metres.
Stay Connected on Board
Unlimited Internet Plans have to be purchased to stay connected onboard. NCL offers Basic and Premium Wi-Fi plans based on the number of devices you want to connect.
| | Premium Unlimited Packages | Basic Unlimited Packages |
| --- | --- | --- |
| 1 device | US$39.99 per day | US$29.99 per day |
| 2 devices | US$30.99 per day per device | US$21.99 per day per device |
| 4 devices | US$25.99 per day per device | US$18.99 per day per device |
There is also a "Social Media Unlimited Plan" for US$14.99 daily.
Dining onboard the Norwegian Prima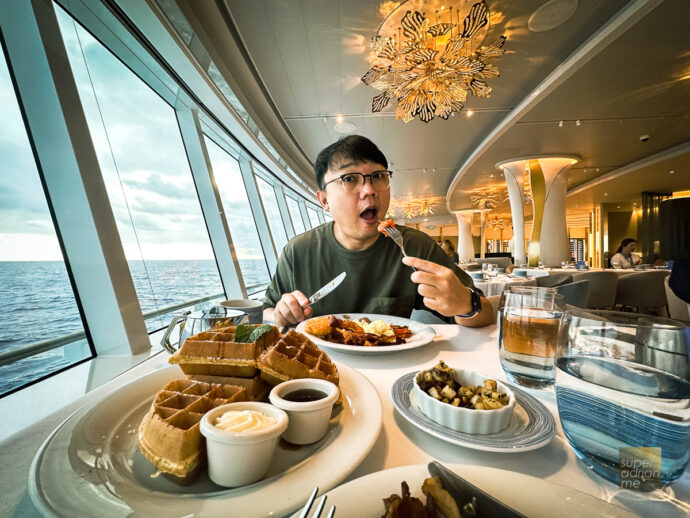 Dining onboard the Norwegian Prima was much better than we expected. Most cruise liners offer self-service complimentary dining with large buffet spreads and unending queues. On board the Norwegian Prima, we were pleasantly surprised that there was only one complimentary dining restaurant with a buffet spread. The other complimentary dining restaurants offered table service and a la carte menus.
Surfside Café & Grill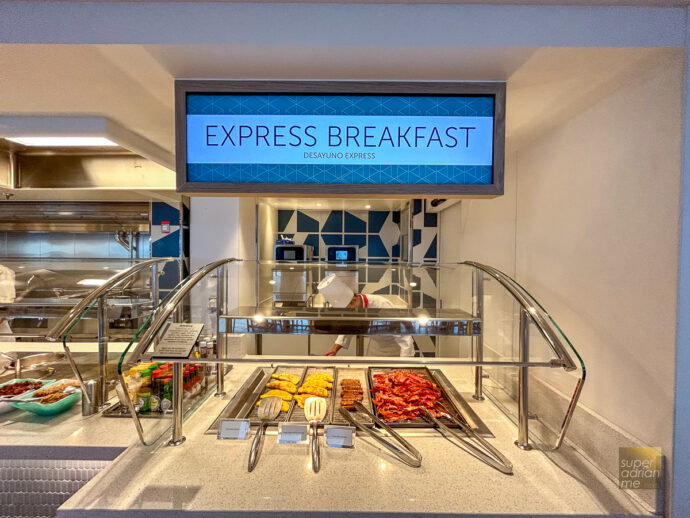 There was only one buffet restaurant – Surfside Café & Grill at deck 17. The buffet spread at Surfside Café & Grill is available for breakfast, dinner and late snacks. Quite a substantial variety for the spread as well.
Indulge Food Hall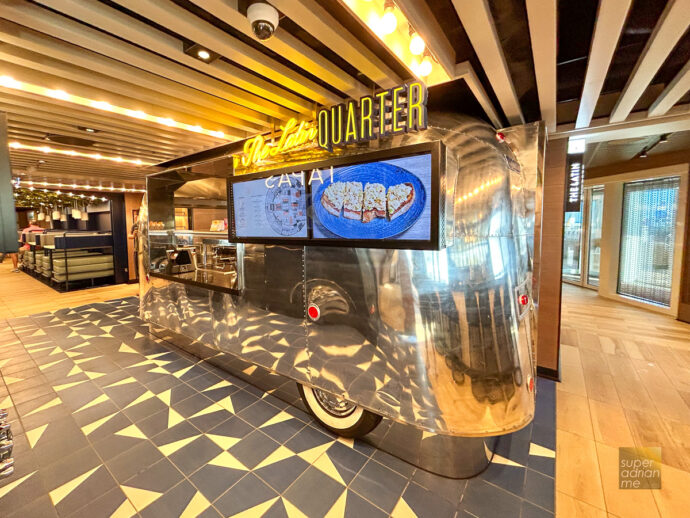 The Indulge Food Hall at Deck 8 offers 11 stations that serve up dishes from around the world. Some food trucks serve street food. There is the food court vibes here.
Restaurant stands include Tapas, The Garden, Nudis, The Latin Quarter, Q Texas Smokehouse, Seaside Rotisserie, Tamara, Coco's (chargeable) and Starbucks (chargeable). Luna Bar in Indulge Food Hall offers a selection of cocktails, beers, and wine. A selection of desserts is available from the Just Desserts cart.
Tamara offers a delicious selection of Indian dishes. The Chicken Tikka paired well with Basmati Rice and was my favourite dish here.
Seating is available indoors and outdoors. Order from any of the different stations with the tablet at your table. If you sit at the bartops of a specific station, you can only order from that restaurant on the tablet.
Hudson's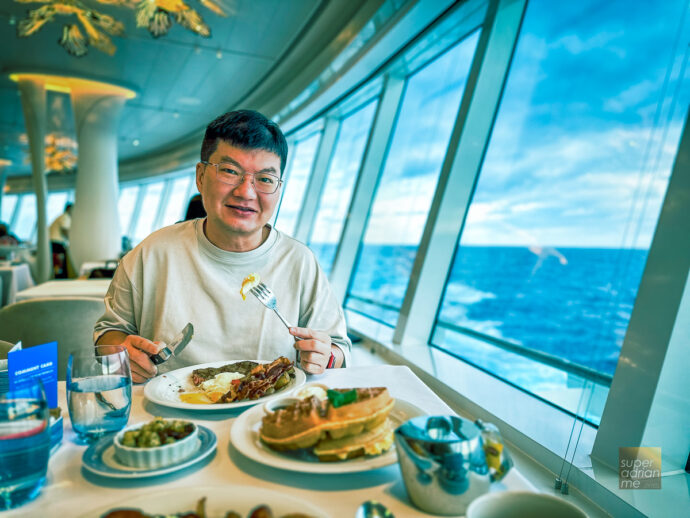 Hudson's offers an amazing ocean view when you dine here. We had breakfast and dinner here by the window and enjoyed both the food and the unblocked 270-degree floor-to-ceiling view.
Guests can enjoy an express breakfast, fruit & yogurt, hot & cold cereals, breakfast entrees, side orders, a selection of bakery, starters and soups for breakfast. The express breakfast features scrambled eggs, bacon, grilled tomato and hash browns and served with white or whole-wheat toast, coffee, tea and orange juice. We added some side orders as well. You have a choice of applewood bacon, pork or turkey sausage links, grilled ham, corned beef hash, skillet or hash brown potatoes, roasted tomato and baked beans.
We also had the Steak and Eggs with 6 oz Sirline and sunny side up and country potatoes. Added some bacon.
The Belgian Waffle with caramel sauce and whipped cream offered much comfort to our appetites.
From the bakery selection, there were an assortment of muffins and danish, cinnamon roll, sweet bun, butter croissant, white, rye or whole-wheat toast, English muffin and plain bagel.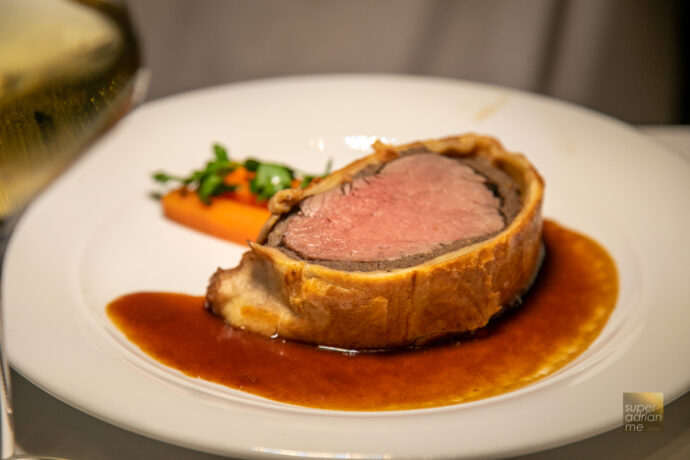 There is quite a good selection on the dinner menu, offering a good spread in the soups and starters section, five to six dishes from the seafood and meat menu each and more for desserts. By the way, we enjoyed the mini crab cakes and Seafood Creole with rich stewed tomatoes, onions, celery and green peppers and seafood over white rice.
The Local Bar & Grill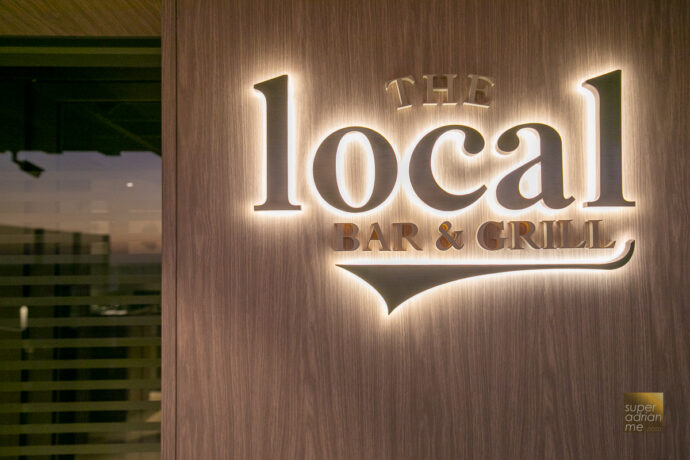 The Local Bar & Grill is a sports bar and a diner in one cosy space. It is always crowded but a great venue to have fun, mingle and enjoy a beer or two while watching sports on the television screens. Our photos above look so empty because it is early morning around six when we headed over for early breakfast. The space is great for photos.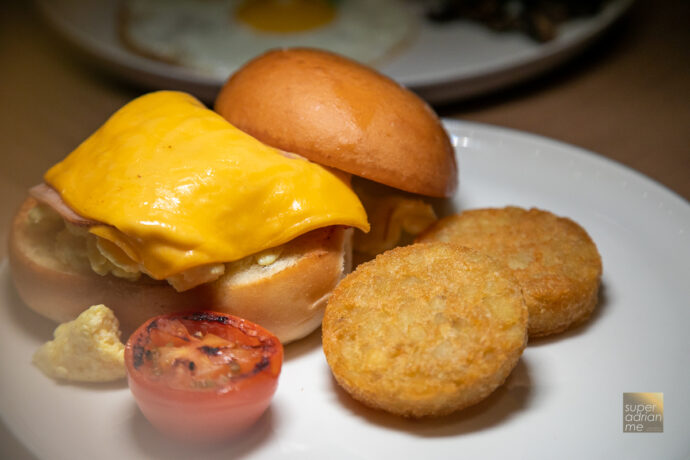 The breakfast selection is limited to 10 items on the menu. Depending on your appetite, you can have all 10 dishes. The menu includes American or English breakfast, corned beef hash, french toast, hot oatmeal, breakfast sandwich (with scrambled eggs, ham, cheddar, brioche bun and hash browns), ham and cheese omelette, vegetable omellete, buttermilk pancakes and fruit salad. Starbucks coffee is available at a separate charge unless you bought the unlimited Starbucks package.
The Commodore Room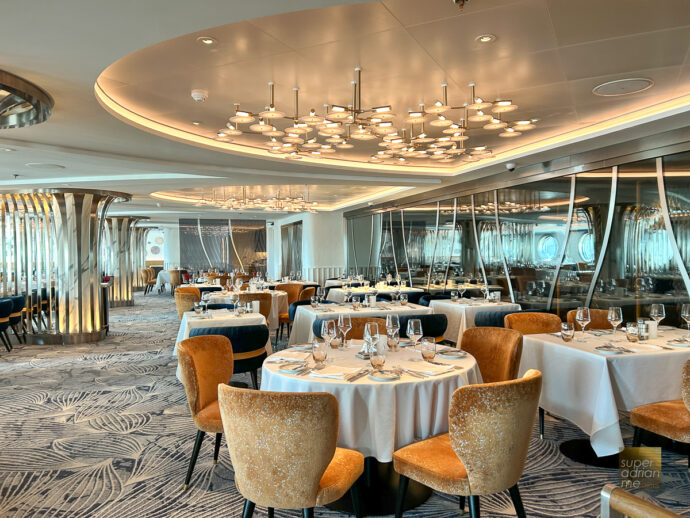 At the Commodore Room, enjoy fine dining with classic favourites at this main dining room. The menu here is the same as Hudson's.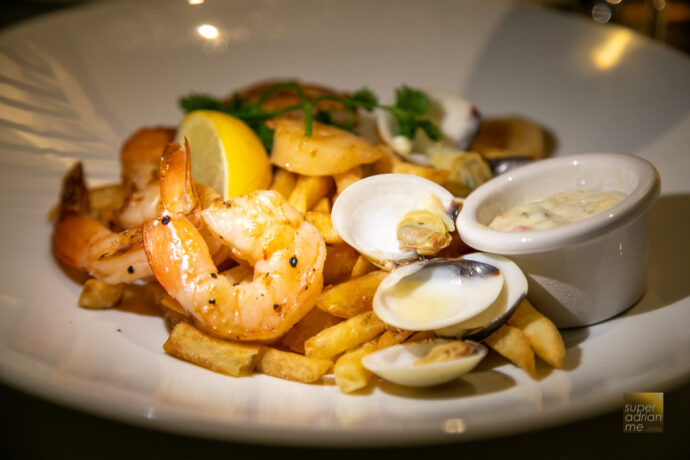 The menu here is the same as Hudson's. But it offers a different ambience from Hudson to give you a change of environment as you embark on your voyage.
Specialty Dining
Guests can dine at the complimentary restaurants or purchase specialty dining packages for American Diner, Cagney's Steakhouse, Food Republic, Onda by Scarpetta, Le Bistro, Los Lobos, Nama, and Palomar. We dined at two specialty restaurants – Onda by Scarpetta and Palomar.
Onda by Scarpetta – Italian Cuisine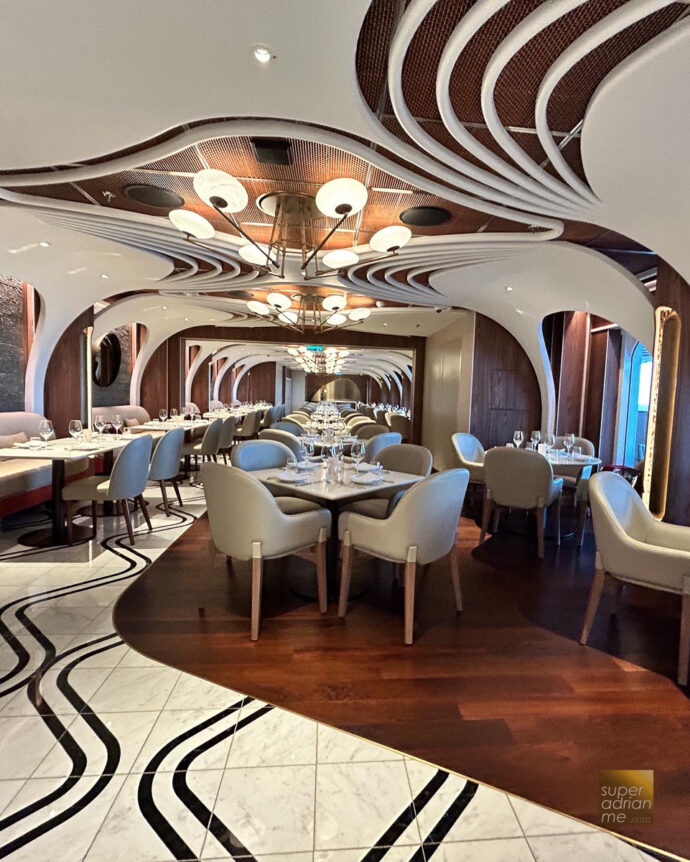 We dined at Onda by Scarpetta on our first night with two other newfound friends from Australia who were equally jet-lagged. That meant we could order different dishes, appetisers and mains to share.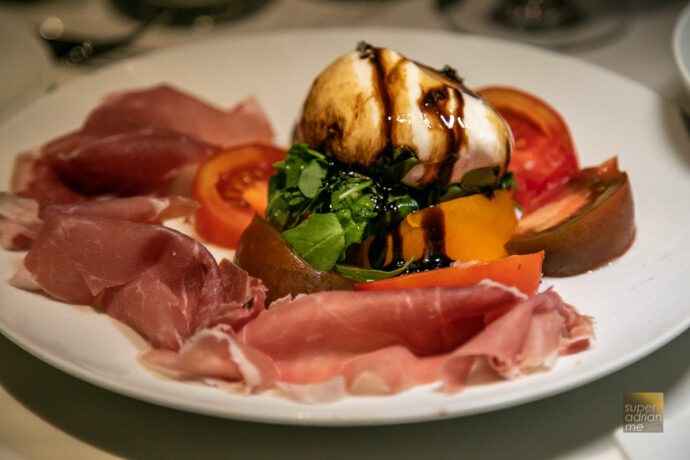 The meal was paired with generous pours of Il Borro Toscana 2017 Bordeaux Red blends of 50% Merlot, 35% Cabernet Sauvignon and 15% Syrah from Tuscany. An intense and full bouquet concentrated that pairs well with appetisers, pasta with tomato sauce, game meats, as well as oven-cooked red meats.
I also had a delicious Palermo Old Fashioned as a digestif before heading to the Belvedere Bar to try more of the cocktails after dinner. It turned out to be a very fun night.
Palomar – Mediterranean Seafood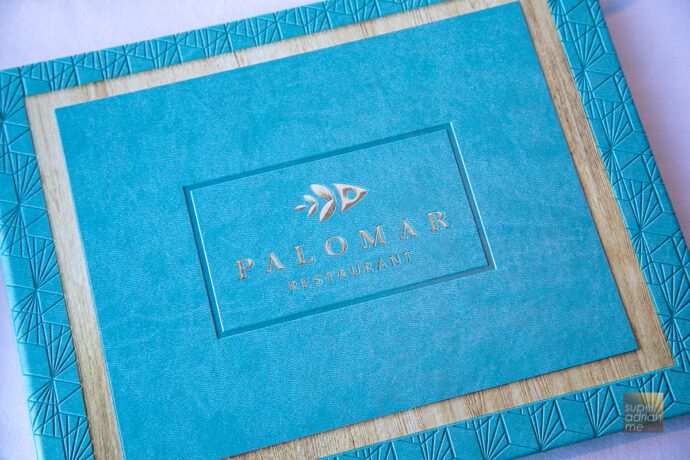 We had a wonderful dinner experience at Palomar Restaurant. The Mediterranean seafood menu offered a selection of fish, scallops, langoustines, oysters, lobsters and other options. Meat lovers still had the option of ordering Filet Mignon, veal or lamb chops.
Love the added touch of cutting fresh oregano leaves in the olive oil and the 2021 biodynamic Gérard Bertrand L'Indomptable de Cigalus Blanc, a blend of chardonnay, viognier and sauvignon blanc.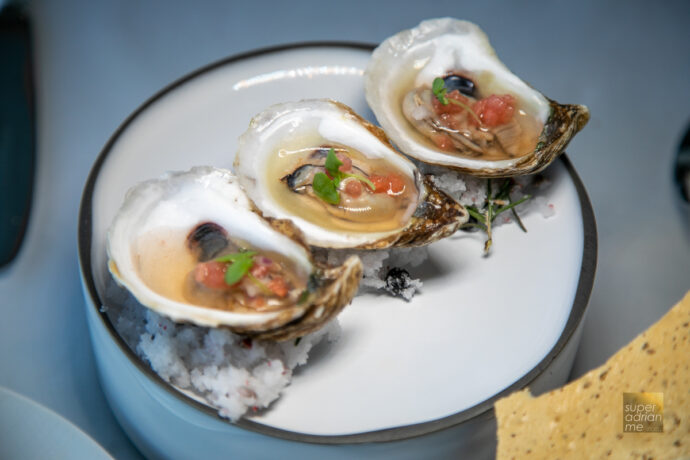 We ordered an appetiser each. The Thalassini Salata was one of my favourite dishes during the cruise. The seafood salad of shrimp, scallop, calamari, and mussels were all chopped up into bite-sized morsels with capers, celery and lemon. The cold dish was tangy yet sweet. An explosion of flavours. A great appetiser to open up the palate for the main course. The pickled fresh Canadian oysters in watermelon mignonette paired well with the white wine we had.
Palomar was crowded. Diners dressed up and there was lots of chatter and clinking of wine glasses. Meanwhile, the beautiful sunset changed the mood of the room from an orange hue to a romantic atmosphere with darkened views of the ocean outside.
Our server was thoughtful and offered us a plate of Grilled Octopus with fingerling potato, baby spinach and pickled red onion, pimenton de la vera (smoked paprika). The Baked Fish took longer than usual to be served. It took 45 minutes to bake at 200 degrees Celsius, but we won't actually counting. We had all the time in the world. And I was still nursing the wine.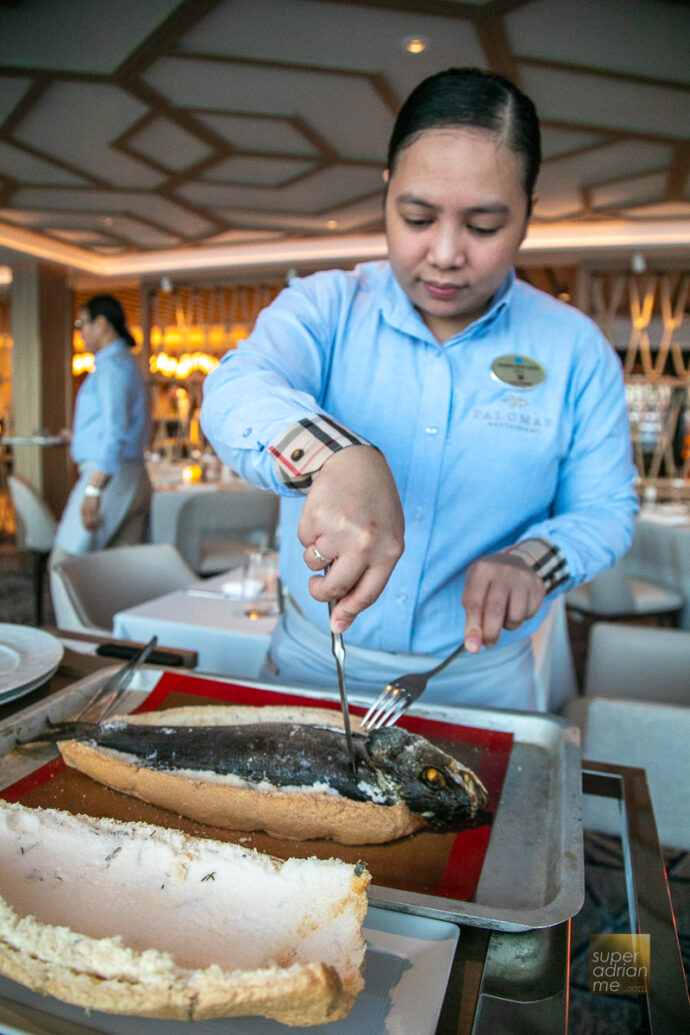 The highlight for the night arrived. The Branzino was baked in sea salt and herbs. She lifted up the top crust and filet the fish. The fish was fresh and full of robust flavours.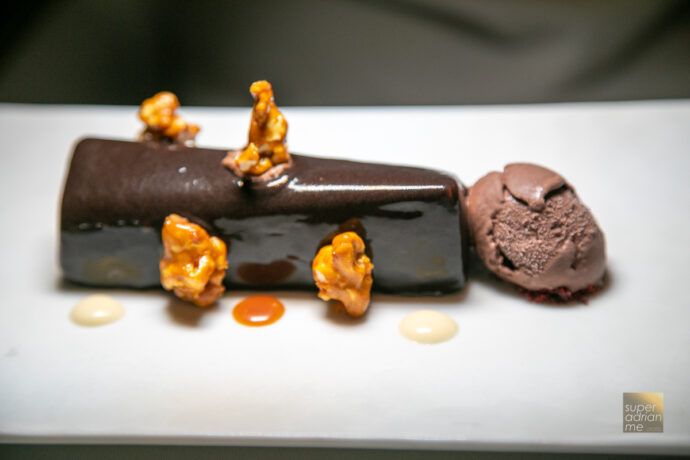 Desserts here are priced at US$10 each. And you have a choice of five different desserts. We picked the Valrhona Dark Chocolate Mousse Cake with dark chocolate sorbet and salted caramel popcorn. We also got the French Apple Tart À la Mode. The puff pastry gave texture and crunch to the dessert. Served with a scoop of vanilla bean ice cream and golden apple.
Other specialty restaurants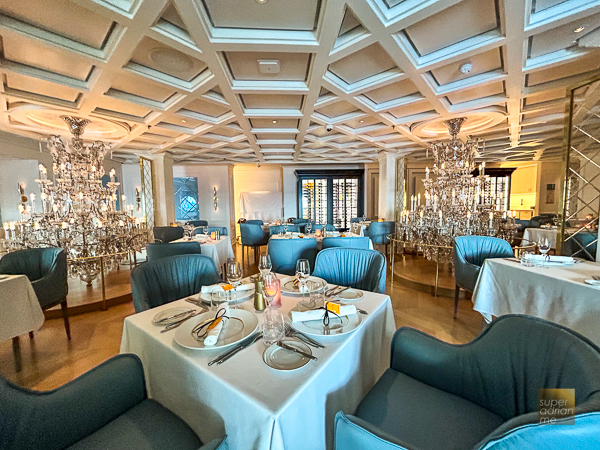 There's Le Bistro at Deck 7 with beautiful and elegant interiors. Chandeliers hang to the ground. Crisp white linens. Veuve Cliquot champagnes are served here. The same brand of champagne was used to christen the Norwegian Prima.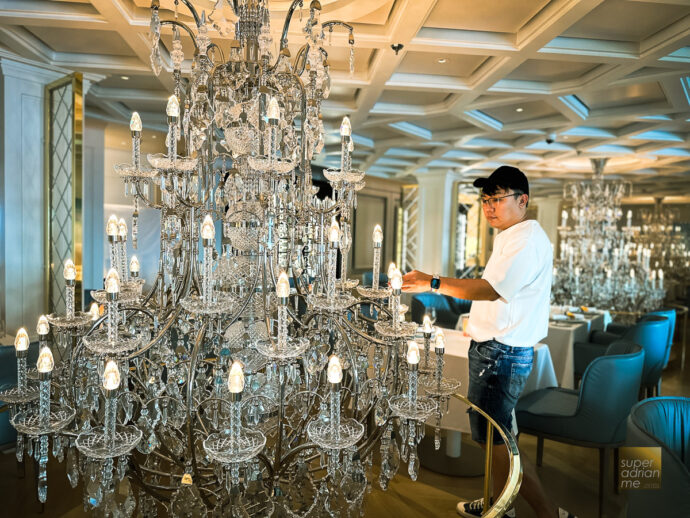 For entrées, diners can enjoy the Steak Tartare Au Couteau, Escargots À La Bourguignonne or the Pétroncles Dubarry, Huile de Truffe(a scallop dish). For mains, a meat selection of Beef tenderloin, veal chop or braised shank and roasted lamb chop are available for under US$50. The duck or chicken mains are under US$30. Under the seafood section, the Lobster Thermidor with Mushroom cream sauce and Pilaf Rice sound appetising at US$49. There are also over sole, sea bass and butter-roasted jumbo shrimp and scallops with little neck clams.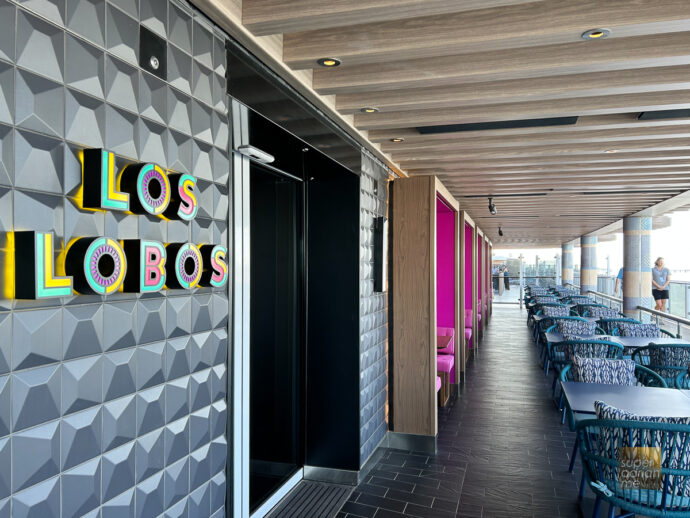 Other specialty dining venues include Mexican restaurant Los Lobos, Cagney's Steakhouse which serves premium cuts, Food Republic, which offers a fusion of foods and cultures from around the globe, Hasuki Japanese Grill, and Nama Sushi and Sashimi.
Drinks Packages
A selection of drink packages is available. A 20% gratuity and beverage service charge will also be added. For non-alcoholic beverage packages, the Unlimited Soda Package is priced at US$9.95 per person per day. The package includes Coke, Diet Coke, Sprite, Ginger Ale, Tonic Water, Fanta and Soda Water.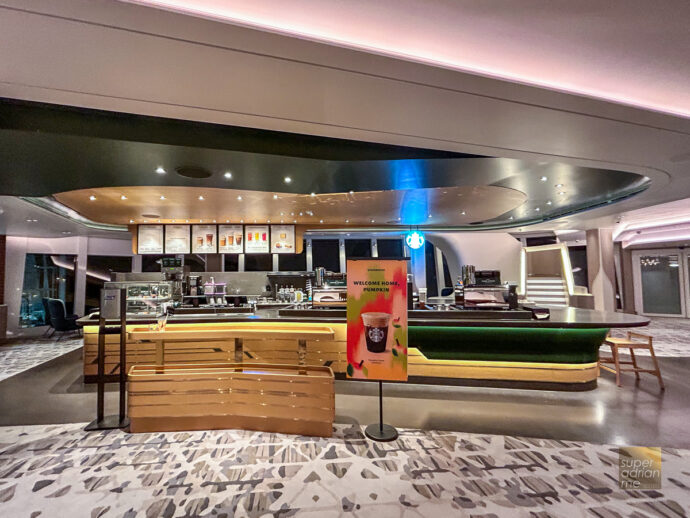 NCL has partnered with Starbucks onboard its ships. The Unlimited Starbucks Package is priced at US$12.95 per person per day and offers classic coffees and teas, Frappuccino favourites and other specialty beverages at Starbucks.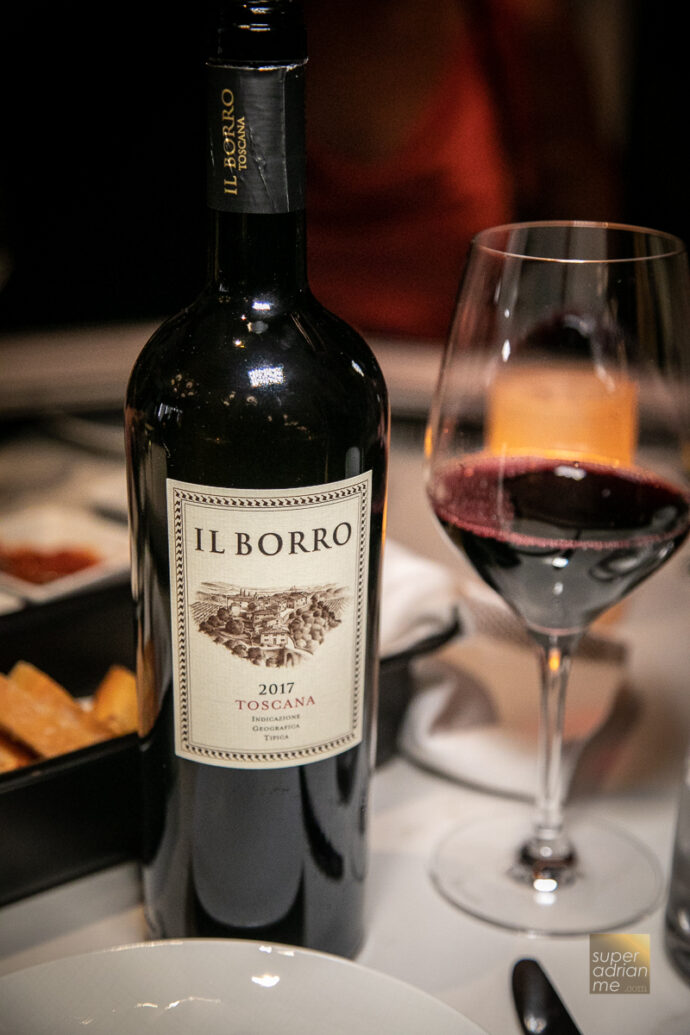 The Premium Beverage Package lets you enjoy a selection of soft drinks, beers, spirits, cocktails, wines by the glass and bottled or draft beer up to and including US$15 during your entire cruise. This package costs US$109 per person per day and a 20% gratuity. Six 1L bottles of water will also be provided in your cabin on embarkation day. This package excludes Starbucks, energy drinks, room service and mini-bar. This package is included in the Free at Sea offer.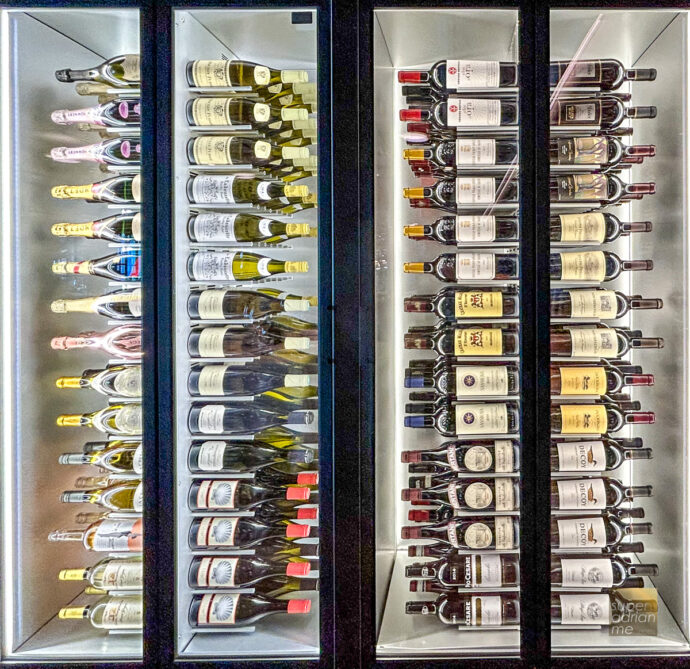 There is a more comprehensive Premium Plus Beverage Package. The upgraded version costs US$138 per person per day plus 20% gratuity and comes with all the benefits of the Premium Beverage Package and specialty coffees including Starbucks, bottled water, energy drinks, premium spirits and 40% discount on flights and wine tastings.
Enjoy Zero-Waste Cocktails at Metropolitan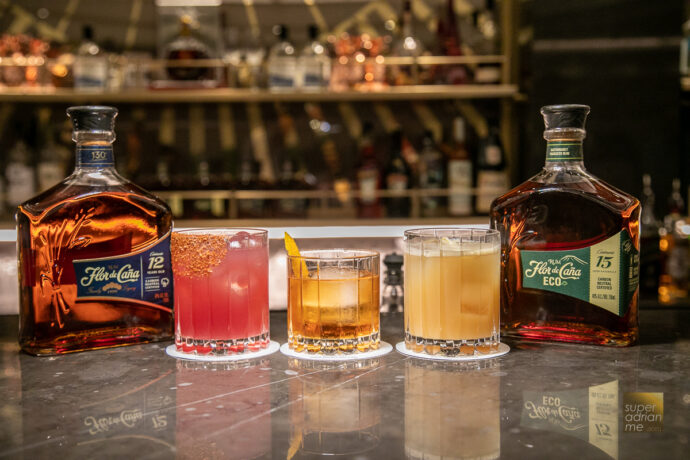 The Primadona is a signature sustainable cocktail of Metropolitan and one of 11 cocktails made with scrap ingredients and spirits that support the sustainability cause as part of NCL's Sail & Sustain programme. The carbon-neutral and fair-trade certified Flor de Caña ECO rum is added to homemade banana peel syrup, walnut bitters and orange peels. The peels are taken from the fruits served at restaurants onboard the ship. US$12 per glass.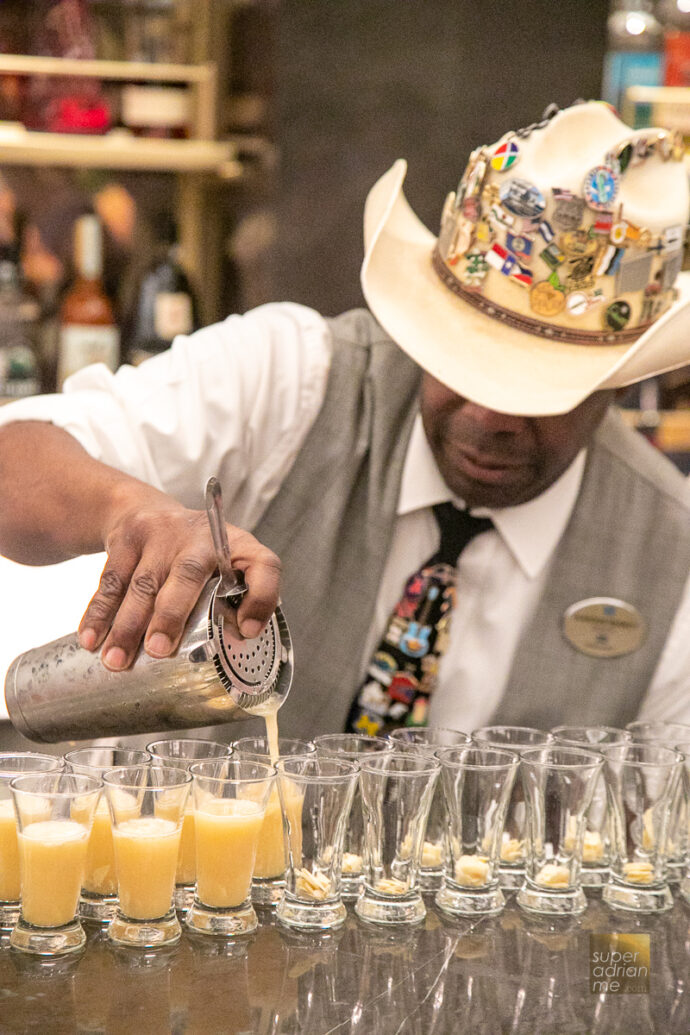 11 cocktails at Metropolitan use scrap ingredients and specialty spirits. And menus are presented in tablets to cut down on printing. The Croissant Mai-Tai is made with leftover almond croissants. They are soaked in water and sugar for a day. After which they are blended, strained and then cooked with cardamom. This is strained and mixed with Brugal rum and Cointreau.
In the Watermelon Twist, rinds from watermelon are infused with sugar and blended and strained into syrup.
NCL's Sail & Sustain programme is a sustainability programme to minimise its environmental impact and promote sustainable practices in the cruise industry. This includes reducing emissions and waste while increasing recycling, conserving water and energy and promoting sustainable sourcing and responsible tourism. NCL has implemented exhaust gas cleaning systems and the use of liquefied natural gas to power ships. NCL uses reusable items and composts food waste. It uses low-flow showerheads and faucets as well as LED lighting and HVAC systems. NCL has partnered with local communities and organisations to support conservation efforts, protecting wildlife and natural habitats.
Observation Lounge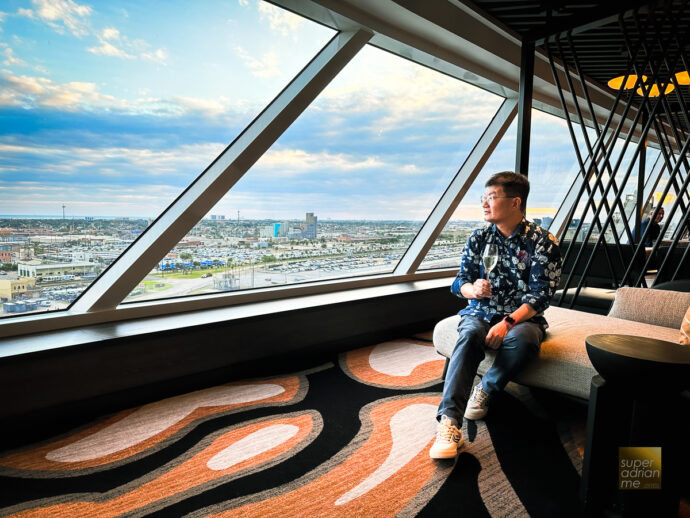 Relax at the observation lounge on deck 17. Read a book. Have a drink. Enjoy the view. It's slightly more dressy in here so be sure to be in the proper attire when you visit. Board games are also available. The views here are also spectacular. At times, magical.
Prima Theatre and Club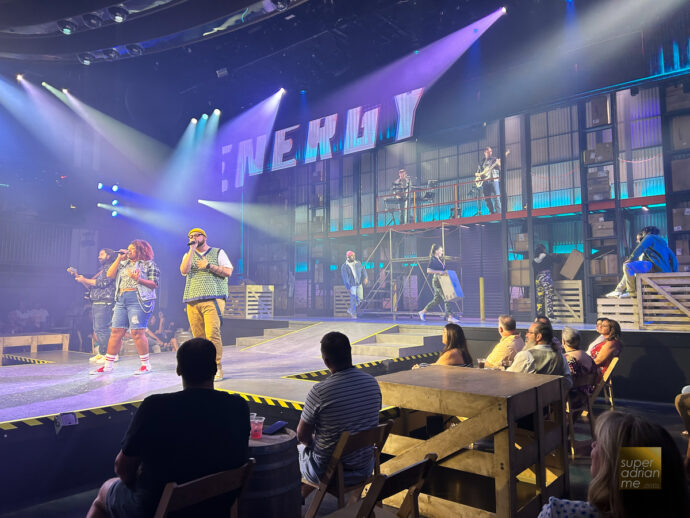 Be entertained by live performances, including Broadway-style shows, musicals and comedy acts in the state-of-the-art Prima Theatre. It is located at the aft of the ship and spans three decks (6 to 8), featuring a large stage, advanced sound and lighting systems and comfortable seating for up to 1,200 guests.
We were fortunate to watch Kelly Clarkson perform here and the Donna Summer musical and Noise Boys. The Donna Summer musical is worth watching. We never expected it to be quite a tear jerker and a chance to learn more about this talented musician. Please don't miss it.
On some voyages, you can spin the legendary wheel on The Price is Right Live during the day.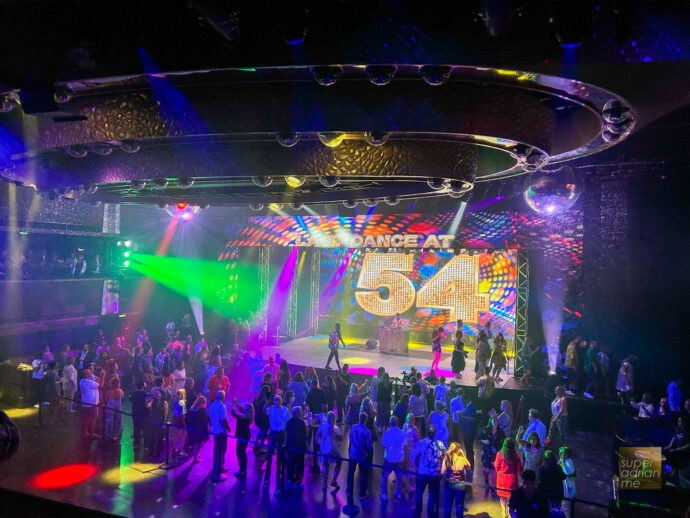 The Prima Club transforms into a nightclub where guests can enjoy a lively and fun atmosphere while dancing and socialising. The front rows seats can be retracted offering a large dance floor with a bar and comfortable seating areas where guests can relax and enjoy the music.
The Prima Theatre and Club also hosts a range of special events and themed parties throughout the cruise, including costume parties, live music events, and dance performances. The venue is designed to offer guests a fun and engaging experience, with something for everyone to enjoy.
Have Lots of Fun
Check your Freestyle Daily Newsletter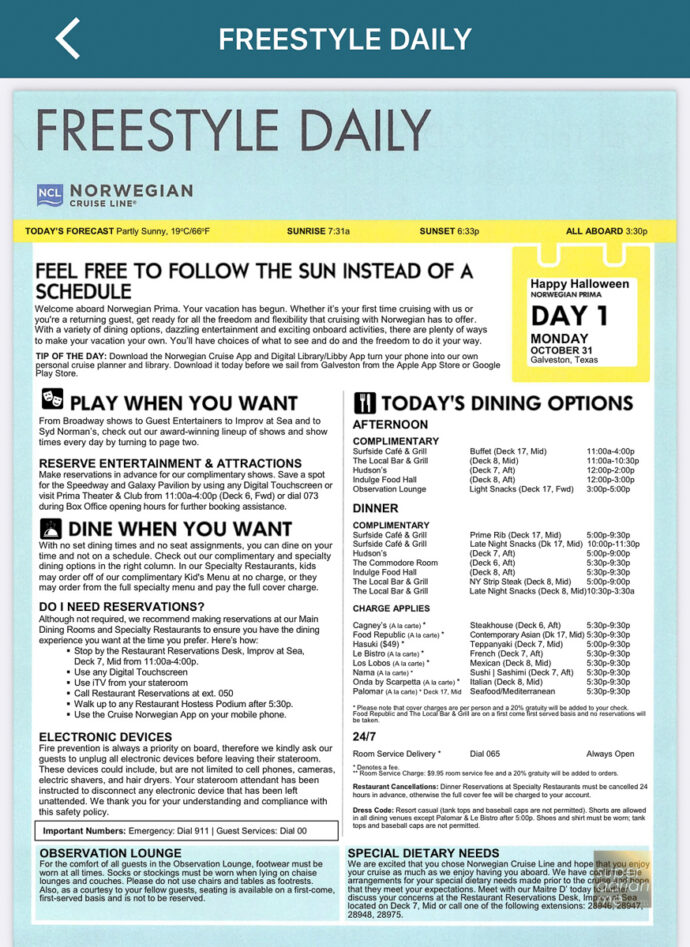 Before you board your cruise, you would have already downloaded the NCL mobile app. You can view your itinerary, booked activities and the Freestyle Daily newsletter. The newsletter showcases all the activities and important notices for the day. You want to check it out and plan out your day. A printed copy of the next day's newsletter is left in your room during the evening turn-down service.
Activities include Karaoke Smash at Improv at Sea, Groovin with Familiar Strangers at the Pool Deck, Sing-along at Penrose Atrium, Wine & Chocolate Perfect Pairing at Palomar, Sail & Sustain Rum Experience at Metropolitan, Champagne Black Glass Tasting at Palomar amongst others. Activities vary by cruise. Not all activities are complimentary.
The Drop and The Rush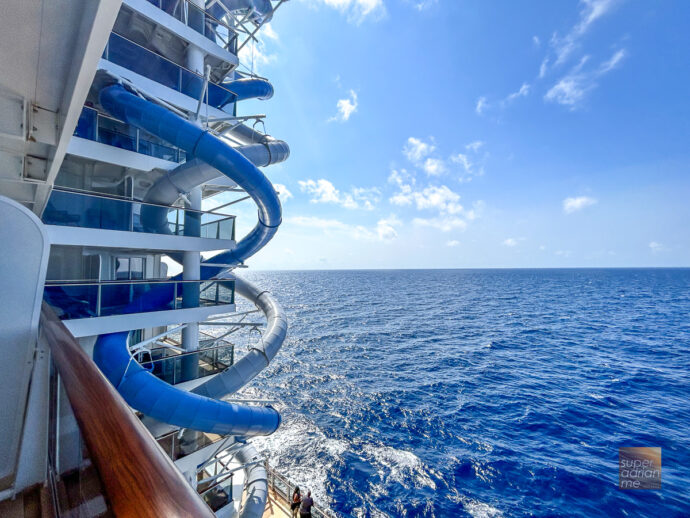 Norwegian Prima's newest slides are 10 storeys high. They are the fastest at sea. Dare to experience The Drop, the first free-fall slide in the world. There are weight restrictions for this activity. All guests will be weighed.
Or race a friend on The Rush. Not for the faint-hearted. These slides are free-of-charge so you can go for it multiple times. You may not need the coffee to keep you awake after all!
The Speedway. Go Carting on the Sea.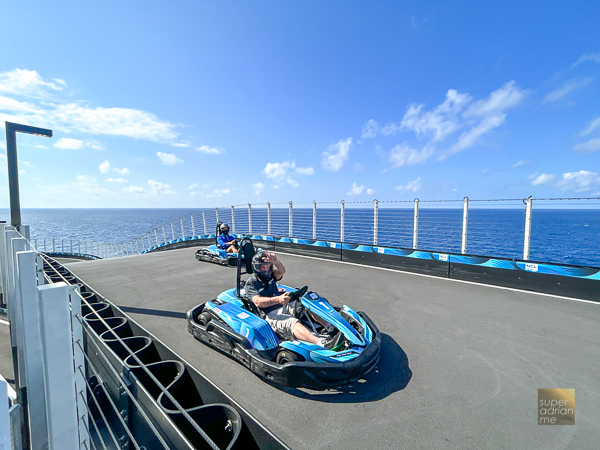 The Prima Speedway is longer and larger than its predecessor on the Norwegian Encore. The racetrack spans three levels and it is worth spending US$15 go-karting here. Quite an experience which we recommend you go at least once.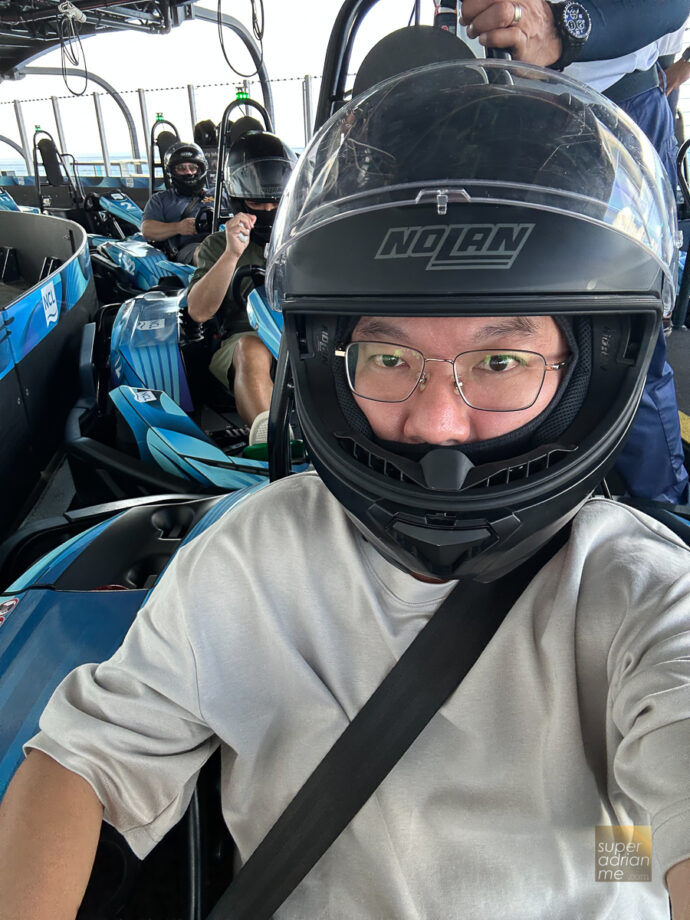 There are weight restrictions for this activity. All guests will be weighed.
Take lots of Photos and Selfies on the Norwegian Prima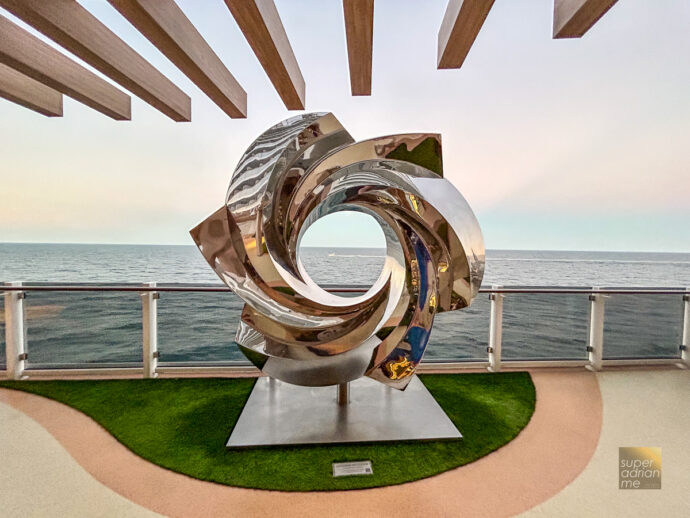 Did you know there are artworks by over 50 world-renowned artists, including Manuel, Peeta' di Rita and Alexander Krivosheiw aboard the Norwegian Prima? That's over US$6 million investment in art. Take your time to explore the ship. Remember to also check them out at different times of the day.
Make great videos onboard. It's easy too!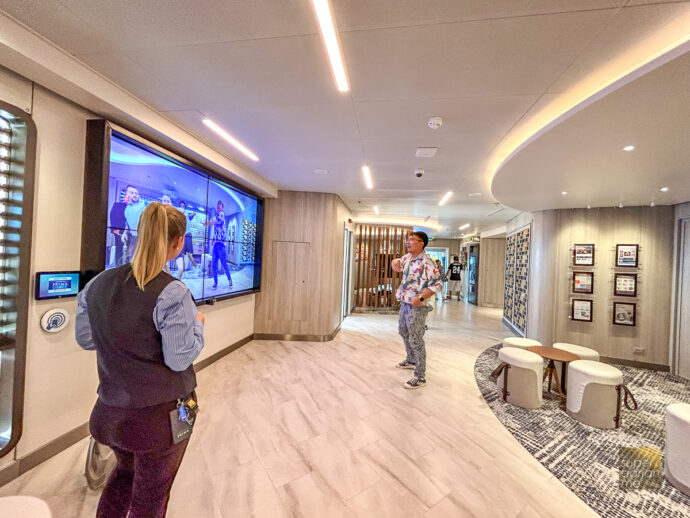 We walked past the Imagination Wall located just next to the retail booths and photo studio in The Gateway. A kind staff invited us to try the Prima Dance and record a video and Dennis decided to give it a go. Looked silly at first but watch the video below.
The camera on the screen records your movement and then you can send it to your email.
Wave, Smile and look Good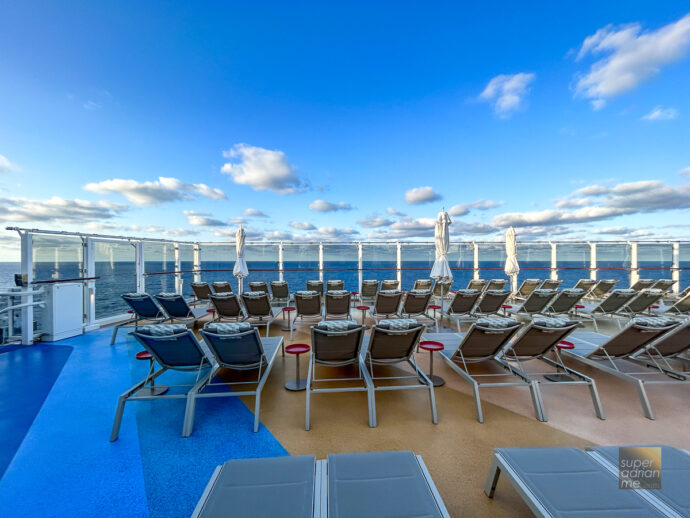 While checking out the Wave waterslide and Kids Splash Park at Deck 18, there is a Super Selfie photo spot where you can get a video of yourself waving, jumping, dancing or whatever you feel like doing. After that you can send the video to your email. See below.
Stadium, Tee Time and More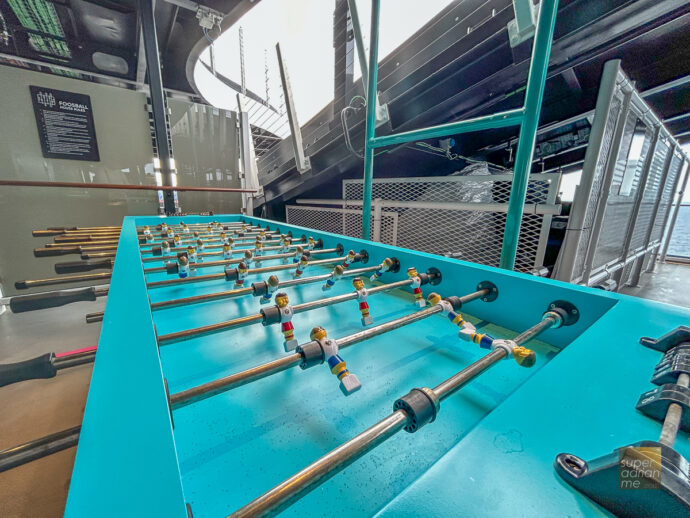 Enjoy complimentary tabletop shuffleboard, pickleball, subsoccer, and beer pong at The Stadium at Deck 18. Also enjoy a twist on classic games of ping pong and foosball.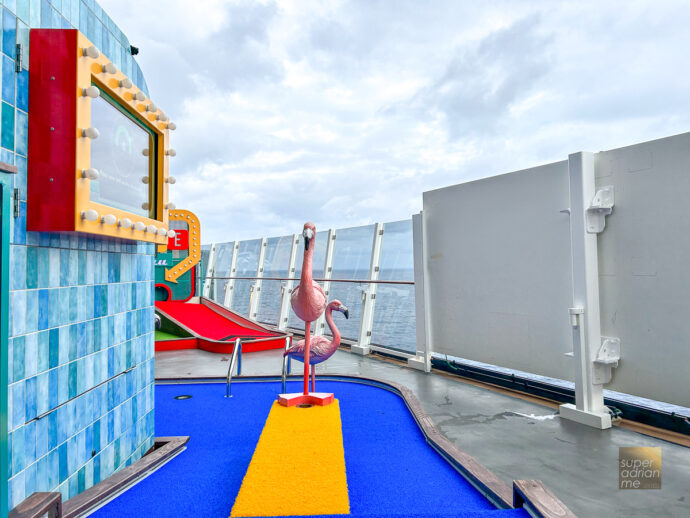 Tee Time offers you a game of putting with your friends at Deck 18. The first interactive and tech-immersive mini golf at sea is fun for the whole family. The Bull's Eye offers a round of darts. These are chargeable activities..
Galaxy Pavilion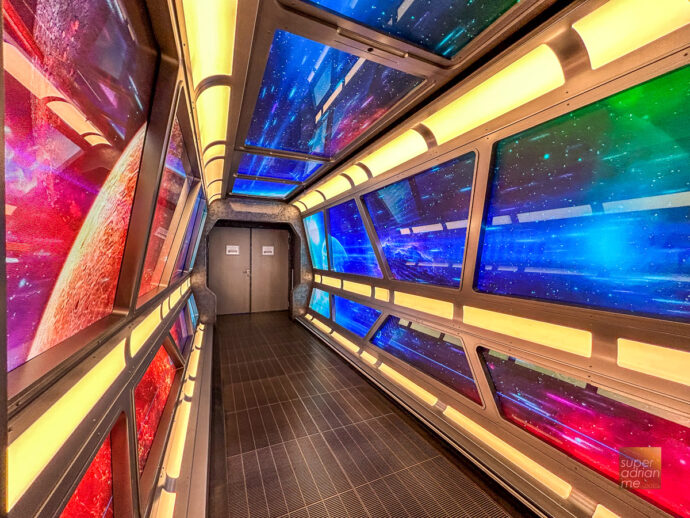 Head over to the Galaxy Pavilion at Deck 17 and have some fun and games. Explore a new reality on the first flying theatre simulator at sea or tee it up with the exclusive TopGolf partnership. Check out the escape rooms and racing simulators. It is a high-tech wonderland.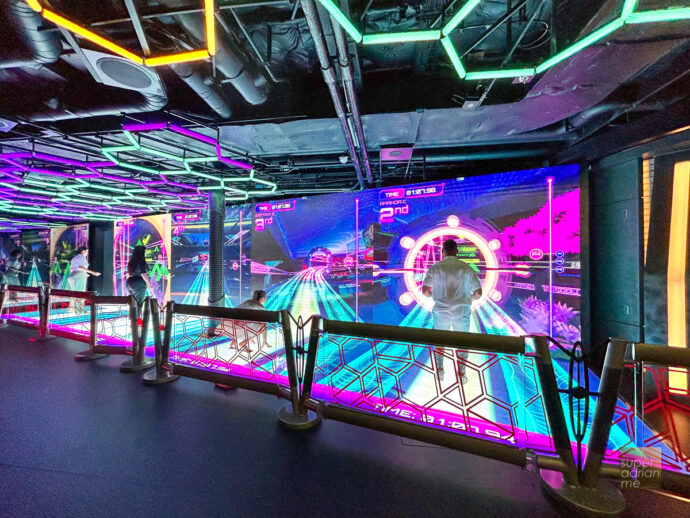 Casino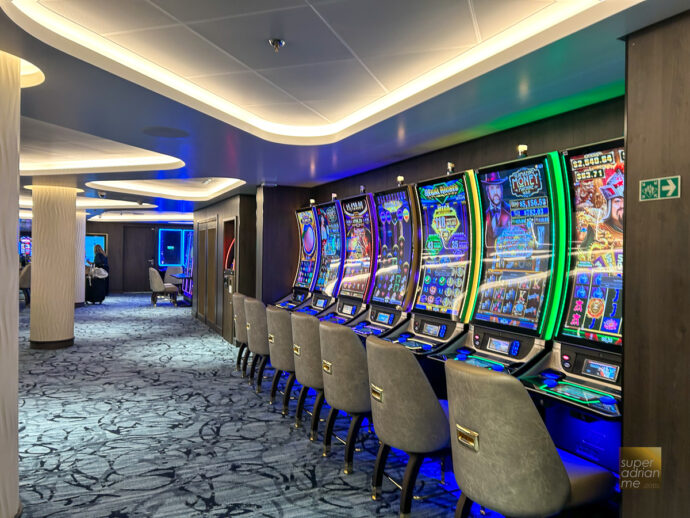 There is a small casino on deck 6 with slots and some table games such as blackjack, craps and more. We didn't get the chance to try our luck here.
Go for a swim or tan or Try the Wave Waterslide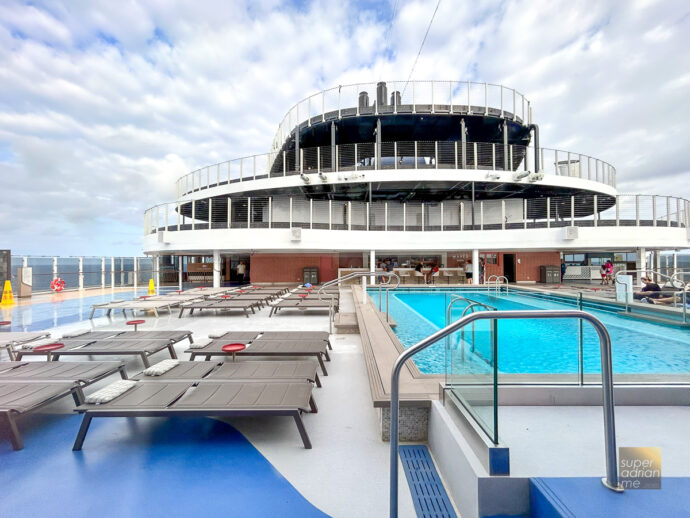 Ride the tide on the first tidal wave waterslide at The Wave on Deck 19. We didn't get the chance to try this experience.
Relaxing on Board
Norwegian Prima Introduces New Features in the Mandara Spa & Salon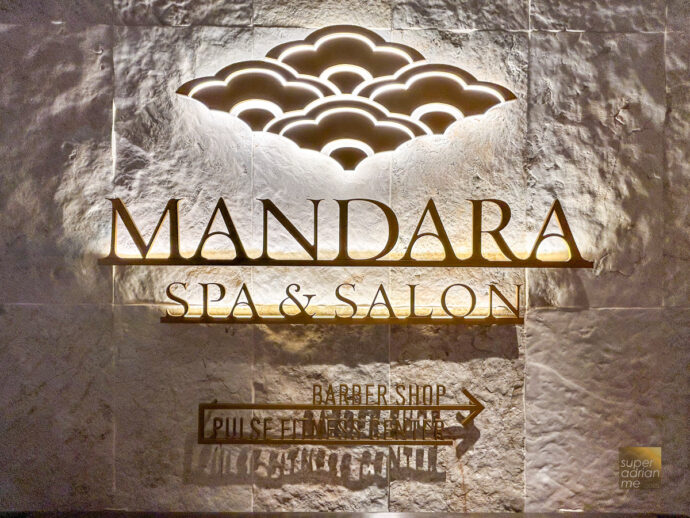 The Mandara Spa on the Norwegian Prima is one of the largest spas at sea, spanning two decks and covering more than 24,000 square feet. The spa features a range of facilities, including a thermal suite, salt room, snow room, and hydrotherapy pool. A range of spa treatments are also available. We didn't have time to try the treatments.
The spa is designed by Rockwell Group with a first-of-its-kind design.
Guests can soak in the Vitality or Salt Floatation pool or relax in the new Performance Recovery room after working out at the gym. Purchase the Thermal Suite Pass for unlimited access to the Thermal Suite. The price of the pass varies based on the length of the voyage. Guests staying in the Balcony with Access to Thermal Spa cabins (category B9) enjoy complimentary access to the Spa Thermal Suite during regular spa hours.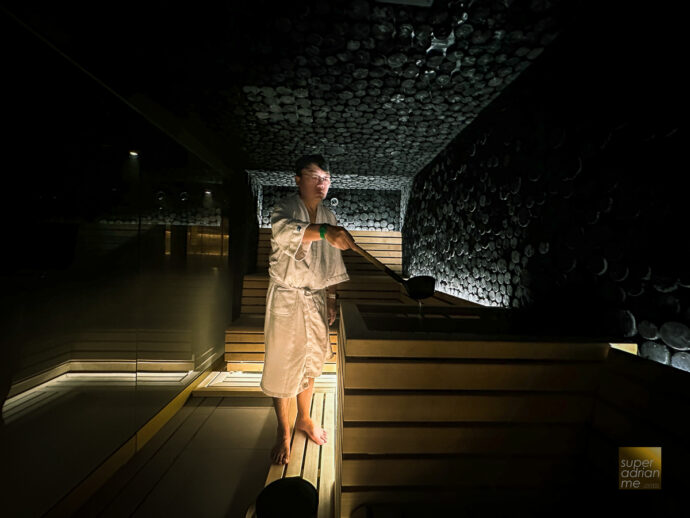 The thermal suite at the Mandara Spa is designed to offer guests a range of hot and cold experiences, including heated loungers, steam rooms, and infra-red saunas. The Norwegian Prima features the industry's first Charcoal Sauna at sea. The Charcoal Sauna is derived from Japanese and Korean wellness practices. A radiant heat system with an outer charcoal layer reaches temperatures between 30-50 degrees Celsius and helps boost circulation and metabolism while removing toxins from the body. The sauna also effectively treats muscle stiffness and tension, including relief from backache, headache, and arthritis, by promoting the deep release of connective tissue and muscles.
The salt room is a unique feature that is designed to provide guests with the therapeutic benefits of salt therapy, which can help to alleviate respiratory and skin conditions. The Ice Room is another unique feature, which is designed to provide guests with a refreshing and invigorating experience that can help to improve blood circulation, invigorate the respiratory tract and boost the immune system.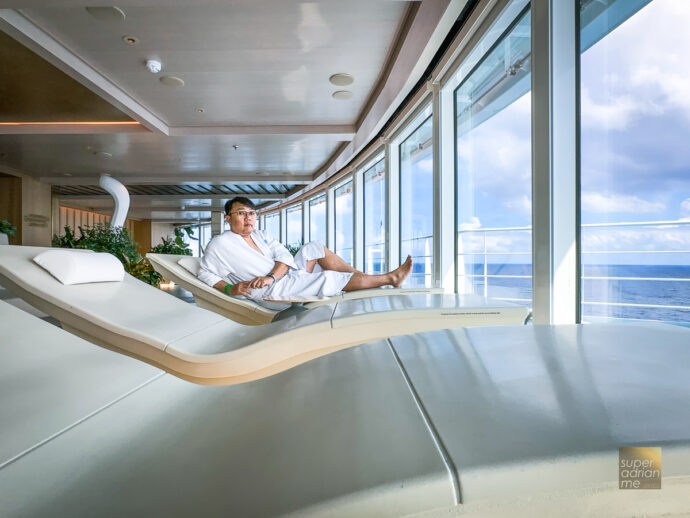 The hydrotherapy pool at the Mandara Spa is a large, heated pool that is designed to provide guests with a relaxing and therapeutic experience. The pool features a range of jets and water features that can be used for massage and relaxation.
In addition to these facilities, the Mandara Spa on the Norwegian Prima offers a wide range of treatments, including massages, facials, and body wraps. The spa features a team of experienced therapists who are trained to provide guests with a personalised and relaxing experience.
Barber, Mani and Pedi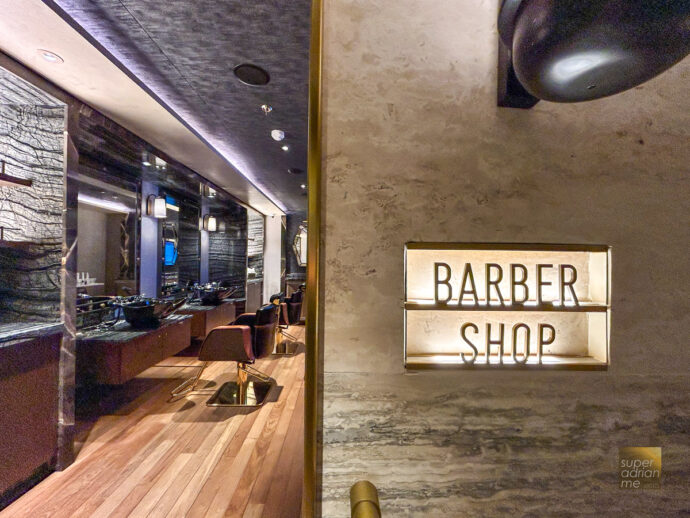 Guests onboard can get a haircut, shave at the Barber Shop, or get a manicure and pedicure. Just what you need to help you look great!
Work Out and Stay Fit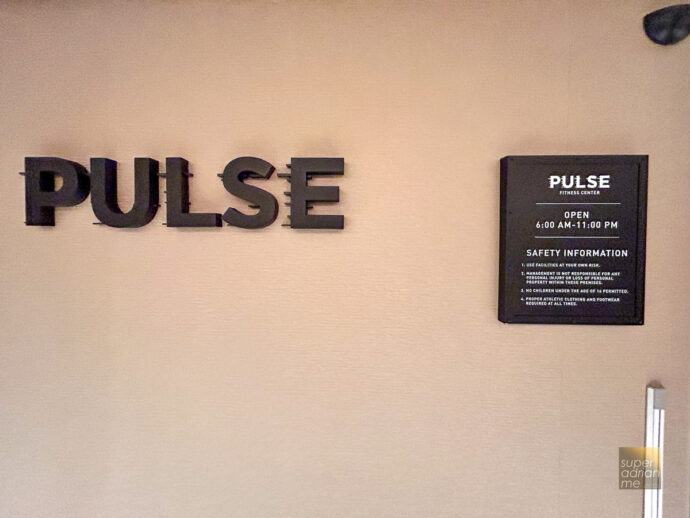 The Pulse Fitness Centre is well-equipped and huge! But it seemed to be always crowded when we visited. Enjoy the ocean views while working out. Yoga and Spin classes are also available.
Retail Therapy on the Norwegian Prima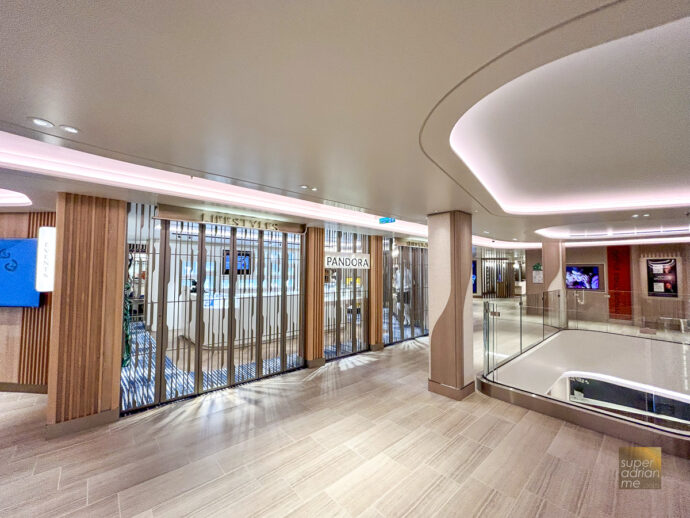 Indulge in some retail therapy while you cruise. With retail shops on decks 6, 7, and 8, you can purchase jewellery by Effy Hematian or Roberto Coin, or a pair of shades from the Zone & Eye Style with savings of up to 60%. Tech @ Sea offers the latest in modern devices and accessories. At the Photo Gallery, you can get a pair of Binoculars, camera and phone accessories and more. Take professional portraits or bring home souvenir photography, photo books, wall art or 3D photo crystals.
Norwegian Prima was named the "Best New Ship" in Travel Weekly Asia's Readers' Choice Awards 2022.
"We're thrilled the readers of Travel Weekly Asia have recognised Norwegian Prima as the "Best New Ship" of 2022. This award is a testament to Norwegian Prima's elevated design, service, activities, gourmet culinary offerings and sensational itineraries – features we know are important to modern Asian travellers."

Braydon Holland, Norwegian Cruise Line's Senior Director Asia.