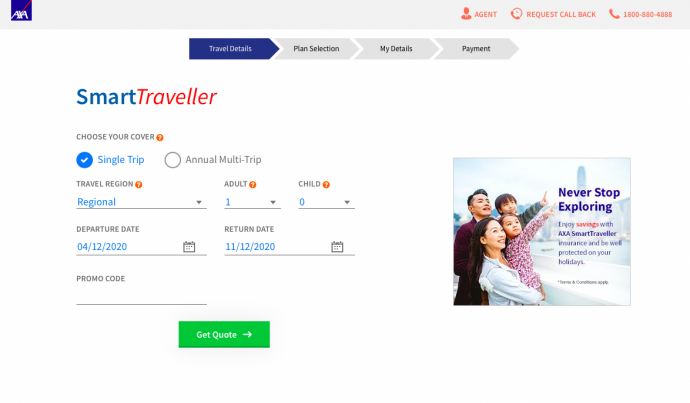 AXA Insurance's travel insurance AXA SmartTraveller has been enhanced to include COVID-19 cover starting from 1 December 2020. Both existing and new AXA SmartTraveller customers will be covered by benefits related to COVID-19 including medical expenses, hospitalisation allowance and quarantine allowance while overseas as well as emergency medical evacuation and repatriation, pre-departure trip cancellations and postponement, and trip curtailment or rearrangement losses.
This comes one week after NTUC Income added coverage for COVID-19 for overseas travel.
AXA offers two plans – The Essential and Comprehensive plans with different coverage limits for the same range of benefits.
Benefit
Essential Plan Coverage Limit
Comprehensive Plan Coverage Limit
1
Overseas Medical Expenses
Up to S$50,000 per person 
Up to S$100,000 per person 
2
Overseas Hospitalisation Allowance
S$100 per day,  up to S$1,000 
S$100 per day,  up to S$2,000 
3
Overseas Quarantine Allowance
S$50 per day, up to S$350 
S$50 per day, up to S$700 
4
Emergency Medical Evacuation and Repatriation
Full cover
Full cover
5

(a) Trip Cancellation 
(b) Trip Postponement 


(a) S$1,000 
(b) S$500 


(a) S$2,000 
(b) S$1,000 

6
Trip Curtailment or Rearrangement
S$2,000 
S$4,000 
You will be covered under these scenarios:
Fails temperature screening at departure gate at the airport and has to cancel the trip. Certified to be infected with COVID-19 subsequently.
Tests positive for COVID-19 and requires hospitalisation during the trip
Forced to be quarantined due to COVID-19 infection whilst overseas
Forced to cancel trip as the sole travelling companion tested positive for COVID-19
Has to rearrange itinerary whist overseas as there are no flights due to COVID-19
You WILL NOT be covered under this circumstance:
Cancels the trip in compliance with Singapore government advisory against travel to the specific destination
If the general entry requirement for all inbound visitors is to self-isolate/quarantine for 14 days upon arrival in the country, quarantine allowance is not covered
Cost of Polymerase Chain Reaction test (or swab test) if the result is negative
Cruise holidays
One-way trips
You can purchase AXA SmartTraveller here.