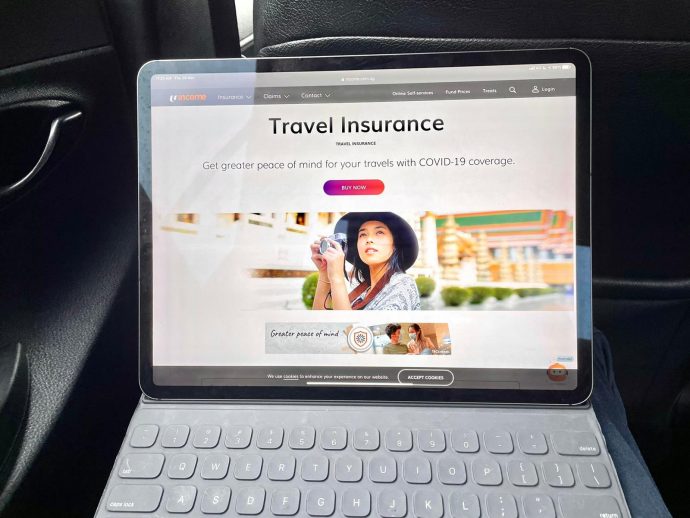 NTUC Income will now include COVID-19 coverage for medical-related expenses in its Single Trip Travel Insurance Plans while overseas. These benefits are automatically included in single trip plans purchased from 26 November 2020 and for travel dates starting from today.
This move is in response to the gradual lifting of border restrictions in Singapore and other parts of the world.
Benefits
Limit per insured person
Limit per family
(subject to limit per insured person)
Medical expenses overseas due to Covid-19
US$100,000
US$300,000
Emergency medical evacuation due to Covid-19
US$100.000
US$300,000
Sending you home due to Covid-19
US$100.000
US$300,000
This enhancement will protect travellers who purchase Income's single trip travel insurance for 90 days for COVID-19 related hospitalisation expenses of up to US$100,000 while overseas. There is also cover for costs incurred for medical evacuation or repatriation of up to US$100,000 when it is needed.
However, these COVID-19 benefits will be excluded from travel insurance for trips to countries that the World Health Organisation deems as high-risk for COVID at the point of purchase.
Policyholders with existing annual travel insurance plans from INCOME should contact Income to find out about getting covered for upcoming travel.
| | |
| --- | --- |
| If you have purchased your policy/included the COVID-19 Coverage in your policy: | The following COVID-19 high risk countries are excluded countries: |
| From 26 Nov 2020 to 25 Dec 2020 | Albania, Andorra, Argentina, Armenia, Austria, Belgium, Belize, Bosnia and Herzegovina, Bulgaria, Colombia, Costa Rica, Croatia, Curaçao, Czechia, Denmark, France, French Polynesia, Georgia, Germany, Gibraltar, Greece, Guam, Hungary, Italy, Jordan, Kosovo, Kuwait, Latvia, Lebanon, Liechtenstein, Lithuania, Luxembourg, Malta, Martinique, Mayotte, Monaco, Montenegro, Netherlands, North Macedonia, Panama, Poland, Portugal, Puerto Rico, Republic of Moldova, Romania, Russian Federation, Saint Barthélemy, Saint Martin, San Marino, Serbia, Sint Maarten, Slovakia, Slovenia, Spain, Sweden, Switzerland, The United Kingdom, Ukraine, United States of America |
Read our article about purchasing Travel Insurance that covers Covid-19 for inbound and outbound travel.