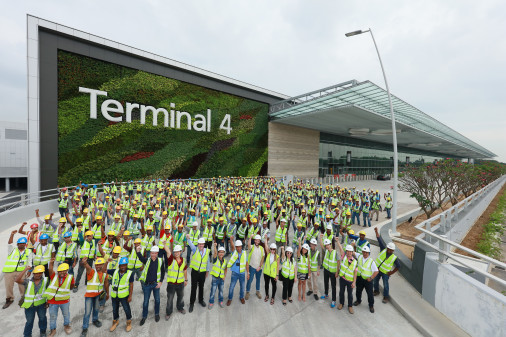 Construction for Terminal 4, the new passenger terminal building at Changi Airport has been completed today having achieved the Temporary Occupancy Permit this month. The next phase of development will be focused on interior fittings and preparation for operations. Construction work of T4 started in early 2014, comprising  the two-storey passenger terminal building, two multi-storey car parks that can accommodate 1,700 vehicles, a two-storey taxi holding area and three vehicular and pedestrian bridges spanning across Airport Boulevard to create new channels of access to T4. There is also a 68m high ramp control tower to enhance air traffic controllers' management of aircraft movements in the apron and taxiways around the terminal.
CAG has worked closely with the architects and contractors in the past three years to ensure development works were carried out according to plan. They achieved a clean safety record of 26.1 million accident-free man hours.
T4 will see a terminal-wide implementation of fast and seamless travel (FAST) initiatives. The preparatory works in the lead-up to its opening will involve installation and testing of key airport systems and processes including the new FAST self-service and automated options covering check-in, bag-drop, immigration clearance and boarding.
T4 is expected to go operational in the second half of 2017. Cathay Pacific was the first airline in 2014 to announce its move to T4 where it will open a new lounge.