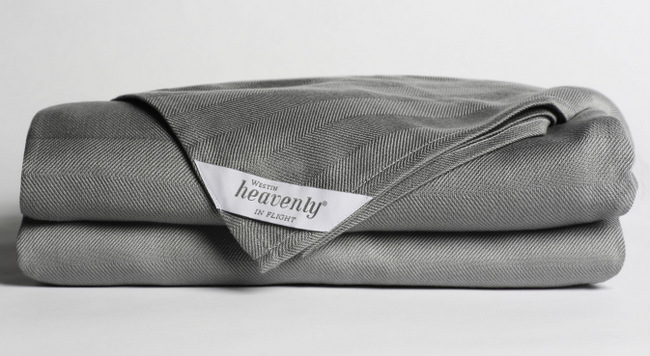 As part of the partnership with Westin Hotels & Resorts, Delta Air Lines is offering the hotel's signature Heavenly blanket to First Class customers the Westin Heavenly In-Flight blanket from mid-November 2016.
This super soft blanket in muted grey hues is inspired by design elements of the signature Westin Heavenly Bed and helps ensure that travellers rest easy in the clouds. This will complement the Westin Heavenly In Flight Bedding which have been featured in Delta One Cabins since 2013. The inflight bedding includes the iconic luxurious white comforters and hypoallergenic pillows. These Westin branded offerings as well as Delta-branded sleepwear, noise cancelling headsets and TUMI amenity kits featuring Kiehl's Since 1851 products as well as Westin's Heavenly Bath towels featured in Delta Sky Clubs are some of the amenities provided to premium customers.
In addition to First Class cabin offerings, Delta's Main Cabin blankets have also been upgraded, featuring woven fabric in a sensory blue hue. Each blanket has been designed with durable long-lasting materials.
In conjunction with these in-flight enhancements, Westin has launched a new Westin Sleep Well Package from US$189 for guests staying at its hotel properties in Canada and the U.S. in the month of November. The package offers:
A nightly credit for the Westin Sleep Well Menu, which provides a curated selection of sleep-enhancing, nutritious superfoods developed in partnership with SuperFoodsRx™ and available through in-room dining.
A US$100 credit to enjoy a relaxing spa treatment, tailored to soothe you into a good night's sleep, via Westin's In-Room Spa offering or at the hotel's spa where available.
The brand's new bedside amenity, Sleep Well Lavender Balm, infused with the essential oils of lavender and chamomile and designed to ease tension and foster sound sleep.
Late Checkout when available
Westin will also gift a custom-designed, microfibre sleep mask and the Westin Heavenly In-Flight Blanket to guests who book and experience the Westin Sleep Well Package in the month of November.
The Westin Heavenly In-Flight Blanket and a larger, retail size of the Westin Sleep Well Lavender Balm are now available for purchase at westin.com/store.