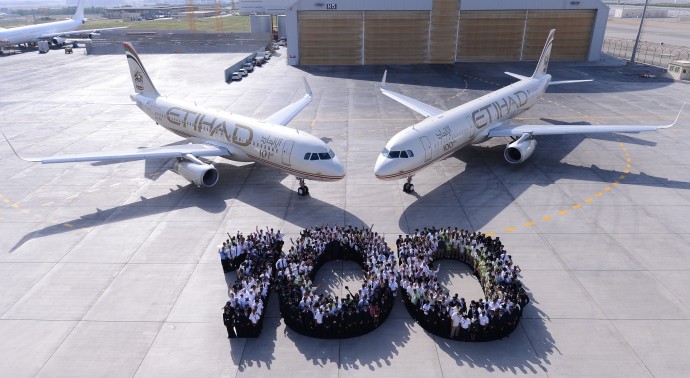 Etihad Airways was first formed in July 2003 and started flying in November the same year. In slightly over 10 years of operating, the national airline of the United Arab Emirates celebrated last week, taking delivery of its 100th and 101st aircraft on the same day.
A6-AEC, a new Airbus A321-231 arrived from the Airbus Finkenwerder facility in Hamburg and was welcomed by over 500 Etihad Airways employees at a specially organised photo shoot to mark the occasion. Joining the Airbus A321-231 was A6-EIX, an Airbus A320-200. Both aircraft are equipped with sharklets designed to enhance the payload-range performance reducing fuel-burn. Etihad Airways operates three Airbus A321 with seven more on order.
Last year in November, the airline placed its largest aircraft order at the Dubai Airshow with a value of US$67 billion for up to 199 aircraft and 294 engines.
It will take delivery of its first Boeing 787-9 in October this year and the Airbus A380 in December. These new aircrafts will feature the airline's new cabins which were unveiled on 4 May 2014.  You can check out the Airbus A380 interiors in our article here.