EVA Air opened its refurbished lounge at Bangkok Suvarnabhumi Airport on 20 April 2015. Located near concourse F at level three near Gate F1, the lounge features extravagant avant-garde decor with wall lights, a flashy welcome reception area and an almost futuristic environment. Some may find it a bit too glaring for comfort.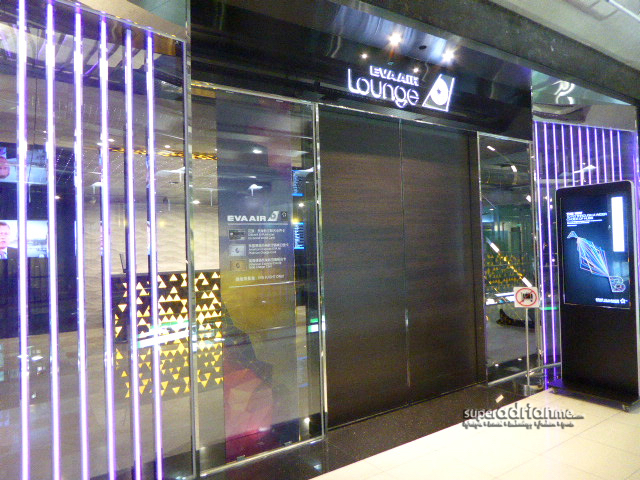 The facade of the lounge somewhat reminds me of a nightclub and is not difficult to miss. This is one of the six Star Alliance lounges that Star Alliance Gold members can visit at Bangkok Suvarnabhumi Airport.
There is also a Singapore Airlines SilverKris Lounge at Concourse A (Updated 17 August 2018: moved to Gate G7), Thai Airways Royal Orchid Lounge at Concourse E (right side) near gate E1, Royal Silk Lounge at Concourse C (right side) near gate C1, Royal Silk Lounge at Concourse E near gate E1 (left side) and the Royal Silk Lounge at Concourse C (left side) near gate C1. All these Star Alliance lounges with the exception of the Singapore Airlines SilverKris lounge have shower facilities.
EVA Air operates daily flights out of Bangkok Suvarnabhumi Airport to Taipei between 12 pm and 12.40 pm and 5.10 pm and flights at 3.50pm except for Tuesdays and Thursdays.
[Updated 18 August 2018]
EVA Air operates daily flights between London Heathrow and Taipei via Bangkok Suvarnabhumi Airport. BR068 departs London at 9.35 pm and arrives in Bangkok at 3.05 pm while BR067 departs Bangkok at 12.50 pm and arrives in London at 7.25 pm. EVA Air and Uni Air operate many nonstop flights between Bangkok and Taipei each week. The lounge operates daily from 6 in the morning until the last flight of the night departs for Taipei slightly before 2 am.
Sit and Relax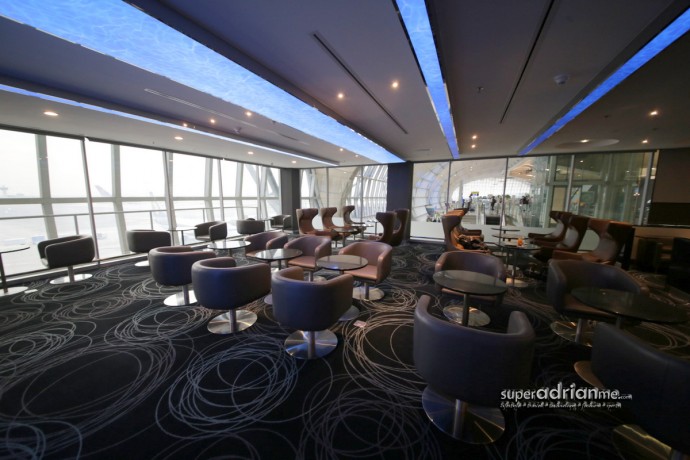 There are a few seating areas within the lounge to choose from. Depending on the time you visit, the lounge may not be so crowded.
When you enter the lounge there are some individual seats as well as a high stool long table where you can dine since it is located just next to the food and drink area of the lounge.
Step in a little further and you get to the second section of the lounge which offers a less cluttered area where you can choose to sit by the windows for a view of the aircraft parked outside.
The magazines and newspaper shelf separates this area from the first section. A selection of international, Thai and Taiwanese magazines and newspapers are offered. There are two power points (two flat or round pin sockets) below each table, but bring along an international adaptor.
Walk all the way in and you come into another section that has yet another different look and feel. On the right side, the furnishings and lighting are a little more understated. On the left side, a smaller area with spacious seats is available.
Freshen Up at EVA Air Bangkok Lounge
There are two shower suites in the lounge. I was impressed at how spacious shower suite one is. The toilet also comes with an in-seat bidet which is common in Taiwan.
A sealed fresh bath and face towel are provided. The body wash and shampoo were basic and not branded. But the other items provided such as comb, cotton swabs, toothbrush and toothpaste are similar to what you would get in a hotel. A hairdryer is also available.
The shower comprises a rain shower, and three lower water jets as well as a handheld showerhead. You will enjoy a hot high pressured shower and even a back massage as you shower from the high-pressure water jets.
Shower Amenities [Updated 18 August 2018]
Almost three years later, today I returned to the EVA Air lounge because I had over three hours in the airport to spare before flying back to Singapore on the Thai Airways flight at 7.40 pm. The lounge was still opened and it was very empty with no more than six people in the lounge. I like the peace and quiet of this lounge. The other Star Alliance lounges at Suvarnabhumi Airport tend to be overcrowded, noisier and also a lot of movement.
I took a shower after getting a bite and was glad to see that the toiletries had been changed to L'occitane.
I used Shower Suite two this time around and it was as spacious as the first shower suite I used almost three years ago. The water pressure of the showers were strong.
Eat and Drink
The dining area has a wide selection of Asian and Western food from salads to dim sums and other hot dishes. You have a choice of two soups of which one would be a Thai soup. Be sure to try the Char Siew Bao (barbecued pork bun). The food catered in the Star Alliance lounges at Bangkok Suvarnabhumi airport are usually of good quality.
I particularly enjoy the selection of Thai dishes as well as some Chinese dishes in the lounge. Pick a seat by the window and enjoy the views of aircraft parked at the gates.
The fresh coconut is refreshingly delicious. Make sure you try one of these when you visit the lounge. Soft drinks hot tea and coffee as well as alcoholic beverages are available.
Other facilities in the lounge include two relaxation rooms with a massage chair, a workstation area with three desktops that are connected to one printer and free Wi-Fi throughout the lounge. The EVA Air lounge in Bangkok is managed by Louis Tavern which also runs many of the other lounges at Suvarnabhumi Airport.
Verdict
I would come to the lounge again. That is if my flight is departing from the same area as the lounge. Otherwise, a walk from one end of the airport to the other end is almost one kilometre away. That was what a guard told me when I asked for directions to walk back to Concourse C from the lounge to catch my flight back to Singapore on Thai Airways.
The lounge is new, comfortable and relatively quiet. However, do take note of the flight times EVA Air departs from Bangkok to Taipei to avoid crowds.