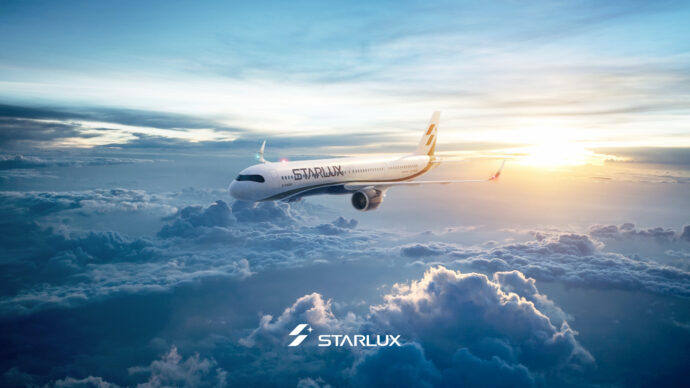 STARLUX Airlines has announced on its Facebook Page today that it will be launching flights between Singapore and Taipei on 23 September 2021. It joins two other Taiwanese airlines – EVA Air and China Airlines to offer flights between the two cities. The independent full-service airline is not part of any airline alliance and operates the single-aisle A321 neo with Economy and Business Class seats.
The airline will operate twice-weekly flights departing Tapei at 9.20 am on Tuesdays, Thursdays arriving in Singapore Changi Airport Terminal 1 at 1.45 pm on JX 731. The return flight JX732 departs Singapore at 3.05 pm and arrives in Taipei at 8.05 pm.
From October, an additional flight will be added on Saturdays.

The aircraft has 8 Business Class seats and 180 Economy Class Seats. Business Class customers enjoy flatbed seats with over 82 inches of legroom and a 15.6-inch screen. In Economy class, customers get 31 inches of legroom and a 10.1-inch screen. From 31 December 2021, all passengers get to enjoy complimentary in-flight WiFi when STARLUX re-introduces this on their fleet.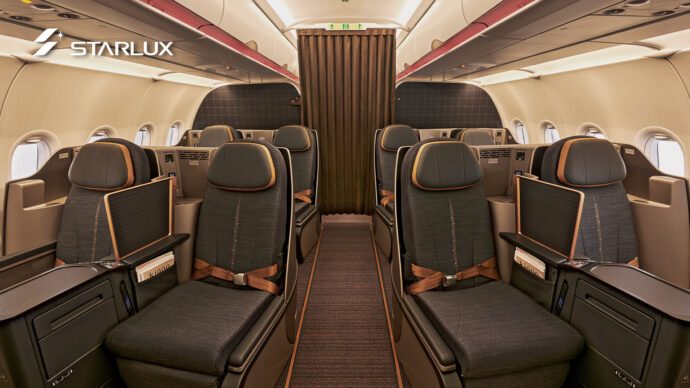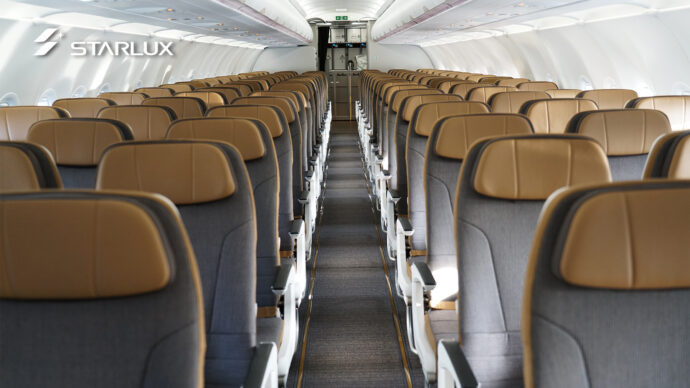 The Cabin is designed by the Designworks team of BMW with a "Cozy like Home" theme and "pure tea" as the key colour concept.
On flights departing from Taipei, Business Class meals are specially prepared by Michelin Taiwanese restaurant — "Longtail," while Economy Class features a menu created by the renowned Japanese-style grilled meat restaurant "Hutong" in Taiwan. STARLUX prides itself with our painstaking detail towards hospitality and services on all STARLUX flights. Despite the airline industry facing current challenges, most of the airline's services remain available during this difficult time.
Business Class customers, as well as COSMILE (the airline's frequent flyer programme) Explorer and Insighter members get access to the Galactic Lounge in Taipei airport. In Singapore, they have access to the SATS Premier Lounge.
We checked out airfares online and this was what we found.
There are four Economy fare options. One way Economy Class fares start from S$283.30 and S$255.40 from Singapore and Taipei respectively.
There are three Business Class fare options. One way Business Class fares start from S$1263.30 from Singapore and S$1.235.40 from Taipei.
Singapore is the centre of economic and cultural events and also an important transportation hub in Asia. STARLUX chose to open the route based on the current level of cargo flight demand and hopes to provide travel services for business and leisure travellers between Singapore and Taiwan. 
STARLUX Airlines was founded on 2 May 2018 by Chang Kuo-Wei, a former EVA Airways Chairman. The airline operated its first flight from Taipei to Macau on 23 January 2020. The airline operates five Airbus A321neo aircraft with 188 seats. It intends to grow its fleet to 13 A321neos, eight A330-900s, ten A350, 900s and eight A350-1000s. It operates flights between Taoyuan and Macau, Penang, Bangkok, Osaka, Tokyo, Kuala Lumpur and Ho Chi Minh City. The last new route launched was between Taoyuan and Manila on 8 July 2021.