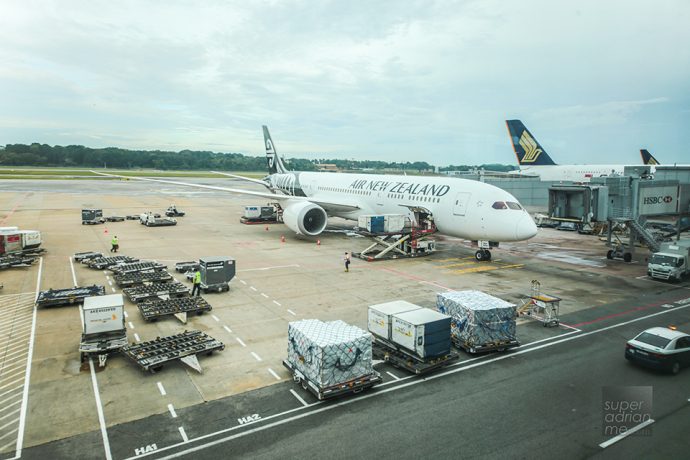 I flew on Air New Zealand last year during a media familiarisation trip with the airline. How time really passes so quickly. Air New Zealand launched its service in alliance with Singapore in May 2015. Some 55,000 customers fly to New Zealand from Singapore every year, where some 12,000 Singaporean travellers head to New Zealand in December alone.
Taking off in its Boeing 787-9 Dreamliner from Changi Airport to Auckland has impressed me with the inflight service and passenger experience. It was also on this trip that I flew on a number of sectors within New Zealand and got to experience flying on different types of the airline's aircraft as well as to experience its lounge service at those airports.
The trip brought me from Singapore to Auckland to Napier to Wellington to Auckland and back to Singapore in that order. Lucky for me, we flew in premium economy cabin for the almost 10-hour long haul sectors between Singapore and Auckland. That allowed me to sleep in comfort as well as enjoy the inflight meal. Flying on a Dreamliner also meant that it was less noisy onboard, relaxing LED mood lighting simulates day or night and a reduction in cabin pressure over similar aircraft.
Skytrax may have rated this Star Alliance airline only four stars for its good product standard across different travel classes, and good standards of staff service for both cabin service and their home-base Airport environments, I would personally rate the airline as five star based on my first experience with the airline.
The airline was also awarded the International Airline of the Year and Domestic Airline of the Year at the fifth annual Roy Morgan Customer Satisfaction Awards. In October this year it was awarded Australiasia's Leading Airline for the eighth year in a row at the World Travel Awards as well as Best Inflight Entertainment Innovation and Best Personalisation Innovation at the Air Passenger Experience Awards in October. AirlineRatings.com has also awarded Air New Zealand Airline of the Year for the fourth year running and Best Premium Economy Class for the third year running. just last month the airline was awarded the Best Innovation of the Year for its Airband at the 2016 CAPA Asia Pacific Aviation Awards.
Flying Business Class on Air New Zealand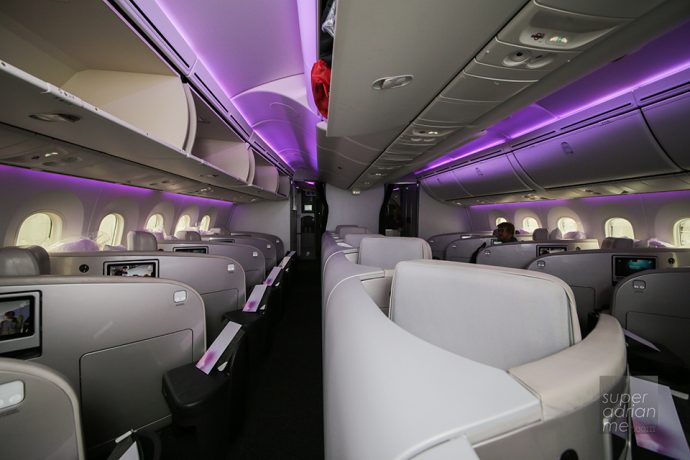 Air New Zealand's business class cabin on board its B787-9 Dreamliner offers a diagonal facing 1-1-1 herringbone seating configuration instead of the conventional forward-facing seats. But having a 1-1-1 seat configuration means more aisle space for guests in this cabin offering a more comfortable space. The seats transform into a flatbed so you have the option of sleeping reclined or flat.
Mood lighting onboard Air New Zealand is a very comfortable purple across all its classes of travel. It relaxes you.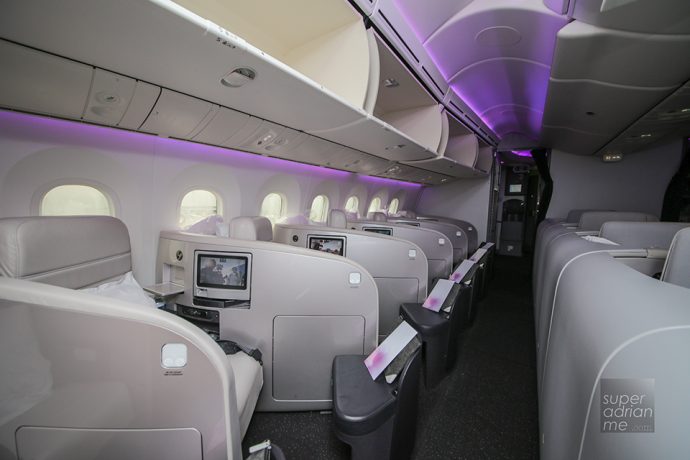 When you first board the aircraft, the inflight menu and folder style amenity kit is placed on the foot rest of every seat. These seats offer you the privacy from other guests seating in front and beside you. It may take a while to get used to this seating arrangement. I can imagine every time the cabin crew walks down the aisle, he or she would be able to look you directly in the air which may be somewhat awkward. The only way to overcome that is to engross yourself with the inflight entertainment or just sleep.
Features in Business Premier include memory foam mattress, two full-size pillows and a cosy duvet so you sleep better. The seats are 22″ wide. When it is in bed mode, the width is 33″ at the shoulder and 79″ long.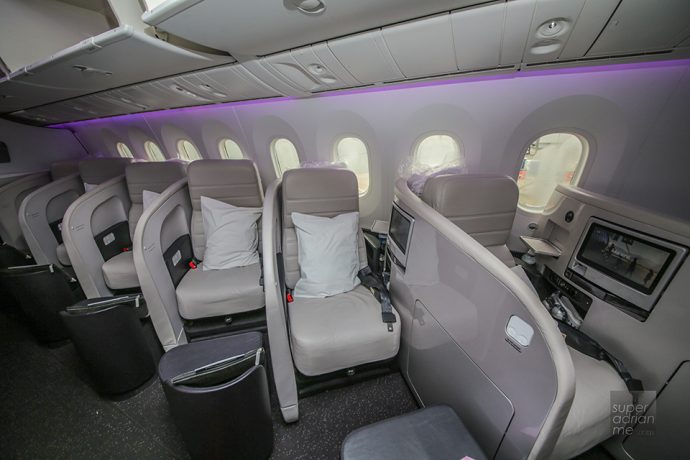 Taking the window seats may not give you the window view that you are used to in other airline's business class cabins. These windows end up behind you instead of beside you.
Flying Premium Economy in Air New Zealand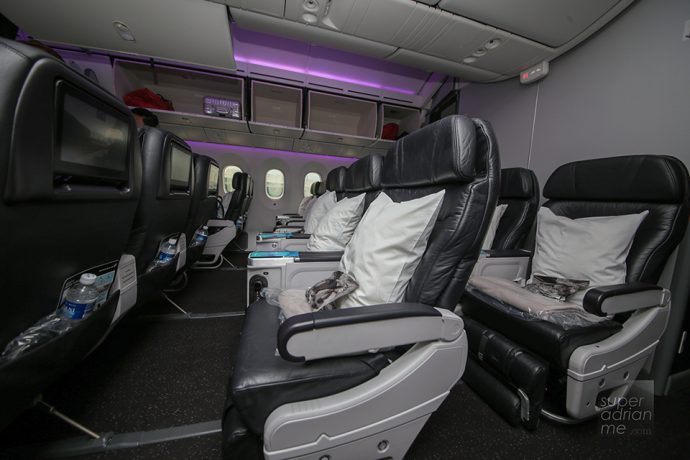 Premium Economy seats in Air New Zealand's B787-9 Dreamliners are in a 2-3-2 configuration. The luxury leather seats are wider with more comfortable leg room and seat recline in this cabin. The leg rest and extendable foot rests make it more comfortable for guests. Seats have 41″ pitch, 9″ recline and 19.3″ width with a 5″ wide arm rest.
The airline has won the World's Best Premium Economy Class for the fifth time in Skytrax's awards history. This year it also secured the award for the Best Premium Economy Seat.
I learnt from flying with Air New Zealand that there are two types of Premium Economy cabin offerings by airlines. Some airlines' Premium Economy Cabin is an upgrade from Economy Class whilst others offer a Business Class downgrade. So you may ask what is the difference between the two. Let me attempt to explain the difference here.
An upgraded Economy Class Premium Economy Cabin means that besides getting the bigger more comfortable seats with more leg room, amenities (probably a better amenity kit than Economy Class) and meal service are upgraded from what is offered in Economy Class. Some airlines even offer more check in baggage allowance for Premium Economy Class guests. This kind of Premium Economy cabin is found in Singapore Airlines, Cathay Pacific or Lufthansa.
A downgraded Business Class type of Premium Economy is what Air New Zealand offers. What makes it stand out from the other airlines is the food and wine offering on Premium Economy is similar to that of Business Class. If food and wine is important to you, then you may want to consider flying Air New Zealand's Premium Economy over Singapore Airlines' when flying the Singapore – Auckland route.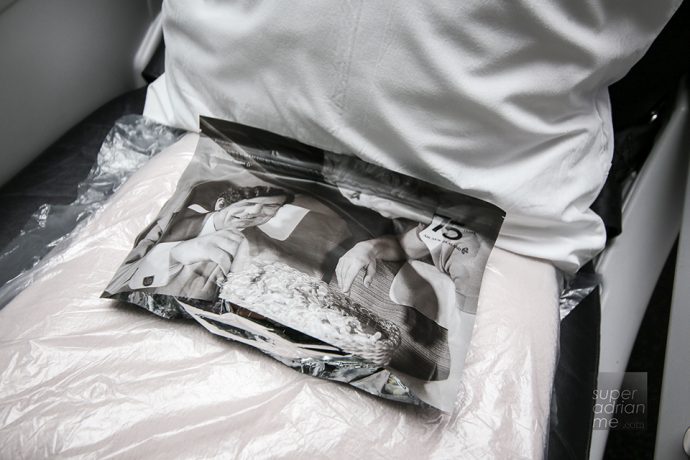 Last year Air New Zealand celebrated 75 years of service. A special edition amenity kit was distributed onboard together with a pillow and sealed blanket. Read our article about the 75th anniversary exhibition at Auckland Museum.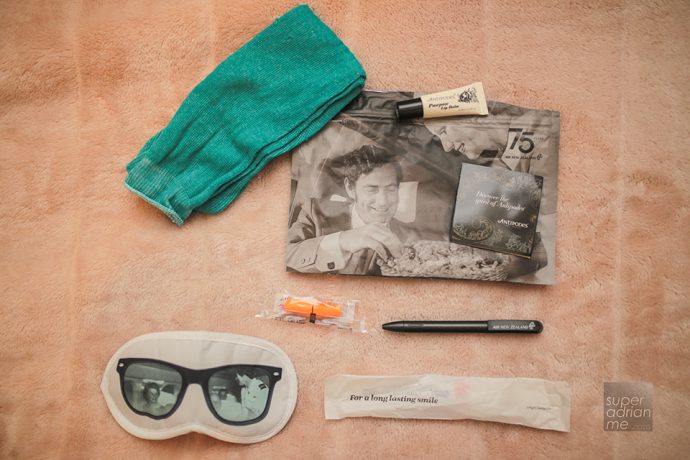 The amenity kit contained an eye mask to block away the light so you can sleep without being bordered by the lights. Other contents include a toothbrush kit, a pen, ear plugs, socks and a New Zealand made Antipodes skincare pawpaw and avocado lip balm. Useful stuff you can use on board. Amenity kits are only available when travelling long haul, Perth and Hawaii.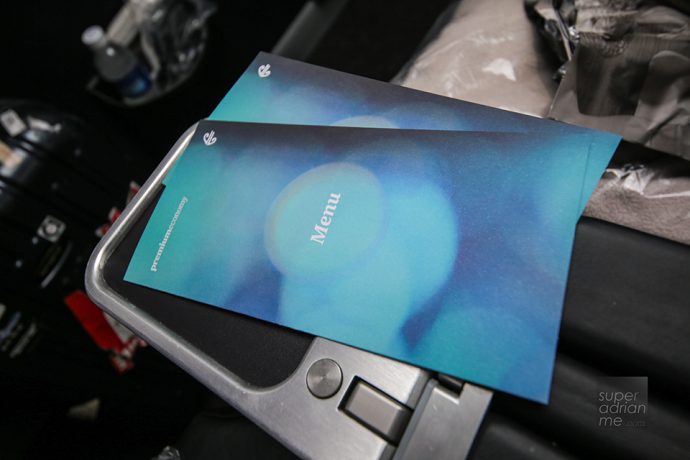 Inflight dining options are available on board. A selection of three mains are offered for each meal service, of which one Asian meal is available for flights from Singapore. The airline works with award winning chef Peter Gordon for over 20 years to prepare these dishes. Mid this year, Michael Meredith joined Air New Zealand as its latest consultant chef to design dishes for the airline's Business Premier menus.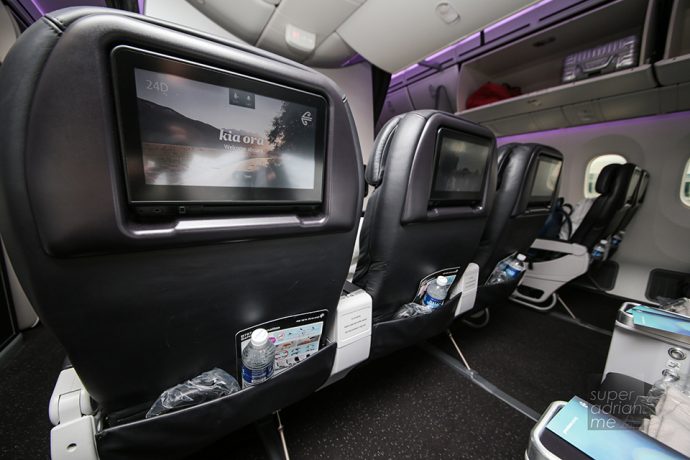 In flight entertainment onboard keeps you glued to the screens. You can even watch the same programme with your fellow traveller on your individual in flight entertainment screens and through your own head set. Did I also mention that you can order service from your in flight entertainment screen. This means you don't have to get the attention of the flight attendant to order your drink and wait for the attendant to return to the galley to get you one.
The airline's new three new Dreamliners delivered from October this year have increased the number of Business Premier seats from 18 to 27 and Premium Economy seats from 21 to 33. In an announcement made by the airline in August this year, it will spend over NZ$100 million to increase the number of premium seats on its Boeing 787-9 Dreamliners and refurbish its Boeing 777-300 fleet. All seven of its Boeing 777-300s will be progressively refurbished from February next year, with the installation of the Panasonic eX3 in-flight entertainment system available on the Dreamliner fleet as well as refreshed seating options.
No wonder the airline has won so many awards for its Premium Economy product.
Flying Economy In Air New Zealand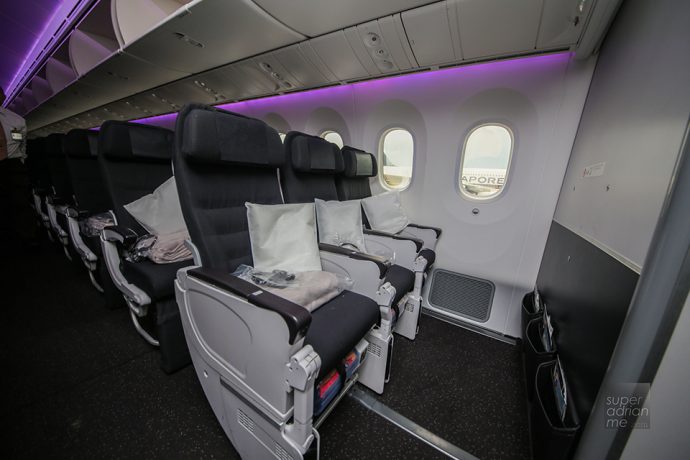 In Economy Class, the seats are in a 3-3-3 configuration. Seats are equipped with an electrical plug for you to charge your smartphone, tablet or laptop. In economy, you have the option of purchasing the Skycouch, a row of three Economy seats to relax and stretch out. Just like the name suggests, you have the option of having your own couch on the plane. The foot rest under each of the seats can also be used to create a flat flexible space for you to use however you like.
Other Aircraft in Air New Zealand's Fleet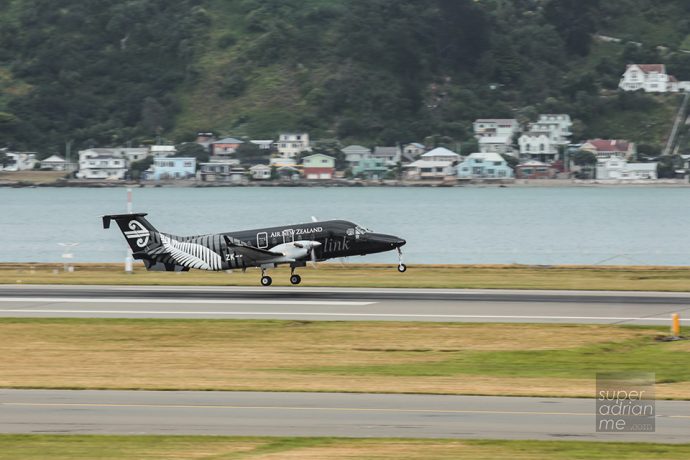 I always enjoy plane spotting at airports and it is a visual delight at the airports within New Zealand. There are lots of Air New Zealand aircraft here, being the country's national airline. The fleet comprises B777 (300 and 200 ERs), B787-9, B767-300ER, A320, A320/A321 NEO, ATR72 (500 & 600), Bombardier A300 while Air New Zealand Link has ATR42 and 72s and Dash 8s.
Getting to the airport early may not be a bad idea after all. Bring along your camera and 24 – 105mm lens and snap away.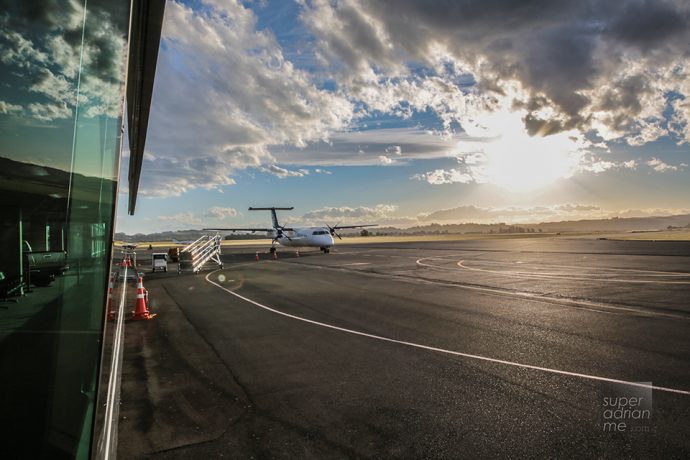 Landing in Napier at the right time in the morning of evening offers a splendid and dramatic view of the tarmac especially when you disembark from the aircraft to the terminal to collect your baggage. You can get close to the aircraft, and no one seems to stop you from snapping away.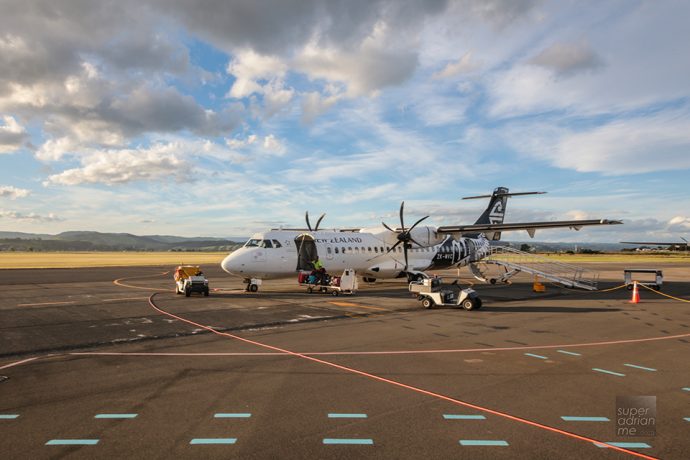 Checking In To Your Air New Zealand Flight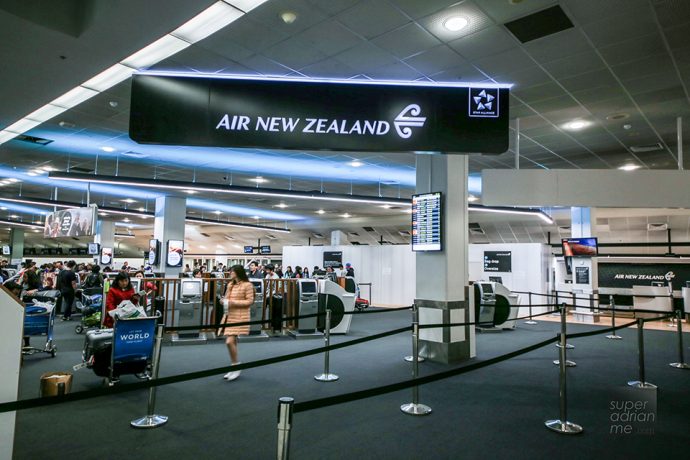 Self-service check-in counters are available at most airports in New Zealand. Print your own boarding passes and luggage tags and then drop them off at baggage drop-off counters. It reduces the time from waiting in queues so that you can enjoy your time better doing the things you like such as shopping or heading straight to the airline lounge if you have access.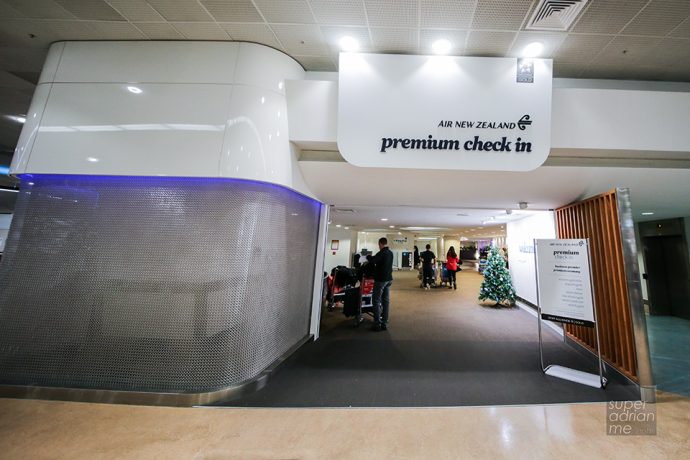 At Auckland International Airport, we could check in at the Premium Check-In area which were available exclusively to Business Premier, Premium Economy, Airpoints Gold Elite, Airpoints Gold, Koru, Works Deluxe, Star Alliance Gold, Velocity Platinum and Velocity Gold customers.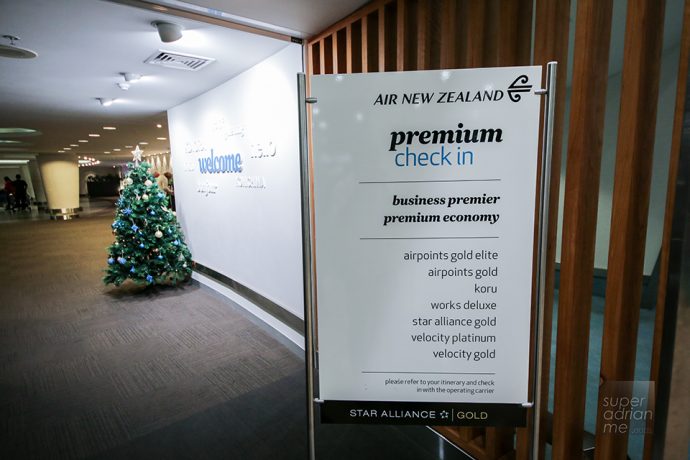 You skip the bulk of economy class passengers and can head straight to clear airport security and immigration after you have checked in at the Premium Check In area.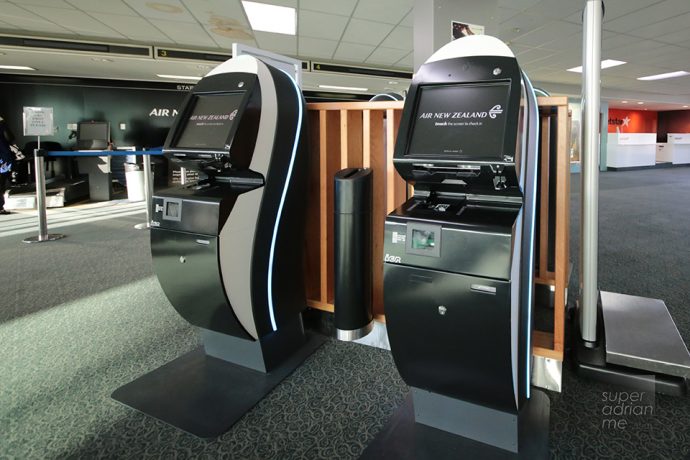 Air New Zealand's domestic airports also offer self-service check-in kiosks. I spotted these kiosks on arrival while waiting for my baggage.
Air New Zealand Koru Lounges
Auckland International Lounge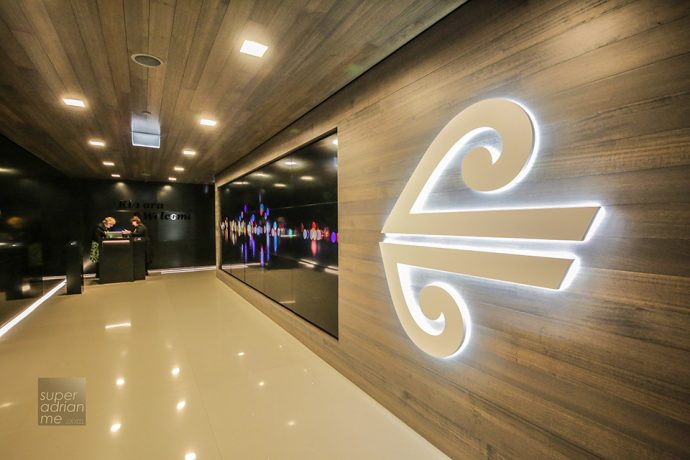 Air New Zealand branded airport lounges are available to Airpoints Elite, Gold, Elite Partner or Koru members. You an use the lounges for up to four hours before your flight departs. The Air New Zealand Lounge in Auckland International Airport recently went through a refurbishment last year. The spacious lounge offers a suite of services before your flight including a wide selection of cold and hot meals, shower suites to freshen up before your flight as well as many different seating zones to suit your mood.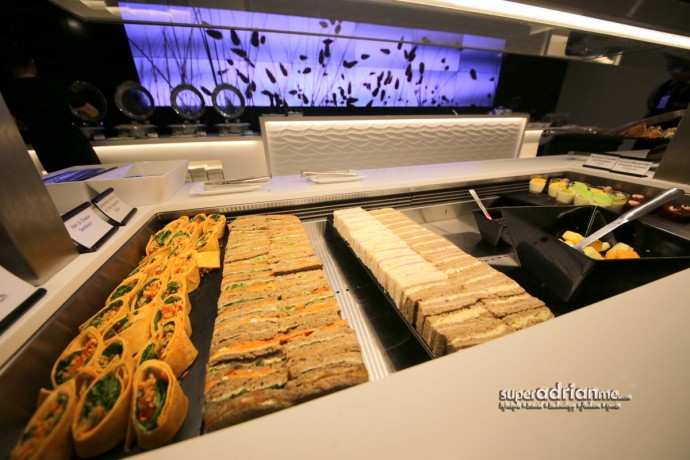 You won't go hungry at the lounge with the selection of food and drink options. The coffee served in Air New Zealand's airport lounges are freshly prepared by a barista.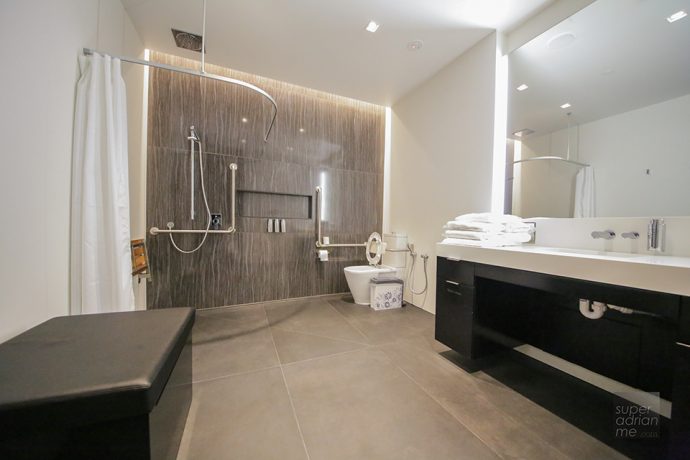 The shower suites at the lounge in Auckland Airport are spacious, you can also bring along your carry-on baggage with you. These shower suites are also equipped with a WC and offer Antipode shower amenities. The generous size of the shower suites is similar to those I have come across in Cathay Pacific's lounges in Hong Kong, ANA lounges in Haneda and Narita, Tokyo as well as Qantas lounges in Sydney and Singapore.
Wellington Domestic Lounge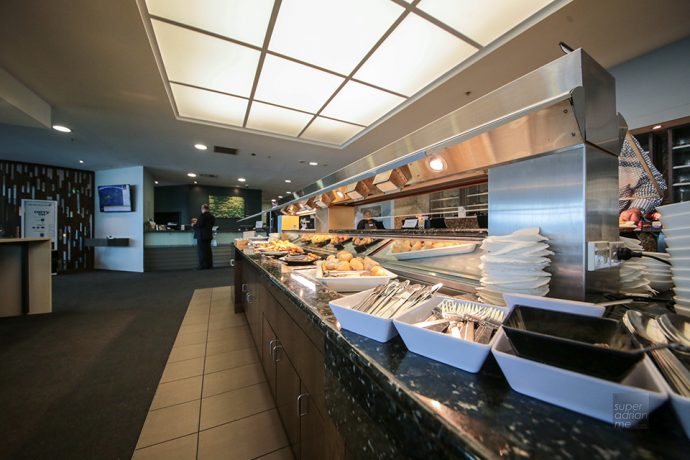 The lounge at Wellington Airport is smaller than its Auckland Airport lounge. But it offers the same wide selection of food and beverage options. There is ample seating in the lounge and the view of the tarmac is perfect for plane spotting and admiring the scenery.
Fresh Coffee Prepared By A Barrister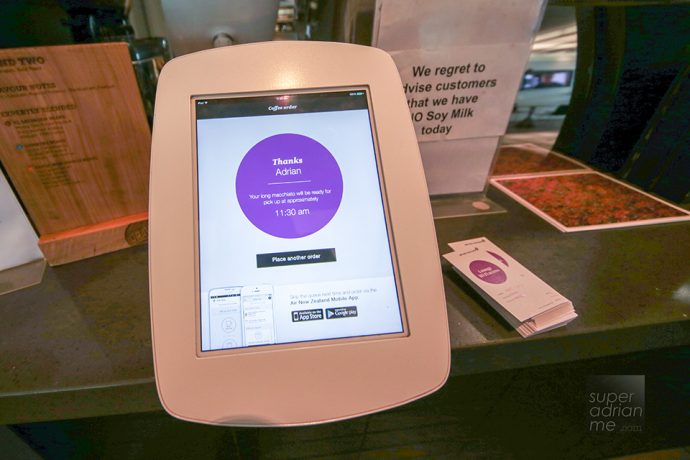 There must be a strong coffee culture in New Zealand. Air New Zealand takes their coffee seriously offering its customers the choice of ordering their coffee from the tablet at the coffee station at its lounges or through the Air New Zealand mobile app for loyal Airpoints members. Ordering coffee from the app before reaching the lounge means that it can be prepared and ready by the time you get there.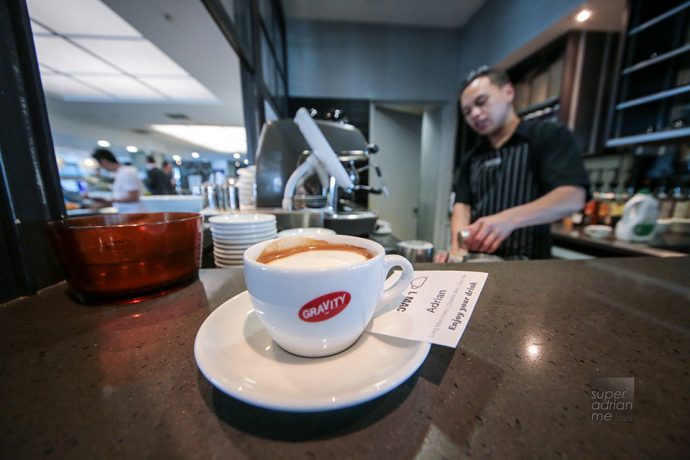 Coffee here is made to order where you can select the number of shots, size of coffee and whether type of milk to accompany your coffee. When your coffee is ready, it is placed at the counter with your name printed on a slip that accompanies your coffee.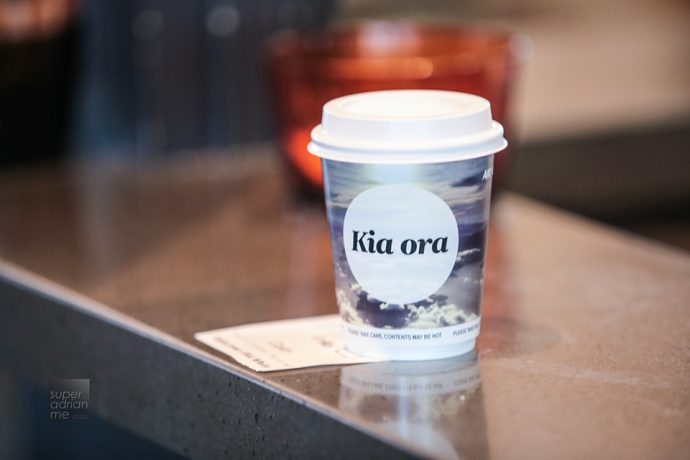 And if you prefer to carry your coffee along when you leave the lounge to proceed to your flight, that is available in a take away cup.