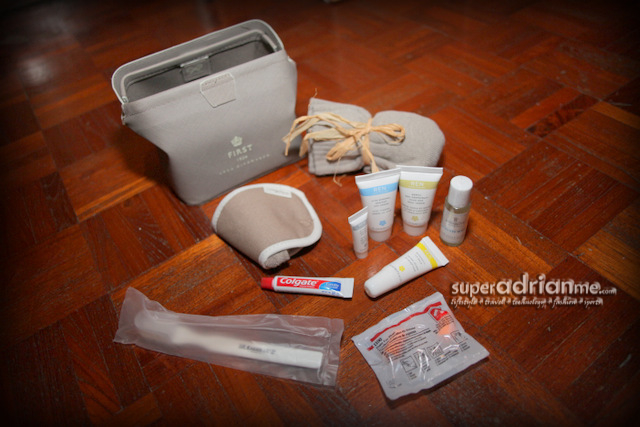 Airlines have been pampering their customers who are flying long distances who want to be pampered some 30,000 feet above ground.  From specially prepared meals by Michelin star chefs to luxurious amenities on board, we take a look at amenity kits offered on some of the world's best airlines.  In a first of a series of articles to be featured on SUPERADRIANME.com, we check out the amenity kits for British Airways FIRST customers.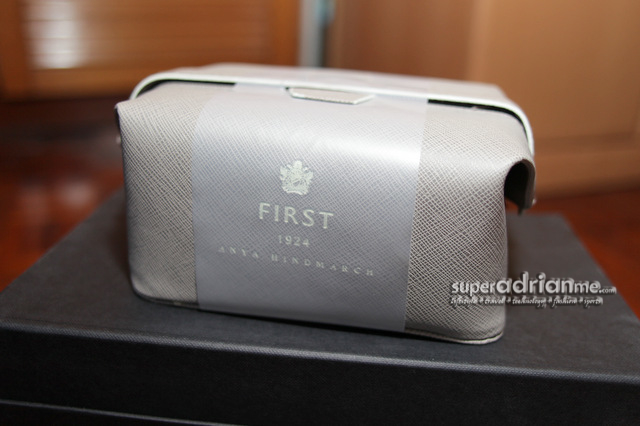 British Airways offers an elegantly designed grey-coloured hard-cover amenity bag from British handbag designer Anya Hindmarch in FIRST.  Anya Hindmarch has been creating exclusive design washbags for FIRST for more than a decade.  Today the Anya Hindmarch washbag combines classic elegance with clean modern lines and detailing such as embossing and painted edging.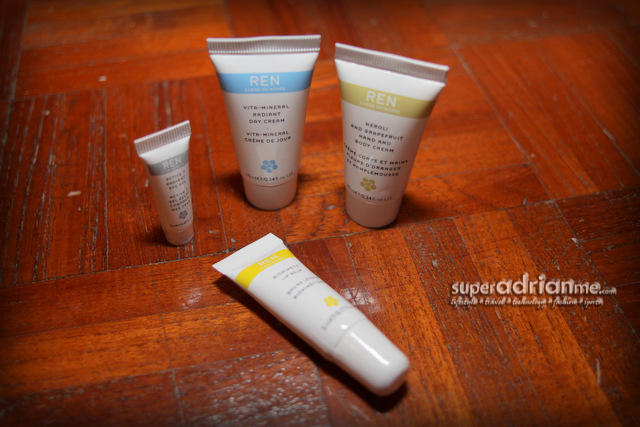 REN Skin Care products are packed into the washbag.  Launched in 2000, the cult favourite skin care brand REN skin care product does not contain skin-unfriendly ingredients.   REN is free from synthetic fragrance, mineral oil, petrolatum, sulfate detergents, synthetic colours, animal ingredients and parabens. In addition, REN products do not contain potential irritants including: glycols and diglycols (such as propylene glycol), PEG's, PPGs, urea, D.E.A, T.E.A, PABA and other synthetic sunscreens, aliphatic alcohols/hydrocarbons, phthalates, fumarates, amines, alkanolamines, synthetic AHAs/BHAs, polyacrylamide, metacrylate, elastomer, poloxamer, styrene, vinyl, polyquaternium, synthetic chelating agents, nylon, nitriles, nitrates, nitrosamine releasers, bromates, fluor, aluminum and alumina et al.
With a philosophy of clean skin care, REN's products can be summed up in three words: Performance, Purity and Pleasure.
D.R. Harris mouth wash and Colgate toothpaste are also included in the washbag so you can brush and rinse after meals or just before you arrive at your destination.
What's Inside the British Airways First Amenity Kit
A pair of high quality socks and a pair of soft and comfortable terry cloth eye shades that can be adjusted comfortably via velcro are also provided.  And if you would like to keep the noise out while you rest, you can use the pair of 3M ear plugs.
REN Vita-Mineral Radient Day Cream (10ml): Keeps your skin hydrated. Contains zinc, copper, magnesium trace elements and Vitamins A, F and P from rose petals.
REN Neroli and Grapefruit Hand and Body Cream (10ml): Contains Polyphenols from Grapeseed Oil and delicately scented with essential oils from Neroli and Grapefruit.
REN Biomimetic Lip Balm (10ml): Formulated with a highly nourishing blend of bio actives.
REN Active 7 Radiant Eye Gel (2ml): Bio actives from Fig cool, refreshed and reduce puffness. Rumex addresses the dark circles and the natural hyaluronic acid locks in the moisture throughout your flight.
Colgate Anticavity Toothpaste / D.R. Harris Natural Spearmint Toothpaste (10g)
D.R. Harris Mouthwash (15ml)
British Airways does not have different amenity kits for men and women.
Check out our other reviews of amenity kits from:
Delta Airlines |  Emirates | Etihad Airways | Lufthansa | Qantas