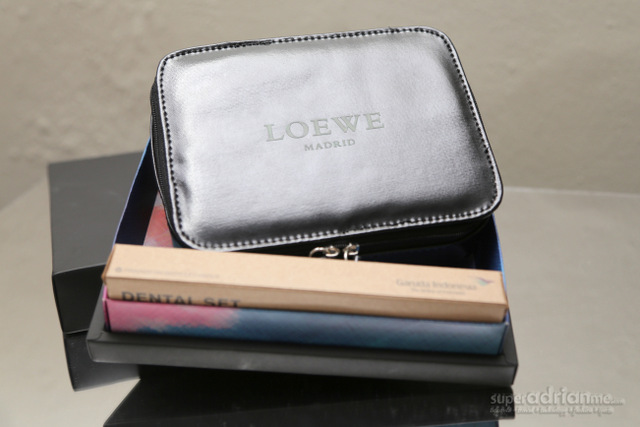 Garuda Indonesia relaunched its First Class service some 18 years later in July this year when it took delivery of its new Boeing 777-300 aircraft for flights to Jeddah. First Class service is offered on routes between Jakarta and Jeddah, Tokyo or Seoul.
Garuda Indonesia's First Class service offers a dedicated call centre officer to attend to your travel arrangements, a limousine service to chauffeur you from your doorstep in Jakarta to an exclusive reception at the airport and a First Class Assistant and Butler who would help you with your check-in and immigration and attend to you when you are at the First Class Lounge till you reach your aircraft.
On board, you can enjoy your own private suite with a spacious seat with 82″ pitch and 22″ width. The comfortable flat bed seat comes with a mattress, duvet and a comfortable pillow so that you get a good rest. Complimentary internet access on board lets you surf the web, chat and email at 40,000 feet. You can also catch up on your favourite television programmes or other on-demand entertainment on the 23.5″ touch-screen LCD.
A private chef, handpicked from world-renowned restaurants, is on board to prepare your meal.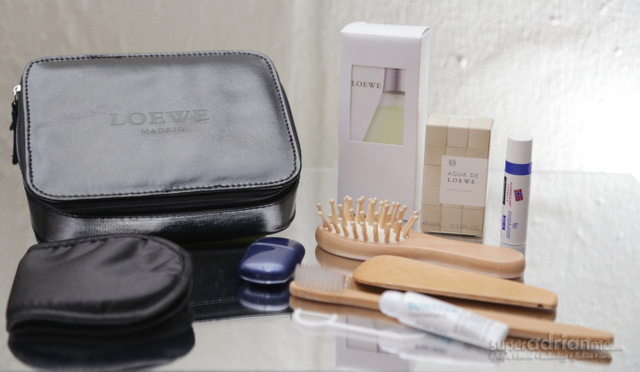 An elegantly boxed LOEWE branded amenity kit is placed within each First Class suite on board. Packed separately in an elegant black box is the LOEWE amenity kit as well as a dental set which includes two dental floss/tooth picks, 10g Sunstar toothpaste and a wooden toothbrush created based on Garuda Indonesia Green Efforts Programme.
The accompanying LOEWE products within the amenity kit include a 10ml unisex bottle of Agua de Loewe eau de toilette that has a fresh bergamot exit note and the exoticism of yuzu, as well as a generous 40ml tube of non-oily body balm and a 2ml revitalising eye contour.
The Spanish purveyor of luxury leather goods offers a very balanced range of fragrances, maintaining its own personal style based on its nearness to the Spanish soul, characterised by elegance without ostentation, quality and nobility of prime materials, refinement and simplicity of its lines. LOEWE perfumes are available in 1,500 points of sale in over 50 countries, to date.
Slippers and loungewear are also provided separately on board. Other amenities provided on board include stationery, complimentary magazines, newspapers and Agua de Loewe toiletries in the First Class toilets.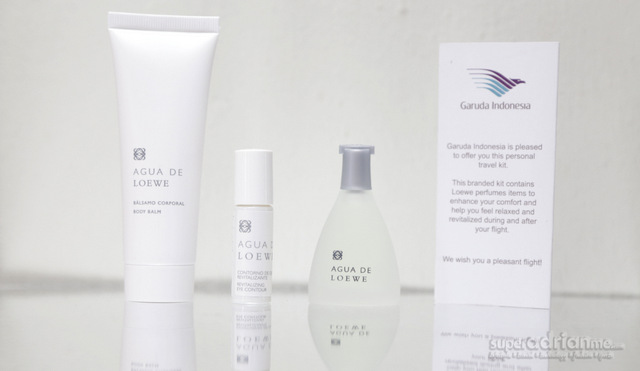 Contents of Garuda Indonesia First Class Amenity Kits
The full amenity pack contains the following:
Dental Set:
Wooden toothbrush
2 x toothpick/dental floss
10g Sunstar toothpaste
Inside the LOEWE amenity bag:
Wooden shoehorn
Wooden hair brush
3M 1100 foam ear plugs in a dark blue container
Eyeshade with elastic band
1 x 4g Neutrogena Norwegian formula lip moisturiser with SPF 15
10ml Agua de Loewe eau de toilette
40ml Agua de Loewe body balm
2ml Agua de Loewe revitalising eye contour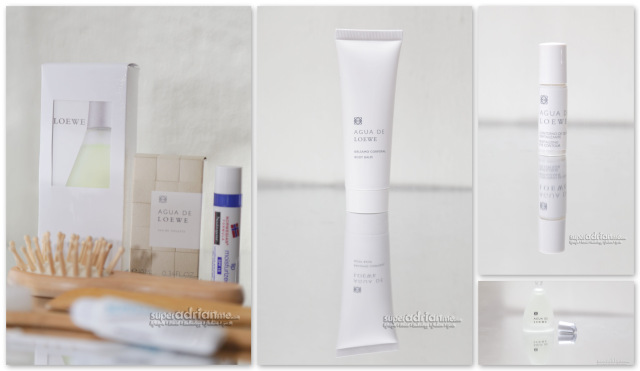 For more photos of Garuda Indonesia First Class amenity kits and contents, please check out our Flickr account here. More information about Garuda Indonesia's First Class are available at www.garuda-indonesia.com
Check out our other reviews of amenity kits from Cathay Pacific | British Airways | Etihad Airways | Delta Airlines | Lufthansa | Qantas First Class |Qantas Curates Business Class kits (2017) | Qantas Business Class | Emirates | Singapore Airlines |  Qatar Airways