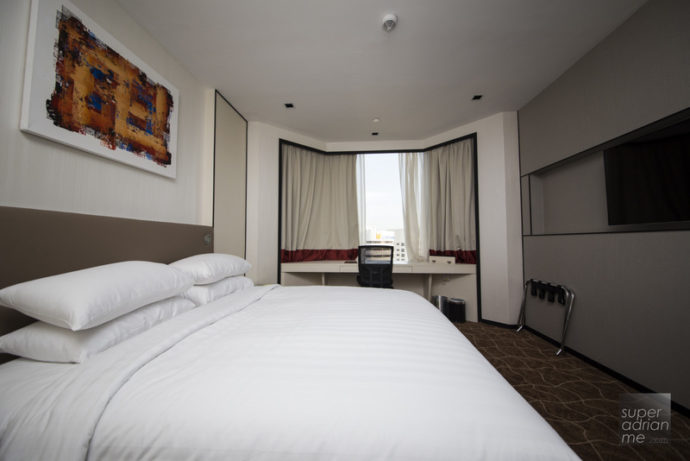 The Four Points by Sheraton Singapore, Riverview had its official opening on 1 July 2016 ahead of its planned opening by year end this year. Formerly the Riverview Hotel Singapore, the building and 476 guest rooms and suites have been given a US$25 million renovation and redesign to fit into the brand guidelines of Four Points by Sheraton. This is the first Four Points property in Singapore. The owner of Four Points by Sheraton Singapore, Riverview is Keck Seng Hotel, a unit of Keck Seng Group. It first opened the former Riverview Hotel Singapore in 1985.
Other hotels in the vicinity include Copthorne Kings, Furama Riverfront Hotel, Grand Copthorne, M Social and Miramar Hotel.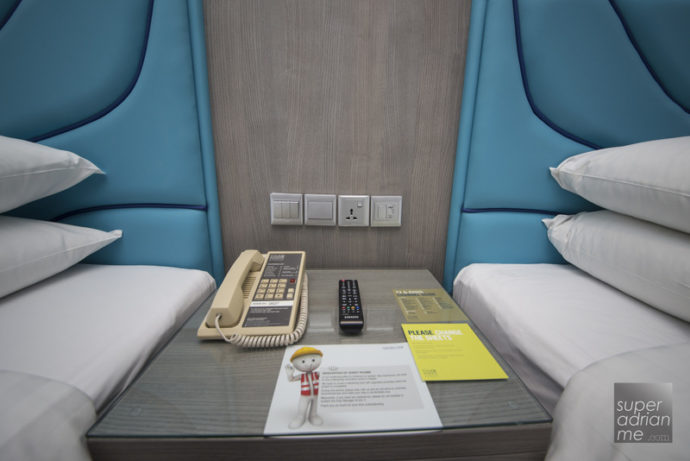 The rooms are now in a basic, classic yet modern layout and design offering comfortable accommodations for the fuss free independent travellers. The hotel continues to target both business and leisure travellers including groups. Nothing fanciful with the basic necessities of travellers met such as international electrical sockets and USB ports for charging your devices at areas which are most convenient to the traveller.
The Four Points by Sheraton brand is positioned for the independent traveller who is confident, strategic and knows what he or she wants. This person is easy going yet has high stands when staying in a hotel. This customer would prefer to carry their own luggage to their rooms and does not require a porter. The Four Points by Sheraton brand reached its 200th hotel milestone last year. To date it has 119 properties in North America, 48 in Asia Pacific, 21 in Europe Middle East and Africa as well as 19 in Latin America. In Asia Pacific, China has the most Four Points branded properties with 25 of them. India is the next highest with 10. Indonesia has four with the most recently opened property in Seminyak Bali.
The Four Points by Sheraton Singapore, Riverview by Levels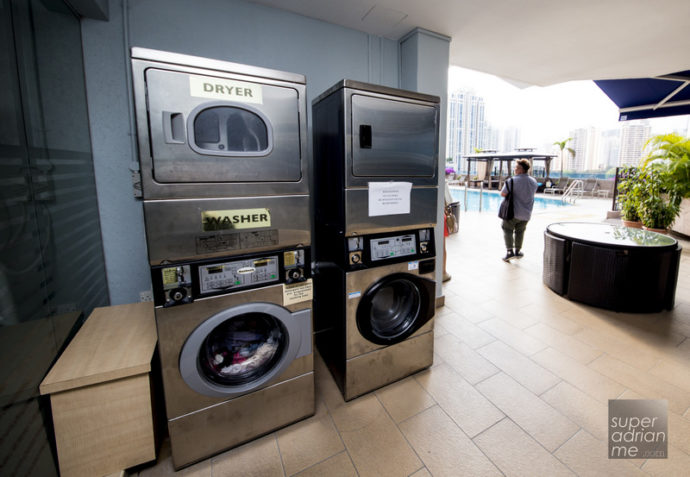 The first five levels of the hotel have been taken up by the lobby, food and beverage outlets as well as meeting rooms and the fitness centre, pool and steam room. Level six onwards house the guest rooms.
Level 1 – Hotel Lobby, Four Points Eatery and The Best Brew
Level 2 – Elgin I & II, Peony Room and Imperial Restaurant
Level 3 – Cavenagh I & II & III, Robertson Room, Irodori Japanese Restaurant
Level 4 – Jubilee Ballroom and Coleman Room
Level 5 – 2 Fitness Centres, Swimming Pool and Steam Room. Self service laundry (washer and dryer).
Level 6 onwards – Guest rooms
The Four Points by Sheraton Singapore, Riverview Guestrooms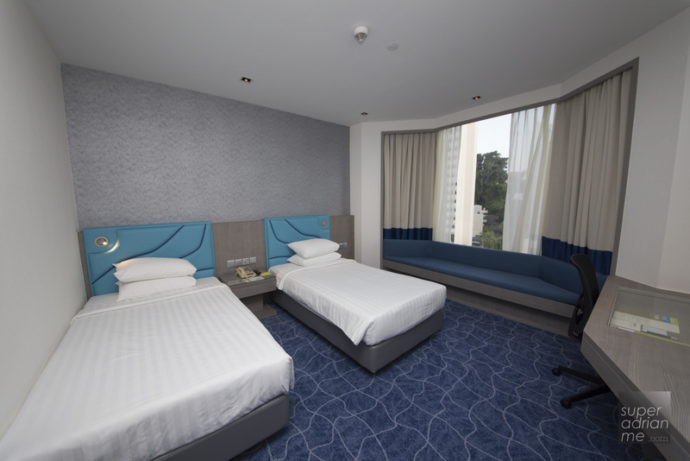 There are 476 guestrooms and suites here. All guestrooms and suites feature flat screen television with Cable, in-room safe, wireless High Speed Internet Access, tea and coffee making facilities, free e-newspaper and bottled water.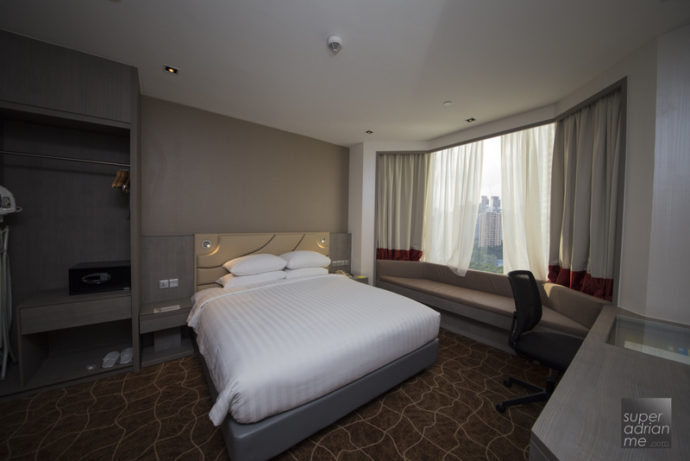 There are six room types including
332 Premium Rooms
131 Deluxe Rooms
2 Accessible Rooms
2 Family Rooms
5 Suites
4 Executive Suites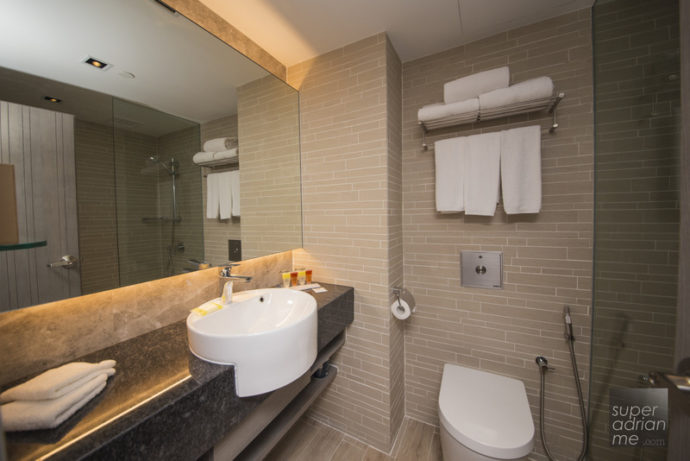 The Premium, Deluxe and Accessible rooms have a sqm area of 22 to 23. The Family Rooms and Suites measure 42sqm while the Executive Suite has the most space taking up 46sqm.
The Four Points by Sheraton Singapore, Riverview Dining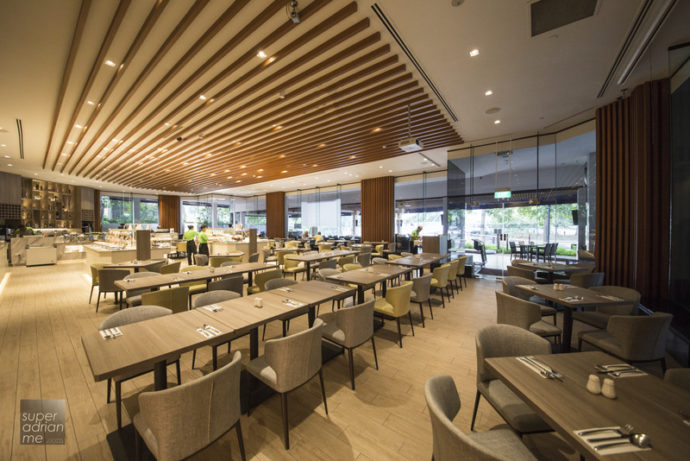 Best Brew lobby bar will feature local and craft beers with screenings of sports programming. Best Brew is a signature bar at Four Points by Sheraton hotels around the world. The Singapore outlet will also have a specially created brew of its own by Asia Pacific Breweries in August this year.
The Eatery offers all day dining with breakfast in the mornings, Sunday brunches, a la carte dishes and an international buffet spread. We hear their signature local dish here is the Crayfish Laksa and Bak Kut Teh.
There also two tenanted restaurants here including the Imperial Restaurant and Irodori Japanese restaurant.
Four Points by Sheraton Singapore, Riverview is located at 382 Havelock Road, Singapore 169629.