JW Marriott has made its debut in Singapore in December of 2016. What used to be South Beach Hotel earlier this year has been transformed into JW Marriott Hotel Singapore South Beach an international chain hotel managed by Marriott International with the benefits of a rewards programme and marketing channels for this 634 keys five star hotel. The group recently concluded its purchase of Starwood Group inheriting hotel brands St Regis, The Luxury Collection, W Hotels, Westin, Sheraton, Le Meridien, Tribute, Design Hotels, Aloft, Four Points by Sheraton and Element in addition to its own 18 brands.
The addition of the JW Marriott Hotel Singapore South Beach increases Marriott International's group of hotels to 13. There is the Singapore Marriott Tang Plaza; The Westin Singapore; W Singapore; Sheraton Towers; The Ritz-Carlton Millenia Singapore; St Regis Singapore; Le Méridien Singapore; Four Points by Sheraton Singapore Riverview; Hotel Vagabond, a Tribute Portfolio Hotel; New Majestic Hotel, a Member of Design Hotels; The Duxton Club, a Luxury Collection Hotel and Wanderlust, a member of Design Hotels.
The JW Marriott Hotel Singapore South Beach is in a good location within walking distance to malls such as Bugis Junction, Raffles City, Suntec City or Marina Square as well as convention centres at Raffles City and Suntec City Convention Centre or the Sands Expo.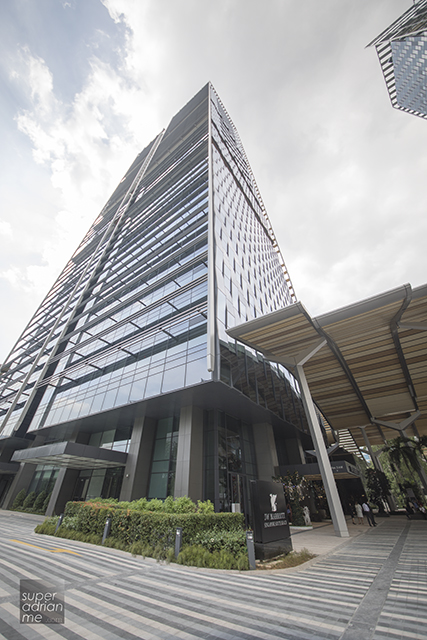 The Philippe Starck-design hotel is part of a mixed development. Hotel rooms are located in the Hotel South Tower which is the main hotel block as well as the Hotel East Tower which also houses a spa, and Media Bar which has been closed permanently in July 2019. NCO Club will open in the second quarter of 2017 and will house food and beverage concepts. Beach Road Kitchen and the Executive Lounge will be located across from Hotel South Tower.
The other 34-storey tower within the complex houses offices such as Bain & Company, Facebook or Lego.
The Lobby
The check-in counters at the JW Marriott Hotel Singapore South Beach are now muted and less spaced out as before. A separate area for group check-ins has been introduced so as not to clutter the main check-in area.
When you step into the hotel, you get a bright welcome from the floor to ceiling digital art screen. Located on its left is an activity area, which we understand will be used to conduct workshops and sessions for hotel guests.
The lobby remains uncluttered for now which is welcoming. The use of warm lighting with natural sunlight emanating from glass interspersed in the lobby offers a space that feels very much like home.
The Rooms
Premier Room
Not much has changed in the rooms if you compare it from the South Beach Hotel days except for minor fixtures. The conical tube lighting from the ceilings seem to have been removed. Those were beautiful and I have to say I miss them. The carpet still has a rather noisy print creating somewhat of a design chaos, but not in a disconcerting way.
The hotel now has 634 rooms, a reduction of 20 rooms which have been set aside at the Hotel East Tower to construct the new Spa by JW which is scheduled to open in the second quarter of 2017.
There are 332 x 30sqm Deluxe Rooms, 94 x 37sqm Premier Rooms, 104 x 30sqm Club Deluxe Rooms, 57 x 37sqm Club Premier Rooms, 24 x 74sqm Deluxe Suites, 21 x 83sqm Premier Suites, 3 x 219sqm Chairman Suites and one x 248sqm Presidential Suite.
The rooms have many thoughtful touches with the modern traveller in mind. I wouldn't expect anything less from a JW Marriott property. The bedside USB charging ports mean you can conveniently recharge your devices. There are two on each side of the bed.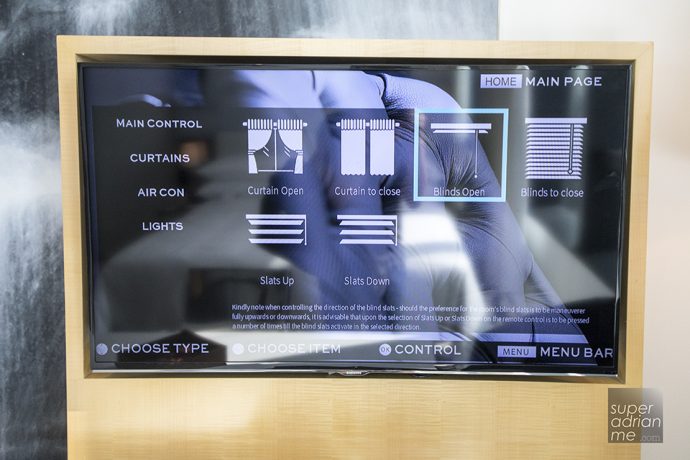 The television in your room also gives you full control of the curtains, aircon and lights with the remote. Everything within control on your television. Better than having to search for the buttons to control the devices in your room.
There is even a compartment at the entrance to the room which allows housekeeping to drop off any amenity requests such as toiletries or extra towels without anyone having to enter the room. This gives guests more privacy. The first time I came across this concept was at the Cassia Phuket.
Deluxe Suite
The 74 sqm Deluxe Suite is spacious. It comes with a living room where you can sit, relax and watch television at the sofa area or get some work done at the working desk just behind it.
The separate bedroom comes with views of the Suntec Convention Centre and the other surrounding buildings. The bedroom is spacious and windows allow natural light to fill the room when you need it. There is also a sofa/day bed in the bedroom. Think of it as your own bedroom at home.
Women's Floor
A separate woman's floor is available with amenities for women such as a bedroom slippers with mani-pedi set, pink bathrobes, a boyfriend shirt, facial steamer and hair straightener. The floor is accessible by women guests. Male guests have to be escorted by a female staff member.
The Bathrooms
Bathrooms in the JW Marriott Hotel Singapore South Beach is luxuriously spacious. Enjoy a soak in the bathtub or enjoy a rain shower in the separate shower room.
You'll still see the toiletries that were previously offered to guests of South Beach Hotel. We understand from the hotel that these will be depleted before the JW Marriott's standard Aromatherapy Associates Lavender and Ylang Ylang are offered.
The bathrooms are so white and spacious, you won't want to get out of a bath.
FLOW18
Flow18 is located on Level 18. This is where the pool is located at. It offers a beautiful view of the main Central Business District of Singapore as well as Marina Bay.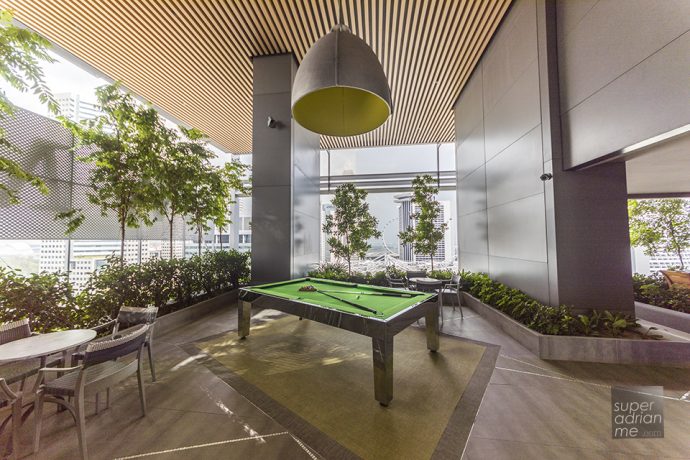 On one side, there is a glass table tennis table and a pool table. And if it is a cool day, it is nice and wonderful here. A small fitness centre is also located here.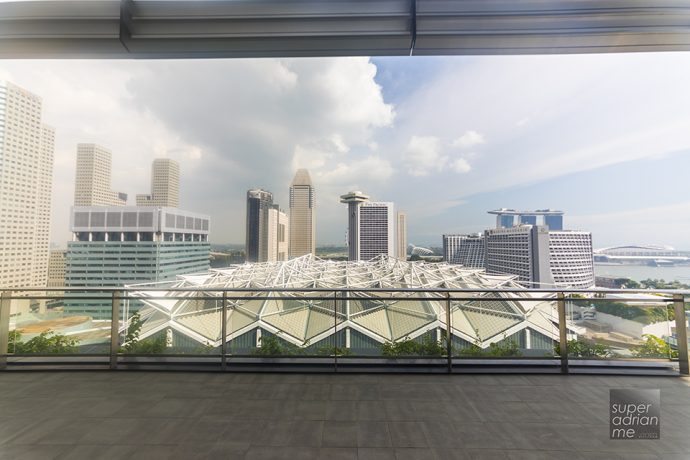 Views from the 18th floor are spectacular. Great to just while your time away and enjoy the views.
The Club Lounge
I was rather pleasantly surprised with how spacious and big the Club Lounge is. Located on the second level across from the hotel block above Beach Road Kitchen, the club lounge is accessible from level two of the Hotel South Tower which is the main hotel block. A bridge connects the two and is open to Club room and suite guests.
The lounge has a few sections for guests to choose from. A relaxing sofa seating for those who just want to chill or have a discussion. Again windows throughout the lounge allows for sunlight to light up the lounge while the powerful air conditioning keeps the lounge in a comfortable temperature.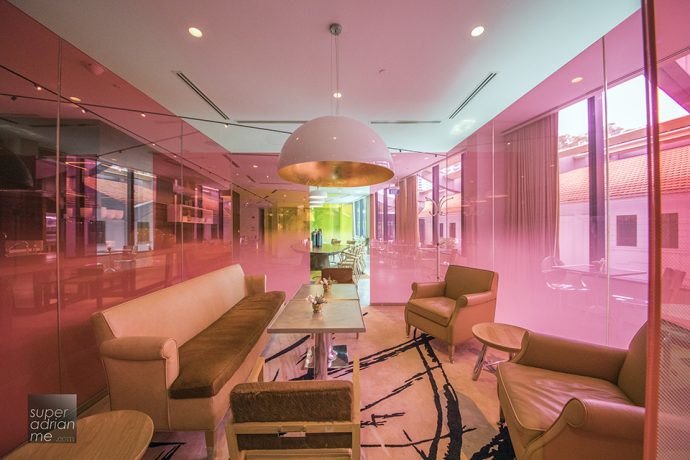 There are also two areas which may be a little more exclusive. Surrounded by a translucent luminous yellow glass or a pink glass, this area is great if you want to be 'shielded' away from the rest of the guests at the lounge.
A bar area is located on one side of the lounge.
The F&B
When all the F&B outlets are fully opened, JW Marriott Hotel Singapore South Beach will have a total of nine establishments. Four are currently open with the remaining five expected to open by second quarter in 2017. We were given a tour of these F&B outlets but have not tasted the menus.
Beach Road Kitchen
Enjoy all day dining at the new Beach Road Kitchen. Breakfast for guests are served here. Beach Road Kitchen offers a buffet spread as well as a la carte options. Located across from the hotel's main block, Beach Road Kitchen now can accommodate more people than at its previous all day dining restaurant ADHD when the hotel used to be South Beach Hotel where Akira Back is now at.
Given the number of guests that the hotel can accommodate, Beach Road Kitchen can accommodate more people than its predecessor at ADHD.
Looks like there will be a couple of chef stations throughout the restaurant including a pizza oven seen above.
Akira Back
Akira Back is a Japanese/Korean restaurant by celebrity chef Akira Back. The plates here are equally stunning.
Tonic
Tonic is a specialty gin bar located at the ground floor lift lobby. Previously it was PREFIX. It was filled with people when we visit so we didn't manage to capture a photo of Tonic.
Media Bar
Media Bar, previously Laugh, looks almost the same with some minor tweaks. Located at the Hotel East Tower, Media Bar is a local gastropub that features interpretations of local favourites.
The reason why it is called Media Bar is because of the number of television screens.
[Update as at August 2019: The Media Bar has permanently closed]
Court Martial Bar
Finally open for business is Court Martial Bar. The Bar is located at what used to be the Singapore Armed Forces' Court Martial Centre where cases of Military crimes were previously tried.
The small cosy bar offers bespoke cocktails and wines, perfect for a quick drink before a proper meal at the other food establishments nearby. Coloured Glass windows and rich red curtains gives the industrial-look bar an almost comforting retro feel. At one corner of the bar is a glass floor that looks into what used to be where vehicles were serviced.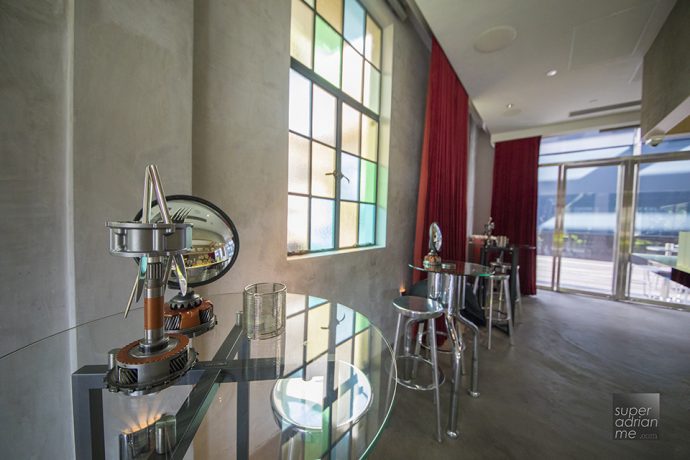 Quirky furnishings are added into Court Martial Bar.
The Meeting Spaces
The ballroom at JW Marriott Hotel Singapore South Beach is equally stunning. Other than the ballroom, there are also 14 meeting rooms at the Assembly Building with Court Martial Bar is also located.